In India, you can find lots of earphones in any price category be it under 500, 1000, 1500, etc. The list goes on and on. But when it comes to wireless earphones under 500 Rupees then things are different. Because of so much competition, you will not only find wireless earphones under 500 but also you can grab wireless headphones under 500! And guess what few Truly wireless options as well! Seems too hard to believe, but trust me it's not!
Update: All the earphones are available at a heavy discount at Amazon's Great Freedom Festival Sale. Click now to check out the deals! 
On E-commerce websites, you will find so many Bluetooth earphones under 500 Rupees. Based on our research we have narrowed it down to only the top 10 wireless earphones under 500 Rupees! And a few Bluetooth headphones too!
Our criteria were simple. The product should have decent to good audio quality, a built quality that will last long. And could take decent to good calls be it for online classes or just chit-chatting! Therefore every product below meets the above conditions.
So Welcome to PadhKeDekho, if you are new around please bookmark this website and press the red bell icon on the left to be notified by our new coverage. Because we keep on bringing articles like this, tips and tricks, unboxings, and reviews that will help you learn more about the products and services.
Best Wireless Earphones Under 500 RS
This is going to be a detailed article, hence we are providing you with the jump links that will take you to the specific earphone or headphones. If you can spare 5 mins of your time and read the complete article, then you will not be missing anything and can make a purchase that is un regrettable!
Note: The earphones or headphones are randomly placed in such order. We are not ranking them based on their characteristics as yet. So doesn't mean the earphone at number 6 is bad in context to number 1. Moreover, because of competitive pricing, some product's prices can go up and down. So if any product goes above ₹500 then it's not in our hands. We hope are clear by this.
Because of the competition, some duplicate products are also listed on the E-commerce websites. So we have provided Amazon's listings that are authentic and of genuine products. Thanks!
1. Lowfe (Cheapest Bluetooth Earphone)
Why To Buy
You must be thinking as it is the cheapest Bluetooth wireless earphone under 500 Rupees then it must be bad or something like that. But it is not. We were amazed by the feedback. People reported acceptable built quality and decent audio output, keeping in mind the price.
Most people use it for calling and meetings and are satisfied with it. If you also plan on taking calls then do give this wireless earphone a shot.
Why Not To Buy
As per customer feedback, the wire connecting the earphones seems weak and fragile. So you should be gentle with it. This also applies to the media controls.
2. Quantum SoundShot 1 (Blend Of Quality And Audio)
Out of all the above brands, Quantum must have ringed a bell in your mind. Because Quantum also makes computer peripherals like a keyboard, mouse, gamepad, etc. The odds of you having Quantum products at home is high! What makes Quantum special is that it offer decent quality under budget. Below ₹500 this is the most branded wireless option to get entertained!
Why To Buy Quantum SoundShot 1
By the looks, it doesn't feel like an entry-level product. Even if we talk about its built quality then also this earphone doesn't fail to impress.
You get magnetic connectors on the ear pods to keep them together when you are not using them. Moreover, you get ear hooks that let you tuck them well in the ears. For the perfect fit, you get 2 pairs of additional ear tips that can change as per your ear size. So all in all, in terms of built quality and look and feel, it gets 8 out of 10.
we call "Paisa Wassol" a product that offers great specifications and features that are hard to believe under a considering price. This one certainly is!
Why Not To Buy Quantum SoundShot 1
However, it would have been great if multiple color options were available, except the only black. Not a big thing, but still. And secondly, the wire connecting both the earbuds is a little tad small. This is something that we have received as feedback.
3. Digitek DBE 005 (The Best Selling One)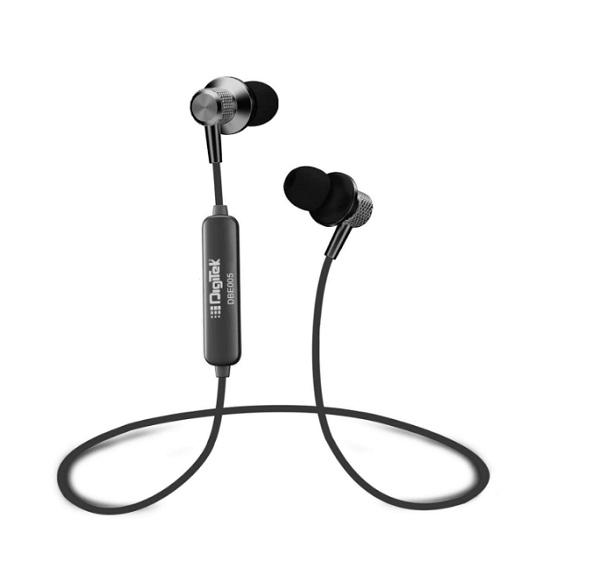 Why To Buy
This is the most popular and highest selling 500 Rupees Bluetooth earphone. Well, there are reasons for that! To begin with, the ear tips offer a good hold on the ears which makes it good for activities like running, jogging, etc. Most importantly to battle with sweat it comes with sweat protection too!
The earphone offers decent to good audio quality especially loudness and vocals. So you will have a good time while making calls with this one.
For the calls and entertainment, Digitek DBE 005 can provide you juice for up to 5 hours. Which is considered good keeping the price bracket in mind.
Why Not To Buy
Cost-cutting is evident as it misses out on extra ear tips that other earphones are giving in this price range. Secondly, customers reported less to average bass. And it doesn't come with the latest Bluetooth version that is 5.0.
If you are looking for a good wireless earphone then pTron Bassfest Plus and Edict by boAt EWE01 can be the best choices.
4. pTron Bassfest Plus (Wireless Neckband Earphone On A Budget)
Why You Should Buy pTron Bassfest Plus
In this 500 Rupees price category pTron Bassfest Plus offers the best-built quality. Which gives confidence for longevity. With Bluetooth 5.0 you can actually experience good quality music and Bluetooth range.
With such audio quality, battery backup of 4 to 5 hours sounds like Christmas carol! As per customers' feedback, this is one of the best neckband wireless earphones next to Edict By boAt EWE01 (coming up next).
Why You Should Not Buy pTron Bassfest Plus
This is the only wireless earphone in the 500 Rupees category that has not received major concerns. The only thing is that it goes a little above the 500 Rupees mark. If it is ok then you should definitely go with this one!
5. Edict By boAt EWE01( boAt Sub-Brand)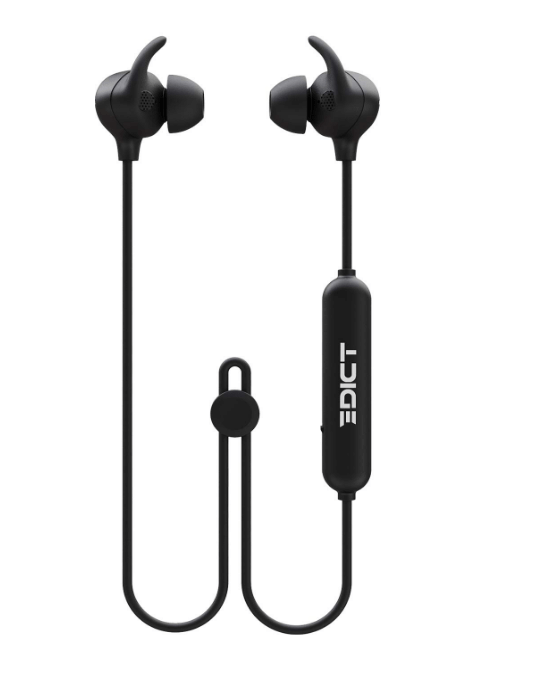 Why To Buy
The "Edict" is the subsidiary of the most popular earphone maker in India. It is the #1 earwear brand and the #1 TWS brand in India. It is none other than boAt. This brand is no joke when it comes to music and built quality. Their products are anywhere between good to great. This holds true for Edict EWE01.
Yes, they are not like Bose or JBL but hey! The price at boAt earphones are available is on point. Other than audio quality this earphone will also impress you with Bluetooth 5.0 connectivity. As a result, the Bluetooth range will be great. Moreover, you can connect to two devices simultaneously.
This doesn't mean it can play both the devices together. But it will be convenient when you are watching something on a laptop and then switch to the smartphone for taking Zoom calls.
Why Not To Buy
The only con faced by the customers is the microphone output. Other than that, nothing major has been reported.
Note: We have also reviewed boAt Rockerz 255 (Bluetooth neckband earphone)and boAt Airdopes 121v2 (Truly wireless option) that are around 1000-1200 Rupees. If you want you can check out those.
6. Zebronics Zeb-Sporty (Rings Any Bell!)
Just like Quantum, Zebronics has also been a part of our daily life. Be it a mouse, keyboard, wired headphone as other computer peripherals. Their products are always budget-centric that bring great specs to the table. Having a Zebronic earphone in our wireless earphones under the 500 Rupees category heats the competition. This Zebronics Zeb-Sporty is no expectation either.
Why To Buy
The primary reason will be built quality; it seems like a durable long-lasting product. Secondly, the shape of the earphones is very different from the others. In this, the earphone rests on your ear offering the best fit while working out and running.
Just like Edict by boAt EWE01 you can also pair it with 2 devices at the same time. So you can easily switch from your online meeting on the smartphone to your smart TV with a press of a button. Even if you talk about the audio quality it is as good as Edict by boAt and pTron Bassfest Plus.
Reasons Not To Buy Zebronics Zeb-Sporty Bluetooth Earphone
Though the look is unique however the form factor is old school. Feedback of pain and lack of comfort by wearing for hours has been reported. This also depends on your ear size. And the battery backup can also be a limiting factor at around 3 hours. So you should also keep the points in mind.
7. Techfire P47 (Wired As Well As Wireless Headphone)
Why You Should Buy Techfire P47
To begin with, it's about the features on offer. Techfire P47 here offers unique features like FM radio, 3.5 mm aux port. Moreover, you can pair up a Micro SD card if you are not carrying your smartphone everywhere for some reason!
Secondly, the audio output is great for the price. You can experience good bass, loudness, and clarity that is hard to find in this price category for wireless headphones.
Ear cushions are very soft and under long use, you will not find it uncomfortable. And last but not the least, the built quality is solid. The headband has multiple customization options that will fit all head types.
Reasons Not To Buy Techfire P47
Since this is a foldable wireless headphone, the hinges feel delicate. So you'll need to be careful when unfolding it. Secondly, it comes only in Black color.
8. SKYPHR SH-12 Wireless Bluetooth Headphone (Comes In Multiple Colors)
Reasons To Buy
Under 500 Rupees this Bluetooth headphone offers the best-built quality. Everything from the headband to the ear cushions is on point. Even the headband allows a soft and comfortable feel. So extended period of use will not cause you any pains or discomfort.
Just like Techfire P47, this one also comes in 3 different media modes. Like Bluetooth, Aux, or even memory card support. Therefore, in terms of features, things are 10 out of 10. SKYPHR SH-12 offers big ear cushions making it an over-ear kind of headphones.
Another good reason for buying it is going to be the battery backup. Users have reported anywhere near 5 to 8 hours. Which is something to consider while buying a Bluetooth headphone.
Why not to buy
Few customers reported not receiving a USB cable in the box. Other than that, the Bluetooth range is around 6 meters. So keep the phone in your pockets or hand for a better experience.
9. SKYPHR Mini (Truly Wireless Earphone On A Budget)
Why You Should Buy SKYPHR TWS Earphone
This is the most popular TWS earphone under 500 Rupees. Due to its white color, it "looks" something similar but very bigger than Apple Airpods however it doesn't cost a fortune! This is the primary reason for its success. Yes, the music quality will not be like Apple Airpods but under 500 Rupees it is decent to good. The carry case will charge the earphones 3 times which is good.
If TWS earphones under 500 Rupees is your need then this one check marks your requirements. But read below.
Why Not To Buy SKYPHR TWS Earphone
If you have small ears, then this TWS earphone will look a little big on your face. Secondly, the battery backup is around 2 hours which can be an issue. But the charging case can power it up almost 3 times. The audio quality is decent but beats are on the lower side.
10. Techfire Boom Boom Wireless Earphones (Upgraded Truly Wireless Option)
Why To Buy Techfire Boom Boom TWS Earphone
If TWS earphone below 500 Rupees is your target then you can go with this one. Because it is smaller in size than SKYPHR TWS earphones. Built quality is also notch above. Gives better battery backup than SKYPHR TWS earphones. Moreover, you will enjoy better music on this one.
Reasons Not To Buy Techfire Boom Boom
Few customers reported that the Bluetooth range is not good. So to avoid the issue they keep the phone in the pocket or hand for better connectivity. Otherwise, nothing serious in these TWS earphones reported.
What To Expect From Wireless Earphones or Headphones Under ₹500
Since wireless earphones under 500 are from the entry-level wireless category, so you simply can't expect them to be outright performers. But they will get your work done. Be it listing to music or taking calls or both. All the earphones and headphones above work and do what they are meant to do. But certainly, there is no clear winner.
What we meant by this is that every Wireless earphone under 500 Rupees has its own share of pros and cons that you have checked above. However, based on the feedback from the customers and the internet we are going to give you recommendations of what you should buy and why!
Which Is the Best Wireless Earphone Under 500 Rupees?
If you don't want to shell out more money but need wireless earphones or you lose one easy then Lowfe can be your next earphone. While writing this article, it is for only ₹249. At this price, you don't even get a good pair of wired ones as well!
Want to experience something of the latest generation i.e. planning for Truly Wireless earphones under 500 Rupees then also you can get your hands on SKYPHR Mini or Techfire Boom Boom. Both are good, but Techfire Boom Boom packs more features and is small in size.
These don't excite you enough then you must like headphones!
We found 2 best options for you. You can go with Techfire P47 or SKYPHR SH-12. Just like above, Techfire P47 here offers more features like FM radio, Bluetooth connectivity, 3.5 mm aux port. Moreover, you can pair up a Micro SD card for some reason! But SKYPHR Sh-12 has better-built quality and choice of colors like Blue, Green, Black, And White. Unlike Techfire P47, which comes in black only.
If you prefer neckband designs for your workout and sprints then pTron Bassfest Plus or Edict EWE01 can do the work.
That's It For Now, Fokes!
Do you have doubts or queries? Then connect below or reach us out on the below social accounts. We would love to help you out! Thanks for reading guys!
Just like the above article, we share our 2 cents in the form of reviews, tips & tricks, comparisons and opinions so do check out those articles. And if you liked the content do share it with your friends and family! Thanks, we will see you at the next one!
FAQ
Which wireless earphone is best under 500?

Under 500 RS you can get neckband type earphones, headphones, and even truly wireless ones's so choosing one is hard. In this article, we have selected 10 earphones/headphones that will help you choose better!
What are the best cheap wireless earphones?

Here's a list of best cheap wireless earphones under ₹500 Rupees ($7).

Lowfi (Cheapest Option)
Quantum SoundShot 1 (Blend Of Quality And Audio)
Digitek DBE 005 (The Best Selling One)
pTron Bassfest Plus (Best Wireless Nechband Earphone)
Edict By boAt EWE01 (Music Powerhouse)

Click for 5 more results.