[Updated on July 13, 2023] After 2 years and 6 months, boAt Rockerz 255 has finally taken a farewell and lost voice from the right earbud. So you can understand how long it will work under harsh usage. In this article, I have shared my BoAt Rockerz 255 Long Term Review.
BoAt Rockerz 255 is available at a huge discount on Amazon's sale. Click now to check out the deals!
Are you planning on buying boAt Rockerz 255? Then this article is going to be very helpful to you. Because I have been using Boat rockerz 255 for more than 2 years now and in this blog, I will be sharing my BoAt Rockerz 255 Long Term Review. This will be helpful if you are considering boAt Rockers 255 as your new wireless Bluetooth earphones! So welcome guys to PadhkeDekho and let's first check out what you'll get in the box.
BoAt Rockerz 255 In-Box Contents
The first thing in the box is a USB to Micro USB charging cable. Then comes the 2 pairs of extra ear tips (for small and large ears. Medium ones are already applied out of the box.
Then theirs a piece of safety information with do's and don't while operating the headset. On the back of the same page, you'll find a pairing and playback controls guide.
And trust me Jacqueline Fernandez is not the reason I bought the earphones!! Jokes apart, also in the box you'll get a warranty card with the boAt customer care number. Then there's is a docket for other boAt products that will be handy when buying a new boAt product. That's pretty much everything from the box, lets's connect it to a phone and check out the music playback controls.
Media Controls On BoAt Rockerz 255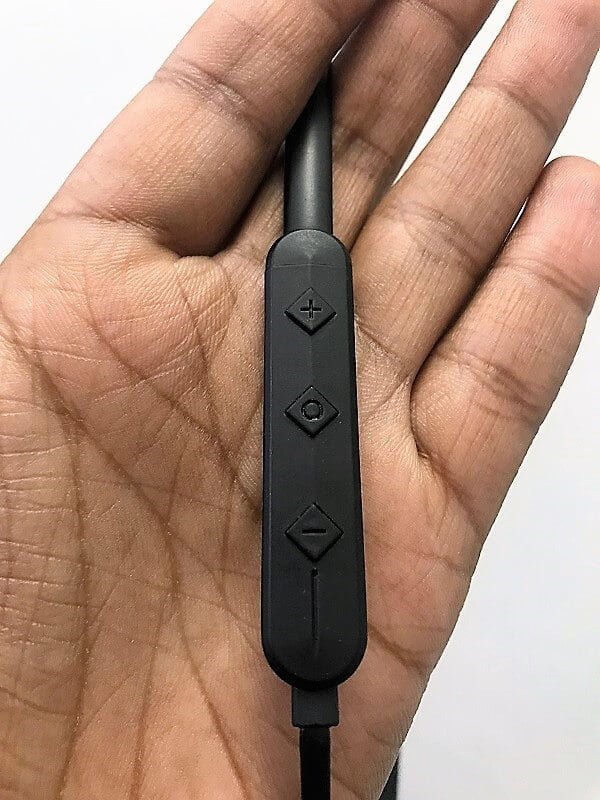 On the right side of the neckband, you will find controls to increase volume, play or pause media, and reduce the volume. Pressing and holding the center button will be used to turn the on and off the headset.
To play or pause the media press the circle button which is the center button. Pressing and holding the plus button will play the next song. If you have to replay the already-playing song then holding the minus button for 3 seconds will do the trick. Again holding the minus button for 3 seconds will play the previous song.
You can increase or decrease the volume by pressing the + and – button. Heads up though, you'll need to continuously tap on the button to control the volume.
Other Than Media Controls Whats Else It Can Do?
Apart from the music control, you can crank up Siri or Google Assistant by simply saying Hey Siri! or Okay Google! and take care of your desired task without even using your phone!
Moreover taking calls using boAt Rockerz is also possible. You can receive and end the call by pressing the center circle button. That's pretty much it. While we are on the subject of calling, the mic quality is great in a silent environment. However, in the metro or busy streets, the mic tends to capture more of the nuisance around you rather than your voice. So the other caller might not hear you clearly. That's the only issue I had with this Bluetooth headset.
BoAt Rockerz 255 Built Quality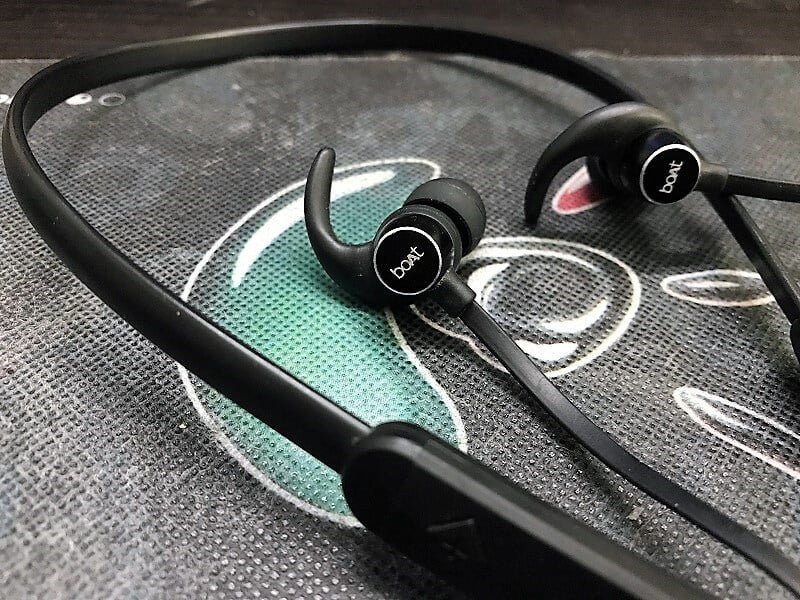 When we talk about budget/entry-level Bluetooth earphones or even top-of-the-line earphones, built quality is something that matters the most. Since I am not a soft user let's have a look at how Boat Rockerz 255 has survived my rough handling after 2 years of usage!
The neckband is as good as it was the day I got it. Still very flexible. Has not got a single cut which is common among rubber neckbands after 2 years of usage. Magnetic connectors on both earbuds work like a charm; can still listen to the click they make when they bond together!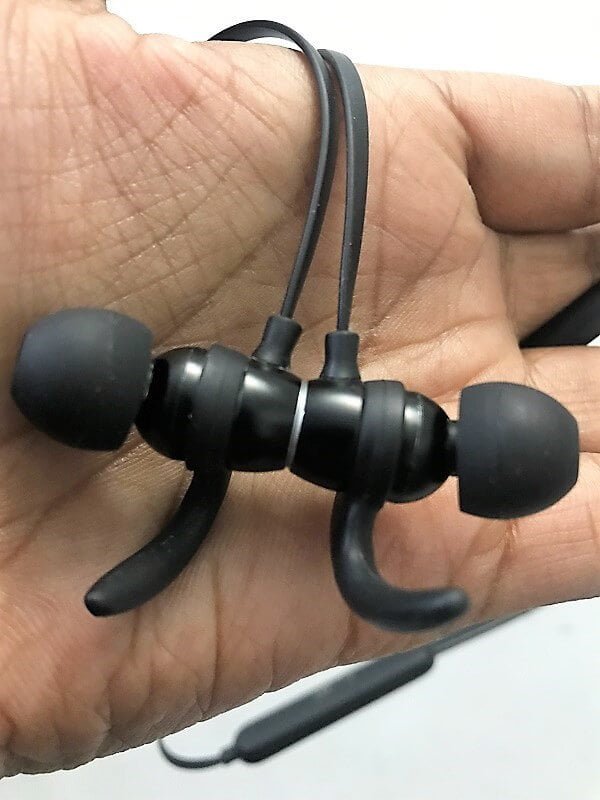 The cable connecting both earbuds has also survived quite well. These are tangle-free cables so if you keep them in a bag they will not tangle which is a good thing. BoAt branding on the earphones has definitely faded. Since the left and right signs are engraved on the neckband they don't show any effects.
The Earbuds also reflect the faded boAt logo. The best part is the ear hooks are still intact and does a great job of keeping them in the ears even when you are running. Volume rockers and play/pause buttons work just as well as they were from the beginning.
BoAt Rockerz 255 Audio Quality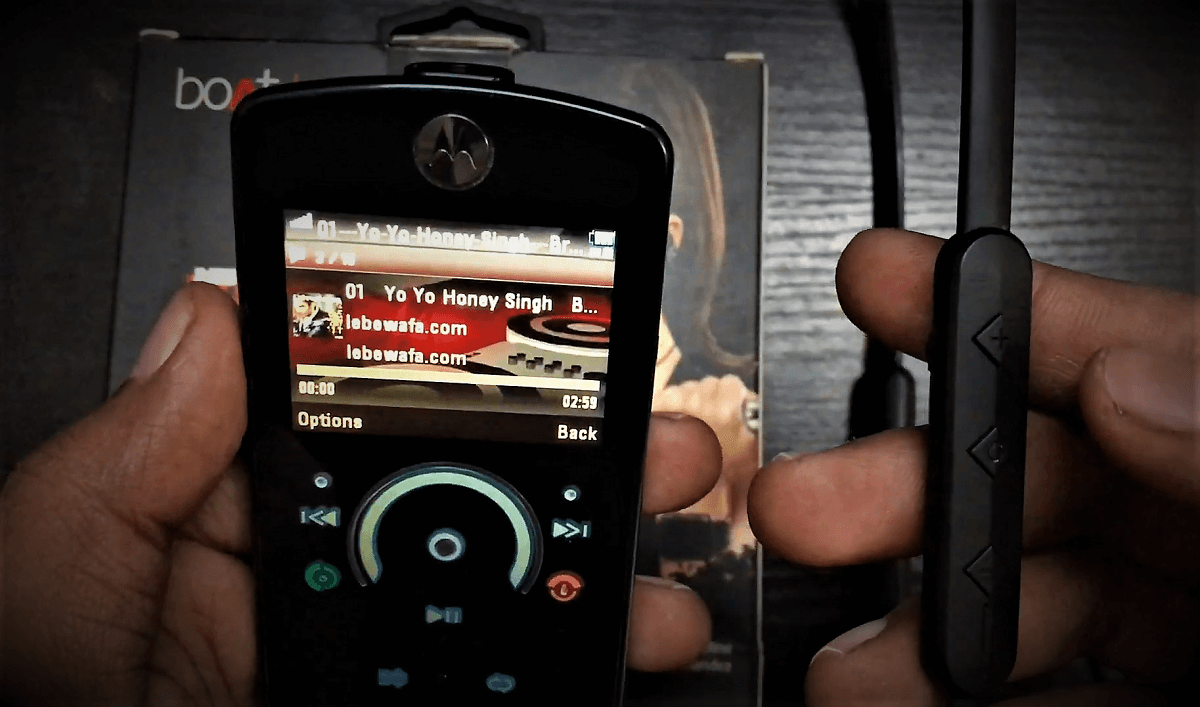 To be honest it was the most essential concern for me. Though I am not a hardcore audiophile but more like a casual one who spends around 3 hours daily listing.
The audio output is good considering the price. What's remarkable in boAt Rockers 255 is the bass on offer. It is just so much and we Indians like it. If beats are what you are looking then go ahead and buy it without a doubt. By any means, I am not saying that the rest i.e. treble, loudness, and vocals are bad they are also quite good. If I had to rank boAt Rockerz 255 then I would give it 8 out of 10.
How's The boAt Rockerz 255 Battery Backup?
They have been great so far. I own 2 of the same models i.e. one in black color and the other one in Neon. The Neon was 11 months old when I realized it was not giving more than 3 hours of battery backup. However, the other one was going around 6 hours tops.
So I had an experience with boAt service as well! Long story short in the end I got a replacement! If you want you can check it out.
Initially, I was getting around 5-6 hours of battery backup on boAt Rockerz 255. Which was way beyond my daily required time. As of now after 2 years of age, the battery backup is anywhere between 4-5 hours easily. In my Boat Rockerz 255 Long Term Review, In terms of battery, I had no complaints so far.
BoAt Rockerz 255 Any Good?
So all in all, the BoAt Rockerz 255 has been great for me and seems like it can go beyond. If you are considering this one, then go ahead and give it a shot. Trust me you will not be disappointed.
After using it for 2 years, I have just ordered BoAt Airdops 121v2 to experience the truly wireless earphones. Since the price is similar if you wish you can also consider boAt Airdops 121 V2! Very soon I will be dropping boAt Airdops 121 V2 review soon. So do follow PadhkeDekho on Facebook, Twitter, and Instagram, and also subscribe to our YouTube channel and be notified!
Articles That Might Interest You!
FAQ
boAt Rockerz 255 Good?

In terms of price and audio quality in general, yes!
Do BoAt products offer good quality?

In terms of earphones and headphones, I can say their products offer good build and are long-lasting.
boAt Rockerz 255 worth the hype?

If the bass is your utmost priority then look no further and grab one!
Is boat rockerz 255 wireless Bluetooth earphones compatible with MI 4 model?

Yes, it can connect with any phone that has Bluetooth. I have even tried with Moto Rokr E8 which is from 2008. So MI 4 will not be an issue!
Does BoAt Rockerz 255 Support Google Voice Commands?

Yes, it supports Google Voice as well as Siri commands. All you need is to press the center circle button for 2 seconds.
BoAt Rockerz 255 Playing Audio In Mono Mode But Not In Stereo Mode?

You can change from Mono to Stereo or vice versa from your smartphone's audio settings. It is usually under Accessibility or Audio/Video settings.
That's It For Now!
This was my boAt Rockerz 255 Long Term Review. I hope you have found my review helpful. Do let me know in the comments section. And I am up for suggestions, if there's one do drop it below in the comments section! Thanks for reading guys! I will see you at the next one.
Just like the above article, I share my 2 cents in the form of reviews, tips & tricks, and opinions so do check out those articles. And if you liked my content do share it with your friends and family! Thanks, I will see you at the next one!