[Updated on 21 July 2023] It's been over 6 months and the neckband is working well. No sign of visible damage. The cable is durable and most importantly; the audio quality is quite good. Back to Infinity Glide 120 Review.
Over the last few years, neckband earphones have seen quite an improvement. A few months ago we bought 10 earphones and neckbands that are best under 1500 which you can read here.
One neckband that impressed us a lot was Infinity Glide 120. So in this Infinity Glide 120 review, we will talk about everything. 
With that said, in this Infinity Glide 120 review you will find Pros & Cons, Built Quality, Looks, Comfort, Grip, Features, Audio Quality, Call Quality, Battery Backup, and finally our Verdict.
At PadhkeDekho, we buy a product, use it for at least a month and then share essential factors that can be a deal maker or breaker for you. This helps our readers make a fantastic choice!
As a support to us, you can shop from Amazon using the links in this article. We might earn a small commission at no additional cost to you.
Infinity Glide 120 Pros And Cons
Built Quality
Neckbands come in different built qualities. Some are pure plastic with silicon ear tips. Many of them are made of rubber/silicone with a plastic ear tip. And then comes premium neckbands which are entirely made of rubber and use metal earbuds.
Infinity Glide 120 is the latter one and that's the plus point in the favor of Infinity. The choice of material used is more expensive than the sale price of the product. We were lucky to pick one for only 899 Rs! To be honest, at today's sale price of 1500, it's still worth every penny.
Why? This construction makes it very lightweight to wear or just let it rest on your neck. The untangled cable as a neckband is a nice touch and seems sturdy too. While the earbuds are normal cables most of the neckbands are.
What about the earbuds? The buds are made of metal and the magnetic pull between the buds is quite strong.
So in terms of built quality, infinity Glide 120 does not disappoint hence 9/10.
Looks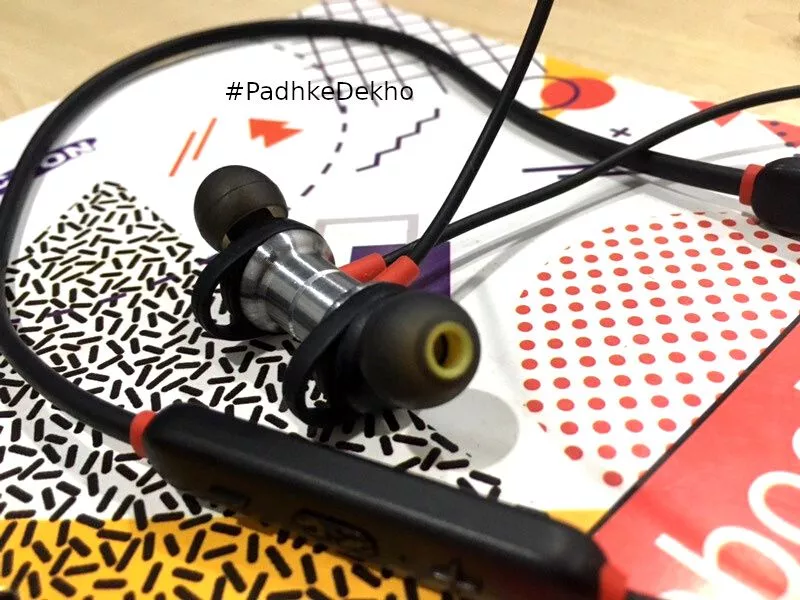 When it comes to looks, neckbands are very similar. Some have media controls separate then the neckband which looks a little too much. Most of the buds have brand logos on the earbuds which makes them easy to distinguish. That's my hobby of checking out in the Metro!
In the same context, Infinity Glide 120 looks quite similar to other brands' neckbands. No special design was done other than 2 things; which we liked.
Since we bought the Black & Red color, we liked how they played with the combination. There's a subtle Red color where they are marked left and right. And under the silicon ear tip, you can neon. A little gradient next to media controls looks good.
So in terms of design, Infinity Gldie 120 is a simple-looking neckband under 2000 Rs. Hence we would give it 4/5.
Comfort
Infinity Glide 120 is a comfortable neckband for people with medium to large ears. How to know what is your ear type? What about your current audio gear? is it a neckband with silicone ear tips or a TWS earbud?
if you find the silicon earbuds comfortable then these will be on the same level. However, if you already own an audio gear or perhaps a TWS with half ear design (like Apple AirPods1 or 2) then these are not good for you.
People with small ears will have problems with comfort after a few hours of use. To increase comfort you can always remove the ear hooks. Doing so will have a direct effect on grip.
Another good thing about the earphone is the neckband, the untangled cable instead of a rigid neckband which looks like a shirt's collar does not feel heavy or uncomfortable after long hours of use. This also helps in better portability if you don't feel like having the neckband around the neck when not using it.
Grip
Okay here's the thing, we are into running/jogging, weight lifting, and cardio. So we tested it on these parameters too. So how good will it be for general content consumption and workouts?
While consuming content, it's great. The buds don't move much and the overall experience is quite pleasing. However, things are not that pleasant during workouts.
Don't get me wrong, it's better than those neckbands that do not offer ear hooks but it's not as good as full ear hooks. Due to sweat or no sweat, the ear hooks were losing grip. We do the same workout wearing Boult Audio ZCharge (review) and never faced that.
So, if you looking for a workout-centric neckband, then Boult Audio ZCharge is a better option. Otherwise, if you are going for a neckband without ear hooks then consider Infinity Glide 120, you will not be disappointed that much.
Hence we will give Infinity Glide 120 4/5 for Grip
Features
#1 Dual EQ Modes: There are two types of people who like bass and others who live on bass! We are the latter one and bass excites us. if you are a bass lover, then Infinity Glide 120 needs your attention.
However, if you like bass and other essentials like vocals, treble, and vocals then you get Normal mode just a button click away. More about audio quality, in our audio breakup below!
#2 Up to 7 Hours of Battery Backup: Battery backup of audio drivers varies based on usage. We've seen devices with lesser mAh competing with higher mAH values by a few hours. One such example was BoAt Airdopes 121v2. It outperforms many TWS earbuds while having a lower mAh count.
The same is true for Infinity Glide 120. This neckband can be used for 7 Hours. This is claimed figure but the real-world use case scenario is quite similar. More about it in the Battery Test below!
#3 Metal Finish: The earbuds of Infinity Glide 120 look and feel pretty premium. Thanks to the metal earbuds. To be honest, we were not expecting this built quality. Because the magnetic connectors on the earbuds are pretty strong. The buds automatically clip together if taken close.
#4 Bluetooth 5.0: Bluetooth 5.0 is not a new version by any means but this does not mean it's bad. During our testing, we did not find a single network drop or audio breaking under 5 meters away from the connected devices. I
n fact, the paring is also quite quick. The first time it takes about 3 seconds to pair, then reconnecting is under 2 seconds.
#5 IPX5 Sweat Proof: Infinity Glide 120 comes equipped with IPX5 water resistance which allows you protection from sweat and even rain. So, you do not need to stop your workout session because of rain or sweat and worry about damage. Just remember it's water resistance, not waterproof!
Audio Quality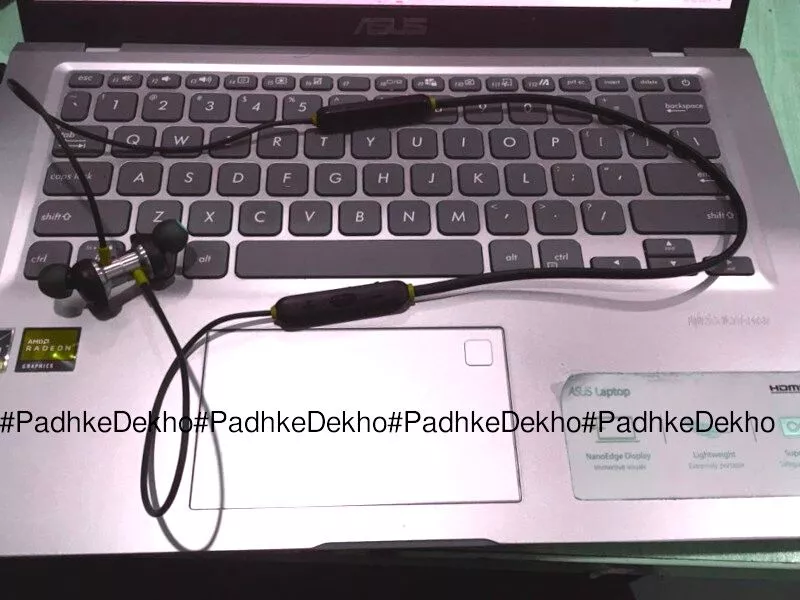 When you'll search for the best audio brands you will certainly see JBL, Infinity, or Harman in the list. Any of these is a good start because these are owned by Harman which makes audio components for premium car brands like Maserati, Mini, Dodge, and 20+ other manufacturers. Here's a complete list that you check out.
So you can certainly guess what Infinity/JBL/Harman is capable of! But what about Infinity Glide 120 sound quality? We've used this neckband for a good 1 month and here's our verdict.
The 12mm audio drivers are exceptional. The overall sound signature is full of detail even at full volume. No audio distortion was witnessed. That tells how great the quality of the audio driver is. That's why we never aim for the biggest driver size.
What about bass? The default mode or "normal mode" offers decent bass, sharp vocals, and decent treble. This is great if you are listing to vocals and instrument-centric songs like Podcasts, Indian classical, or live concerts.
The moment "deep bass mode" is activated it kicks in more bass and vocals also the volume gets increased a few decibels. This audio profile is great to enjoy the latest Punjabi or bass-heavy songs.
So Infinity Glide 120 gets a 9.5/10
Call Quality
if you are looking for a neckband with great call quality then nothing comes close to Infinity Glide 120 under 1500 Rs.
We are saying this confidently because we've tested more than 10 neckbands under 2000 Rs, this is by far the best one for calling. Be it professional or personal calls, the other side of the caller will never complain. Surprisingly, it outranks many neckbands that target themself for calling!
What is so special about Infinity Glide 120 keeping calling in mind? Nothing! There is no ENC, no additional microphones to restrict background noise, etc etc. It's a pure simple non edited voice that sounds just like your normal voice. I.e. the one that gets transferred via your smartphone's microphone.
We did about 30 calls and 80 percent of people were not able to distinguish whether we were talking via phone or a 1500 Rs worth neckband!
So the call quality will be perfect be it indoors or outdoors? For indoors, yes but outdoors it will sound just like your surrounding. I.E. if people are chatting just next to you, then it will be transferred just like that. It's raw and powerful.
Hence, we would give Infinity Glide 120 an 8.5/10.
Battery Backup & Changing
When it comes to battery, we had a mixed-bag experience. The battery size is 120 mAh which is not bad for a neckband under 1500 Rs in 2023.
We used it daily during our office commutes that's about 3 hours and this neckband was easily able to last 3 days or you can say a total of 9 hours of battery backup. This is a great battery backup keeping the neckband in mind. But now let's talk about the glitch.
Note: The above figures are obtained with mixed volumes as per need.
After 9hrs of use the percentage still shows 50 percent. Which is certainly not the case. Instead of showing 50, it should be around 20. Because when it drops below 50 the neckband will need charging in the next 1 hour!
So that's the glitch we had with our product. It does not show the correct battery status. We bought a second unit and the results were similar.
Hence you can expect a battery backup of about 9 hours when the battery is about 50. Consider it as a low battery and put it on charge. Otherwise, it will be powered off within 1 hour.
About the charging speed, the neckband comes with a Micro USB slot which means there is no fast charging support. Since the battery is small, it gets charged close to 1 hr 30 mins.
Therefore for battery backup and charging, we will give it 4/5 but for battery status glitch is 2/5.
Should You Buy Infinity Glide 120?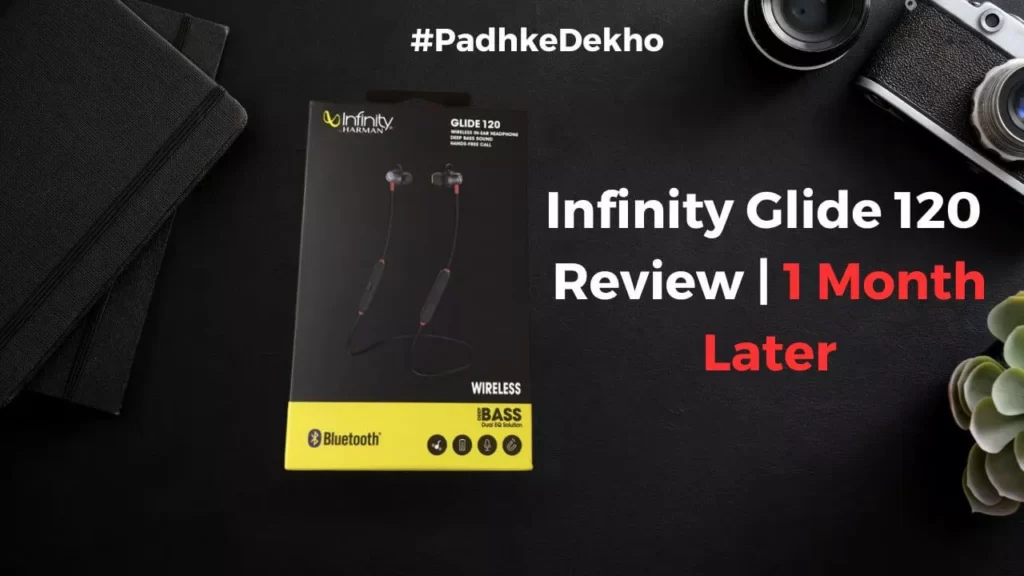 After 1 month of using Infinity Glide 120, we think it's a good neckband under 1500 Rs. We are saying after using 10 neckbands in the price category.
To begin with, the built quality is quite sturdy. The metal earbuds do look and feel premium in the ears. The cables on the earbuds are decently sized.
The silicone ear tips are comfortable for long hours of use. You get two additional pairs of ear tips for the best comfort. Also, the ear hooks can be removed to increase comfort.
As far as audio quality goes, Infinity is great. If you enjoy detail, bass, instrument separation, and vocals. To take this experience to the next level you have Bass Mode which kicks in more bass and loudness.
It's a complete package for under 1500 Rs. Another great thing about it is the call quality. You can easily take your personal and professional calls without any latency or call drop issues.
But the only thing that can hamper your experience is the battery indicator which is glitched. It shows less drop above 50 percent and then falls every other minute. So if you are buying it then make sure to charge it around 60 percent (which will happen after 4 to 5 hours of use).
Wrapping up!
There you have it, folks, this is our Infinity Glide 120 Review after 1 month of use. if you have any questions or queries then feel to ping us on below social accounts, we love to help our readers.
Feel like supporting honest and genuine content? Then please use the below Amazon button to order one for yourself. We might earn a small commission at no additional cost to you. Thanks for your support!
Suggest Articles!
Infinity Glide 120 F.A.Q
Infinity Glide 120 Price?
The sale price of Infinity Glide 120 usually stays between 800 to 1300 Rs.
Infinity Glide 120 Warrenty?
It comes with a 1-year limited manufacturer warranty.
How to Enable Deep Bass Mode on Infinity Glide 120?
Press and hold both the volume rockers for 3 seconds.
is Infinity Glide 120 Good?
Yes, Infinity Glide 120 is good but there 1 thing that can hinder your experience. Click now and check our detailed review after 1 month of use.
Infinity Glide 120 Bluetooth Earphones Worth it?
Yes, It's a great buy for under 1500 Rs. Here's our detailed review after 1 month of use.
Infinity Glide 120 Charging Time?
The charging time is about 1 hr 30 mins. Does not support fast charging.
Infinity Glide 120 Audio Driver?
12mm is the driver size of Infinity Glide 120.