[Updated on July 21, 2023] It's been more than 4 months of testing this neckband. So far it's been good. Even Dual-Bluetooth Pairing works seamlessly. The bass is on the heavier side and feels thumping. Ideal for bass heads. Back to the Boult Audio Zcharge review.
There are many neckbands under 1500 Rs but many are just meh with a lot of hype. Some are good and one of them is Boult Audio Zcharge. Why it's so special?
Because it got dual Bluetooth connections, 14.2 mm audio drivers, IPX5 Water resistance, and above all ENC for better calls!
So in our Boult Audio Zcharge review, we have tested all the claims, and here's what we experienced after 1 month of use.
At PadhkeDekho, we buy products. Review and compare them with others in the same price category. It helps readers like you make a better-informed decision.
As a support to us, you can buy this neckband from Amazon using the links in this article, it helps us earn a small commission at no additional cost to you.
With that said, here you'll find the Pros & Cons, In-box Contents, Built Quality, Look & Feel, Features, Audio Quality, Mic Test, Battery Backup, Gaming, and finally our verdict on whether you should buy this or our recommendations!
Let's kick things off with the Pros and Cons.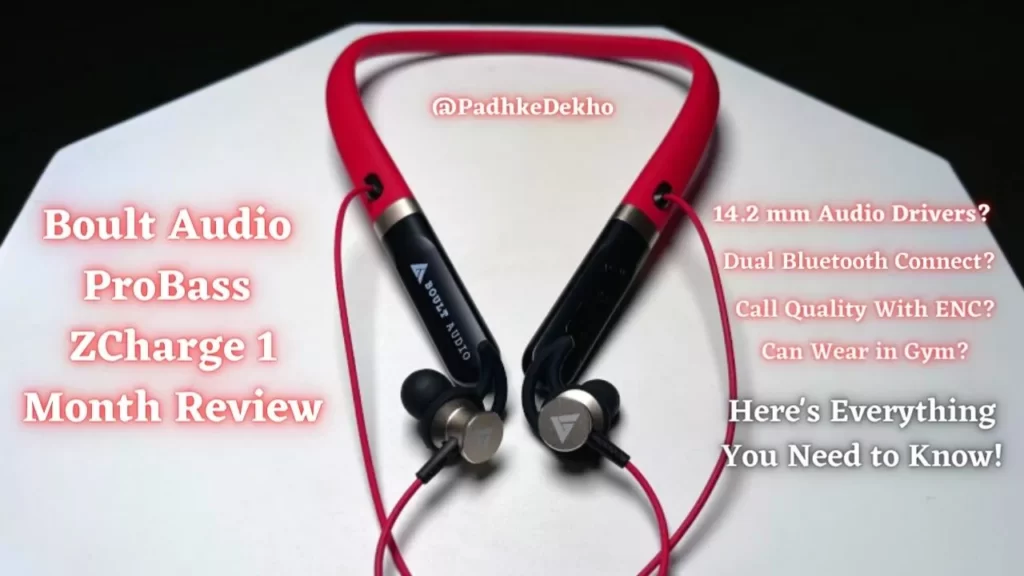 Boult Audio ZCharge Pros & Cons
In-Box Contents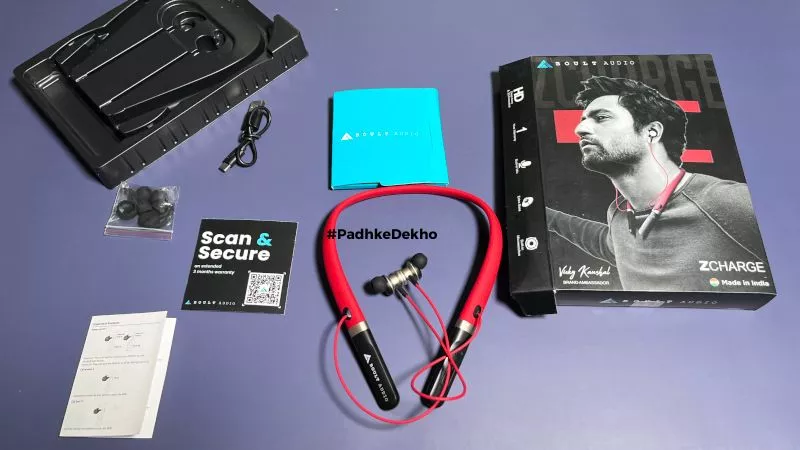 In this box of Boult Audio ZCharge you'll get from left to right:-
1. User Manual.
2. Warranty Card.
3: USB 2.1 to USB Type-C Charging Cable.
4: 2 Additional Pairs of Ear Tips & 2 Ear Hooks.
The unboxing experience is quite similar to other neckbands at this price. But the ear hooks were a unique touch as many neckbands do not come with those. So for the price, you get quite a few handy things.
Built Quality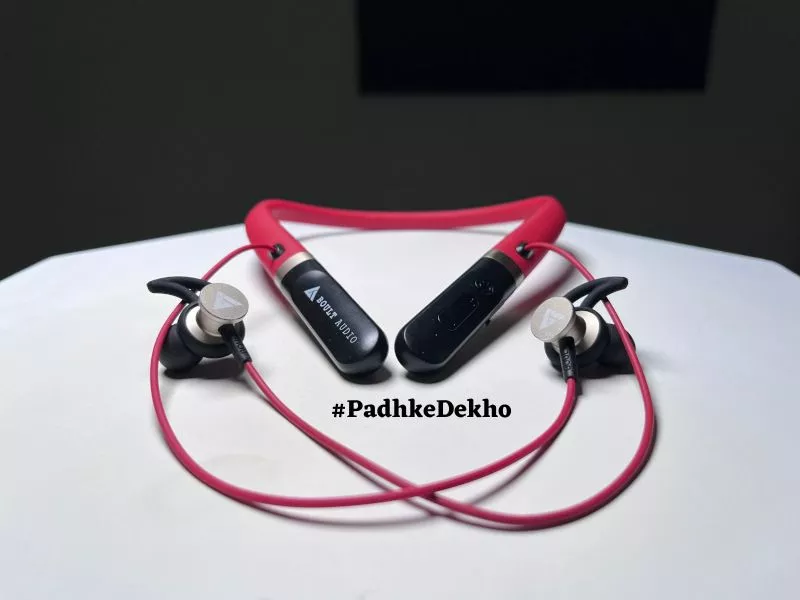 Under 2000 Rs you will find neckbands that offer rubber/plastic or aluminum/plastic overall construction. The intensity of the plastic and aluminum varies. So where does Boult Audio Zcharge stand?
The build of Boult Audio Zcharge is good. I.e. it offers soft rubber neckband and hard plastic on the bottom where you will find media playback buttons. Just like that, the earbuds are of metal. Which is good.
Don't get me wrong, the overall build is sturdy, we tested it out for 1 month in the backpack, on the neck, and even thrown it on the table, and the neckband performed quite well. So, we'd say Boult Audio Zcharge is a durable product and can last quite a long.
if you are willing to buy a neckband under 2000 Rs that offers some more aluminum construction then you can check out Infinity Glide 120 or BoAt Rockerz 330ANC.
Built Quality: 8/10
Look & Feel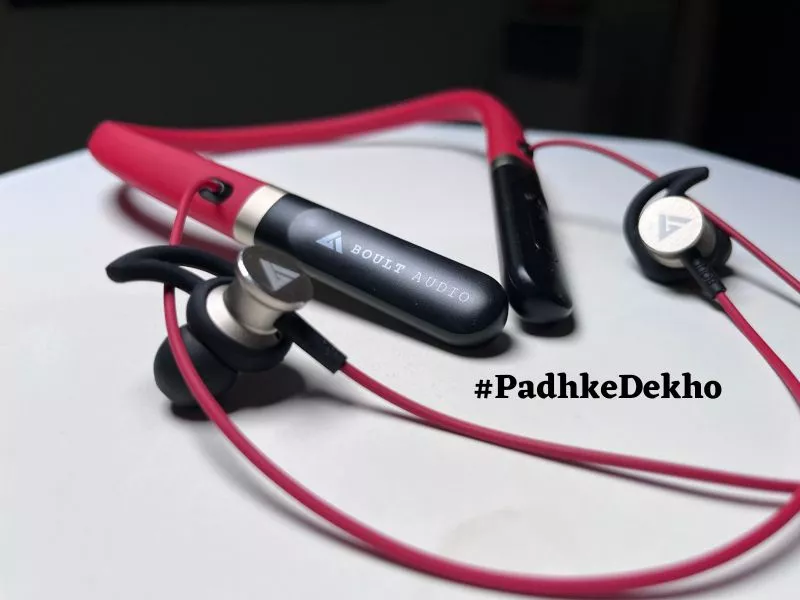 The design or overall look of the neckband is stellar. If you'll show it to anybody no one will believe it just cost 1200 Rs.
The biggest contributor to these remarks is the combination of colors and fake aluminum separation between the neckband and media controls.
The mixture of colors is well done. The neckband and wire offer similar colors just like the fake aluminum separation between the neckband with the media controls and the outer earbud design.
In terms of looks, we are quite impressed with the design Boult managed to do on Zcharge. On a scale of 10, we'd give 9/10.
What about comfort and grip?
This neckband is comfortable for people with medium to large ears. if your current audio gear has a silicone in-ear design then these will be perfect. Not just for comfort but also for grip.
In fact, these are perfect if you wish to wear these in the gym or while doing workouts. Thanks to the ear hooks as well as the IPX5 water resistance.
However, if you have got small ears, then these will not be comfortable for long. In that case, you can remove the ear hooks. It will improve comfort but will affect the grip during workouts or running.
Note: If you got small ears then you can confidently go with BoAt Rockerz 330ANC or Infinity Glide 120.
| Feature | Rating |
| --- | --- |
| Overall Comfort | 8.5/10 |
| Grip With Ear Hooks | 9.5/10 |
| Grip W/H Ear Hooks | 7/10 |
How to Use Dual Bluetooth Switch on Boult Audio Zcharge?
The pairing process for the first time is like any regular wireless headphone or earphone; You search for a device and connect. After a successful connection, you can search for the same neckband on a different device. Maybe a laptop or another smartphone.
With a successful second connection, two devices are connected to the Boult Audio Zcharge. Now how will you switch between the devices?
The transfer is automatic and we really liked it on this neckband. How? Let us explain!
Let's say you are watching a video on a laptop and at the same time you get a call on your smartphone. You can either accept it via the call controls on the neckband or via the smartphone.
And once the call is done, the video will start playing if the tab is open. Otherwise, you will have to manually replay the video.
Another scenario is when media is playing on device 1 and you start media on device 2, the neckband will pause the first one and shift automatically to the second one.
And if the app is open on the first device it will automatically resume on device 1 when the second device is paused. Otherwise, you have to press the play button.
The overall transition is very smooth and we did not expect that kind of smoothness in this price range. if you are looking for a dual Bluetooth connect neckband then Boult Audio Zcharge is the way to go.
Boult Audio ZCharge Features
#1 Dual Bluetooth Connect: Many of us, keep two cell phones. Having audio gear that can connect to two different devices saves time and is convenient.
Boult Audio Zcharge offers a dual Bluetooth connection that works seamlessly. All you need is to pair the first device and use the same procedure to connect the second device. The transfer is automatic and smooth.
If you are using the same devices then all you need is to turn on the neckband it will form the connection within seconds.
#2 Fast Pairing: Though there is no mention of quick connect or anything the pairing process is swift. The first-ever connection will be done in under 5 seconds. The next time will be under 2 seconds or the moment you press the power on button. It can be fast due to Bluetooth 5.2.
#3 IPX 5: This neckband is workout friendly which means you can take it for your walks, runs, weight lifting, or cycling. With IPX5 you don't need to worry about sweat or water splashes.
#4 ENC ( Environment Noise Cancellation): ENC IS quite common nowadays and works to restrict background noise during calls. We've tested a few neckbands and this one handles the noise isolation quite well under 1500 Rs.
The mic focuses more on your voice rather than people chatting around you or other high-range frequencies.
#5 Big Audio Drivers: Usually at this price, many neckbands are either 8mm or 10 mm but this one packs 14.3 mm drivers. We have tested the audio quality that you will read below.
Audio Quality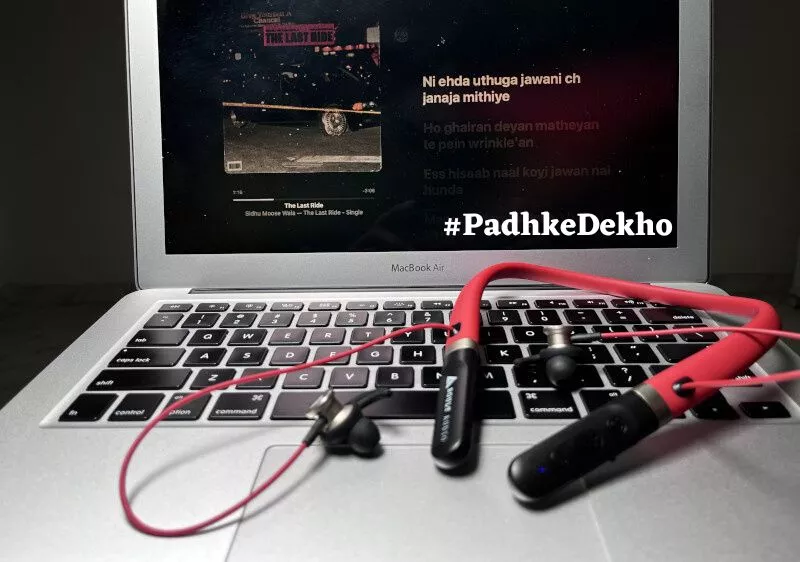 Boult Zcharge neckband offers 14.2 mm audio drivers which are the biggest drivers under the 1500 Rs category. So does it make it the best neckband under 1500 RS? Well, the answer is yes and no! Let me explain!
If you are looking for a bass-heavy sound signature then yes it's the best neckband you can buy under 1500 RS. The bass is so punchy that it offers a wide variety of low-end frequencies.
We did not expect such bass from this product. We've used other neckbands too but the bass on this hits differently. So yes, the big audio drivers are working here and not just marketing hype.
What about other factors like audio, instruments, treble, and overall loudness?
The overall sound signature is bass heavy but this does not mean that the rest of the things are suffering from it.
Vocals and instruments are quite clear on this one. Even at full volume, you will not find any audio distortion in vocals due to high bass.
Loudness is just perfect. You will realize that when you know you are at your limit and hitting the volume up button will not make any change.
Since we majorly try BoAt audio products we usually find them slightly louder. However, Boult Audio is on the same level.
The only point that you might find missing is the detuned treble. This is done to compensate for deep bass.
So if you like high treble then you can check out other neckbands like BoAt Rockerz 330ANC or Infinity Glide 120.
Other than that, it's a great neckband that you must have if vocals and heavy bass are your things. You will love these in the gym!
Boult Audio zcharge Audio Quality Rating – 8.5/10.
| Feature | Rating |
| --- | --- |
| Bass | 9.5/10 |
| Vocals | 8/10 |
| Treble | 5/10 |
| Loudness | 8/10 |
| Best Buy Link | Amazon |
Mic Quality
Like many neckbands and TWS, this one also comes with ENC which means Environmental Noise Cancellation. If you don't know, it's entirely different from Active Noise Cancellation which is the main USP of premium audio gear.
Audio gear equipped with ANC removes or restricts low and high frequencies resulting in less background noise or ambient noise around you while you are consuming media or taking calls.
But ENC is different. It only works during calls and focuses on your voice above anything. Now the quality depends on the number of mics. Boult Audio Zcharge comes with a dual mic setup that can help in better calls.
So how's the call quality?
Boult Audio Zcharge call quality is good. Much better than the ones which do not come with ENC. But it's not great. Why?
Because the final call output seems a little too processed or in other words, the treble is quite high while the sharpness is not there.
This is quite common with ENC neckbands or even Wireless TWS. Hence we will give the call quality a 7/10.
if calling is your main priority then you can try Infinity Glide 120, BoAt Rockerz 330ANC, or OnePlus Bullets Z2.
Gaming Performance
Okay so here's a thing, the latency or delay between audio and video sync on this neckband is not very good.
For multimedia consumption watching a full HD or above high-detail video will not stutter. We have tried watching Netflix, and Amazon Prime in full detail and did not have a single moment of delay. We are sure about that!
But while gaming, the delay is there. It's not much but it's there. For casual games then you can surely buy it. But if love to play fast pace shooter gamers then you should try something else.
So Gaming experience is about 6/10.
Battery Backup
Battery backup is a strong suit of Boult Audio ZCharge. The claimed figures are about 40 hours which is frankly a bold claim as neckbands usually don't have a massive battery in here.
During our testing, we found the battery backup is surprisingly good and very close to the claimed figures. At max volume and connected to two devices we were able to extract anywhere around 35 hours.
This means if you listen to music during your office commute then, this neckband can run for about 3 to 4 days. As we did the testing at max volume, you can lower the volume to 80 percent and can even cross the 1-week bar!
And if it's not enough you can charge this neckband for 10 mins and enjoy 3 to 4 hours without worrying about charging!
So for battery backup and charging speed, we are quite satisfied with these results. As a result, we'd give it 8.5/10 for the battery backup test.
Should You Buy Boult Audio Zcharge?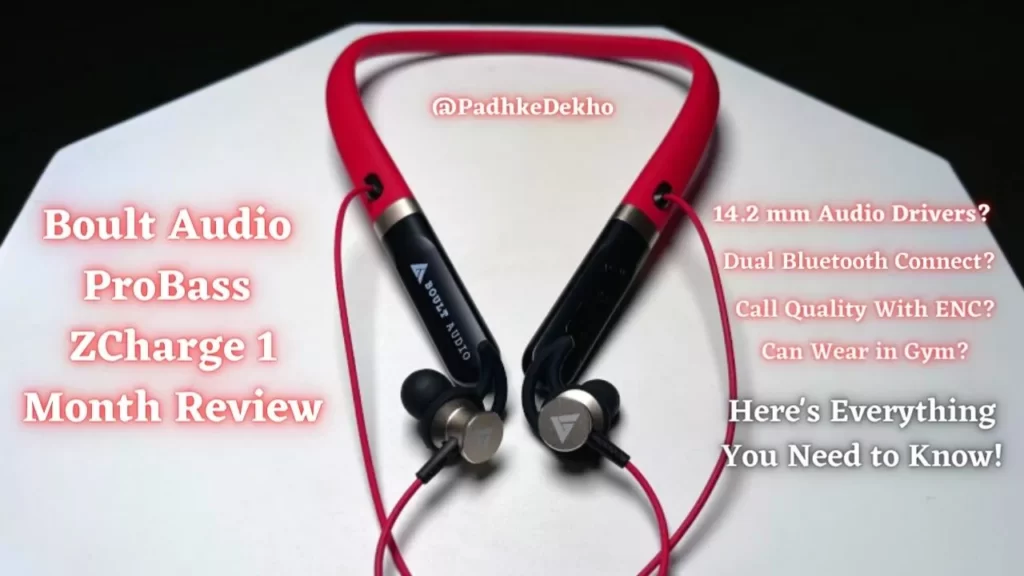 After spending a good 1 month with it, here's what we have liked and "not so much" Let's talk about the good first.
The Good
The overall build is great; Be it the rubber of the neckband or plastic in general. The same goes for the looks; it's exceptional looking which feels much more expensive than the price.
Thanks to the ear hooks and IPX5 Water resistance we feel very confident wearing these to the gym and not worrying about sweat.
As far as audio quality goes, the 14.2 mm audio drivers are great for bass lovers. It's actually very thumping while maintaining vocals and instrument separation.
Though the treble is the bare minimum and that can be a bummer if it means a lot to you. Otherwise, the overall audio is bass-centric and quite loud.
Just like the bass, the battery backup is also stellar. You can expect around 30 to 35 hours depending upon the volume. These claims are at full volume! So you can get more if you'll stay at around 80 percent volume.
And if it's not enough you can charge this neckband for 10 mins and enjoy 3 to 4 hours without worrying about charging!
All of these claims are taken while the neckband was connected to two devices all the time.
And about the Bluetooth connection and dual connect. The 5.2 connection is very stable and we did not experience any latency or audio lag even under 5 meters from the connected device.
Also, the Bluetooth device switch is instant and works 8/10 times.
So under 1500 Rs, it's a great neckband that you should consider.
Not so Good
There's only one thing and that's the mic quality. We felt the final call quality is a little too processed and that's because of their ENC. As ENC focuses on your voice it tends to limit the background noise by tuning your voice with a little more treble.
if this is your first audio gear with ENC then you will like it as some of the background noise or people chatting around you is filtered out. So it's a win-win situation.
However, this can be an issue for professional calls as the person on the other end can clearly make out you are using wireless audio gear. On a scale of 10, we did give it 7 as you must've read in the mic-test above.
So the mic is bad? No! It's acceptable and far better than the ones which do not come with ENC. Since we play along many audio gears we felt the mic is better on BoAt Rockerz 330 Anc.
To sum up the Boult Audio ZCharge review, we are quite impressed with Boult and we can confidently recommend it to our readers. You can check the below link for the latest price on Amazon.
Wrapping up!
There you go guys, this is our Boult Audio ZCharge review after 1 month of use. if you have any questions or queries you can reach us on the below given social accounts. We love to help our readers.
Want to support local content at no additional cost to you? Then please use the Amazon links on this page to confirm your purchase, With a qualifying purchase we might earn a small commission at no additional cost to you.
This helps us buy more products and ultimately helps readers like you make a better-informed decision.
Suggest Articles!