[Updated on July 25, 2023] When it comes to truly wireless earphones, be it Amazon or Flipkart, you will see many options. The odds of you getting confused between two models from the same brand are pretty likely! This is what happening and we are getting tons of DMs to compare BoAt Airdopes 141 vs 161!
Getting confused between Airdopes 141 and 161 is very logical because most of the time both of these stay around 999 and 1299. So which is better among BoAt Airdopes 141 vs 161? Well! We have everything sorted! And by the end of this article, you will know exactly for whom they are ideal.
Padhkedekho.com is supported by the readers. By anything using the below Amazon links will help us earn a small commission from the brand at no additional cost to you. This however doesn't affect our verdict or feedback regarding the product.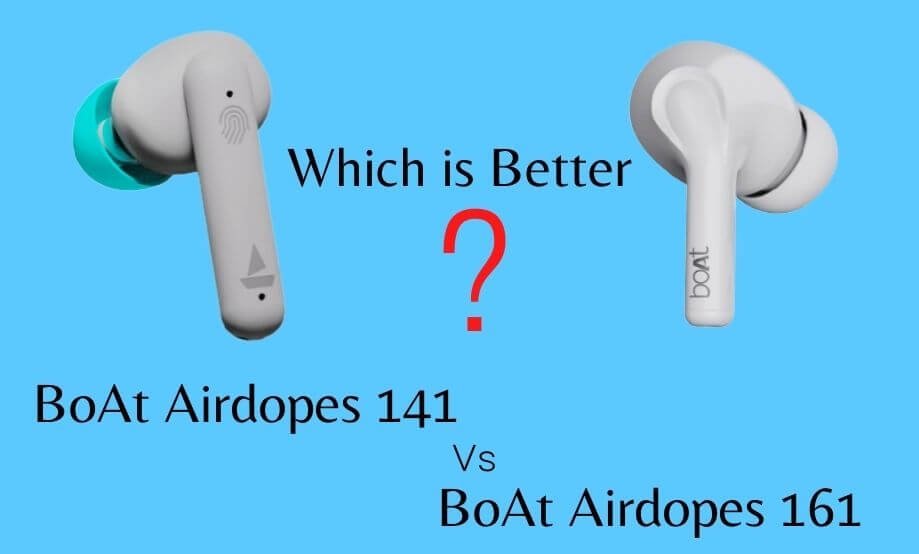 BoAt Airdopes 141 vs 161 Major Differences
| | | |
| --- | --- | --- |
| | | |
| | | |
| | | |
| | | |
| EarBuds on Constant Use Max Volume | | |
| | | |
| | | |
| | | |
| | | |
| | | |
Airdopes 141 Pros & Cons
Airdopes 161 Pros & Cons
Built Quality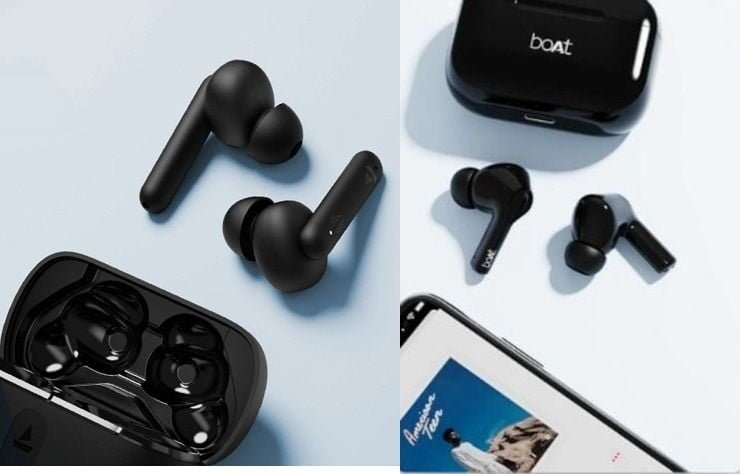 The moment you will lay your hand on the Airdopes, both are exceptionally built. The hinges are very strong. Even after vigorous shaking, it will not close the lip. It's Airdopes 141 has the best and most satisfying closing click.
We've also owned BoAt Airdopes 121v2 (review) which is 2 years old and does not offer as good built quality as these but it has survived quite well even after long-term use. So you will have no issues if you plan to keep these for longer.
Just like the case, the earbuds are also made of plastic and offer a silicone/rubber tip that goes in the ear. In this context, we also had no issues with the built quality. There is still no squeaking or sharp plastic corners.
If we take the base price then these are excellent and one would have no complaints in terms of built quality. But if I have to choose for myself, it's going to be Airdopes 141.
| Pointers | BoAt Airdopes 161 | BoAt Airdopes 141 |
| --- | --- | --- |
| Case Built Quality | 9/10 | 9/10 |
| Earbuds Quality | 8/10 | 7/10 |
| Hinges | 7/10 | 10/10 |
Look & Feel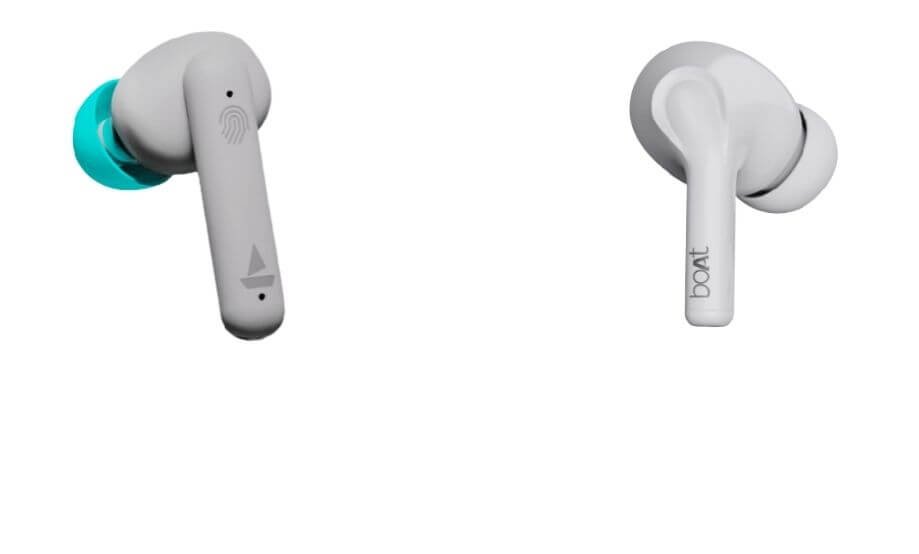 In terms of look, both the Airdopes have almost similar design language. Thanks to that, the in-ear feel and grip are excellent on both. if you need a great TWS earphone that offers the best grip and has some sort of water resistance then you can buy any of these, without a doubt.
I myself do a lot of workouts like running, jogging, and occasional weight lifting, these earbuds offer good grip and have not fallen even once. For an even better grip, BoAt has given two additional pairs of ear tips that will help you find an even better/more comfortable spot.
As far as comfort goes, both the Airdopes have a soft silicone tip that goes in the ear canal while the hard surface doesn't have a single rough edge. As a result, you can wear these for many hours without any discomfort.
So in terms of look & feel + comfort, both are great and you can easily wear them for 4 to 5 hours on a stretch.
Features
When it comes to features, BoAt never disappoints. But what will happen if BoAt is compared with BoAt? Well, we are here to guide you!
On both the Airdopes you will get IWP which is Insta Wake N Pair, which basically connects to the last paired device within 3 seconds. So you don't need to head over to settings anymore after pairing!
Secondly, since both the Airdopes have USB C instead of Micro USB, you can take advantage of the fast charge. BoAt calls it ASAP fast charge. So 5 Minutes of charge can get you around 1 hour of audio bliss.
Another interesting feature available on both is the touch controls rather than physical buttons. To be honest, these are not gimmicks they work incredibly well. The advantage of using touch controls is registering commands with just a tap rather than pressing. So the earbuds will not lose their ideal placement once you'll skip to the next track or just play or pause.
That's about the similarities in terms of features. Let's have a look at the biggest difference and that is the Bluetooth version.
With BoAt Airdopes 161, you get Bluetooth 5.1 whereas on 141 you get 5.0. What difference does it make? Well, the difference is not much. Because Bluetooth 5.0 has already sorted the audio-breaking issue. After 5 meters away from the connected device both Airdopes start audio breaking. To be honest, this distance is fine and not a deal breaker.
So if you need a seamless connection you can buy any of these for the best experience.
Audio Quality
After testing many BoAt Airdopes sometimes the overall experience is great while it's decent to good most of the time. This is exactly what happened in this comparison.
This difference occurred because of the 2mm audio driver size! For context, BoAt Airdopes 161 has 10mm drivers while you will get 8mm on Airdopes 141. So what is the difference?
Practically nothing other than loudness in fact Airdopes 161 loses quality. That's why you should always read customer-centric reviews at PadhKeDekho rather than tech specs. Here "bigger is better" does not apply.
BoAt Airdopes 141 offers bass-heavy frequency, clear vocals, and decent treble with an ample amount of loudness. if you listen to Punjabi songs and the bass gets your adrenaline pumping then Airdopes 141 is better.
Not just that, any bass-heavy song will hit differently on BoAt Airdopes 141. This reminds me of the OnePlus Buds Z which got stolen in the Metro.
if the bass is not your thing, then you will fall in love with the vocals and instrument separation on these. At any volume, you will not find any audio distortion. This is a big step up from BoAt Airdopes 161. Where music loses quality after 80 percent of volume.
So if you need good bass, sharp vocals, and details while compromising on the treble then BoAt Airdopes 141 is your ideal choice.
Mic Test
In the last comparison of BoAt Airdopes 121v2 and 161, we found 161 to be slightly better than 121v2 in terms of outdoor calling. And today, we say the same for Airdopes 141.
The mic performance of BoAt Airdopes 141 is an upgrade from 161. The EnX technology kicks in that help in reducing background noise.
This is fine but the output is 100% dependent on how well the mic picks up your voice. My only complaint with BoAt is the conversion of my voice to be robotic. The good news is, BoAt Airdopes 141 is not at all robotic in any sense. It picks up the voice quite clearly. While Airdopes 161 still offers robotic conversion of voice.
After taking a few calls be it indoors or outdoors, BoAt Airdopes 141 is a good calling tws option under 1500 Rs. And if you can get these under 1000, then nothing comes close to it!
Battery Backup
When it comes to battery, both the Airdopes have practically double the size difference. BoAt Airdopes 141 has a 600 mAh carry case. While BoAt Airdopes 161 only offers a 300 mAh brick. This clearly means Airdopes 141 can charge the earbuds a few times more than 161's case.
As per BoAt, Airdopes 141 can provide juice for up to 6 hours on constant use. While Airdopes 161 can work for almost similar at 6 hours claim.
But in real-time, BoAt Airdopes 141 can be used for 5 hours+ on a stretch at 100 percent volume. Whereas, Airdopes 161, can easily hit the claimed figure of 6 hours. Why is it so? Because the earbuds have different mAh battery sizes.
BoAt Airdopes 141 earbuds have 30 mAh each. Whereas, Airdopes 161 buds have 40 mAh each. So that's where the difference comes in.
Both the Airdopes are almost similar in terms of battery backup. But the carry case of BoAt Airdopes 141 can charge the buds many more times than Airdopes 161.
BoAt Airdopes 141 VS 161 Which is Better?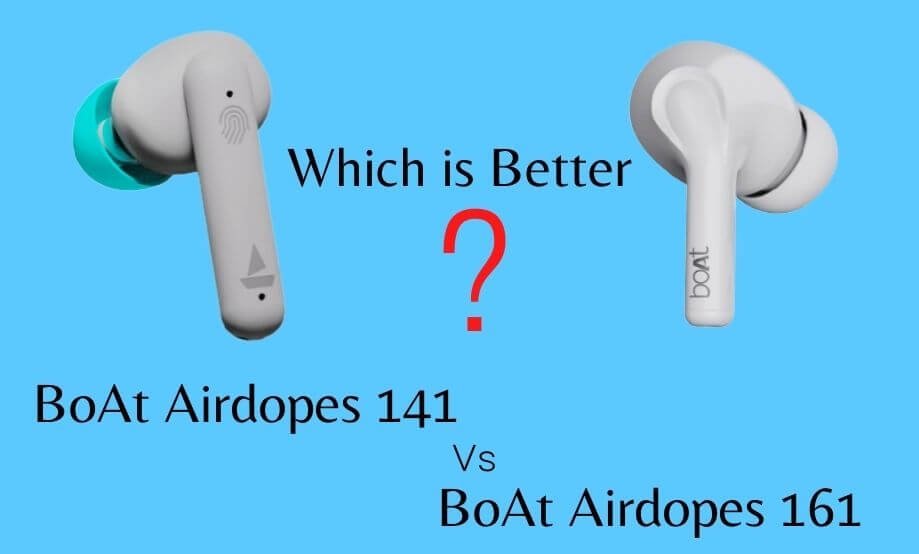 Airdopes from BoAt are being bombarded with many TWS options under 2000. What happens with this, is just by increasing your budget by only 100 Rs you can buy a different model! As a result, confusion is going to be high time this year!
Above we have talked about each and every difference between the two that can be a deal-maker or breaker for you. But if you still haven't decided, let me break my experience into use-case scenarios.
Let's put the things which are equally good on both of these.
To begin with, the comfort and feel are similar. The level of grip on offer is also the same. Touch controls are very effective and IWP or Insta Wake N Pair works brilliantly on these. So if you buy any of these just for features, then you buy either 141 or 161.
Now let's talk about the different scenarios.
BoAt Airdopes 141 packs in everything that one needs; i.e. good audio quality, bass-heavy sound signature, touch controls, long battery backup, Beast Mode for better gaming, and an amazing mic for outdoor or indoor calling.
Though BoAt Airdopes 161 is decent, however, it left us desired for more because of the audio quality at full volume, lack of gaming mode, and average call quality.
So the overall winner in this comparison is BoAt Airdopes 141.
There You Have it, Folks!
This is our detailed comparison of BoAt Airdopes 141 vs 161. I hope this would have helped in your decision-making. if not, please reach us on the below social accounts we love to help out our readers.
if you are going to buy it then please use the below Amazon link. It will help us earn some commission at no additional cost to you. This ultimately supports us in keeping the website up and running. Thanks for being a patron!   
| | | |
| --- | --- | --- |
| | | |
| | | |
| | | |
| | | |
| EarBuds on Constant Use Max Volume | | |
| | | |
| | | |
| | | |
| | | |
| | | |
Suggested Articles!
F.A.Q
Which is Better BoAt Airdopes 141 or 161?

There are so many factors where we've compared these two in this detailed comparison. Click now to learn more!
BoAt Airdopes 141 vs 161 Which Sounds Better?

Both of these sound great, but it's Airdopes 141 that offers better details. Whereas, 161 on the other hand is more balanced and has good overall listing experience under 80% volume. We've talked about their audio quality in detail. Click now to learn more!
Which Offers More Bass Airdopes 141 or 161?

In terms of Bass, BoAt Airdopes 141 is fantastic. You can feel the thumping bass!