BoAt Airdopes 121v2 is a highly popular and most demanding earbud of all time. I doubt you will find as many reviews and comments which it gets even as of today. Just recently BoAt has introduced Airdopes 161 which is exactly similar to 121v2 in terms of price bracket. So after spending a few days with it, here's PadhKeDekho BoAt Airdopes 161 vs 121v2 comparison.
In this BoAt Airdopes 121v2 vs 161 comparison, you will get to know some technical and major differences after using both the Airdopes. So this article is going to be important for you.
Padhkedekho.com is supported by the readers. Buying anything using the below Amazon links will help us earn a small commision at no additional cost to you. This however, doesn't change our feedback of the products. All you get is 100 percent unbiased reviews and opinions. 
So that being said, let's begin BoAt Airdopes 121v2 vs 161 comparison. Let's have a look at the basic differences first.
Airdopes 161 VS 121V2 Differences
BoAt Airdopes 121v2 Pros & Cons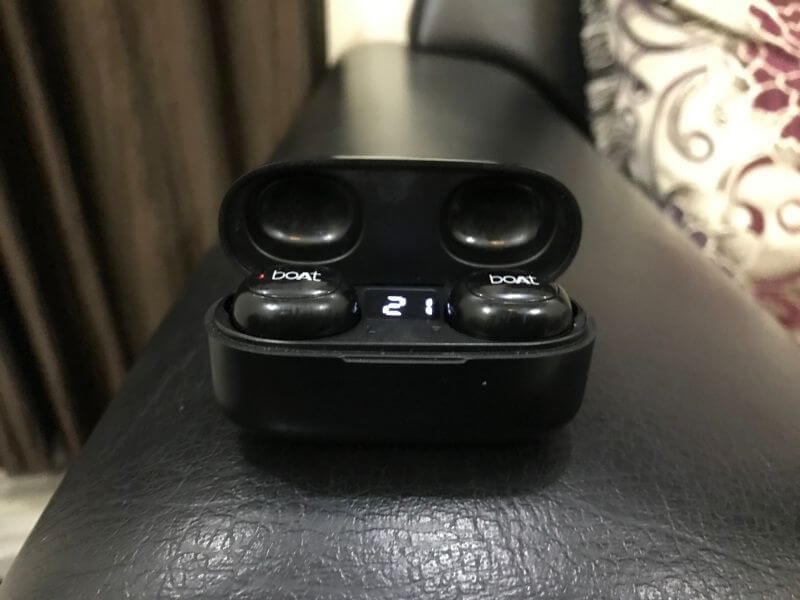 BoAt Airdopes 161 Pros & Cons
Built quality
If built quality is your go-to factor then you can go with any of these. I've owned BoAt Airdopes 121v2 for more than a year now and it has been holding very well.
But next to Airdopes 161, 121v2 does feel inferior and weak in terms of the case. The hinges of the 161 are very sturdy yet you can operate it with one hand. If you'll apply force to shut it, even then it will not do.
Secondly, the magnetic pull on 161 is far better than 121v2. Though the earbuds will not fall on 121v2 you get a sense of confidence while taking or putting the earbuds in the case.
As far as the earbuds go, both 121v2 and 161 have almost similar built quality and we have no complaints in this context.
Look And Feel
If you like the matte design then BoAt Airdopes 121v2 is your call. Whereas, Airdopes 161 has glossy earbuds as well as a carry case. To be honest, I am not a fan of glossy material as it behaves like a fingerprint magnet.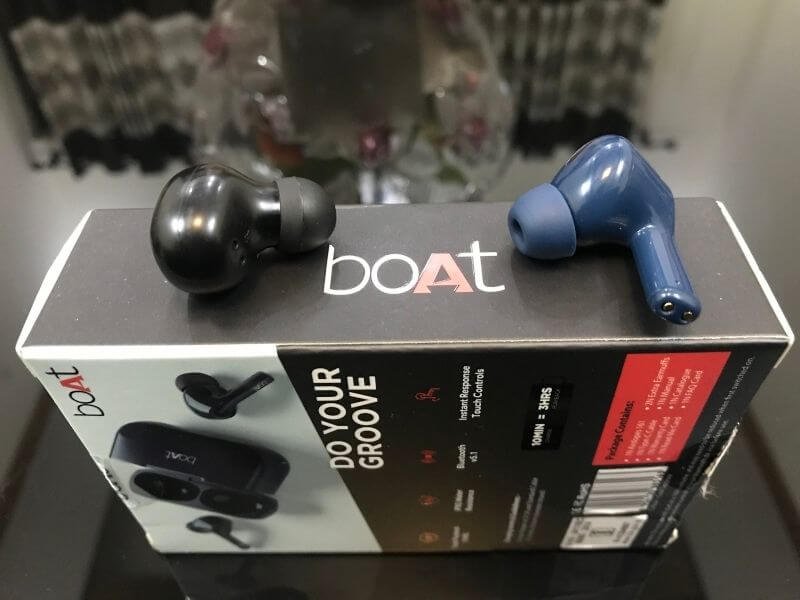 In terms of design, both are very different from each other. The only similarity is the silicone ear tips. Looks are subjective but if you put both next to each other, it's Airdopes 161 that will attract more eyes.
When both the earbuds are in the ear they form a good grip and will not fall off that easily. I've done walking, running, jogging and a little weight work out wearing these & they pretty much stay in the ears.
BoAt has given 2 additional pairs of ear tips that you can change for a better fit. But due to BoAt Airdopes 161 IPX5 water resistance, you will feel more confident while working out.
Therefore, in terms of look & feel, it's purely subjective and both do look great.
Features
BoAt Airdopes 121v2 is more than a year old, hence next to Airdopes 161, it lacks many features.
To begin with, you'll get Bluetooth 5.1 instead of 5.0, touch controls in the place of physical buttons, Insta Wake N Pair for faster or instant paring, newer USB-C than the Micro USB, support for fast charging and so much more. Next to Airdopes 161, Airdopes 121v2 looks old school!
So if you are behind features and practicality then BoAt Airdopes 161 is a sure-shot winner.
BoAt Airdopes 161 vs 121v2 Audio Quality Test
What difference can 2mm of the audio driver do? Well, a lot of if tuned perfectly!
BoAt Airdopes 161's 10mm audio driver is very lively. In other words, it's louder than Airdopes 121v2, and offers more bass, details, and sharp vocals. The biggest difference you will immediately notice will be deep and thumping bass!
If bass excites you then 161 needs your attention. It achieves higher or deeper bass by limiting the treble to an extent where the treble is a bare minimum. Fortunately, the vocals and instruments are very loud and clear.
While with BoAt Airdopes 121v2 you will get well-tuned vocals, mids, and highs without overpowering bass. Listening to anything at full volume or lower is pleasant to the ears. In other words, Airdopes 121v2 is perfect and nothing can go wrong.
Where Airdopes 121v2 lacks is in terms of extensive bass. But the mids and highs ie vocals and treble are great. Whereas on Airdopes 161 mids and highs are taken away due to heavy bass.
So if thumping bass and crystal clear vocal is your thing then Airdopes 161 are the way to go. Otherwise, BoAt Airdopes 121v2 is still a great tws option.
Bluetooth Range
To be honest, we never had major problems with Airdopes 121v2 in terms of Bluetooth connectivity or range thanks to Bluetooth 5.0. But now with Airdopes 161 paired with a Bluetooth 5.1 compatible phone like Moto G51 you can increase the pan area to 10 meters with a little to no audio break.
Even with a Bluetooth 5.0 or 4.2 smartphone, the connectivity and range are not an issue. So if you need more peace of mind or want to stay away from the phone but still be connected then BoAt Airdopes 161 is a better deal.
Note: Both have a 10meter range but Airdopes 121v2 starts to break audio after 5 to 6 meters. Whereas, Airdopes 161 things ar smooth even at 7 to 8 meters.
BoAt Airdopes 161 vs 121v2 Mic Test
My only concern with Airdopes 121v2 was the microphone performance while being outdoor. It tends to capture more background noise than your voice notes! Though indoors it's decent and works well.
Thankfully, BoAt Airdopes 161 is better. How much better you might ask? Well not very much but still it's an improvement.
After taking a few calls (without disclosing the source of audio) people had no complaints. But many were able to make a guess that I was using some Bluetooth device.
So if you need a tws for calling and the budget is under 1500 Rs then Airdopes 161 is the second-best option after Mivi Doupods A25.
Touch Controls vs Buttons
If you have been following PadhKeDekho for a while, you'll know how much we appreciate the touch controls. Because once you press the regular button, it shoves the earbud a little deep in your ear canal which can be painful.
Though BoAt Airdopes 121v2 has physical buttons they don't shove that deep in the ear canal. But a little pressure is certainly present.
Touch controls on the other hand on 161 are blissful. But capacitive controls do not always bring good news! The touch buttons are very responsive and if you are putting them in or just adjusting the buds while listing to music, you will surely encounter unwanted play or pause due to responsive buttons.
Secondly, if you compare it with a physical button, then you will have to allow it half a second to address your command.
So the choice is yours. A little pain but quick or comfortable with a little delay. What will you choose?
Battery Backup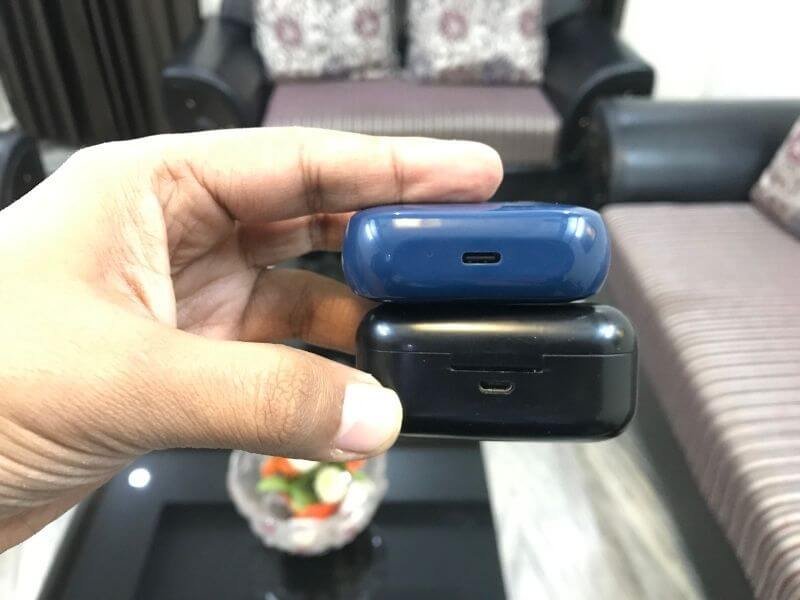 On paper, both of these don't have an exceptional battery backup but one can easily get 4 to 5 hours on a stretch. So both are at par when it comes to battery.
But Airdopes 161 takes the lead with support to fast charging due to Type-C. Thanks to that you can get the juice for 3 hours with just 15 mins of charge. This is great!
The carry case of BoAt Airdopes 161 gets fully charged in under 2 hours which is an hour quicker than Airdopes 121v2.
With Airdopes 161, you will get slightly better battery backup and quicker charging.
BoAt Airdopes 161 vs 121v2 Which is Better?
After spending a good time with both of these, we have reached a conclusion.
If you already own BoAt Airdopes 121v2 then Airdopes 161 is a good choice. Everything from built quality, to look and feel, audio quality, features, and battery backup BoAt Airdopes 161 is a worthy upgrade.
But only at a price of under 1500Rs. Because at the current price of Flipkart which is 2450, you can get better tws from BoAt like Airdopes 441 Pro, Airdopes 661.
Let's talk scenarios now.
Do you plan to take calls using wireless earbuds? Then we have some news for you! BoAt Airdopes 121v2, as well as 161, have decent mics on offer but only when you are indoors. The only problem with both of these is picking up the noise while being outdoors.
So are there any other differences? Yes, there are!
BoAt Airdopes 161 has a bigger case. In the pocket, the budge is easily noticeable. Secondly, if you need a tiny tws option then also you will have to avoid 161.
Another reason will be the bass. If you don't like bass-heavy audio then Airdopes 121v2 is better. It's not like it doesn't offer bass, but it's on a moderate level.
Thanks to the IPX5 water and dust resistance, BoAt Airdopes 161 are meant for fitness people. Due to the snug fit, you will have no issue during cardio, walking, running even weight lifting. So if fitness is on your mind, then Airdopes 161 needs your attention.
Next to 161, 121v2 is not that grippy while working out. So if you workout out while listing to audio then BoAt Airdopes 161 is better than 121v2.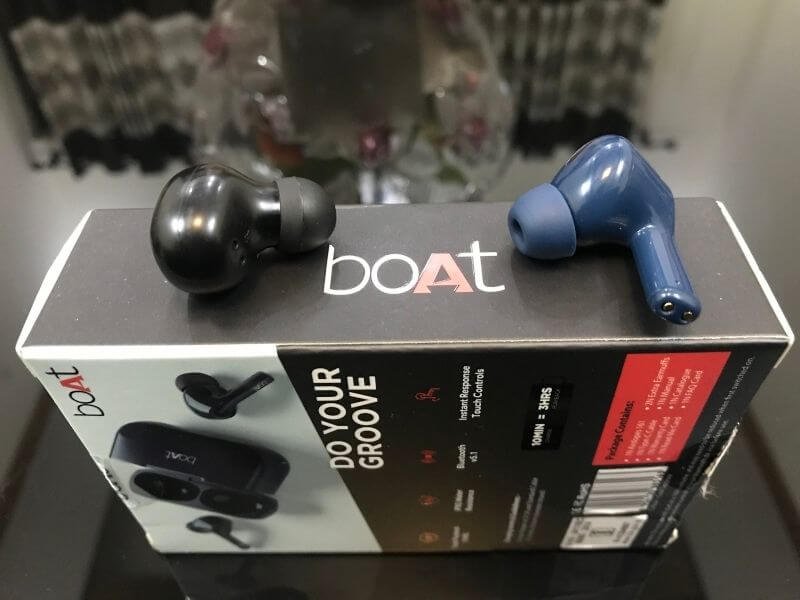 Wrapping up
There you go, guys! This is our BoAt 161 vs 121v2 comparison. if you still have doubts you can always reach us on the below social media accounts. We love to help our readers in choosing better.
if this detailed comparison helped in your decision making then please use the below Amazon button to make your purchase. In this way, you will support the website without paying anything! Thanks for being a patron!
F.A.Q
BoAt Airdopes 121v2 Vs 161 Which is Better?

Both are meant for different users in mind. If you will be working out listing to music then Airdopes 161 is better. While Airdopes 121v2 is small and lightweight. There are many scenarios that we have talked about in this detailed comparison. Click now to learn more!
BoAt Airdopes 161 vs 121v2 Which is Good For Calling?

For calling, BoAt Airdopes 161 is better than 121v2. But we have talked about other use case scenarios in this detailed comparison. Checkout now!
BoAt Airdopes 121v2 vs 161 Which one Sounds Better?

In terms of sound, the 10mm drivers of Airdopes 161 are better than 121v2. Most prominently, The bass is the noticeable difference. Then come the vocals and detail in the audio. We've compared both in terms of audio in detail in this comparison. Do read it before making any sudden decision. Click now to choose better!