[Updated on July 25, 2023] If you are looking for an interesting TWS earphone then BoAt Airdopes 161 must have got your attention. it comes with features like touch controls, Bluetooth 5.1, 10mm audio drivers, Insta Wake N Pair feature, and many more. Interested? In this BoAt Airdopes 161 review, we will not discuss the tech specs but will share what we felt after using it for 30 days.
These are our opinion about BoAt Airdopes 161 which can change in the course of time. So for the latest update do follow us on the below social accounts. Or perhaps you can reach out for any other query.
So that being said, let's review BoAt Airdopes 161. Here, you'll find out about the pros and cons, built quality, look and feel, features, audio output, mic test, battery backup, and finally for a verdict about the earbuds. Clicking on any prior link will take you to the highlighted portion of the article.
Disclaimer: This is not a sponsored article whatsoever. This product has been tested by our editorial team and the opinions shared are not in the brand's interest. All you get is a 100% honest and genuine review. That's what we are for!
PadhkeDekho.com is supported by readers like you. if you shop anything using the Amazon links on this page, we might earn a small commission at no additional cost to you. This ultimately helps readers like you make a better-informed decision. Thanks for your support, PadhkeDekho is 3 years old now!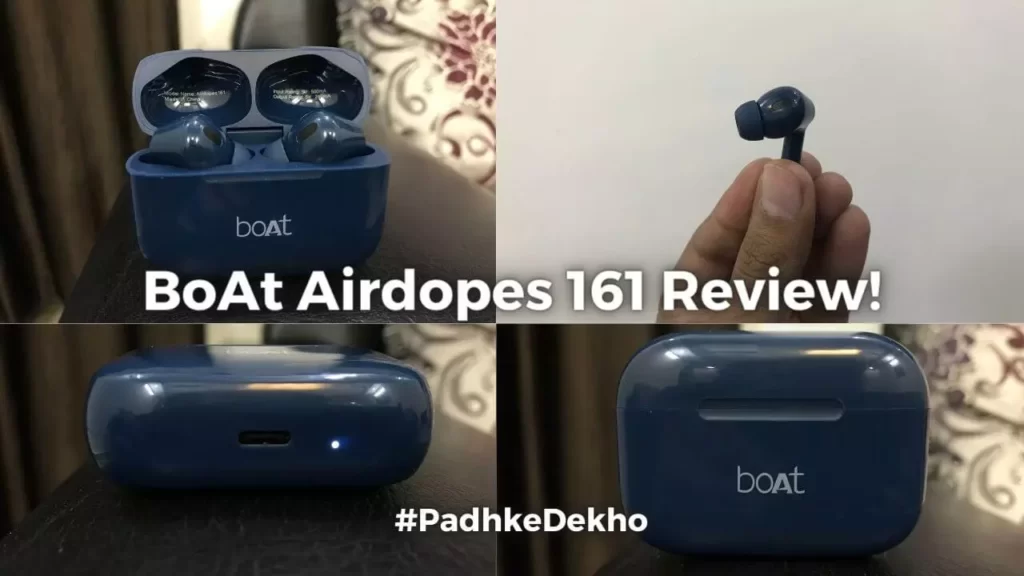 BoAt Airdopes 161 Pros & Cons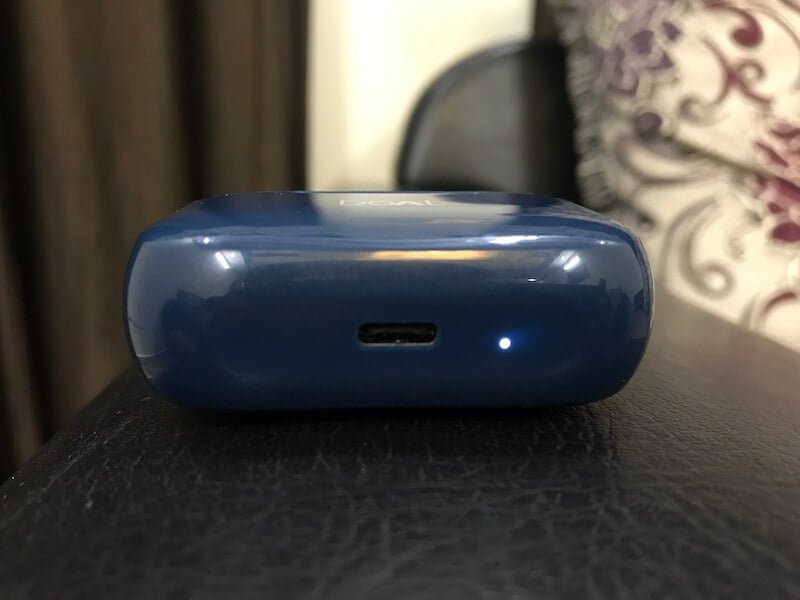 Built Quality
Since we have used two BoAt TWS earphones under 1200 like BoAt Airdopes 121v2 and 131, BoAt Airdopes 161 are miles better than those. The plastic used on the carry case and the earbuds seem good. This time, BoAt has not cut corners with the fit and finish of the budget model.
Where BoAt has improved is in the carry/charge case built and the hinges on the case. We couldn't say this confidently for any other budget BoAt Airdope around 1500 Rs. BoAt TWS 161 offers a marvelous built quality.
The magnets that hold the earbuds in the case offer excellent grip too. We tried to shake them off, and they did fall after shaking them vigorously.
So in terms of built quality, it gets 5 out of 5 (Highest Ever Given).
Look & Feel
To be honest, in the white color, you will get a resemblance to Apple AirPods Pro! Maybe that's why the white color got sold old very soon on the launch date! The buds do have an Airpod design which is evident from the inner area. BoAt has done some of its designing and the end product looks neat.
BoAt 161 Airdopes is available in three color options; White, Blue & Black. We went with blue color as it was not very bright and looked cool on Amazon. Thankfully, the color is not different from than advertised!
Thanks to the silicone tips and the design of the earbuds, you will experience a snug and comfortable grip. It gives you the confidence of doing whatever and they will not fall. I took it for a quick run, jogging, and walking and didn't have a single incidence of them falling off.
Since the design is not entirely of BoAt, I cannot give them a 5 but still, they did manage to make it like a new and refreshed BoAt Airdope 131, hence, it gets 4/5.
Features
When it comes to features, BoAt never disappoints. To begin with, BoAt Airdopes 161 comes with Bluetooth 5.1, touch controls, Insta Wake N Pair, fast charge support and so many more! All of these features are no gimmicks and they do work.
if this is your first time with BoAt Airdopes with Insta Wake N Pair, then you would simply love it. It is so convenient and quick to form a connection with a paired device. It's so quick that by the time you'll take these out of the case, they would have established the connection.
So without a doubt, if you evaluate earphones based on features, then Airdopes 161 will impress you.
Audio Quality
We have owned, reviewed, and compared BoAt Airdopes 121v2 and 131. Both had 8 and 6-mm audio drivers. In a similar price range, BoAt Airdopes 161 comes with 10mm drivers. While on paper 10mm seems impressive but how's it in real-time use? After spending one week with it, this is what we have observed.
The immediate thing you will notice is the uneven audio sound. The right earbud sounded heavy. This is not a con as many other TWS earbuds have this uneven sound signature. If you do not like that, then you should go with BoAt Airdopes 170 (Review soon). It's not only better than BoAt Airdopes 161 but also BoAt Airdopes 141 (Review).
As far as bass goes, it's a thumping one. You can feel beats flowing through your ear canal! I bought this for 999 so under 1000 this is the best tws for bass. However, at the current price of 2560 of Flipkart, then it's average at best.
Other than the bass, the vocals, and instruments are very loud and distinctive. If the sound you are listing has a stereo effect then you will enjoy it even more. At full volume, the earbuds go very loud and certainly lose some quality.
The best spot to enjoy detail and bass at the same time is around 70 to 80 percent of the volume. To be honest, it's the best-sounding tws earphone if you do not care about the uneven audio output.
Mic Quality
We've reviewed, and compared many TWS earbuds ranging from 1200 to 4000 and I can count on my fingers the ones which have good call quality.
The microphone on Airdopes 161, is surely an upgrade from the likes of 121v2, 131, and even 171. But it will be wrong to be put against Airdopes 441 Pro or OnePlus Buds Z.
Indoors the call quality is decent to good, depending on how silent the room is. The moment you will step out, the mic starts to capture more background noise. So for outdoor calling, you can do it but it will not be the best.
BoAt has improved in the mic department on the budget tws options. As per the price, it's good.
Battery Backup
One thing where BoAt excels is in terms of battery backup. On a full charge, the earbuds can work for around 6 hours. While the carry case can provide you with juice for 17 hours.
Thanks to USB-C, BoAt Airdopes 161 supports fast charging too. So 10 mins of charge can get you to juice for about 3 hours. But these are the claimed figures. What about the actual use case scenario?
Well, the buds are more or less around 5 hours and 30 mins of battery backup and 10 mins of charge can get you more than an hour of audio bliss. And when you are out of juice, the earbuds take around 35 to 40 mins to charge which is impressive. And the carry case can get charged under 2 hours.
So in terms of battery backup, we have no complaints in this department, and here's a solid 4.5/5.
Should You Buy BoAt Airdopes 161?
After spending a month with BoAt Airdopes 161, I think it is going to be a successful product in a highly competitive market. Since we have owned many BoAt Airdopes this one has surpassed our expectations in many areas.
To be honest, we were not expecting such great built quality. Secondly, the fit/finish of the product is also good. The product in terms of build and looks is justified at the MRP cost.
The touch controls work well. Insta Wake N Pair connects to the paired devices within 3 seconds. This is very fast. Due to USB-C, you can take the benefit of fast charging as well.
In terms of audio, this is a bass-centric tws earbuds with very detailed vocals and instruments. The 10 mm audio drivers can get very loud if you need them to. Ideally, staying around 70 to 85 percent of the volume will be recommended for a great audio experience.
The inclusion of Bluetooth 5.1 is a welcoming move since many phones in 2021 came prepared for it. As a result, the Bluetooth reception is very strong and we didn't encounter a single audio break.
Since we've owned and reviewed many boAt TWS earbuds we will be posting a dedicated comparison video soon, so do subscribe to our YouTube channel for that.
So why our experience was a mixed bag? Well, there are three things. The first one is the mic on offer. It fails to impress us in terms of call quality. Secondly, there is no display nor LED notification to let you know the current battery status. You are only dependent on your smartphone notification panel or Bluetooth settings. And last is the uneven audio output.
So all in all, BoAt Airdopes 161 is a decent TWS that you can consider but it's certainly not the best one! if you need a better alternative to Airdopes 161, then you can check out BoAt Airdopes 170 (Review Soon),or BoAt Airdopes 141 (Review).
Wrapping up
There you go, guys! This is our BoAt Airdopes 161 review after 1 week of use. We are quite impressed with the TWS and the introductory price of 999 Rupees is just the icing on the cake. Since it's a new product, we are seeing multiple price changes. Did you like our way of BoAt Airdopes 161 tws review? Then be a good samaritan and share with others!
So if you get BoAt Airdopes 161 for under 1500 Rupees then you should grab it without any hesitation. Other than this, you can try Mivi DuoPods A25 (Review), BoAt Airdopes 121v2 (Review), BoAt Airdopes 141 are worthy of every penny you will be spending.
if you have last-minute doubts or queries you can reach out on the below social accounts. We love to help our lovely readers!
Was this review of any help? if yes, then please use the below Amazon button to place your order. By doing so, we will earn some commission from the brand at no additional cost to you. That will be your contribution to supporting genuine and honest reviews with an ad-free user interface. Thanks for being a patron!
Articles That Might Interest You!
F.A.Q
Is BoAt Airdopes 161 Good?

Yes, BoAt Airdopes 161 is great for the price. The built quality is great, the fit finish is good, bass-heavy audio drivers, and buttery touch controls. After using it for a week, this is our review for BoAt Airdopes 161. Click now to learn more!
BoAt Airdopes 161 Worth it?

Airdopes 161 is a killer TWS earphone at 999 Rs. Be it the features, built quality, or even audio quality, it does everything perfectly. But after using it for a week, our experience has been a mixed bag. Click now to read our detailed review.
BoAt Airdopes 161 Battery Backup?

The buds have a 40 mAh battery each that can last 6 hours on a stretch. While the Carry case has a 300 mAh brick that can provide juice for 11 hours.