[Updated on 19 July 2023] It's been over a year with the mouse pad. It's good for the price and does not feel rough. Availability can be an issue. You can also check out Redgear mp-80 speed type (Review). Both are similarly priced.
if you are looking for a big mouse pad under 400 Rs, you are in the right spot! We've been using it for over a year now before updating this review. This Techno Buzz Mousepad review is all you need. Here we've talked about the pros & cons, built quality, look & feel, usability & gaming performance, and finally our verdict. You can click on any above links to right away check out what you need to know!
First time at PadhKeDekho? Then be rest assured what you are going to read is a 100 percent honest and consumer-centric review of the product. Our editorial team spends a good one month testing the product before recommending or ignoring it. We're independently owned and no brand has "any say" in our content. What you read is true from the heart and what we felt.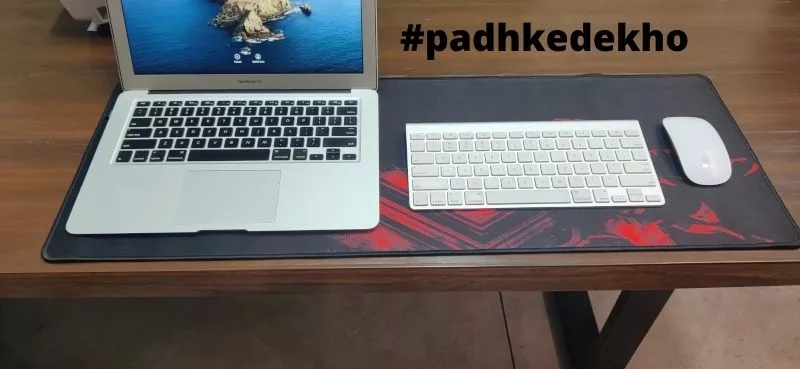 That being said, let's begin the Techno Buzz Mouse Pad Review!
Techno Buzz Mouse Pad Pros & Cons
#1 Built Quality
Techno buzz mouse pad offers good built quality. The moment you will take it out of the box you will feel a weight of about 300 grams. Like any other premium mouse pad, it's made of rubber and has an anti-skid rubber fabric that prevents the mouse pad from moving under friction.
The good news is whether the table is of wood, plywood, or glass, this mousepad will not skid even when a lot of force is applied. At this price, we were not expecting this quality. This tells Techno Buzz is serious and wants to rule the budget segment gaming mousepad territory.
As far as the size goes, the mouse pad is quite large at about 80 cm in length, 30 in height, and 2mm in thickness. it's quite identical to RedGear MP80 that we reviewed a month ago. The noticeable difference is in terms of thickness which is marginal at about 1mm. This 1mm justifies as the price difference between the two is quite a few hundred.
So how's the mouse pad in action? But before that don't you wanna know how the mouse pad feels when you lay your hands on it? Coming up next!
#2 Look & Feel

As far as looks go it's distinctly like a gaming mouse pad thanks to the " Tonight we hunt" and Leagues of Legend logo!
Honestly, we are not a fan of the Leagues logo but can be ignored as you would be keeping other things on the mouse pad too! The print quality is decent and doesn't fade off after rubbing nails. That's how we tested the durability of RedGear MP80.
Now you must be thinking why the vertical lines or should I ask for a refund or replace this? Well, don't do that! Since the mousepad comes up rolled up to save space, you get these creases but they are temporary. Within a week it will flat out. Here's our Redgear MP80 after a month of use.
What about the stitches on the edges? Well, they are done good and no hard edges can be felt. It's great as you'd be keeping your palms resting on the thread work or moving significantly while playing games so no complaints there.
Another important aspect to talk about here is the texture quality. Techno Buzz Red Gaming Mouse pad has a soft and smooth texture that is quite slippery too. With this setup, you can expect great comfort and faster mouse movement. So you get comfort as well as a better gaming experience.
So coming to an important question, is it a speed type or control type gaming mouse? Let's talk about that in the usability section below.
#3 Usability
Many people have mentioned this gaming mousepad as a speed type however, it's more of a control type. What difference will it make? Well, if you are a "gun-blazing sharpshooter" kind of player then this is not the right one for you. It's more "sniper friendly" or " for presize headshot" kind for gamers. Too much techy? No worries. Let me try another way.
if you need faster and quick mouse movement then this is not right for you. You will be more compatible with a control-type gaming mouse like RedGear MP80. But it's for those who need super sensitive mouse feedback like while snipping or making a headshot. Now you know for whom the Techno Buzz gaming mousepad is for.
In short, for fast movement choose speed type & for responsive/presize moment opt for control type
Now, how big is the mousepad? As the size goes, you can not only keep your full keyboard and mouse but still, there's a lot of space left for your smartphone or even AirPods. Here in the above picture, you can see a 13-inch MacBook Air, Along with an Apple Keyboard and Magic mouse still, there's a good space left. So if you need a wider mouse pad where you can keep a register and not down homework you can do that on this mousepad.
Even if you have a thin register or just a piece of paper, you will not be needing any base to write perfectly. Because the mousepad is thick enough to right on.
Techno Buzz knew that many gamers or people working from home will be spending a good amount of time next to computers or laptops hence eating and drinking at the computer table will be happening. Hence, they have provided some waterproofing too. We've intentionally dropped a glass of water to see what will happen and just wiping it up with a microfiber cloth makes the water disappear.
So no need to worry about water. But do keep it away from the computer peripherals!
#4 Any Other Reasons to Buy Techno Buzz Gaming Mouse Pad?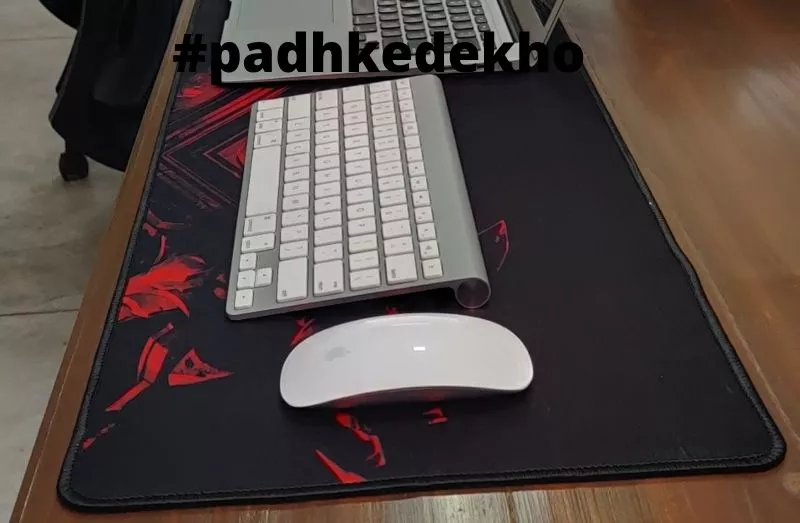 Don't worry if the above points leave you desiring for more than the final 3 points are going to make your mouse slide! Point of saying this is quite detailed. When a mousepad is thick it becomes hard for the lower DPI mouse to register a movement.
As a result, a mouse with a lower DPI like 800 or 1000 that generally many people use gets a poor response. This means after spending money on the mousepad you'll need to buy a higher DPI mouse as well. Well, not with the Techno Buzz gaming mousepad.
With Techno Buzz gaming mousepad you can get good gaming performance without worrying about the mouse you currently have.
The 2nd point is the availability of two colors. Many budget gaming mousepads only come in a standard color and no other color scheme to choose from. Even Redgear MP80 comes in Black/Red color. We personally wanted to get the blue color for the Techno Buzz gaming mousepad.
But we do have plans to compare the Techno Buzz gaming mouse with the Redgear MP80 mousepad so stay tuned for that!
The next biggest feature of this gaming mouse pad is its size. Under 300rs getting a large one at 80×30 m or 800x300mm is a big thing. It's not just for the looks, it's very practical too. If you use a laptop on a glass table then you would know how easy it can skid without applying much force.
The same applies to keyboards and mice on glass surfaces or plywood computer tables. This issue will be dead the moment you get this mousepad!
So not only is it value for money but it's quite practical too!
Should You Buy Techno Buzz Gaming Mouse Pad?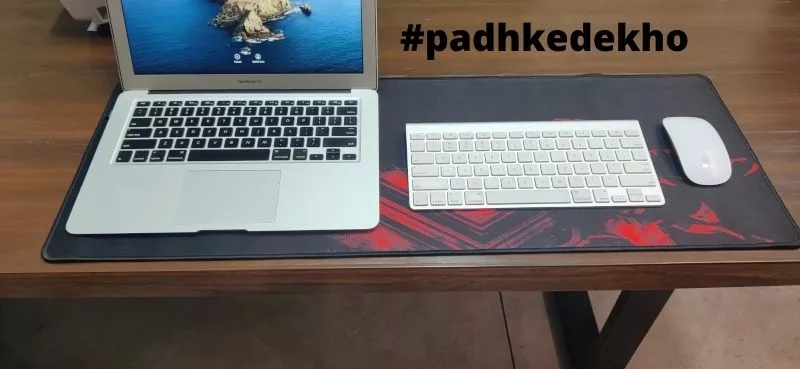 Now the most crucial question for which you are still reading is whether you should buy it or not. After using this mousepad for a year we are certain you will not find similar quality and features under 300 Rs.
Techno Buzz has really done its part of the research before introducing this mouse pad at this price. To be honest, the price is surprisingly so low for this large mousepad that a good quality regular mousepad of 10 inches starts at this price.
So this mousepad is a great buy at this price? Yes, it's literally bang for the buck. Why? To begin with, you get a large 800×300 mm size, then it's a control-type mousepad. The icing on the cake is the 1-year warranty and two color options to choose from. The latter two features are actually quite rare even if you pay double the price.
Does this mean I should ditch the Redgear MP80 or more premium gaming mousepads? Well, yes and no! Yes, because you will be saving quite a few hundred Rupees. So if you are on the budget side then Techno Buzz is a great buy. No, because the overall mousepad doesn't feel as premium as RedGear MP80 or AmazonBasics Mousepad. You can immediately notice the difference in touch between Techno Buzz and RedGear.
To sum up, We don't mind recommending this gaming mousepad even under 400 Rs.
Pack up!
There you have it guys! This was our two cents for Techno Buzz Mouse Pad Review. if you have any doubts or questions then feel free to reach us out on the below social accounts. We love to help our readers.
And if you are sure to book it right away then please use the below Amazon link to order. This will help us earn a small common from Amazon at no additional charges. Be rest assured, that this doesn't affect our review or opinion about a product or service.
Suggested Articles