[
Updated on Nov 23, 2022
] Before getting into the article, just think why are you running? or what is the purpose? It seems pretty lame but trusts me, many get this wrong. For some running just pop into their mind but some take this seriously to keep themself fit and in shape. This article is for those, who are a little motivated and are totally beginners. Trust me when I say this "some just want to buy any smartwatch that can track their little spin." But the question is do you really need a smartwatch for running or cycling in the earlier stages?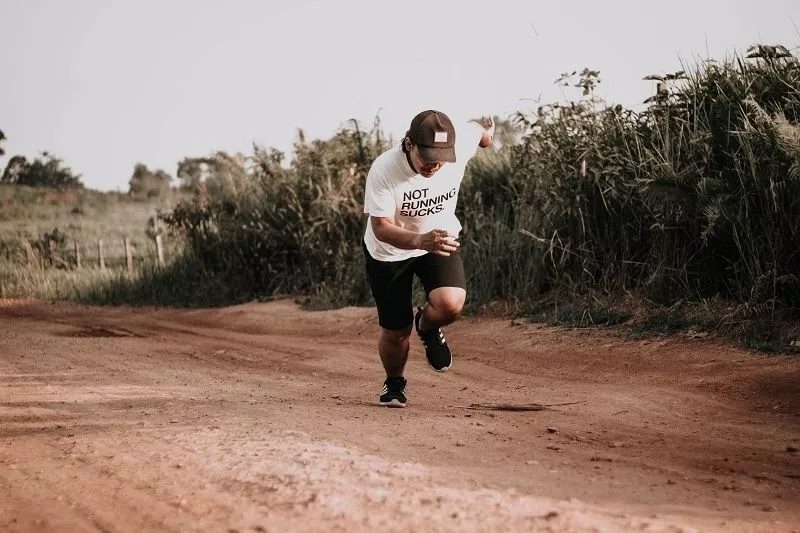 Well, no you don't need a smartwatch in the earlier days. All you need is a comfy pair of shoes and your smartphone with mobile data. That's it! You just don't need a smartwatch for that!
Why I am writing this? Well, you can buy a smartwatch for the sake of counting steps and calories burnt after an intermediate level. Then, you'll don't mind your purchase.
My point here is that for beginners you are simply not going to break any record on the first day! Believe me, it seems easy at first but the next day your body will be in so much pain that moving out of the bad will be hard, and ultimately, you might even quit the idea of running to cycling. So if you are really keen to buy a smartwatch then make your decision after a week of running or cycling.
Recently we tested two budget smartwatches under 2000 Rupees and those are BoAt Wave Lite (review) and Noise ColorFit Pulse Grand (review) that you can check out. Even we did compare these two here.
How to Track The Running Matrix Without Smartwatch?
If you have an Android or iOS phone with you then you are covered. Unfortunately, the heart rate sensor and SP02 cannot be recorded from any smartphone (accurately, though there are apps!). Rest, steps counts, distance covered, progress on a map, max speed, and calories burned can be monitored. So do you really need a Smartwatch for running? Nah, you are good!
Life Hack– Start with little steps and about 5 to 10 mins of walking and then pick up the pace for the next 5 minutes. By this time your heart will start pumping more blood into the body. Then you can pick the pace and run for your life. But don't simply start running when your body is not warmed up. Do take breaks when you feel like it. Don't think you can win the marathon just yet! And if you are cycling then 4 km can be a good start.
Now the workout vitals can be collected for free. Yes, you don't even need to buy a subscription to any fancy app. All you need is internet and GPS enabled on your smartphone to monitor. Just below you will find the app that I use to track my process on Android as well as iOS. So let's just start with Android then!
How to Monitor Steps, Calories Burnet, And Distance Covered on Android
On Android, you can find tons of great apps that can provide you with relevant information about your workout be it running, walking, or cycling. Many great ones are paid. Sure, there are free apps as well (tested those) but ads hampered the experience.
However, in this article, we will be recommending Google Fit Activity Tracking. Why? because it's free no ads to be seen plus it's very smart. And most importantly you can trust Google with your personal health statistics data or even location. I've used this app quite thoroughly before recommending and it's worth a try.
Download and installation are similar to any app from Google Play Store. Upon installation, you will be asked to provide information.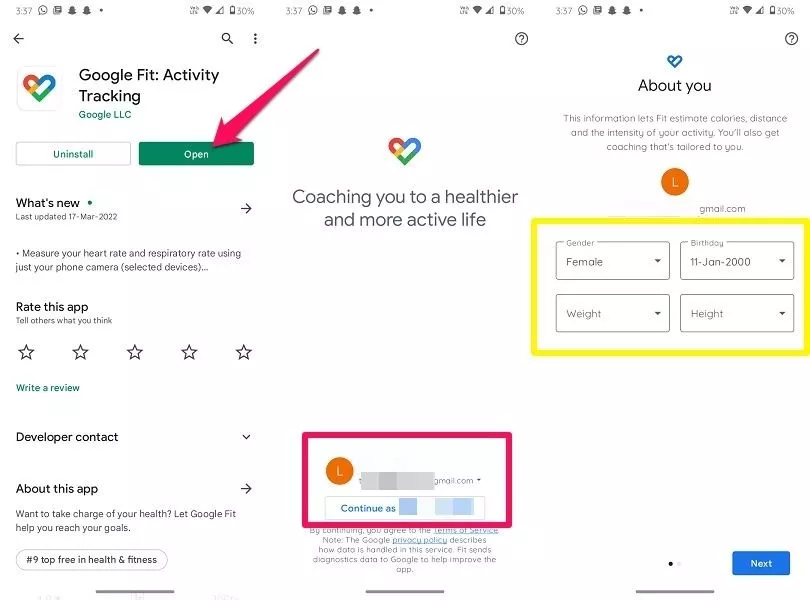 Google Fit app doesn't come pre-installed on Android phones hence you have to do the installation and provide the basic permissions like GPS etc.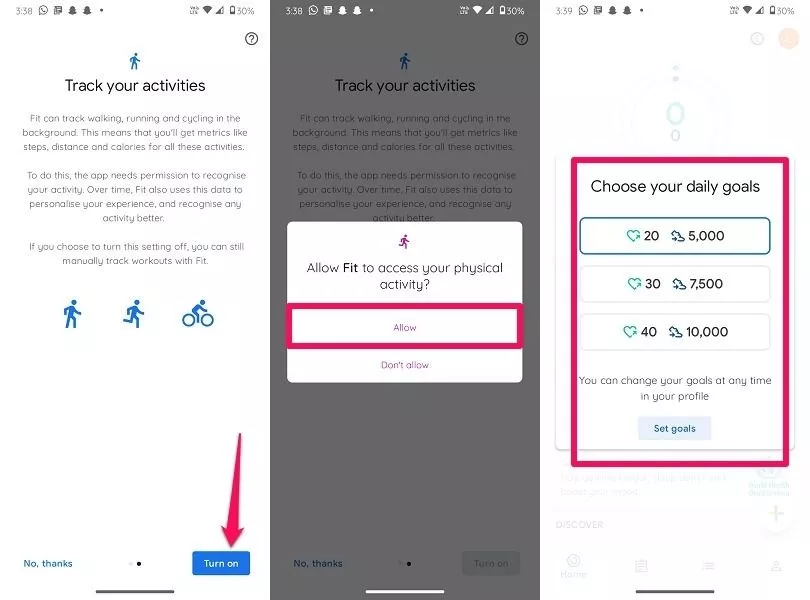 Once the installation and setup are done, just before hitting your workout, turn on your mobile data as well as your location. This app is smart enough to differentiate between running, walking, and cycling so you don't need to select the start-stop time and whatnot. This is great for beginners.
You must be wondering what stats can I get using this app. Well, if you are specifically going for running/walking then you will get to know about distance covered, calories burnt, move minutes, and finally your average pace or speed.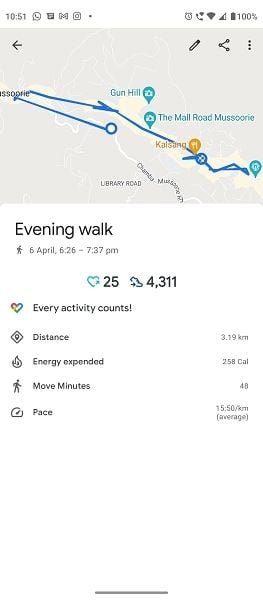 As far as cycling goes, it will show you a detailed map view of your workout. Along with, distance covered calories burnt, move minutes speed, and per kilometer speed.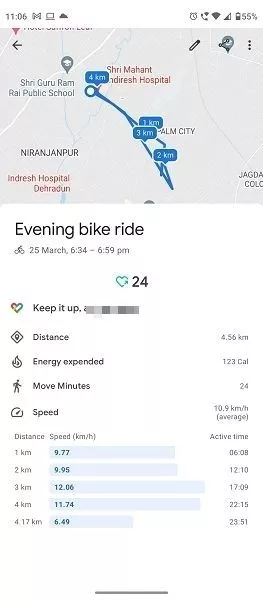 Google Fit Tracker Alternative
Google Fit is good but it's a basic app without many bells and whistles. It can be demotivating too! So here's an app that I use on my iPhone after walking or cycling sessions. Don't worry it's not the Apple Health app! You can use that on Android too!
if you have been using an iPhone, you'd know the Apple Health app shows so much data. i.e. how many steps were taken, staircase used, and compares it with the current week to last week, even last year, and whatnot! So it's a great app for beginners.
Today I am talking about the SportsTracker For All Sports which is free to use and ad-free on both Android as well as iOS. The best part is it doesn't require a credit card for the trial.
How to Monitor Steps, Calories Burnet, And Distance Covered on iPhone
Yes, on iPhone you have the Health app which is great but it will be more intuitive if you'll have an Apple Watch. if you need more statistics then you can download a great app that I personally use, SportsTracker which is a free app and is ad-free without any trials or credit card info required!
Setting up the app is very easy. All you need is to sign in using your Apple ID, or any other email you like then just allow permission to use Health App and location while using the app. And you are done.

Below is a 37 mins walk that I just recently did. These are the stats that the app recorded. Here's the Distance covered, Avg speed, Max speed, Calories burnt, TSS, Ascent, Descent, Highest point, Lowest point, Avg pace.
Just below you can toggle between Pace, Altitude, Vertical Speed, Speed along with total duration.

How cool is that! All you need is to turn on the location and have the mobile data available. Not just that you can sync the data with the Apple Health app that will keep the track synced with Apple too. Let me again remind you, that it's a completely free app that offers no ads/trials and no credit card information required. Do give it a try before ordering a smartwatch for running or cycling!
So do You Really Need a Smartwatch For Running or Cycling?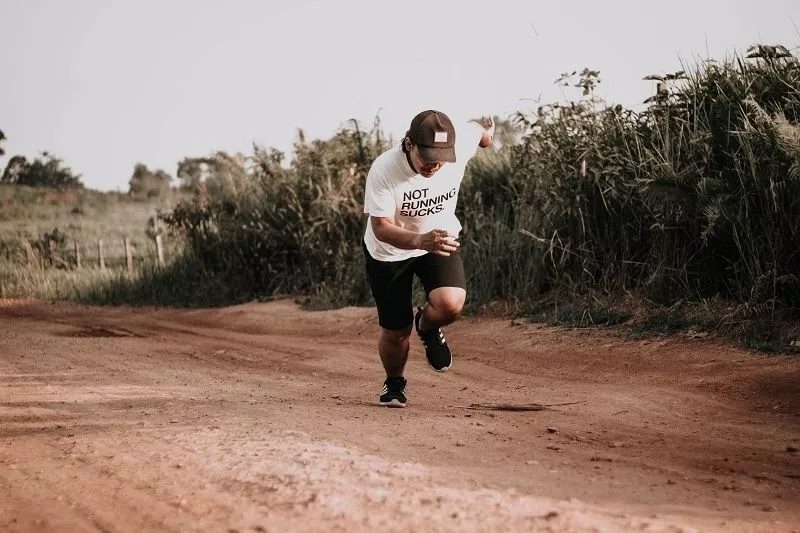 if you are a beginner who is just starting to hit the road then you don't need a smartwatch. Your smartphone(Android/iOS) is more than advanced in tracking your distance covered, pace, calories burnt, etc. So you can use your smartphone for a few days to just get a hang of it. Then afterward you can compare your statistics and make out a difference.
Hence for causal running, you don't need a smartwatch. Your phone is enough.
But for runners who are more inclined towards participating in races like 1000 meters or 5000 meters then you need a smartwatch. Running with your phone in your pocket might slow you down or even distract you with a call or something. Moreover, runners prefer to run in briefs for better body movement. So where you will be keeping the phone? You can then grab a wrist phone holder.
Now if your phone is sufficient why one would buy a smartwatch for running? Well, there are many reasons for that. The first one is portability. As the watch will be resting on your wrist you don't need to worry anymore that your phone will fall off from your wrist holder or pocket.
Then comes bigger differences in terms of statistics. Many smartwatches that are inclined towards running can monitor so many other things like GPS tracking, heart rate monitoring, SPo2 blood oxygen levels, water, and dust resistance, precise distance covered, pace, etc without keeping your phone with you.
Hence, if you are a beginner then keep your phone handy and once you get a hang of running or cycling then do grab a running watch as per your liking for Garmin or Suunto.
Wrapping up
Here you go, guys! This is our conclusion do you really need a smartwatch for running or cycling? if you have issues or concerns you can reach us on the below social accounts. We love to help our readers!
Like the content? Then do spread the name and share it with friends and family! We will see you around.