[Updated on July 19, 2023] It's been over 9 months and this smartwatch is working as it should be. The UI is smooth and the watch faces are quite informative. We approve of this smartwatch. Back to Noise Colorfit Pulse Grand review!
We tested a few budget smartwatches in 2029 and decided not to cover them. Because earlier wearable tech had a laggy interface, poor data syncing connection, and hey-why workout metrics.
But 9 months ago we we got our hands on the Noise ColorFit Pulse Grand smartwatch for under 2000 Rs. After using it for over 9 months now we can confidently say, things have drastically improved over time.
Here we will talk about the pros & cons, built quality, compatibility, comfort, health features, comfort, Convenience, Battery Backup, NoiseFit App Review, Customization, Workout Modes + Our Experience, Hidden Features, and finally our Verdict! Secondly, we tested out with both Android as well as iOS so that you should know what to expect.
At Padhkedekho, we provide honest and customer-centric reviews of products. Since we are independently owned, we don't do sponsored or promotional content. Every product showcased here has been used by our editorial team for a few days and all gets compiled so that you can choose better.
As a way to support us, you will find Amazon or Noise website links throughout the article that help us earn some common without costing you anything extra. Thanks for your kind support!
So that being said, let's begin the Noise ColorFit Pulse Grand Smartwatch review with pros & Cons
Noise ColorFit Pulse Grand Smartwatch Pros & Cons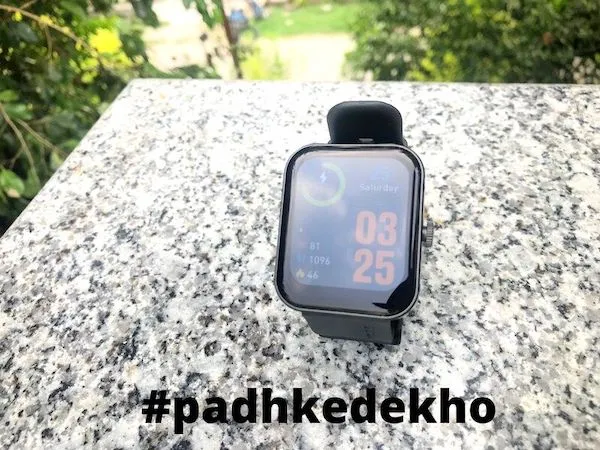 Built Quality
The overall build of the smartwatch is plastic which is expected at this price range. This plastic frame gives it an edge in terms of weight. The Noise smartwatch is exceptionally lightweight at about 20 grams. We have tested a few other smartwatches too but those were heavy and affect you while workout out in terms of statistics. We're happy to report, that this lightweight smartwatch will not divert you while workout.
On the right side, the watch features a Menu/slide button. Which is also of decent quality. It gives an assuring click noise when you will go into watch fitness modes or just check out the features.
The watch strap pre-applied is of good quality silicone. it's quite durable and no sign of depreciation is easily shown. You can see the condition here. This is after a month of use and just a dry cotton cloth is spread. So if you want a durable watch that can handle some beating then the Noise ColorFit Pulse Grand can be a good choice.
So in terms of built quality, we haven't found an issue. However, we would have loved to see an aluminum frame or some sort of screen protection pre-applied other than the black Noise one.
Compatibility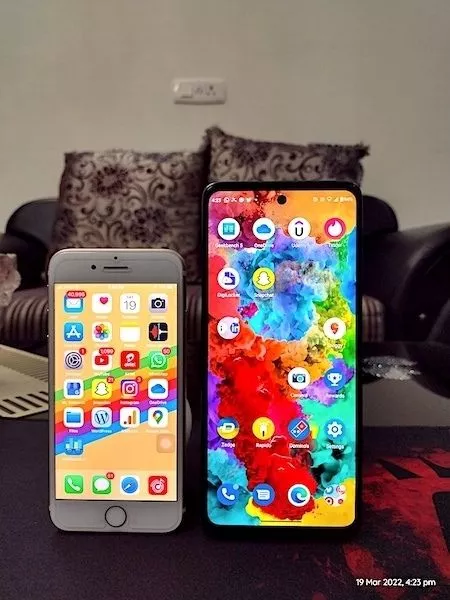 Like all smartwatches, this Noise wearable tech is compatible with Android as well as iOS devices. We've tested it on the likes of Motorola, OnePlus, Samsung, Xiaomi, Poco, and iPhones and got no issues.
As per the paper specs go you will be fine even if you have an old smartphone running Android 4.4 or IOS 10+. It goes without saying, Noise has really provided a long list of supported devices. Many smartwatches don't go beyond Android 8 and iOS 12.
So are there any differences in functionality between Android and iOS? Yes, one major one, and that's quick replies to notifications call with a pre-defined message. And that's about it.
Though you can edit or delete those and make your own on the NoiseFit app. Hence as compatibility goes, Noise ColorFit Pulse Grand is great even if you have an Android or iOS smartphone.
Health Features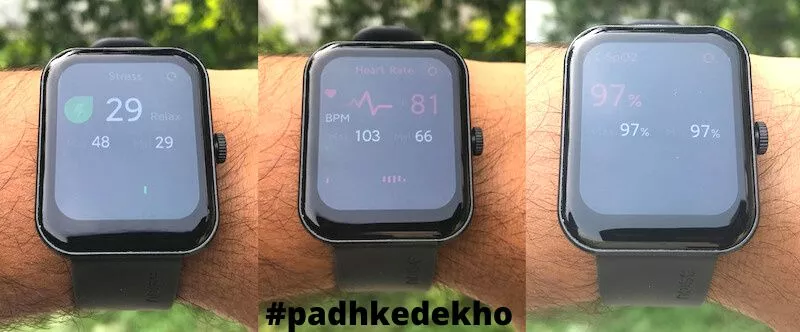 As far as health-related features go, the Noise smartwatch has pretty much all the essential ones like heart rate, SPO2, stress monitor, and sleep monitoring.
From the Noisefit app, you can turn on real-time heart rate monitoring. For the rest of the things, you have to manually launch the test. Other than these, you have some more convenient healthy lifestyle points like idle alert, drinking water reminders, and hand washing.
All these points seem basic but are quite essential for your health when you are sitting for too long, and not drinking water in small intervals. Though washing hands was quite essential during the pandemic and hope we don't need that again!
We appreciate Noise for dedicatedly providing women-specific menstrual tracking. In the past, smartwatches used to neglect this feature and we are pleased it's here in Noise Colorfit Pulse Grand.
The only health feature missing on Noise Grand is blood pressure monitoring. This is not a deal-breaker for us but the addition of hypertension monitoring would have made this smartwatch reach a bigger audience.
For the best monitoring of health stats, it's advisable to buy Medical Association Approved tech gear. Like an Oxy meter to monitor blood oxygen level, a BP machine for hypertension, etc. Smartwatches have come very close but still, never take your health lightly with budget tech products.
Comfort
How comfortable is the Noise Colorfit Pulse Grand smartwatch? Does it pain if you have hair or is it heavy for long hours of use? We never let your questions go unanswered from Insta! So do keep on dropping those and we will get back to you!
As far as comfort goes, the watch strap is made up of silicone which is very soft and sweat friendly. In the above picture, you can see there are many levels of adjustments hence a teen or a man with a big wrist can easily wear this smartwatch.
if you have hairs on your wrist then you will get some pain while wearing it for the first time of the day (just like any watch) but afterward, you will not be facing any problem as such.
During testing, I've worn the watch for more than a day on a single stretch and didn't face any pain or discomfort. Secondly, the strap connectors are very sturdy. I have a nephew who is 10 months old and you must be knowing how good grip they have when they are pulling things! So good job there, Noise!
Convenience
Why do you need a smartwatch? It's primarily for convenience! Before having this Noise ColorFit Pulse Grand smartwatch I was more dependent on my smartphone while riding and driving.
For e.g. you are riding and you get a call, unfortunately, you don't know who is calling until you stop after looking for a safe place, and by the time the call gets disconnected. This 20 or 30 seconds of a ringing phone is a big distraction and even more irritating as you don't know who is calling.
This issue can be solved with a smartwatch! You will get the call notification on the wearable tech from there you can differentiate between a spam call or an important one with just a flick of your wrist.
And if you have an Android smartphone you can revert back with just a single tap! Hence, you are connected and not that irritated while riding!
Now let's say you are driving a car that doesn't have steering mount controls and you are listing to music via aux but your smartwatch is connected to the phone. Guess what, you can control the volume and change songs as per your liking.
So yes, a smartwatch adds convenience to your life and less dependency on your smartphone.
Battery Backup
Just like a smartphone, laptop, or any product that comes with a lithium-ion battery, smartwatches are no different. Their battery backup gets highly affected as per your use.
If you'll have continuous heart rate monitoring, phone notifications, and vibration set to full just like the brightness then you can mark my words, you will never get the claimed battery figures on any smartwatch, period.
I am keeping aside the workouts as they don't consume much battery. But these features will kill any smartwatch around 60 percent of the claimed figure.
Noise ColorFir Pulse Grand smartwatch claims 10 days of battery backup on moderate use. So no way you can achieve that with all the fitness, health, and notifications.
So much juice you can expect from Noise ColorFit Pulse Grand? if everything is turned on and with all the features, notifications, call alerts, weather, emails, etc you can get around 4 days of juice. Which is great, to be honest.
You can gain a day more if you stop continuous heart rate monitoring. Want more juice? Then reset your watch and don't make any changes to the notifications or brightness. Noise's default mode doesn't sip the battery as your car does!
After 9 months of use, I would not mind recommending this smartwatch to someone who is okay with 3 to 4 days of backup.
NoiseFit App Review
The NoiseFit app has been incredible in this one month. The current version R214.4.1 is very stable. The moment you turn on the Bluetooth on your smartphone within a few seconds the watch gets connected.
And once the connection is formed, the smartwatch will not disconnect on its own. We were not expecting that in this price range. So in terms of connectivity. We have observed no issues.
When you'll open the app the first thing there will be the Challenges section. Here you will find upcoming and ongoing challenges. Which works great to motivate smartwatch owners.
The first tab is the summary section, where you will find the distance covered, steps taken, calories burnt, step counts, sleep hours, distance, heart rate, stress count, and blood oxygen level.
To motivate users with better health, the Noisefit app provides multiple trophies for completing milestones like steps and kilometers. if you have got friends with Noise smartwatches then you can see their progress too.
Great way to indulge someone in your ecosystem! Just below that, you have the recent activities that you have performed. Clicking on those will give better-detailed statics with a map view of the workout. More about it in the workout section of the review.
The second tab is the section from where you can buy other Noise products or perhaps accessories for the smartwatch (which is very rare in the offline market). I found this section quite interesting in a way a "happy customer" will certainly try new Noise products!
People at Noise if you are reading this, please show accessories supported by the smartwatch the end-user actually owns. It will help a person with a better shopping experience.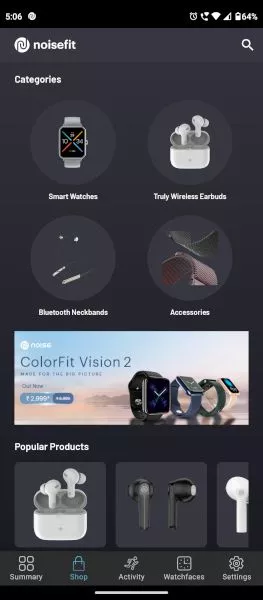 Then you have the activities section that you will find in the workout section of the smartwatch review. Just like the customizability section of the smartwatch below.
This app offers very minimalistic notifications as compared to other smartwatches.
Customizations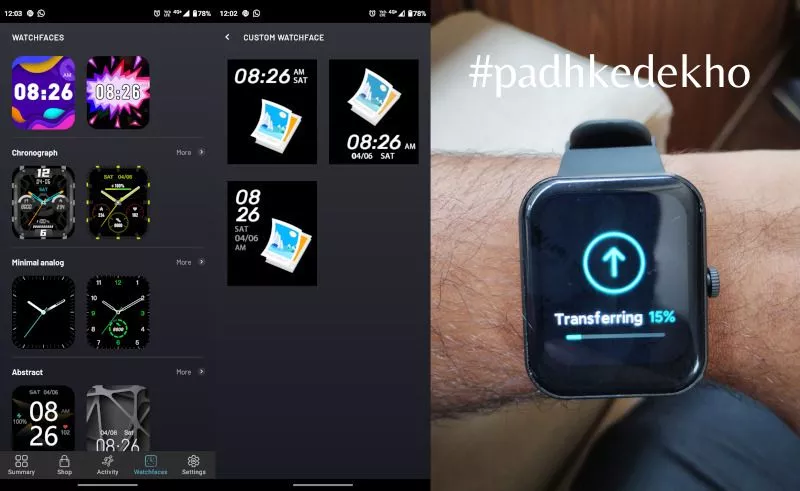 As far as customizations go, you get 5 watch faces on the smartwatch. However, from the NoiseFit app, you can choose 100+ faces like Illustrations, Chronograph, Minimal analog, Abstract, Geometry, Space, Sports, etc.
We liked the wide variety of options. All the watch faces offer great quality. They don't blur or pixelate the text and picture.
If you don't like those or are willing to make the watch face "more personal" then you can design your own custom watch faces like your pet's photo, kids, cars, etc. You can change the placement of time/date/picture as per the predefined structure.
We've felt the customizations of the watch face take about 30 seconds to download even with a 40mbps WI-FI network.
Once you have downloaded a watch face you can always change it by pressing the screen for 3 seconds and swapping left and right to make changes right away. Since 5 watch faces are the default once, you can keep one watch face from the downloaded ones. Only the last downloaded will stay.
That's about the watch faces. Let's have a look at the app features and customizations. From the NoiseFit app, you can make changes to so many things. Here are some screenshots.
Some features like Drink Water Reminders, Weather Settings, My alarms, Handwash, etc can be further controlled based on durations.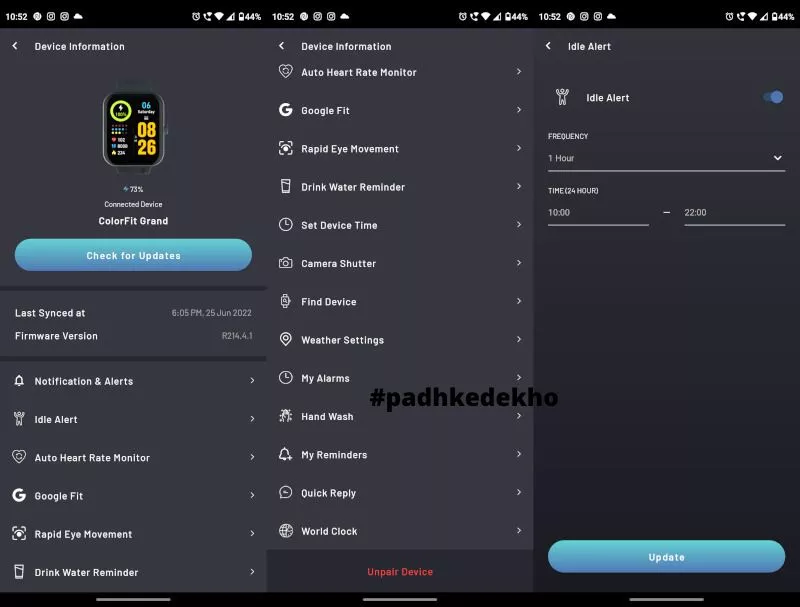 So as customizations are concerned We are very impressed with Noise. Hence 5 out of 5!
Workout Modes + Experience
Noise literally did overdose when adding workout modes! it offers 9 main categories and then you have multiple subcategories from which you can finally choose the one you need. For e.g.
if you want to have a walking session, you will tap on Running Sports and then Walking. This means you will need to invest some time to choose the workout.
One more thing, you can also set the workout goals for each workout. Let's say you would like to walk for 30 mins or burn 50 calories or perhaps 5 miles distance you can do that on Noise ColorFit Pulse Grand smartwatch!

All the major workouts like outdoor running, walking, treadmill, outdoor cycling, gymnastics, freestyle, core training, skateboarding, roller skating, cricket, basketball, badminton, squash, volleyball, pingball, football, ballet, Zumba, street dance, ballroom dance, normal dance, etc are all present. Hence, you will not be disappointed with the choices of workouts for sure!
During a workout, you can swipe left to control music like changing songs or increasing/decreasing volume. Pressing the circular ring will bring a popup to pause or end a workout.
One thing that I liked about this smartwatch is to ask for confirmation to actually stop a workout. It helps as sometimes we just need to take a pause instead of stopping it.
What kind of health data can be stored on Noise ColorFit Pulse Grand Smartwatch? Let's say you went for outdoor running or walking. This smartwatch will record and show statistics for the duration, distance, calories burnt, avg speed, average pace, max pace, min pace, avg heart rate, max heart rate, and minimum heart rate.
On the connected mobile, you will all this information with a better graphical interface; with a map view of the workout. So now you know what kind of statistics will this smartwatch store and show.
Above we've covered pretty much all the major highlighted features that will make your life easier. But after spending a good one month with this watch, there are numerous hidden or less known features that we really liked.
#1 Flashlight: From the home page you can swipe up and press the torch button. This will illuminate the full brightness of the display panel and glow white. This will be handy if you are in a dark room or just want to get things done without turning on the room light.
#2 Find your phone from the smartwatch or vice versa: if your phone is connected to the smartwatch but you have forgotten where you have kept it then don't worry all you need is to press the find phone button which is the first button on the right in quick access shortcuts. After getting your phone you can again press it to deactivate the feature.
#3 Weather app: When you have connected your phone and allowed the location permission you will be able to see the actual pictorial weather display with 5day weather information. Since the day, I used this feature I've removed that widget from my phone's home screen!

Should You Buy Noise ColorFit Pulse Grand Smartwatch?
Noise ColorFit Pulse Grand Smartwatch Review was very important for us. Not because it's the first smart wearable that we tested but because we have read many reviews where the writer has not thought about the end-user who is going to ultimately buy it.
Because if someone is willing to know the tech specs he would simply read out the product description. This is not called a "review"!
Here we did dive deep and tested out all the essentials that can be a deal-breaker or maker for the end-user. So to sum up, Noise ColorFit Pulse Grand is a good feature-rich smartwatch one can buy.
It packs in incredible fitness features and health monitors too. The missing one is the hypertension monitor.
Rest the raise to wake works brilliantly while you are standing, seating, walking, running, cycling, etc. However, when you are lying on the couch or bed, the sensor fails to catch the gesture, so you must press the ring button or side button.
In the month's use, we haven't witnessed a single snag or hang, or connectivity issue with the app. It was a seamless experience with both Android as well as iOS.
Trust me when I say this, this was the issue with many smartwatches that made us "not to cover smartwatches at Padhkedekho". But now things are different. How much do you say? well, it's like the day/night difference!
Thus, Noise ColorFit Pulse Grand gets our vote! You should definitely consider it under 2000 rs if you'll go with the black color.
Wrapping up!
This was our detailed Noise ColorFit Pulse Grand Smartwatch Review. if you found this helpful, then do share it with others who might be willing to buy a budget smartwatch. Moreover, if you have doubts or queries, then feel free to reach us on below social accounts. We love to help our readers with the best guidance.
Liked the review and want to support local content? Then please use the below Amazon or Noise link on this article. It will help us earn some commission out of your purchase. We assure you will not be charged a penny extra! Thanks for your support so far.
Got any suggestions for Noise ColorFit Pulse Grand Review? Do drop your email to care@padhkedekho.com for quick assistance.
Suggested Articles!
F.A.Q
is Noise ColorFit Pulse Grand Any Good?
Yes, Noise ColorFit Pulse Grand is a great smartwatch for even 2500. The never-ending fitness modes, health trackers like SPO2, Heartrate Monitoring, Stress Test, etc. The built quality is great too. In this article, we've shared 1 month review after extensive testing. Click now to learn more.
Are Noise Smartwatches Good?
Yes, Noise smartwatches are good. Be it built quality or features, statics everything is almost perfect as it should be in a budget-centric smartwatch.