[Updated on July 13, 2023] It's been more than 2.5 years this fitness band is very sturdy, and thumbs up to MevoFit for the amazing band. Back to the article.
A market that is flooded with tons of options like Mi Smart Band 4, Realme Band, Honor Band 5, etc. There are so many underrated smart bands that are equally good (in some cases, better). One such band is MevoFit Drive Fitness Band. Today, we are going to share a customer ownership review of the MevoFit Drive fitness band. In this article, we will share its features, fitness modes, battery backup, build quality, etc.
So welcome to PadhKeDekho and without taking more of your time let's get started!
And if you are here for the first time we would request you to bookmark our website as we keep on bringing articles like this. Thanks!
MevoFit Drive Smart Band Review
1. Band Quality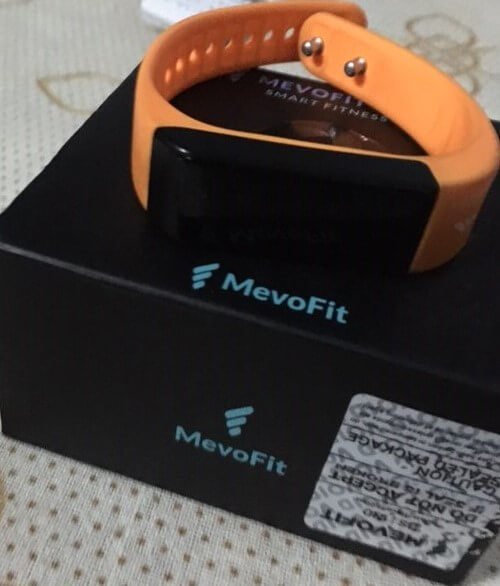 The strap is made up of silicone which feels quite soft and premium. The MevoFit Drive fitness band is available in amazing color options like Black, Blue, Orange, and Red. We picked the orange color as it looks more stylish.
In the pictures, this fitness tracker looks bright and punchy but in reality, it is quite sober. So if you wish to wear it in a formal meeting then you'll easily blend in for sure!
The holes in the strap are properly done and finding your conformable spot will be an easy affair. So if you have a dainty wrist or a masculine wrist, the MevoFit Drive fitness band will offer a perfect fit for both men and women.
We have tried a few fitness bands in the budget segment and it has one of the best band/strap built quality.
2. MevoFit Drive Display Quality
Unlike some popular fitness bands, Drive offers a 0.91-inch OLED touchscreen display that is very bright even under direct sunlight. On the outside, MevoFit has provided a screen display protector. This fitness band is rugged and can easily take a few beatings while you are working out.
MevoFit Drive smart band supports touch commands as well as gestures. Gestures will come in handy when you are already performing a workout and forgot to enable the tracker! In other words, you will not be required to stop and affect your important statistics while working out.
Our favorite feature of this smart fitness band is the auto-turn-on display. It is somewhat similar to the wake screen on Apple Watch! This feature will help you activate the display when you'll tilt your wrist inwards i.e. towards you.
While you are performing a workout majority of the fitness bands disable the display to preserve battery. MevoFit Drive also does it but it gives users the control to enable the screen by simply twisting their wrist towards the face. With this, you'll be easily able to check out your progress in real-time without pressing any button or screen!
To be honest, we were not expecting such practical features in this price range.
3. MevoFit Drive Activity Tracking
With the MevoFit Drive fitness band, you will be able to monitor quite accurate steps, distance covered, calories burnt, sleep, and idle sitting time. Though it feels basic these are the primary parameters for leading a fit and healthy life.
Because of the current Covid-19 situation, employees are working from home. Due to the lack of movement, a good percentage of employees are gaining weight and heading towards an unhealthy/stressful lifestyle.
This fitness band will motivate you to pull up your socks and kill the excess fats accumulating in your body. On this tech wearable, you will get a notification (vibration) to move if you are continuously sitting for a long while.
Initially, I found it to be intruding but after a while, I made a habit of standing or walking a little to recover my body from the seating job.
4. Fitness Features On MevoFit Drive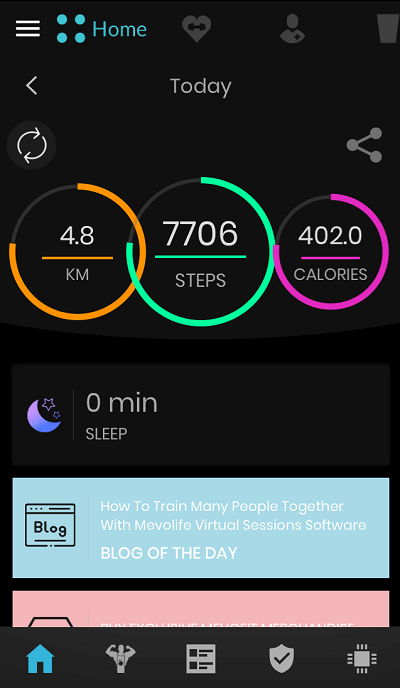 This little fitness tracker provides tons of fitness modes to you. To begin with, it will let you track your walks, runs, cycling, skipping, and tons of other modes. In all the modes essential statistics like steps, distance covered, and calories burned on the band are shown.
Along with the above important vitals, this fitness band will let you keep an eye on your sleep. More precisely it will monitor your sleeping patterns like total sleep time, deep sleep analysis, etc. So while you are resting your fitness band is working and tracking!
The rest of the statistics are available on the MevoFit Fitness App which is available for free on Android (4.4 or above) as well as Apple iPhone (iOS 9.0 or above). Keeping both operating systems in mind, this smart band is targeting a wide range of users!
The best part about the MevoFit Drive fitness band is the IP67 rating which makes this fitness band water-resistant. So if you were looking for a fitness band that you can wear while working out in rain, or performing swimming sessions then MevoFit Drive will not disappoint.
5. MevoFit Drive Smart Features
Not only this smart band offers fitness but also numerous smart features. Once it is paired up with your smartphone you can get notifications of incoming calls, messages, and social apps all on your wrist!
It will also notify you regarding upcoming reminders, alarms, timers, etc., From the power of your wrist controlling the phone's camera is possible. Moreover, if in case you lost your phone somewhere MevoFit Drive can help you find your smartphone!
For customizability, the MevoFit Drive comes equipped with multiple watch faces giving a glimpse of a smartwatch!
MevoFit Drive Battery Backup
MevoFit Drive comes with a 70 mAh Li-On battery that will provide you with a battery backup of around 8 days. In our testing, we achieved the result various times by using multiple modes and Turn Wrist enabled. Since we are not heavy users, the battery backup impressed us.
Charging this smart band for 15 mins will get you enough juice to use it for a few hours. The battery reaches from 0 to 100% in 1.5 hours.
The majority of the smart bands come with a micro USB port for charging. which is inconvenient if you are not caring any cable.
With this smart band, the display comes off and has a USB 2.0 interface for charging. If you are not carrying a charger you can still plug the USB into any USB device nearby to charge! Perhaps you can charge this piece of tech via any USB port of your laptop or computer!
Should You Buy MevoFit Fitness Band?
There are plenty of reasons to buy the MevoFit Drive Fitness Band. First and foremost it is not a Made in China product. On the box, the supplier mentioned is from Dubai, UAE.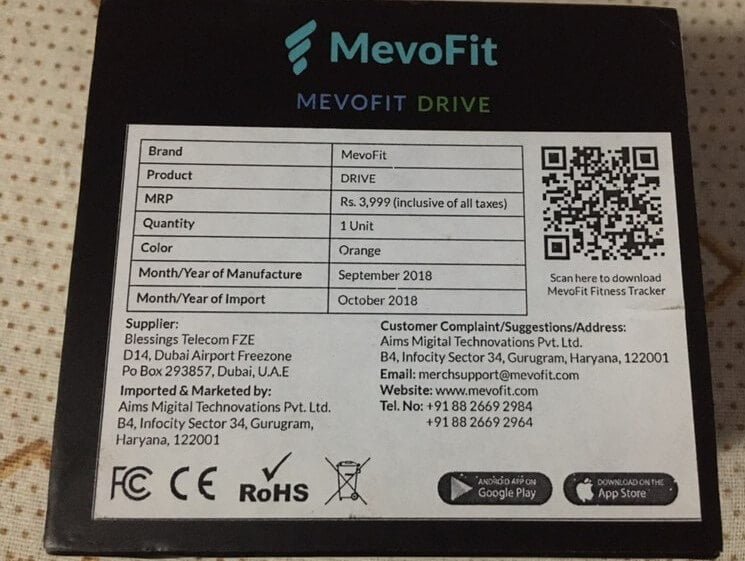 Secondly, if you looking for a fitness band that provides very legitimate stats then you should consider MevoFit Drive Fitness Band. In our testing, we were only concerned with the steps, distance, and calories burnt and we were quite satisfied with the results.
Yes, there are some features that are missing on this fitness band like heart rate monitoring, etc. If you require a fitness band with a heart rate sensor then you can try MevoFit Echo Swin Fitness Band.
Keeping the price and other factors like being a non-Chinese product in mind it ranks itself above the competition. Additionally, the built quality is among the best that we have witnessed so far.
So without a doubt, it's a great tech wearable for your wrist. If you can cope without the heart rate monitor then you should give it a try! It is hard to believe that such a gem has not received its share of success.
That's it, folks!
Thanks for stopping by and going through the review. We hope you found our content helpful. If you have any concerns or queries related to this product then feel free to drop us a comment or reach out on our social accounts Twitter, Instagram, and Facebook.
Hey there! Just like the above article, we share our 2 cents in the form of reviews, tips & tricks, so do check out those articles. And if you liked our content do share it with your friends and family! Thanks, we will see you at the next one!
Articles That Might Interest You!