[Updated on July 20, 2023] It's been over 1 year with this smartwatch and it's going quite well. The smartphone app has been revamped and the watch is quite responsive. Back to the BoAt Wave Lite review!
If you are looking for a smartwatch around 2000 Rs then BoAt Wave Lite would have gotten your attention. Launched on 31st March 2022, it has gained around 4.3-star ratings and around 1000 reviews on Amazon.
It is arguably the second best-selling smartwatch after Noise ColorFir Pulse Grand which we reviewed 2 weeks ago. You can check that review here. it will open in a separate link. So after spending a long time with it, here's our BoAt Wave Lite long-term review!
In this BoAt Wave Lite smartwatch review, we've talked about the pros & cons, box contents, built quality, screen quality, look & feel, BoAt Wearable app review, smartwatch connect features, watch faces customizations, workout and statistics, battery backup, and finally our verdict. We can assure you will not find a detailed article like this because we don't follow the tech specs and call it a day!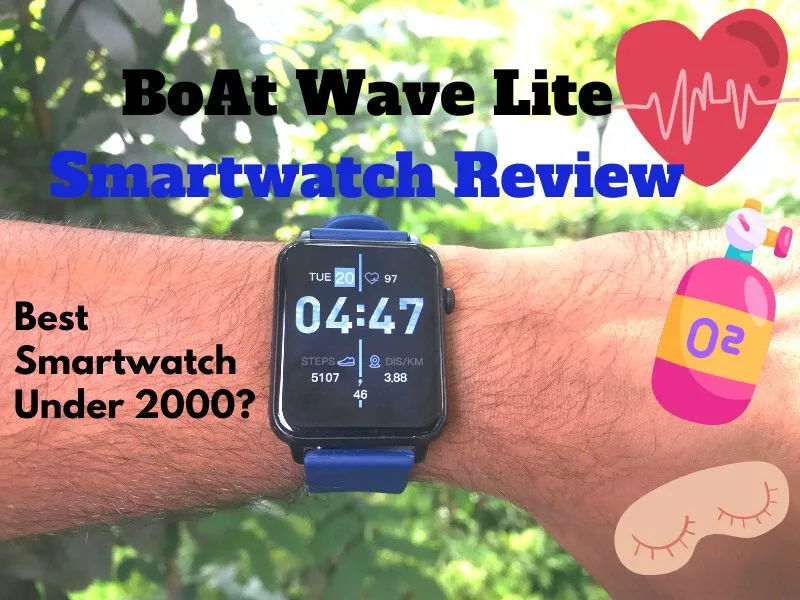 PadhkeDekho.com is supported by the readers. This article has Amazon affiliate links that help us earn some commission at no additional cost to you. It ultimately helps readers like you who are looking for "non-sponsored reviews". We use a product for 1 month before sharing the review.
BoAt Wave Lite Pros & Cons
Box Contents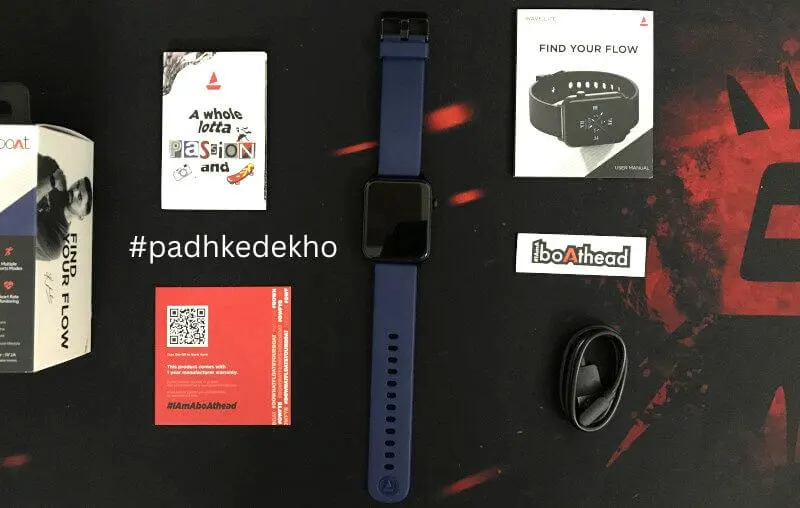 In the box of BoAt Wave lite, you will get a bunch of things.
To begin with,
1: A docket of other BoAt products.
2: User manual.
3: Warranty card.
4: Smartwatch itself.
5: BoAt sticker.
6: Magnetic charging cable.
Nothing special here, it's common in all smartwatches so you will not be missing anything.
Built Quality
If you have concerns about weak or flimsy built quality then you will be very happy to know that BoAt Wave Lite is quite a sturdy smartwatch for under 2000 Rs.
There are three things to talk about.
1) The Strap: It's a silicone strap which is common in this price range but the rubber is quite soft and stretchable. You can easily adjust it without causing any pain. Even though I have hairs around my wrist and it has not plucked a single one from the last month of testing.
2) The Dial: For under 2000 Rs many smartwatches have a polycarbonate chassis which gives decent with a little cheap feeling. But BoAt Wave Lite has a sturdy aluminum housing that looks good while being strong. I happen to bump the watch a few times on hard surfaces and have not witnessed any dents or scratches.
3) The band clip: like the previous point, many watches come with a plastic band clip which gives a feeling of cheapness. But BoAt has given an aluminum band lock which feels strong while wearing or taking the watch off.
So in terms of built quality, it's remarkable what BoAt Wave Lite offers for under 2000 Rs.
Built Quality: 9/10
Looks & Comfort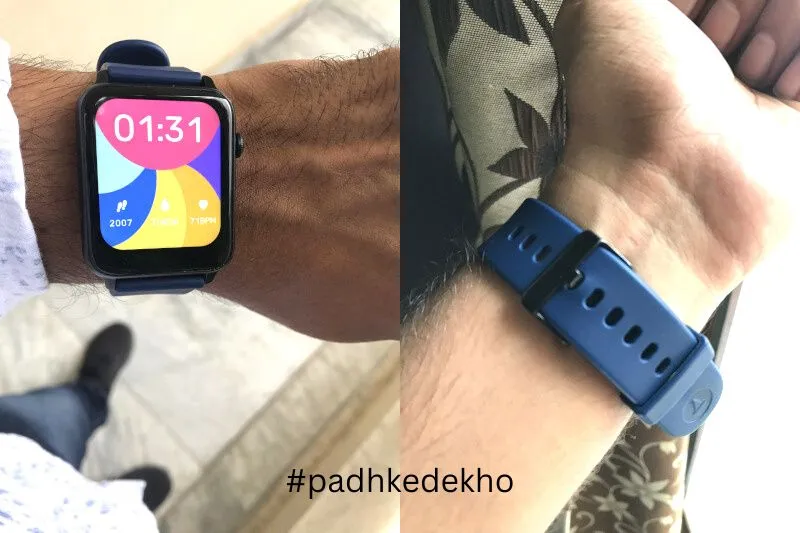 BoAt Wave Lite comes in 3 different color straps while the watch chassis is black/grey atom color. The colors are Active Black, Scarlet Red, and Deep Blue (that you see here). Since we have Noise Color Fit 2 in black we went with Blue for a change and we are liking it!
The watch feels fresh and "new" every day. The blue-black color is great for formal and casual outings too. BoAt branding on the strap is quite nicely done and doesn't come right at your face everything you look at it!
How much comfortable is BoAt Wave Lite? I've been testing this watch for the last month and it's been very comfortable. I do have hairs on my wrist and it's been going well.
Not a single incident of the pair struck in the strap. One more thing, the strap has 10 indents that help all wrist sizes to comfortably wear the smartwatch. My niece who is 12 years old can easily hear it.
So in terms of look and feel, BoAt Wave Lite gets my recommendation for being a comfortable smartwatch.
Looks & Comfort (overall): 9/10.
Screen Quality | Is BoAt Wave Lite Bright Enough?
Screen brightness is quite an issue with budget smartwatches. Some brands don't do cost-cutting on features but never talk about screen brightness. Personally, I've used more than 5 smartwatches under 2000 Rs and none is as bright as BoAt Wave Lite.
Even under direct sunlight, you will not need to max out the brightness. So if you are outdoors most of your day then this smartwatch will preserve most of the battery as your brightness will not be draining the battery.
Since on the low setting, it's very bright. This will not be a good thing in a bleak room. So, I will advise keeping a dark watch face that will ease the visibility at night.
What about screen quality? How good or bad is the touch response? is the watch snappy or lag? These are the questions sent to us in DMS on Insta. So, if you don't follow us there, then you are missing out!
So is the BoAt Wave Lite bright? Yes, it is. You will not need to crack up the brightness while outdoors on this one.
BoAt Wave Lite offers a quick and almost jiffy touch experience. The moment you will give a command it will register it. E.g. A light touch while scrolling through the watch features will trigger something just like that!
You will need a little time before getting a hang of this smartwatch. Just like all the smartwatches, if there's some water or the watch is damped it will become a little less responsive to a swipe with a dry cloth will be needed.
So in terms of screen quality and touch responsiveness, BoAt Wave Lite gets a solid 9/10.
BoAt Wearable App Review (Smartphone)
In simple words; basic that works!
If it's your first smartwatch then you will like it. There are a decent amount of features that will help to make your life easier. To begin with, the setting up process is very easy. And doesn't take much to keep the watch up and running. All you need is to turn on the watch with the crown button on the right and then everything is done via the BoAt Wear app which is free for iOS and Android.
As far as compatibility goes, BoAt Wave Lite can be paired with an Android phone running Android 5.0 and iOS it's 12.0 or above. Hence, it's compatible with a long list of devices. Good job there, BoAt!
From the app, you will be required to allow most of the permissions that are needed as both Android and iOS are working more on user privacy. You can set your health goals and the rest of the setup process at the time of setting up or afterward using the Google Fit or Apple Health app. So no issues in this regard as well.
One suggestion to BoAt, please get your notifications panel color scheme sorted. The Wearable app picks the color scheme from the phone and implements that. But common who keeps black background with black font!
Kindly sort this out. Our switch to light mode. Here's a photo with regular mode vs dark mode. You can't read the notification!
How to Use BoAt Wearable App
Many people asked us about the UI of the BoAt Wearable App and here I am most impressed with it! The app shows no ads for other BoAt products. It's very clean and basic which I prefer.
The Home page is all about your steps taken, calories burnt, active time, and blood oxygen level. You can check your stats right from there no need to swipe down to see progress. Also, you will find the connection status and help section.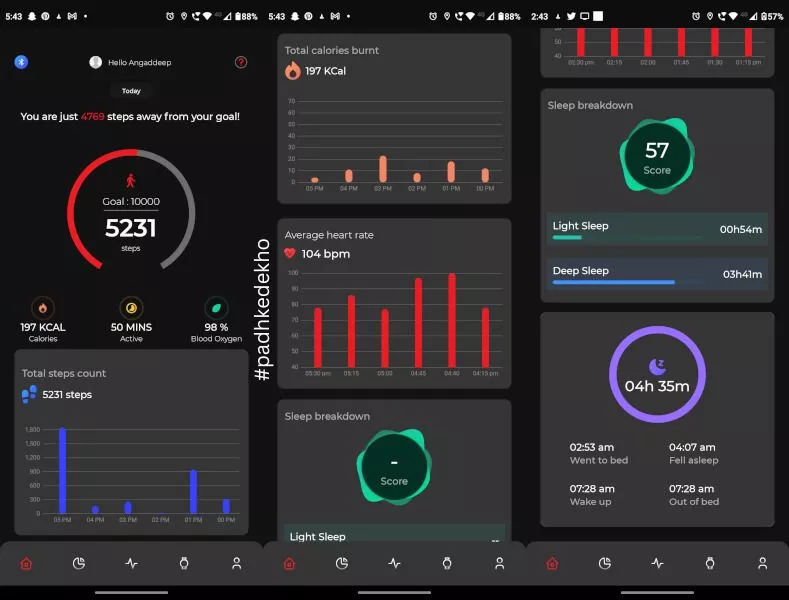 Further scrolling will bring the detailed breakup of your steps taken hourly. Similarly, total calories burnt and average heart rate.
The second tab is the Analysis tab. Where you will find all the major categories of data like Step Count, Calories, Heart Rate, Blood Oxygen & Sleep. Clicking on any will bring a detailed view with options to show data by day, week, or month.
Along with the total kilometers covered on the day and burnt calories. This is quite neatly done.
The second last thing on the home page is the sleep breakdown. I will talk about sleep tracking and other workout statistics below so keep on reading.
The third tab is My Activities. Which is quite boring. It only shows the workout stats like steps taken, duration of workout, calories burnt, and km covered. Unfortunately, clicking on any workout will not show the map view or a more detailed view. So this is the workout data the smartwatch can track.
The fourth tab is the Watch tab. From there you can do all the customizations to the features of the watch. This is quite simply done, I must say. Developers knew what they were doing! More about this is in the customizations section below!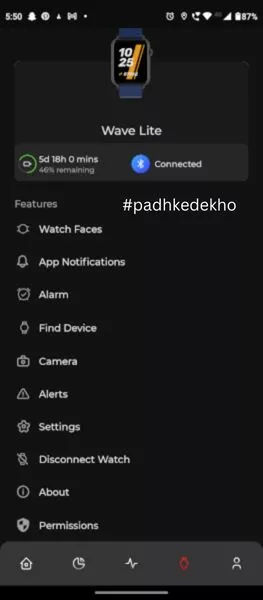 The last tab is Account from where you can make changes to your personal profile like weight and everything. Here, you will also find the Goal Setup that can let you change the goals as per your need. Like how many steps or calories burnt target.
There is also a Settings section from where you can sync the data with Google Fit or Apple Health app.
BoAt Wearable App Review: 7/10
Smart Connect Features (Smartwatch)
Before talking about the workout and statistics, let's check out the smartwatch features.
The first feature to talk about is the raise-to-wake feature. It works exceptionally well all the time except when you are driving, riding, or lying on a bed/couch. In those three cases, the success rate of the raise-to-wake ratio is about 50%.
if you have to turn on the screen, you can do that with the crown button. Which can only turn on/turn off/switch on/switch off the smartwatch.
The overall UI is navigation based on the 4 sides. Going left from the home screen will take you to the notifications where you can see notifications of messages, Whatsapp, Facebook, Instagram, etc. Below is a picture of all the supported apps.
Enabling others on the bottom will show notifications from the other supported apps which are not shown on the list.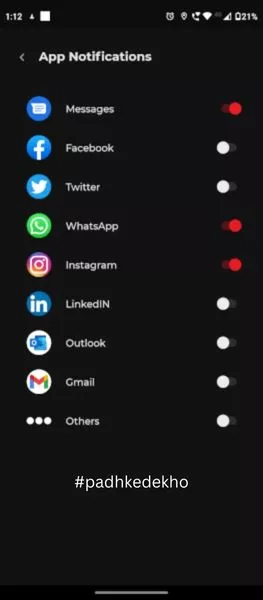 Swiping right will give you options for Sport modes, Breathe, Camera Selfie, SP02, Stopwatch, Screen Timeout, Watchfaces, Reset, Power Off, Download App, Time, and more settings.
A single swipe up will bring the workout statistic page with the steps, activity, and calories burnt. Another swipe up will bring the heart rate monitor. The moment you will arrive here the watch will perform a heart rate monitor test. Which is quite accurate. Compared to the result with Apple Watch 3, there's just a marginal difference.
Doing a swipe up again will bring the sleep monitor. The sleep monitor is decent. I usually sleep around 3 AM and wake up by 7:30 AM and it shows just that. But if you will go back to sleep after waking up then it will not keep track.
Another swipe up will bring the weather section. This is a quite nice integration. You can see a simple graphical image of the weather. As far as weather goes it can show low and high for the current day, the next day, and the day after tomorrow. BoAt watch fetches the data from the connected smartphone so Just make sure you have given location permission.
And lastly, you have your media playback controls. In the center, you get the song name. Also, you have options to increase or decrease the volume, change the track, and repeat the song. I used two music apps i.e. Spotify and Ganna. For some reason, the smartwatch was not showing the song name on Ganna. Though was able to do everything else.
To sum up, Smart Connect Features (Smartwatch) gets: 8/10
Watch Face Customization on BoAt Wave Lite
BoAt Wave Lite comes with 6 preinstalled watch faces and one of your choices from the collection of 150 watch faces. I've tested a few of them and they seem to be decent. You will have plenty of options for cats and dogs!
Also, there were a few comments where people had issues downloading watch faces. I've downloaded more than 30 watch faces and it's been great. No such issue was experienced.
Let's say you didn't like the ones and wish to make your own. You can do that too on BoAt Wave Lite. Under watch faces, you can create your customized one using the default pictures or upload your one on the cloud.
You can change the placement of time and other workout statistics. You will even be shown how the watch face will look. Have a look yourself. Below are the pictorial steps and the output.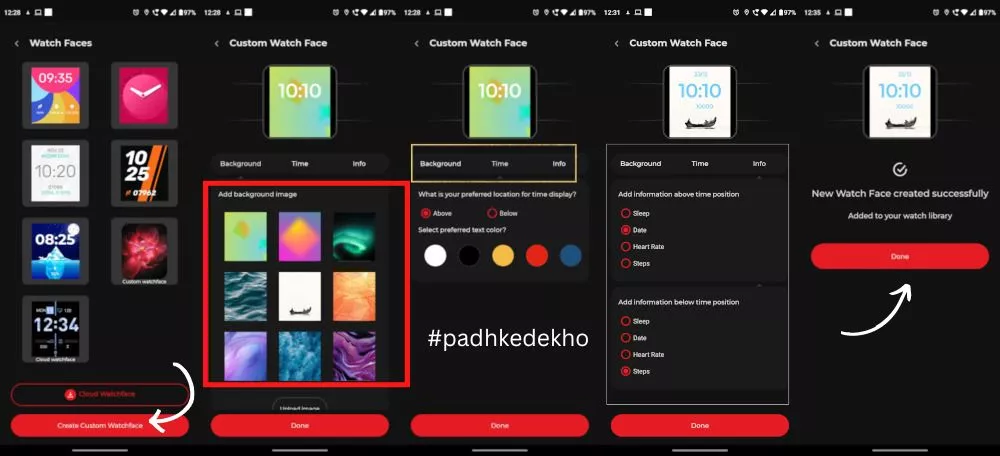 The output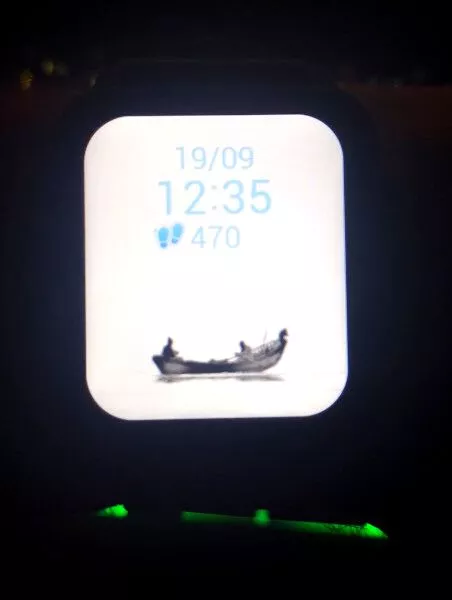 Pretty good right? No! It's because the font style is not bold enough and the size is also small. Notice there are a few things missing like the calories burnt heart rate?
It's because you can't have all of them or more than 2. So BoAt really needs to improve on the customized watch faces on BoAt Wave Lite. Other than that, the predefined ones are great.
BoAt Watch Faces: 8/10 || Customized Watch Faces: 5/10
Workouts & Statistics
As far as workouts go you get 10 sports modes namely Walking, Running, Cycling, Climbing, Yoga, Basketball, Football, Badminton, Skipping, and Swimming. if you need more workout modes then here's why it's a lite watch!
BoAt has not given many sports modes like gym-specific weight lifting, or freestyle workout modes. As I am into gymming and some weight lifting I prefer my Noise ColorFit Grand 2 Pulse for that. As it comes with 60 sports modes!
So now you know what kind of sports mode BoAt Wave Lite offers. Let's check out what kind of data the watch can capture and whether is it accurate or close to real word use.
I said in the title it's lite for a few reasons. The first reason is, be it any activity, the watch will not show or record the map view of the activity. I scratched my head for a few days just to figure out if maybe I am doing something wrong.
But no, it will not record the map view. Another bummer is, the smartwatch will not save any workout statics on the watch itself if you wish to know what you accomplished.
Since the watch monitors the basics you will not get heart rate tracking during workouts. Though it will keep track of the heart rate under the second tab of the BoAt Wearable app. So these are the reasons why BoAt Wave has a "lite" in the name.
Another important question is the data monitored 100% accurate? heart rate & sp02? in simple words, no the data tracked is not 100% accurate even on all the smartwatches. There's always a margin of error. These watches are not replacements for medical pieces of equipment.
These are just to keep an eye on something unusual like higher heart rate or lower SP02 levels.
What about steps and calories burnt? I use Apple Watch 3 and the steps recorded are slightly more than the Apple Watch 3 that you actually did. In other words, you will be getting slightly more steps recorded. The sensor is very sensitive to hand movement.
One good thing to add here is that the workout starts the moment you press on the desired workout. Since it doesn't wait for a GPS connection for location (as it will not capture it). You can pause or resume a workout by pressing the crown button.
I tried pausing a workout for a good 20 mins and it easily did that. So give credit where it deserves.
Overall, BoAt Wave Lite is very close to the Apple Watch 3 in terms of steps and calorie tracking. I'd say about 80% close. So you can definitely consider BoAt Wave Lite.
For Workout & Statistics: 8/10
Battery Backup
The battery of BoAt Wave Lite is a strong one. if you will use it extensively like all the notifications, weather updates, and sleep monitoring you can easily expect around 6 days. The battery pattern is quite different on BoAt Wave Lite.
It begins to sip the battery very slowly in the first 3 to 4 days. Then on the 5th day, it will drop below 50%. And the next day by night the watch will require charging.
While charging, it's quite the opposite. The watch will get 50% charged within 40 mins. And afterward, it will become slow. I charged it 4 times in a whole month and with different devices like via USB from a PC, 20 Watt Motorola Turbo Charger, and a Samsung 5-watt 2amp charger.
The charging time varies between 1 hour and 20 mins to 1 hour and 45 mins. Or you can say, the charging time is under 2 hours (depending upon the charger).
So in terms of battery backup and charging, I am quite satisfied.
BoAt Wave Lite Battery Backup & Charging: 9/10
Should You Buy BoAt Wave Lite?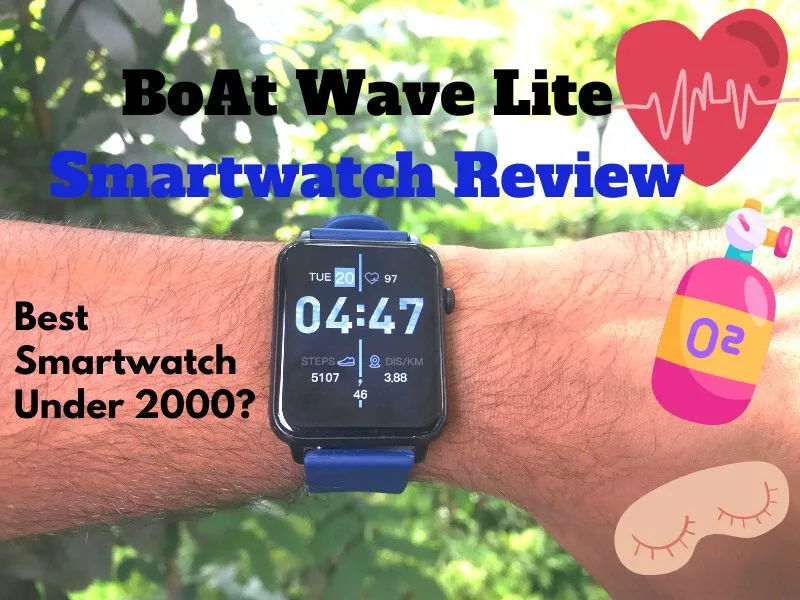 It's a great smartwatch for under 2000 Rupees for sure. Be it the amazing built quality, super bright display, fast & sensitive touch response, long battery backup, very strong vibration motor, or responsive raise-to-wave gesture, it's an easy recommendation.
Absolutely* you should get your hands on BoAt Wave Lite. Ya, I did add an asterisk because there are 3 things that you should know before buying BoAt Wave Lite as these can be a deal breaker for you.
The first one is, do you need a map view of the workout you just did? if yes, then you should avoid this smartwatch. The second reason will be, do you use the Ganna music streaming app? yes? then be prepared you will not be shown the song name. It's fine with Spotify.
Do you wish to see the workout statistics or history of workouts on the smartwatch? Then for these reasons, you should look for a different smartwatch. Before using BoAt Wave Lite I've been using Noise ColorFit Pulse Grand and it's a great alternative under 2000 INR. Here's our review after one month of use.
if these 3 points don't affect you then BoAt Wave Lite is going to be an amazing smartwatch for you. Everything else is good, be it the heart rate monitor, SP02, or sleep tracking, BoAt has really worked on the smartwatch to tick mark many boxes.
So as per us, BoAt Wave Lite is a good smartwatch that you should consider if you are low on budget. But rest assured, the watch doesn't feel cheap from any angle or feature.
Out of 10, we would give it easily 8.5/10.
Wrapping up!
There you have it, folks! This is the most detailed BoAt Wave Lite review you have read! I hope this review would have helped in your decision-making. if you still have some doubts or want to know more about then please use the below social accounts as comments are blocked due to spam comments.
Want to support local content without paying a single Ruppe? Then please use the below Amazon button to place your order. Any qualified order will help us earn a small commission from Amazon at no additional cost to you. In this way, we help readers like you choose a better product. Thanks for supporting us. PadhKeDekho is now 2 years old!
Articles That Might Interest You!
F.A.Q
Is Boat Wave Lite watch good?
Yes, it's a good smartwatch for under 2000 Rupees. The build is excellent, the overall UI is fast & snappy, the sports modes work fine, and the battery lasts 5 days. But like all tech products, you should know a few things before buying it. Here's our detailed review after a full year of use. Click now to learn more!
Is Boat Wave Lite Waterproof?
"Waterproof" like submerging under water for water sports activities? Then no! But it's IP68 Water & Dust Resistant so it will be okay during showers or intense running or jogging sessions.
Can we call with BoAt Wave Lite?
No, BoAt Wave Lite doesn't have the calling functionality. You will get to know the caller or cancel the call.
Is Boat Wave Lite Compatible with iPhone?
Yes, BoAt Wave Lite supports iOS devices from iOS 12 and above. I've tested it with iPhone 7 running iOS 15.7.
How Much Bright is Boat Wave Lite?
As per Nits, it's about 500. You can quickly wear it under direct sunlight at around 40 percent brightness. The panel is very bright.
Got feedback for our BoAt Wave Lite Review? then please reach us at care@padhkedekho.com so we can have a word.