Moto G51 is the first smartphone from Motorola that offers a 120HZ display along with 5G connectivity. It has so many features above its shoulders. So should you buy Motorola Moto G51? Well this Motorola Moto G51 5G review after 4 months of use will be quite useful for you! Here you will get to know 10 points besides 5G that you should know before ordering Moto G51!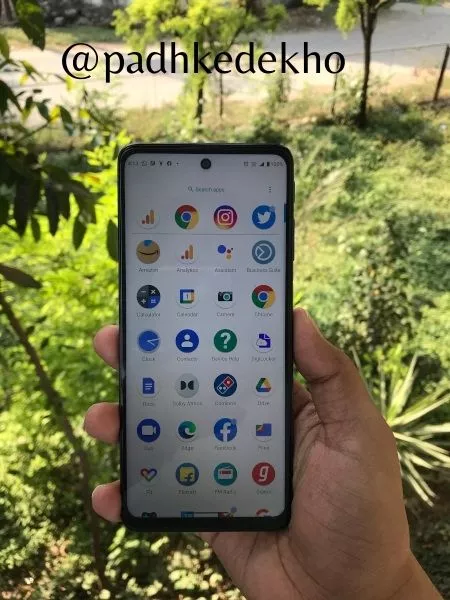 Prerequisite; Before upgrading to Moto G51 I've used Moto G9, Moto G10 Power so you will find comparisons/references to those models.
In this Moto G51 Review, you'll get to know the pros & cons, built quality, look and feel, call quality, network test, mic performance, battery backup, camera, and most importantly performance. So this comparison is going to be very important in your decision-making. That being said, let's begin the review of Moto G51 review with pros & cons!
At Padhkedekho, you will find tons of reviews and comparisons of consumer products and services. The only objective is to help you make a remarkable choice. If you have any doubts about any tech product and service then feel free to reach us on below mentioned social accounts.

Sahib Singh
In-Box Contents
Unlike the premium segments of smartphones that ignore the smartphone's case, screen protector, and most importantly the charger, Moto is on the right track! Other than the screen protector you get everything in the box.
We would suggest order a few tempered from Amazon or Flipkart as you would be having a hard time finding accessories for Moto.
Many reviewers have somehow ignored the fact that the bumper case provided in the box offers great built quality to a level that doesn't feel cheap. Also, the case offers some camera protection too. On top of it, there's Motorola branding as well.
What I mean by this is, that you can use the case for at least a few months. This is the condition after 4 months of use.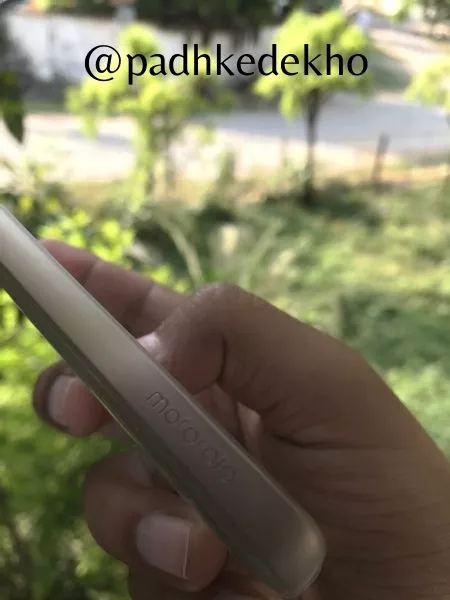 Then you have a 20 Watt Turbocharger along with a TYPE-C cable. Since the phone has a 5000 mAh battery 20-watt brick is great. It will charge the device in under 3 hours. To know more head over to the battery section of the article.
So in terms of inbox contents, Moto has not done any cost-cutting. Hence 4.5/5.
Built Quality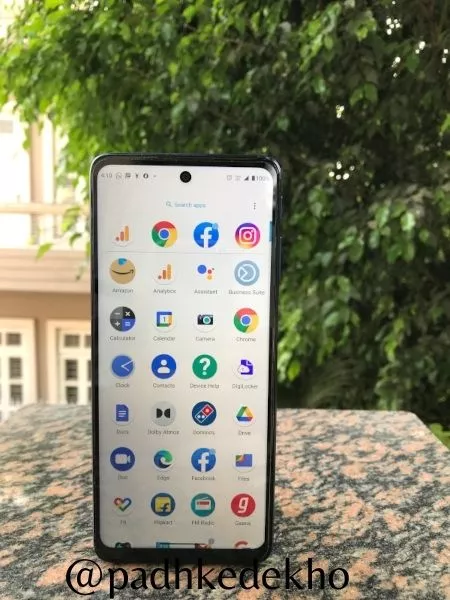 Gone are the days, when glass backs and aluminum frames were in trend. Like it or not, most budget smartphones come with plastic back and side frames. Unfortunately, Moto is not that different!
But the quality of plastic on the back, side panel, and buttons feel sturdy. In my 4 months of use, I've not found a single squeaking on the body. But the cover has gone a little loose since we change the sim cards for testing and whatnot.
We would advise using a case all the time since the back is matte it will show the scuffs and dents more prominently.
Next to Moto G9 & G10 Power, you can experience better built with G51. My only complaint with G10 Power was the lack of feel in the power button which Moto G51 does better.
So in terms of built quality, it's 4/5.
Look & Feel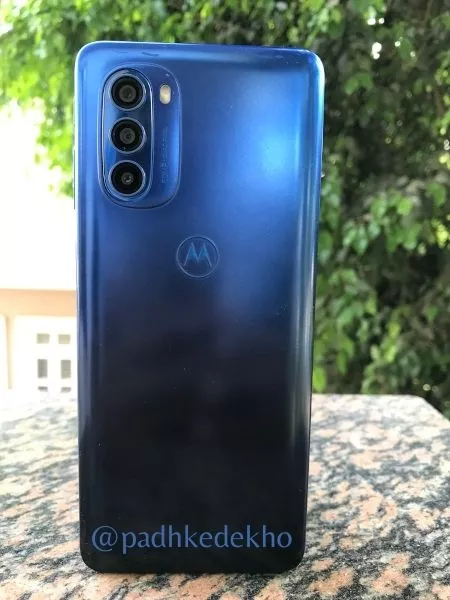 Out of the case, the Moto G51 doesn't look ordinary, especially from the back. Thanks to the gradient color design. This can be good or risky as per your liking. We wanted to buy it in bright silver but that was not available for a very long.
After having it for 4 months, we've started liking the design. One thing though, the back is matte hence it's a fingerprint magnet. So it will require frequent cleaning.
At around 171mm in height and 77mm in width, it's not a one-hand phone. Using it with just one hand and without a cover is very dangerous and most likely the phone will fall off your hand. So do buy tempered glass and use a good quality case.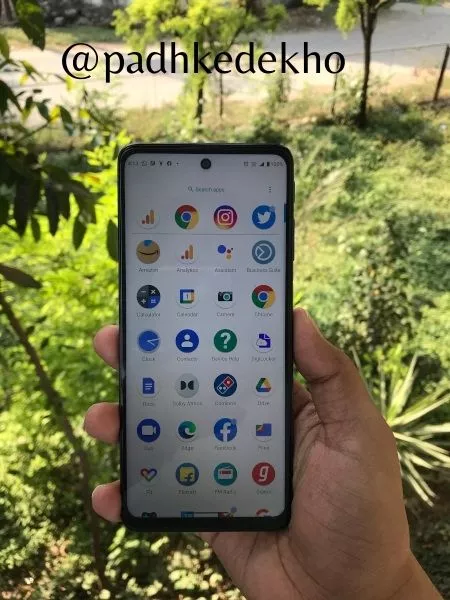 While holding the phone it doesn't feel like a budget smartphone. The buttons, fingerprint reader on the power button, and the 3 circular rear camera setup, really enhance the look & feel.
At 225 Grams with the case on, the Moto G51 does feel heavy. The weight distribution is good hence within a few weeks you will get used to it.
In terms of feeling, it's plastic but of a good grade. if you plan to use it for a few years then you can easily do that. The body and frame are not at all flimsy. We've applied some force and couldn't get a single squeaking out of it.
So in terms of feel, it's 4 out of the door!
Display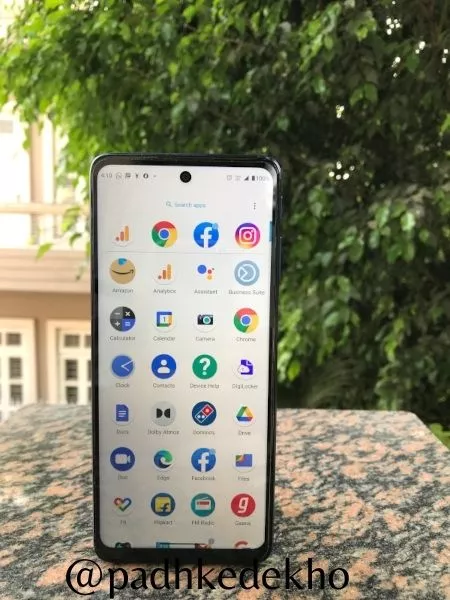 The 6.8-inch Full HD+ display is huge and it's a very bright panel. The colors are remarkably vibrant and it's amazing to consume content be it indoors or outdoors. If you have been using an LCD display then you will find it very bright. However, it's slightly less bright than an AMOLED display.
This screen has decent outdoor visibility but for the most part, the screen will stay at full brightness. While indoors, the automatic brightness stays at around 50 percent which you can reduce from the notification panel.
The Moto UI is smart. In the first few days, it will try to understand how much brightness you like and what is needed then it adjusts for the best. For the most part, it works well but you can take charge and set it even lower.
Some readers did ask us about the screen flickering issue on low brightness with the 120hz option and we can confirm there is no such issue on Moto G51 at all. if you have faced that then in the display you have Flicker Prevention that can be turned on. But no need to do that unless you feel the screen flickering in a super-dark environment.
Though the display is good and there are no such issues as per the price. But would've loved the Amoled panel on this phone. Hence one mark was cut for that. Thus 4./5.
Software Experience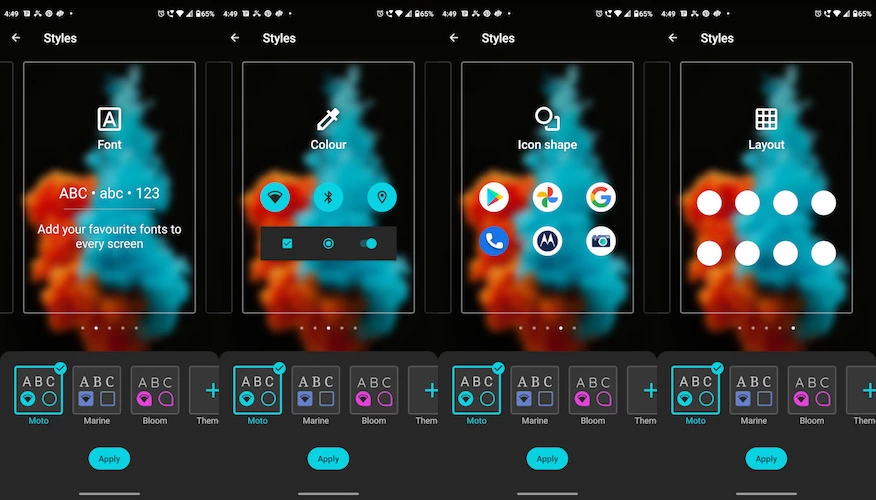 The software on Motorola phones is almost stock Android. You might find a Facebook and Flipkart app preinstalled that you can uninstall if you don't wish to keep. Along with that, there are a few Moto customizations as shown above.
Moto also has a few proprietary gestures like Chop Chop that turns on the flashlight and Quick capture to turn on the camera that can be activated by twisting your wrist and so much more! One thing more that Moto has added to their Android-powered smartphones is ThinkShield.
With ThinkShield, you get an additional layer of end-to-end security solutions above Android. Be it anti-virus or any sort of protection is a great introduction and all smartphone manufacturers should provide this. Like some Samsung phones have Samsung Knox Security. We appreciate such moves by the brands hence kudos to Moto and Samsung for proving this security to their users.
Our Moto G51 was introduced with Android 11 out of the box and now Android 12 is available for it. As far as bug fixes go you will get that for the next 2 years.
[Update on OCT 27 2022] Moto G51 is running on the latest Android 12 update with the security patch of 1 OCT 2022. Let's keep our fingers crossed for the Android 13 update.
So in terms of software and support, it's good. Thus, 4.5/5.
60Hz vs 120Hz – Can You Feel The Difference?
This is the first time I've used a 120HZ display and it's clearly differentiable the moment you swipe left or right. Stock Android is very fluid and the 120hz adds more butter to the screen!
From the phone's settings, you can set three stages for refresh rates i.e. Automatic, 60Hz, or 120Hz as per your liking. But after using 120Hz I don't think I will choose 60Hz anymore! Due to 120Hz apps like Instagram, Twitter, and Snapchat feel more responsive and quick.
Switching back and forth between the apps, you will think you have enough power without any jitters or lag. Some apps still don't support 120Hz like the Google Play Store but overall you will be amazed by the 120hz refresh rate.
Performance
One mistake that Moto or Snapdragon did with the processor is the naming. Snapdragon 480+ doesn't hit as hard as Snapdragon 645 or 730. Many would take it as a low-end or entry-level processor but that's not the case! After going through the intensive games and apps on daily basis here's our Geekbench 5 result.
Now for the interesting bit, Moto G10 Power had a snapdragon 430 processor and these are the benchmark results.
So there is a huge difference between Moto G10 Power and G51 and this performance difference is visible in day-to-day use as well. Hence if you are looking for more power then skip the G10 Power! Grab Moto G51 5G.
Since I am a casual gamer, I tried a few like Call of Duty Mobile, Need For Speed No Limits, Plants Vs Zombies 2, and Death Trigger 2, and had no hiccups. So for casual gaming, it's fine. To enhance the gaming experience, Moto has a dedicated Game mode, where you can improve the gaming performance. I didn't make any changes yet and had no issues even heating. So you can do decent gaming too.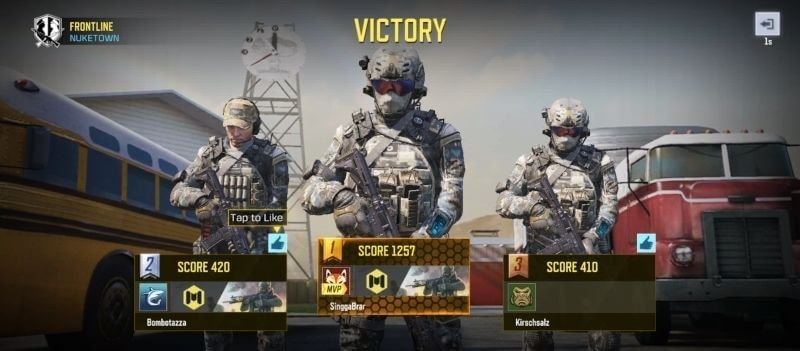 Let's talk about the day-to-day activities. For the last 4 months, I've tested social apps like Instagram, Snapchat, Facebook, Twitter, etc. The experience for the most part is good. You can switch back and forth and it will handle it.
During intensive tasks like playing Need For Speed and switching back to the home screen the phone takes a couple of seconds to change the orientation. Maybe 6GB RAM could have helped there.
If you are going to use it as a productive device like using, WordPress, Business Suite, Analytics, Pinterest, or Google Docs, you get the gist. Then it's great. It's almost lag-free. In fact, switching between the apps seems very fluid. Here Stock Android should get the credit too!
Keeping 15000 Rupees in mind, the performance is acceptable and it's flawless for the most part. Hence, I would give it 4/5.
Battery
Moto G51 has a 5000 mAh battery so it will not be an issue, however, we were skeptical due to the 120Hz display. As we've heard higher refresh rates costumes more battery.
So what kind of battery backup you can expect with the Moto G51 Battery test on 120Hz? if you are a heavy user, who does a lot of calls, social media, and media consumption on YouTube or Netflix, then you can expect anything around 5 to 7 hours of screen time. Mind you it's not the battery standby time. It's the time when the screen stays on. For standby, it can last for 3 days but then the screen on time will be very less.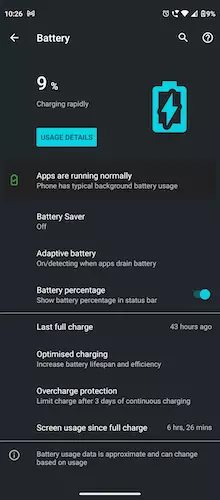 if you'll set the refresh rate to auto then you can gain more battery. The software of Moto G51 manages the refresh rate quite well and you will not notice any frame drop while using the home screen or navigating the app launcher.
So how much will you gain with auto-refresh mode on Moto G51? Well, you can see it on the above screen. This around 7 hours of SOT is with auto-refresh enabled. This is just wow!
Going all the to 60hz, you can expect around 9 hours of screen time. it will be great when you are traveling interstate and using Google Maps for the most part!
To be honest, 5 to 7 hours of SOT with 120Hz is not at all bad. Coming from someone who is used to 4 hours of SOT on an iPhone 7, G51 seems monster in terms of battery!
In the box, you'll get a 20-watt Moto Turbocharger that will charge your phone from 0 to 100 in about 2 hours and 30 mins. The good news is, that the phone doesn't get hot while charging, even with the case on.
We're most impressed by the Battery backup figures. The screen on time above 5 hours is good and can translate as 1 and a half days of battery backup for a moderate user who is using social media and content consumption.
So in terms of battery backup, the Moto G51 gets a 5/5 for sure!
Network Reception
The highlight of the Moto G51 is 5G which is good. But to test 5G we have to wait like everyone for a few more months! As far as 5G bands go, Moto has offered 12 Bands unlike some who give 1 or 2 and call it a day!
So at the moment, you can benefit from its 4G capabilities with carrier aggregation. You will not always have 4G+ shown though. Above is a speed-test result with carrier aggregation in Dehradun with Vi.
Motorola Moto G51 comes with a Hybrid Sim slot. This means you can either have two sim cards or one sim with a MicroSD card slot. It can be an issue for someone who needs two sims and a memory card as the internal storage is just 64GB. The good news is you can put up to 1TB of MicroSD! This is just overkill!!!
The phone is IP52 rated hence you can see some rubber elements in the sim tray. Though it's just IP52 don't test it in the swimming pool!
The best thing I noticed with Moto G51 is the signal reception. On my iPhone, the network bar used to stay around 50 percent but with Moto it's above 80 percent even indoors. This helps in better internet speed and call quality. Hence for network, Here's a good 4.5/5. Half mark deducted for the Hybrid sim slot!
Call Quality
This is an area where beating any Motorola phone is very hard. We're saying this after using Moto G, G2, G5S Plus, G Turbo, G9, G10 Power, and now G51!
The earpiece is very loud and clear. Even outdoors, you don't need to hit the full volume or press the phone to the ear for better audio. Outdoors staying at around 60 to 80 percent of earpiece volume is fine (even with Turban) and indoors cut it by half otherwise people close to you can hear the other caller!
I cannot recommend any other company other than Samsung that has such loud and clear call quality in this price range. If calling via phone is your number one priority then Moto G51 will not disappoint. Here are full marks to Moto!
Cameras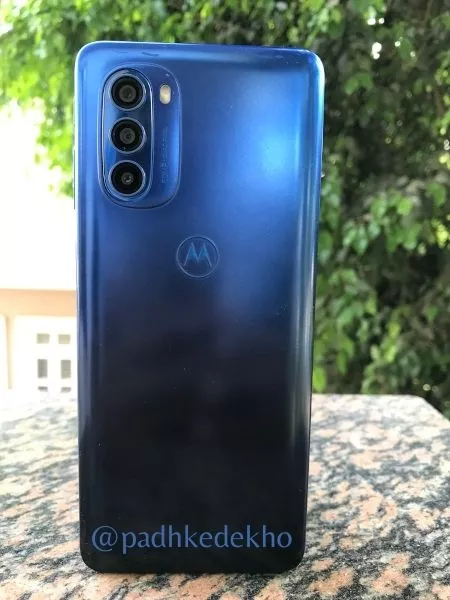 As far as the specs go Moto G51 has a quad-camera setup with a primary sensor of 50 MP, an 8mm wide lens, and a 2 MP macro. While on the front is a 13MP shooter. To be frank Motorola cameras are not the segment leader primarily because the camera UI is not very smooth. As a result, the person doesn't get the shot he/she is expecting.
We will be posting a detailed camera review for it as putting photos will get compressed and you will not be able to judge due to post-processing. Hence here's a quick summary of what we felt about the cameras.
To cut it short, the photos via the normal mode, high res, and Pro mode are quite good and can be of professional level. But the macro shots are nothing to brag about. Moreover, the portrait shots are hit-and-miss. If the lighting conditions are good then it will do a decent job however it's the software AI that saves the image from deleting.
When it comes to video, the phone can record a maximum of 1080P 60 FPS. if you need stabilization, then it will switch the video to 1080p 30FPS.
The best upgrade from Moto G10 Power is in the camera and video department. Moto G51 has a far better focus and colors, dynamic range, and white balance are quite well managed too. But due to the less polished camera app, the 60 fps video stutters a bit.
We hope Moto fine-tunes its camera app as the camera hardware is more than capable but the camera UI spoils the fun.
Hence in terms of the camera (photo/video), we would give it 3.5/5.
So Should You Buy Motorola Moto G51?
Moto G51 5G is a good overall package. And it gets our node! But who is it for at the end of the day? Well, it's for someone who wants to stay connected with social apps on the go. Since the phone supports carrier aggregation with the ultra-fast 4G you will have no issues in terms of connectivity. Very soon, you will be able to witness 5G so it will keep you covered.
Now for the content consumers! If you want to watch a lot of YouTube or Netflix then you will be impressed by the bright and colorful display. Moreover, the screen bezels are very less on the top and sides. Surprisingly, the chin has been reduced compared to the older models. if this excites you then Moto G51 is a great option.
What about performance, will 4GB RAM be enough on Moto G51? It depends on what you aim for from your phone. If you are a hardcore gamer, then please look somewhere else as it's not designed for gaming.
But for the most part, yes, 4GB RAM is more than enough for this phone. Since it's a stock Android on which Moto has done very little customizations as a result it's very lightweight. That's why when doing general navigating on the phone, it feels snappy.
This phone is great for people who would be using it for moderate tasks like working on Google Docs, Emails, reading PDFS, and occasional gaming while being on the go or at home. With a big battery to power your apps.
Who Should Not Buy This? Those who need a gaming phone or a camera-centric smartphone should try different smartphones like Redmi Note 10 Pro, Motorola G60, Motorola G71, or Samsung F23 G5.
Pack up!
There you go, folks! This was our detailed Motorola Moto G51 5G Review. if you have any queries then feel free to reach us on the below social accounts. We love to help our readers as much as we could.
F.A.Q
Can we change the refresh rate on Moto G51?

Yes, you can change the refresh rate. There are 3 options to choose from; Auto, 60HZ, and 120HZ.
Does Moto G51 Has Gorilla Glass Protection?

Yes, Moto G51 offers Gorilla Glass 3 protection. But we would advise using a tempered or screen protector.