[Updated on July 17, 2023] It's been over 2 years now and it is still working well. Tuff and durable phone. Back to the Moto G10 Power review!
Moto G10 Power is a successor of Moto G9 Power, age-wise not feature-wise! Moto G9 Power is the best stock Android phone under INR 12,000.
To capture more market, Moto launched G10 Power with little-tuned specs. I upgraded from Moto G9 to Moto G10 Power. In the process, I've noticed and shared the top 10 differences between the two. So after using G10 Power as a primary device for a month here is my Moto G10 Power review with the reasons why you should and should not buy it!
In this review, you will not find much of the technical specifications. Instead, this is my personal experience that will let you know how your experience will be after buying it.
By the end of this detailed Moto G10 Power review, everything will be clear to you! So, without anything, welcome to PadhKeDekho, and let's start the review of Moto G10 Power!
Moto G10 Power Review
Since it is going to be a detailed review, I am providing you with jump links in this paragraph on which you can click and check out a particular feature. But it would be in your good interest that you read out the complete article as some things can be a deal maker or breaker for you.
In this Moto G10 Power review, you will get to know about Moto G10 Power Specifications, Pros And Cons, Look And Feel, Software, Display, Fingerprint, Battery Test, Camera Review, Some Camera Observation, Network, Performance, Benchmark Tests, and finally the Verdict.
Summary of The Article
| | |
| --- | --- |
| | |
| | |
| | |
| | |
| Fingerprint Scanner Unlock Speed | |
| | |
| | |
| | |
| | |
| | |
| | |
| | |
Moto G10 Power Pros And Cons
Moto G10 Power Specifications
Moto G10 Power Screen Size

Moto G10 Power Release Date

Moto G10 Power Android Version

Android 11 Out of The Box

Moto G10 Power (Aurora Grey 64 GB)

Moto G10 Power Battery Size

Rear - 48 MP, 8 MP (Ultra-Wide), 2 MP (Depth), 2 MP (Macro)

Front - Single 8 MP

2 Colors; Aurora Grey And Breeze Blue

Moto G10 Power Call Recoding

Yes, Notifies Both Parties Before Recording
Look and Feel
Except for the glass display, you will find a plastic frame as well as a back panel. This is expected in this price range. The overall built quality is good you will not find any squeaking anywhere on the phone. Additionally, the back panel has a wavy design that not only enhances the look but also helps you form a better grip. Since the phone has a matte finish to it, you will get fewer fingerprint marks.
The back also features a fingerprint scanner which works within seconds. More about the unlocking mechanism in the fingerprint scanner section. Moto G10 Power in the hand feels thick and heavy, but it is to accommodate the 6000 mAh battery! More about it is in the battery section below.
Just like the body, you will find the side buttons of plastic too. The power button has a texture that can help you distinguish the buttons in the dark. The buttons have a clicky feel and work quite well.
Software Experience
After Oxygen OS the next build of Android I like is of Motorola. There are so many reasons for it. The primary reason is being almost stock Android (only Facebook was predefined that you can easily uninstall! Secondly, stock Android is lightweight the UI feels smooth though it doesn't have the 90 Hz display.
The third reason is the Moto Actions and Gestures. If you haven't owned an Android phone from Motorola, trust me, you are missing so many tweaks that will make your life easier. I will cover Moto Actions and other Moto G10 Power features very soon. So please press the red bell icon so that when I do, you will be notified!
Now coming back to point number 1, due to the stock Android experience you will not get any bloatware (predefined apps that can't be removed) as a result you don't get unwanted notifications. I have used a few Android phones in the past and such spammy ads from the predefined apps really kill the experience.
That's great Moto has not turned greedy to sell our data to ad networks! So if you also need peace from such ads and unnecessary notifications then Android phones from Motorola are the best choices.
Out of the box, Moto G10 Power comes with Android 11 which is also the primary reason I bought it. And there are other reasons as well and will express them below. As per this interesting article from Piunikaweb.com, Android 12 might be seen on this smartphone in 2022, and bug fixes quarterly.
So in terms of software, I hope Moto keeps a steady pace and doesn't forget users like Moto G4 Plus which was confirmed for Android 8 and sadly never made it through. Android 11 has introduced so many features and certainly, it feels like an upgrade from Moto G9. The overall software feels more polished and fluid.
Moto G10 Power Screen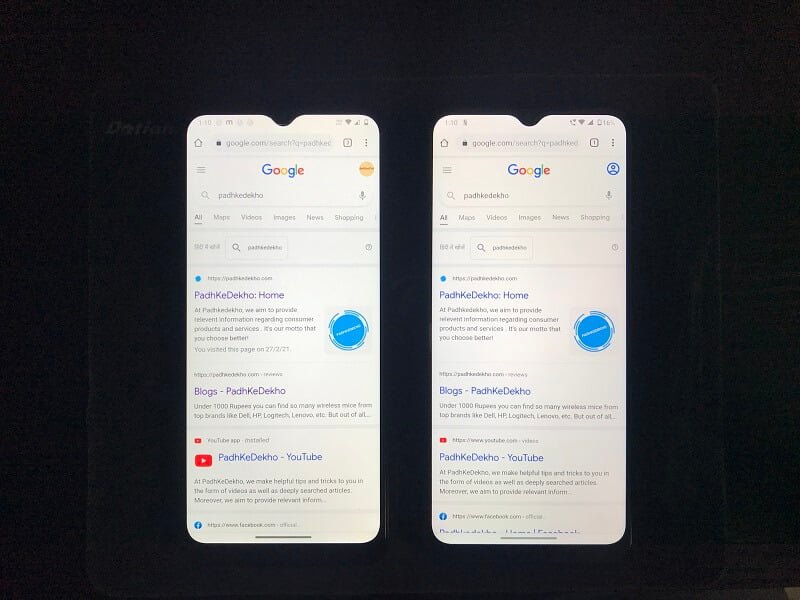 Just like last year's Moto G9, this one also packs in 6.5 inch IPS LCD display with a 720X1600 resolution. As I told you, I will not be going into technicals here. It's more like what I felt as a user. The Moto G10 Power display offers a wide variety of brightness ranging from high to low.
If you like to read bedtime stories in the dark then, you will enjoy reading your favorite piece of content. The display goes very dark and no strain can be felt at all. Additionally, the phone supports a "night light" that turns the screen's white/blue light into yellow that even enhances comfort to the eyes. You can control the tint of yellow for better satisfaction.
While outdoors, the screen can go quite bright and you can easily use the phone under direct sunlight. But you need to max out the brightness for the best results. While we are at it, changing the display mode from "Natural" to "Saturated" will provide better results.
I am writing this feedback after using One Plus 7 for around 2 years now! The reason for bringing this is that I don't understand the bad reviews regarding the display on Flipkart by most of the customers. It's not that bad! Yes, if Moto could have given a Full HD panel then the experience would have been miles better. So coming back to the point. For day-to-day tasks, you'll have no problem with the screen or the display brightness.
To sum up, the display, if you need a phone on which you can watch videos up to 1080P 60 FPS then trust me you are going to have a good time. The colors, sharpness, and details come out very well. On top of it, the 20:9 aspect ratio takes the video experience to the next level.
Moto G10 Power Fingerprint Sensor Test
While most smartphone manufacturers are replacing fingerprint scanners to face unlock, I appreciate Moto for not following this trend! Motorola has provided face unlock as an option, rather than replacing the fingerprint sensor! I use face unlock sometimes at home but not outside due to the current situation with the mask going on and all.
The rear fingerprint scanner under the "Moto" logo makes the whole unlocking process very convenient. About the Moto G10 Power fingerprint speed, it takes half a second to respond. It is pretty similar to Motorola Fusion Plus and Moto G9. Whereas, face unlock is considerably faster than the fingerprint.
If you'll go with Aurora Grey then you will note that the fingerprint scanner tends to blend in the color. Last year Moto G9 had a silver ring along with the fingerprint scanner that made the scanner look big and stand out. This year, it is quite the opposite.
Moto G10 Power Battery Test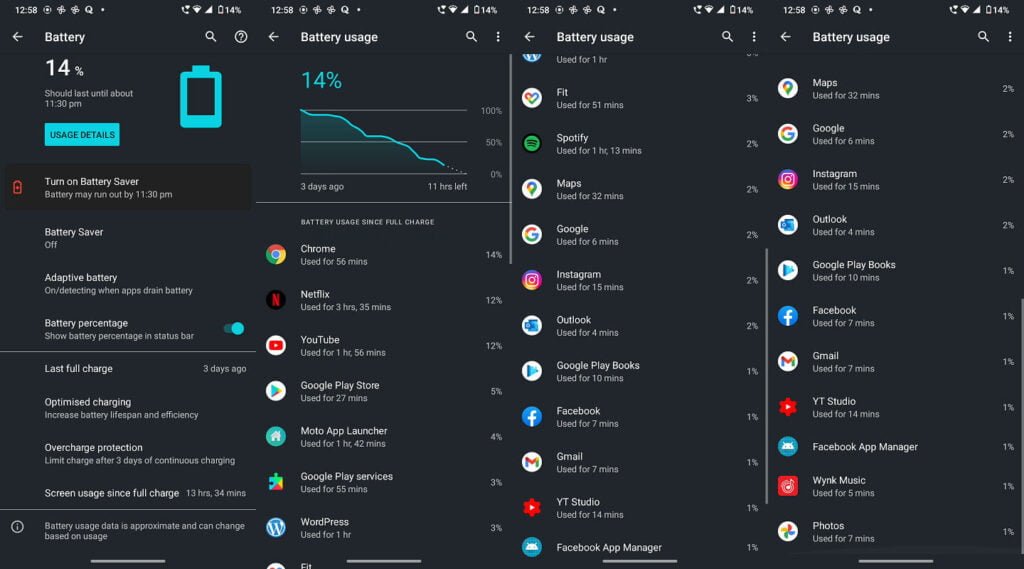 Quick Question. Is battery your topmost priority? Then this phone is going to impress you, hands down! 6000 mAh is certainly a big battery! I keep an iPhone 7 as a secondary device mainly for banking and analytics, and that phone has a tiny 1960 mAh battery inside. So yes, 6000 mAh definitely sounds impressive.
Battery backup is something like the fuel tank of your car. The more you'll use it, the more you need to refuel! So for a moderate user, Moto G10 Power can easily give anywhere from 10 to 15 hours of screen time or somewhere between 2.5 to 3 full days. if your case scenario is like mine, then the Moto G10 Power battery life can be for 3 days!
As you can see above, I don't play any games whatsoever. Rather use it professionally. I've used apps like Google Chrome, Netflix, YouTube, WordPress, Spotify, Google Fit, etc. All this time, no battery saver was ever turned on. Brightness was set to auto, apps running in the background, mixed-use of Wi-Fi and cellular data, and the location was actively used via Google Fit. So with this, you can easily get an idea of how long battery backup you will be getting.
Now you must be thinking how long Moto G10 Power takes to get fully charged. It's pretty common I get that. Charging this huge battery takes time with a 10-watt charger. But Motorola has provided 20 Watts of Turbocharger in the box. With this charger, Moto G10 Power charging time is only 2 hours 30 mins approx. Which to be honest, is great!
G10 Power Camera Review
Just like last year's Moto G9, this one also features a 48MP primary camera, 2MP Depth, and Macro Shutter. Additionally, this year you'll get an 8MP Wide angle lens. According to some reviewers and Flipkart's comments, Moto G10 Power has a very poor camera! But these are simply allegations. In fact, every phone with a 2MP depth and macro is good for nothing!
The above picture is simply taken point to shot. No editing or filter applied. Check out the dynamic range, the different colors of leaves, the dry leaves in the center, and the clouds in the back. Can you believe this photo was taken when the leaves were swinging crazily due to the cloudy weather?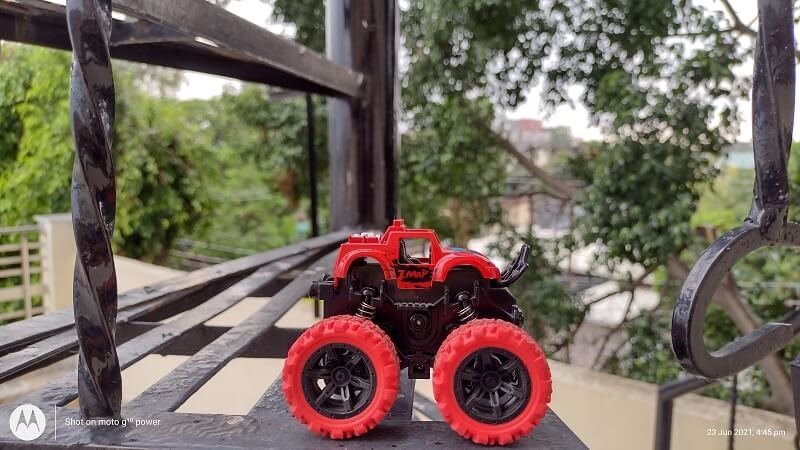 This particular one is an HDR shot. Notice the blur on the leaves and branches. The focus is on the car logo however due to webpage photo compression it is not clear. But in the image it is. Again, in this pic, no editing is done, just tap to focus. The colors do look a little washed out and natural-looking. Unlike some cameras that overexpose with saturated colors. The coming-up picture is a night mode sample test of Moto G10 Power.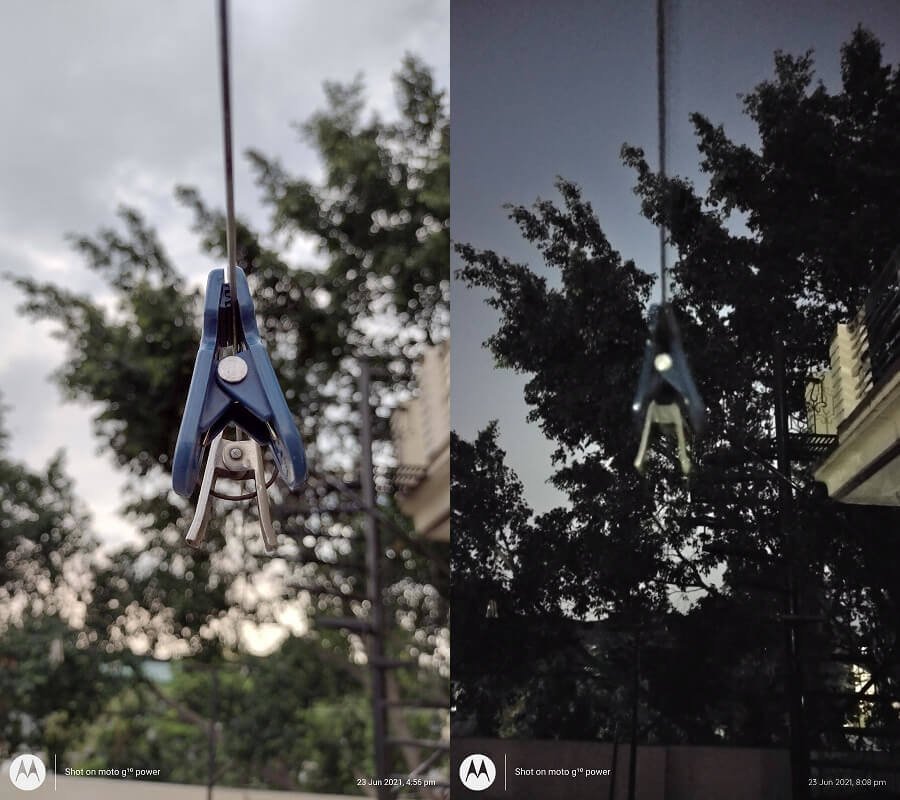 The left shot was taken at 4:56 pm while the other one was at 8:08 pm. The night mode did a good job. It was so pinch-dark. To be honest, I was not expecting this. You can see, it has brightened up the cloud like the shot was taken at 6:30 tops. So it does work! In the camera review video, I will be covering the cameras in detail.
Some Observations About The Cameras
I found the image processing speed to be very good compared to the Moto G9. Secondly, the tap to focus works brilliantly. This was not the case with Moto G9. In fact, you really had to make it work on G9. With G10 Power, Motorola has also worked on the camera's software UI and post-processing.
The addition of a wide-angle lens is a welcoming one! The shots come out to be good. But lighting is the primary subject. If the lighting is weak, the photo will come in bland with a lack of colors.
While recording videos, things are even improved. From the rear camera, you can record full HD video at 60 and 30 fps. Video Stabilization is also present but will only work at 30 fps video. The Stabilization works very well. Just like the rear, the front one can record full HD but only at 30 fps. Sadly there's no video Stabilization on the front camera. Which has to be expected due to the price.
So all in all, in the camera test I will definitely not give it full marks however it is somewhere around 6 out of 10.
Network And Connectivity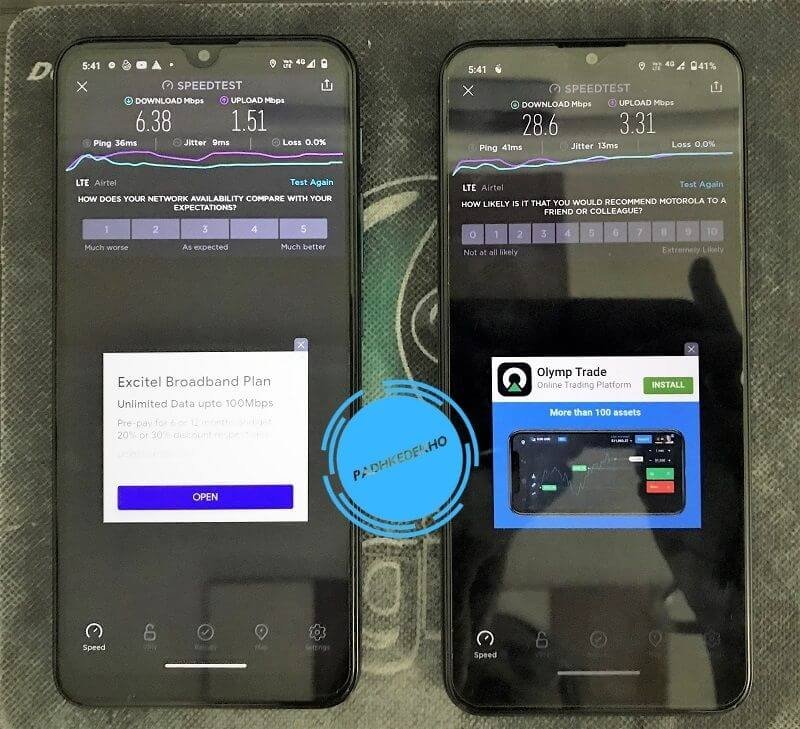 In the Moto G10 Power review, the network has to be talked about. I've seen some reviews and they have clearly ignored it for some reasons. Why it should be covered? Because Moto did something different here. The phone uses 2X2 MIMO network technology that will not only help in better signal reception but also faster download and upload speed.
So is this just a marketing hype or does this 2X2 MIMO technology work? I did put it through the test with the last year's Moto G9 which was 4G but didn't have this technology.
For a fair comparison, we used 2 different Airtel sim cards and no app was running in the background on both smartphones. The results were so astonishing that I couldn't believe it for the first time. Hence, I did this speed test multiple times and had a similar outcome.
So as you can see the difference we are talking about here is not marginal it's day and night difference! So if you need a higher 4G download or upload speed then Moto G10 Power is definitely going to hit a mark on you!
In terms of connectivity, it offers a hybrid sim solution. This means either you can use 2 sim cards or 1 sim with a microSD card.
Performance
As far as the specs go, Moto G10 Power has a Snapdragon 460 which is an 11-nanometer Octa-Core processor. Paired up with a 4GB RAM and Adreno 610 GPU. Considering the price, I think the specs are just fine. Could have been better though.
In my one month of use, this phone has not managed quite well and has never hanged. As you can see in the battery test, the apps I use on a daily basis. It works as a budget Android phone should. But it certainly does better because of the stock Android. And since there are no pre-installed apps(except Facebook that can be removed) so no unwanted use of your phone's resources.
For me, Moto G10 Power is replacing Moto G9 because of the 10 reasons I shared last week. Very soon I will be posting the Moto G9 Vs G10 Power speed test. So if you are interested press the red bell icon on the left to be notified!
I have talked to a few G10 Power owners who play games and this is what they have to say. Moto G10 Power can play games like Temple Run, Subway Surfers, Angry Birds, and other less demanding titles very easily. But for high-demanding games like Asphalt 9 Ultra Legend, Call of Duty Mobile, etc. it can play but frame drops will be evident.
So if are need a phone for gaming under INR 10000 then you can consider Moto G10 Power. I am not saying it is the best one, but it will certainly take care of your casual gaming needs.
Moto G10 Power Benchmark Tests
When it comes to evaluating a phone, benchmarking results come in quite handy. I have done 2 of the most popular benchmark test; Geekbench 5 and 3DMark. If you need to know any particular app's benchmark score then comment below or tweet us we will get back to you.
Moto G10 Power Geekbench Score: 238 Single-core scores and 1068 Multi-core
Moto G10 Power 3D Mark (Wild Life): 246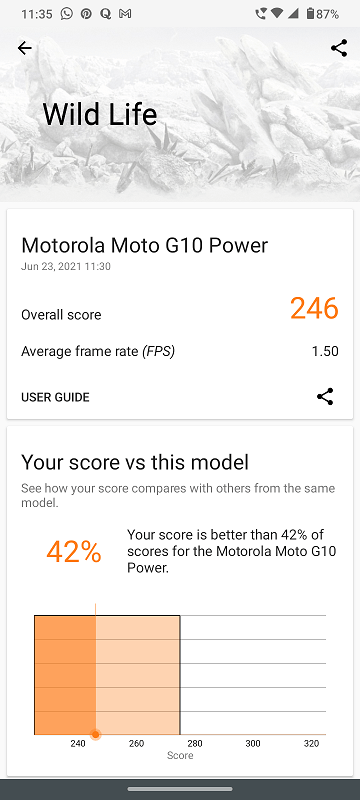 Should You Buy Moto G10 Power?
Moto G10 Power is a good stock Android phone under 10000 Rupees. If you don't like ads and bloatware on your phone then I can easily recommend going with any Motorola phone. But if you are looking for a stock Android phone below 10000 Rupees then nothing comes close to G10 Power. I would also say, it is a safe choice to gift your parents or grandparents.
Another reason to buy Moto G10 Power will be the battery backup. It is just remarkable. If you don't do gaming you can expect more than 13 hours of screen time. In the above battery test, you can see what type of apps I've used. If you need a marathon runner, then grab Moto G10 Power!
I will not say the camera is the segment leader, but it's not bad either. With good lighting especially outdoors this phone can capture decent to good shots. With Gcam things improve further. The detailed camera review will be posted soon on YouTube hence do subscribe to our YouTube channel!
In terms of performance, it can handle all the basic tasks you can throw on it. It's not a lazy phone by any means. I use WordPress and other analytics apps, to monitor multiple websites. And there's not a single incident where it left me disappointed.
For Gaming, I would say it can "play" most of the big titles like COD Mobile, Asphalt, Death Trigger 1 and 2, etc. but don't expect too much for it. You can say that for pretty much any phone under 10000. For a better gaming experience, you need to shell out 15000 to 20000 Rupees.
So Moto G10 Power is certainly a worthy and value-for-money stock Android phone under 10000 Rs. With all the pros and cons, I don't see any harm in buying Moto G10 Power.
That's About It, Fokes!
This was my few cents for the Moto G10 Power review. If you found it of any help, then do share it with others so that they should also know what to expect! Thank you so much for visiting PadhKeDekho. You can press the red bell icon on the left to be notified of our new articles!
Do you got doubts or have feedback regarding the Moto G10 Power review then feel free to comment below or reach us at PadhKeDekho's Twitter, Facebook, and Instagram. We will get back to you as soon as possible!
Just like the above article, we share our 2 cents in the form of reviews, tips & tricks, comparisons and opinions so do check out those articles. And if you liked the content do share it with your friends and family! Thanks, we will see you at the next one!
Articles That Might Interest You!
F.A.Q
Moto G10 Power Is 5G or Not?

No, Moto G10 Power is not 5G. Instead, Motorola has introduced 2X2 MIMO network technology that can provide you with better signal reception and download speeds. We've tested that as well! Click now to read more!
Is G10 Power A Good Phone?

Moto G10 Power is a good stock Android phone under 10000 Rupees. There are so many things that make a phone a "good" smartphone. In this article, we have shared our detailed review that will definitely help you. Click now to make a better choice!
Is Moto G10 Power A Good Upgrade From G9?

Unmistakably yes! We've covered 10 major differences that you can check out on the website. Read now!
How Is Moto G10 Power Battery Backup?

The battery is the strong winning point for Moto G10 Power. In our testing, it gave us 13 to 15 hours of screen time or 3 days of battery backup. Checkout out a detailed battery test here. Read Now!