Moto G10 Power is a successor of the most popular Moto G9. Last year Moto G9 was in the news for some good specs with a questionable camera setup. With all this Moto G9 was the choice of many looking for a stock budget Android phone in 2020. On the same benchmark, Moto launched Moto G10 power. So how is it? Should you upgrade to G10 Power from Moto G9? if that's on your mind then here is our Moto G9 vs G10 Power comparison. Not just that, here are 10 major things you need to know before buying Moto G10 Power!
In this Moto G10 Power vs G9 comparison, we are not going to compare the specifications in detail instead it is going to be a user perspective after using both devices. Therefore, it is going to be quite informative. So without anything else, welcome to PadhKeDekho, and let's check out Moto G9 vs G10 Power differences!
Hey There! if you are new around then please consider pressing the red bell icon on the left to be notified of our new coverage. We keep on bringing comparisons like this, product reviews, tips and tricks, opinions and so much more!
Moto G9 Vs G10 Power Basic Differences
Software
When it comes to Android, other than Oxygen OS, stock Android is my favorite. I just enjoy the plain and simple vanilla feel of it. On Motorola Android smartphones, you'll get almost a stock Android experience except for the Facebook app that can easily be uninstalled. Just like stock Android, no ads or bloatware is to been seen! For a better experience, you get a Moto App that provides additional gestures like a chop-chop to turn on the flashlight and so many others.
While both the phones are operating on stock Android, the software versions are different. Moto G9 is running on Android 10. As far as Google Play Console goes, this is what it has to say. The good thing here is the phone is running on the 1'st May 2021 security patch.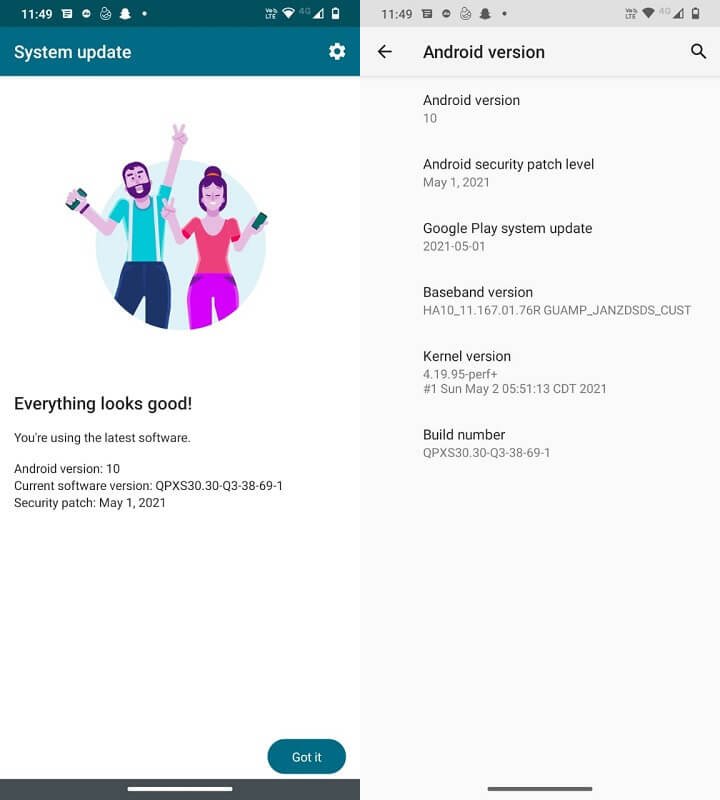 For all the folks with G9 cheer up, as Moto G9 is confirmed to get an Android 11 update through a tweet from the official Motorola Twitter account. However, the date is still unknown. Whereas, Moto G10 Power is coming with Android 11 out of the box.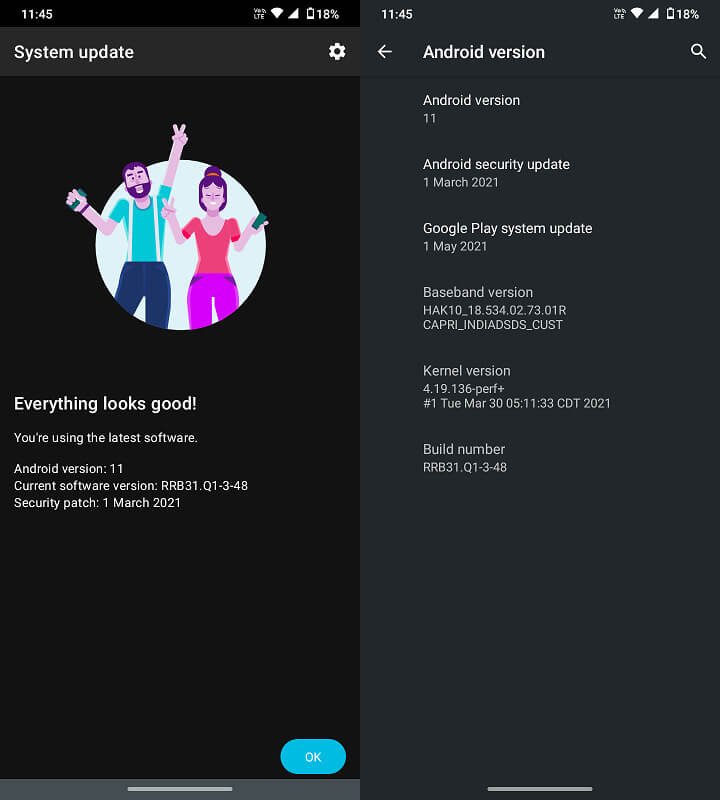 Cameras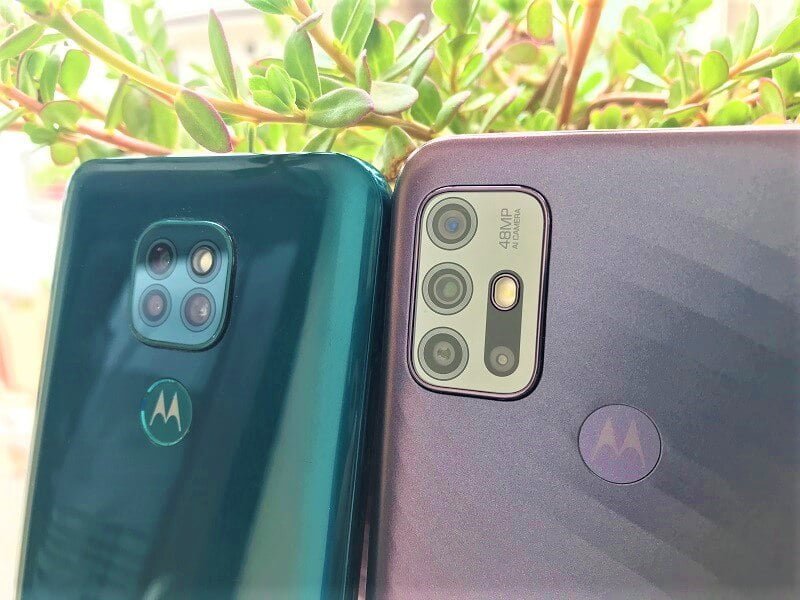 Moto G9 came with a triple camera setup with the primary camera being 48 megapixels at f/1.7 wide-angle lens, 2 MP depth, and 2 MP macro. This 48 MP primary camera stayed in the controversies for a very long. Why? if you don't know. It was actually taking a 12 MP shot and then using a Pixel Binding technology that used to capture 4x the pixels in a camera shot. To be honest, it is not that bad!
I did post an article with Moto G9 camera features in which I also showcased some of the pictures captured So it was not that bad as those 2-star reviews on Flipkart what people are saying!
Now coming to Moto G10 Power, this phone has a quad-camera setup. The primary shooter is a 48 MP f/1.7 wide-angle lens. Just like Moto G9, you'll also see 2 MP Dept and 2 MP Macro camera. Further, an addition of 8 MP ultra-wide lens is present.
So is there any difference in the camera performance? Yes, there are tones of improvement. Moto has really taken the camera game a few notches above! On Moto G9 "Focus hunting" was present. As a result most of the time, the focus was not correct. But with Moto G10 Power, the focus hunting has been resolved. Furthermore, the image's post-processing time has also reduced.
I will not talk in detail here, but we are working on a video, and will be posted soon! So do press the red bell icon to be notified when we do that!
Battery
Another strong area of Motorola smartphones is the battery capacity and battery backup. If you have owned any Moto phone in the past you would understand. Another icing on the cake is the stock Android that is not power hungry. Both the things go hand in hand and you will not get battery backup for hours, it will go for days on a single charge!
Last year Moto introduced Moto G9 with a 5000 mAh battery. And to be honest, it was more than sufficient. I could easily use it for 1.5 days with mixed (Wifi as well as cellular data). The average screen time was 10 to 11 hours.
This year, Moto launched G10 Power with a 6000 mAh big battery! As a result, my average screen time has increased by a couple more hours and overall backup has been more than 3 days! This is just phenomenal. If you also don't play games on a smartphone you can expect a similar kind of battery backup.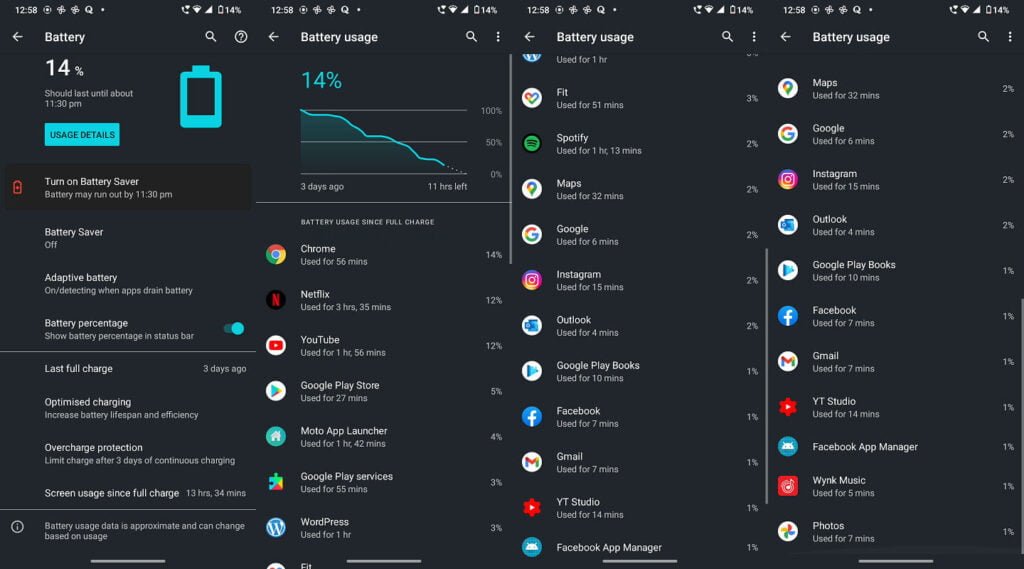 With this big battery, the phone has also gained in weight( coming up just now).
Weight
With the big mightly battery, Moto G10 Power is clearly a heavyweight champion at 230 grams! It is quite heavy but the weight is well distributed. But you have to be cautious while using it above your face on the bed! It's not that G9 at around 200 grams certainly not a lightweight phone but definitely lighter than G10 Power.
Because of the weight, I don't use any protective case or regular case. But there's one thing you should know. Moto G9 and g10 Power both have polycarbonate body so starches will come ultimately. It's Moto G9 which will get more scratches due to the glossy back panel. Whereas G10 Power has a wavey design in a matte finish so stretches will not easily come.
That is why Moto gave a TPU case in the box of Moto G9. Which is not provided with G10 Power. It would have been great if G10 Power came with one. As generally, Moto compatible covers take longer to be available in the market. So the risk of dropping phones is quite high. Maybe the next G series will come with a case? Let's see!
Moto G9 Vs G10 Power Built quality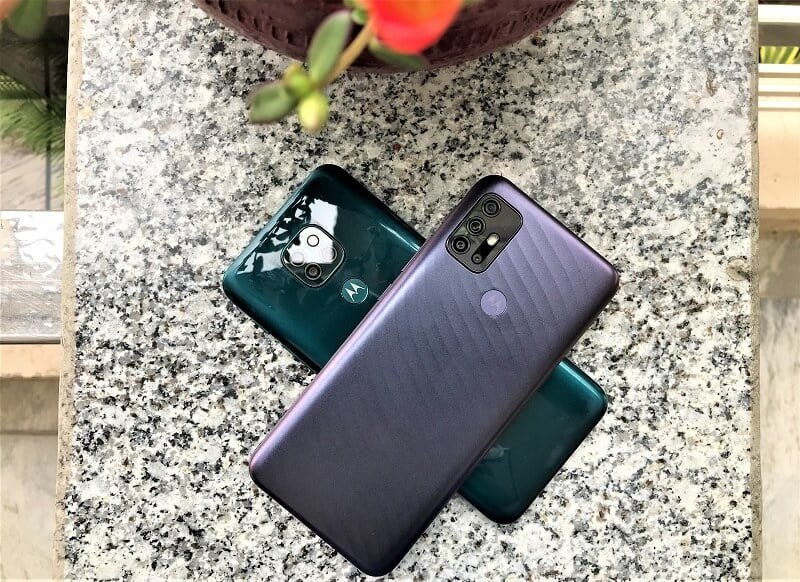 Keeping in mind the price, both the phones offer polycarbonate sides and back except the displays! In terms of built quality, I had no issues even with Moto G9. One thing common between both the phones is the strong built quality. You will not find a single squeaking while pressing anywhere. Even though the side panel is of plastic, it feels very sturdy.
But where Moto G10 Power excels in button feedback. The buttons feel very clicky. Keeping in mind a few years of use, I feel Moto G10 Power will hold for long without any issue.
Display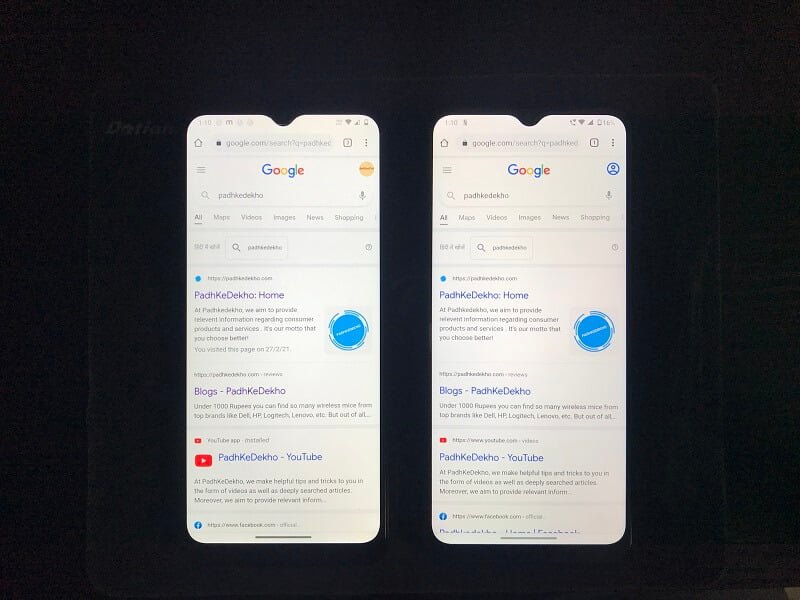 On both phones, you get 6.5 inch IPS LCD display and similar PPI and resolution. That's pretty much about the specs you will find in other reviews! But after using them for a while, I have noticed Moto G10 Power has a brighter display panel.
It's not like G9 is not bright, it is certainly very bright compared to other budget Android phones! So if you need a brighter screen for better outdoor visibility then Moto G10 Power is the way to go. Other than the brightness, the screens on both phones are quite good, considering the price.
G9 and G10 Power have vibrant displays and viewing angles. Even low brightness is so low that if you like to read bedtime stories then you'll enjoy it. Do you like to watch videos on 1080P 60 FPS videos then trust me both are an entertainment pack for you!
Finger Print Scanner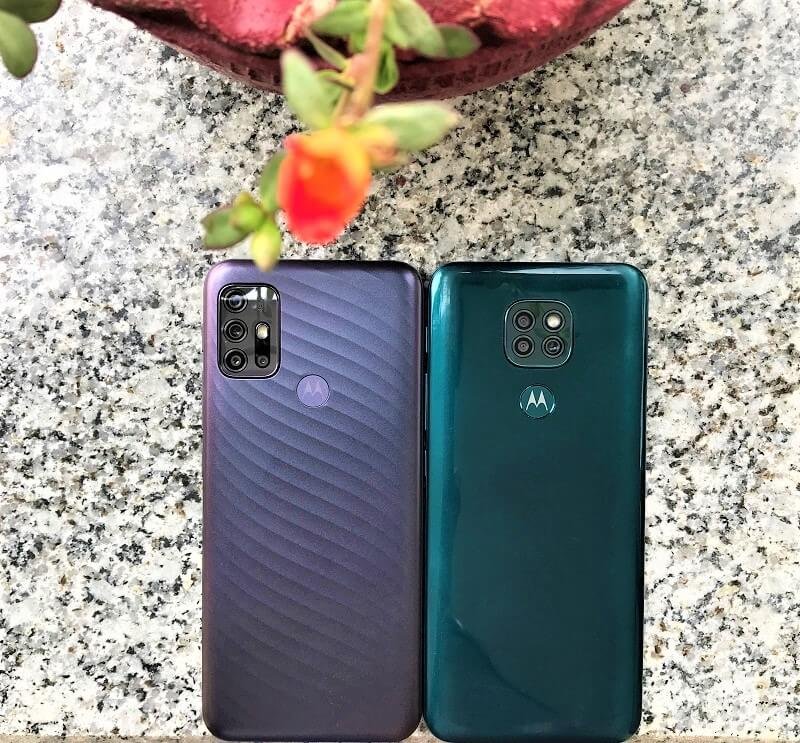 Moto G9 and G10 Power support face unlock as well as a fingerprint. Because of the COVID-19, using face unlock doesn't seem like a logical choice because of the masks. So I appreciate Moto for keeping the fingerprint unlock for easy unlocking. As far as the unlocking speed goes, both take half a second to process the input. Which is acceptable in this price range.
About fingerprint lock placement, I found the scanner to be on a more comfortable spot on Moto G9. It's more centered in Moto G9 to be precise. Whereas, on G10 Power it is slightly on the upper side. Which makes it a little uncomfortable if you have medium-size hands. Secondly, the fingerprint scanner of Moto G10 Power blends in with the color. Whereas, Moto G9 has a distinctive look to it due to the silver circular ring.
Speaker Audio
Both the phones have a loud single-firing speaker on the bottom. While Moto G9 has a more sharp and treble-heavy audio output. Moto G10 Power has a slightly bassy audio output. If Moto G10 Power had a dual speaker or mono speakers then the overall audio experience could have been 10/10.
While we are at it, the incoming call quality is awesome on both. You and the person on the other side of the call will never complain about it. The earpiece is very loud. This has been with all the Moto phones, I've owned in the past. At least Motorola has not done any cost-cutting here.
Taking zoom calls or WhatsApp calls will be quite loud and clear. Usually, my mom is a little hard of hearing, she really enjoyed taking calls via my new phone. The experience is more or less the same on both phones.
Network
In terms of the network both do a great job. Even with places with barely any network, they work better than most of the phones. While testing, we used Airtel and Vi (formally Vodaphone).
Moto G10 Power uses 2X2 MIMO network technology that should give you better reception and a higher download speed. But does it actually work? We did a test of that too! To keep it fair we used two different Airtel's sim cards on both the phones and closed every app in the background. Did a speed test using the same server, side by side. And here is the result!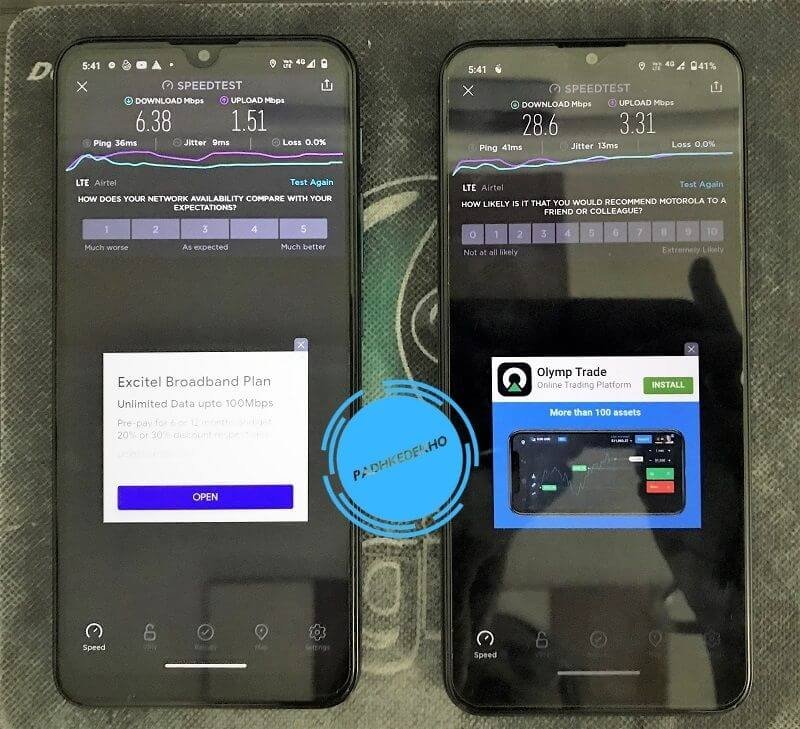 So as you can see, on the left is Moto G9 with 6.38 Mbps and a whopping 28.6 on G10 Power. This is not only a 2X difference, it goes way beyond! We did this test multiple times, just to be right and it is exactly what you see above. So if you are planning on upgrading to Moto G10 Power from G9 then you should definitely consider it!
Thinkshield
Another big change Moto introduced in this generation upgrade is the inclusion of Thinkshield. As per Motorola, Thinkshield is a multi-layer of protection on top of Google's security of Android. With Thinkshield you can be less worried about malware, phishing attacks and so much more. Furthermore, Team at Motorola keeps check on new threats and prevents them from breaking your phone via bug fixes.
Thinkshield is deeply integrated into Moto G10 Power. Unfortunately, G9 misses on Thinkshield. So if you want to stick to Android but need better security, then why not upgrade to Moto G10 Power and take benefit of Motorola's Thinkshield.
Wrapping Up!
That's about, folks! I hope you would have found our Moto G9 vs G10 Power comparison helpful. If you did, then do share it with your friends and family so that if one is considering buying or upgrade, then it would be of some help. Thanks for reading and stay safe!
Do you got doubts or have suggestions? Then do reach us at PadhKeDekho's Twitter, Facebook, and Instagram or comment below. We will get back to you as soon as possible!
Just like the above article, we share our 2 cents in the form of reviews, tips & tricks, comparisons and opinions so do check out those articles. And if you liked the content do share it with your friends and family! Thanks, we will see you at the next one!
F.A.Q
Is Moto G10 Power A good Phone?
Moto G10 Power is a great option for someone who is looking for a clean, ad-free Android experience. Other than that, it uses 2X2 MIMO network technology that helps in getting better network reception and download/upload speeds. Including these two, we have shared 8 more points that you should know before buying Moto G10 Power. Click now to learn more!
Does Moto G10 Power Support 5G?
No, Moto G10 Power doesn't support 5G. Instead, it comes with 2X2 MIMO network technology that will help you achieve higher download and upload speeds. We tested it against Moto G9 and we have a shocking answer for you. Click Now to check the result!
Is Moto G10 Power Camera Really Bad?
We've tested the camera in detail and compared it with some similar pricing phones. To be honest, it is not that bad as the reviews on Flipkart. In simple words, considering the price range the cameras(still and videos) are good.