BoAt Rockerz 450 and 510 are the most popular wireless headphones under 1500 Rupees. Since both are from the Rockerz category, getting confused between the two is very normal. Apart from price, they also share so many things. But there are plenty of major differences as well. So in this BoAt Rockerz 450 vs 510 comparison we will bring up the pros and cons and all the major differences that can be a deal maker or breaker for you.
Update: Both headphones are available at up to 60% off on Amazon's Great Freedom Festival sale. Click now to check the deals!
In this BoAt Rockerz 510 vs 450 comparison, not only you will get to know some technical specifications but also the real-life user experience of our team and customers' feedback.
At PadhKeDekho, we keep on performing consumer products comparison like smartphones, computer peripherals, audio equipment like earphones and headphones with the only objective to help you make a better choice. So that being said, let's begin BoAt Rockerz 450 vs 510 Comparison.
1.1 Pros And Cons Of Both
1. BoAt Rockers 450 Pros And Cons
2. BoAt Rockerz 510 Pros And Cons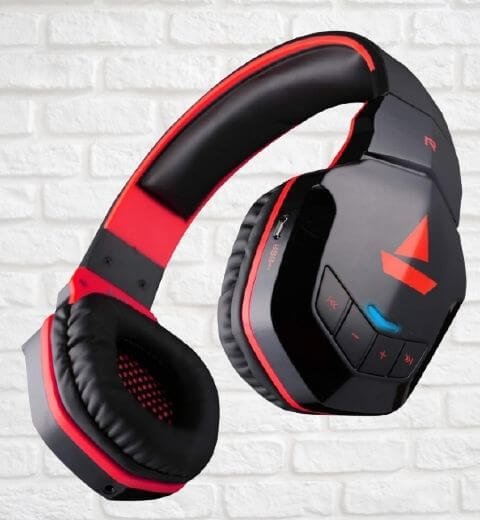 1. Built Quality
You might be thinking that both are similar pricing so the built quality will be the same? No! Thats not the case. While testing them we found 10 of such things.
But first, let me tell you the things which are common. The basic overall construction is plastic. It goes the same for the headband adjusters. Which I really think should have been stainless steel. Even BoAt Bassheads 900 which is only 800 Rupees have. Rest everything is different in many ways.
What's different is the quality of plastic. Be it the buttons feel, adjusting headband, ear cushions, etc. BoAt Rockerz 450 offers better built. Secondly, the earcups are tiltable and will adjust to your head type in a while.
While BoAt Rockerz 510 offers fixed earcups and a little tight headband. That will make a stronghold on your head for the best possible audio experience. Will talk more in detail in the sound test. The volume buttons, headband adjusters, and ear cups have good built but not as good as Rockerz 450.
2. Designed For Different Audiences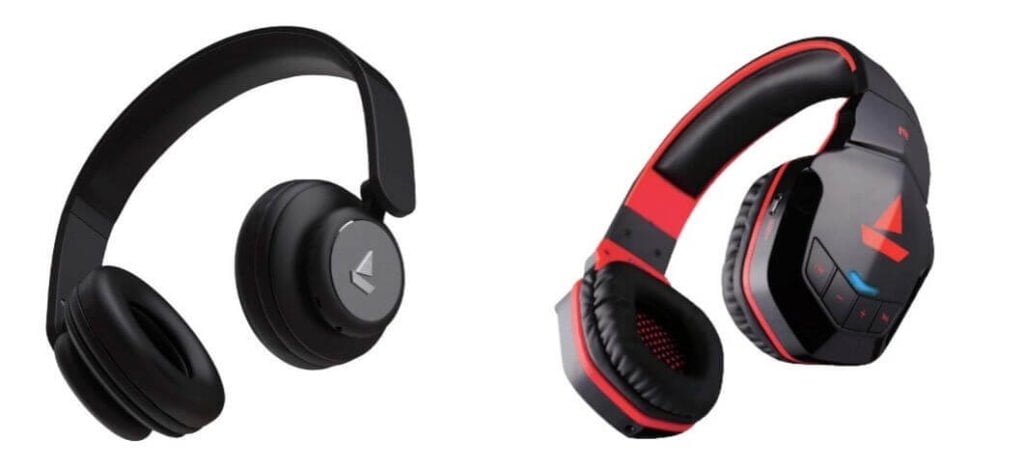 BoAt has kept different people while going for research and development for these headphones. Rockerz 450 offers a matte finish design overall, which makes it an ideal choice for people in their senior years of college or a working professional. The color choices are also very moderate and are not easy to eye-catch per se.
While BoAt Rockerz 510 is meant to keep the gaming audience in the mind. Though it doesn't have any gaming-specific features other than looks. The flashy colors will definitely make you noticeable in the crowd.
In the public test we did, generally, the younger audience preferred Rockerz 510 instead of 450.
If you like big headphones then Rockerz 510 is going to suit you more. The bigger earcups and thick headband make it considerably bigger in size and weight more than 450.
BoAt Rockerz 450 are just 160 grams making them among the lightweight wireless headphone under 1500 rupees. Whereas BoAt Rockerz 510 is 230 grams. This weight difference is noticeable. The direct effect is on the comfort (will come to it in a sec)
3. Which Offers Better Comfort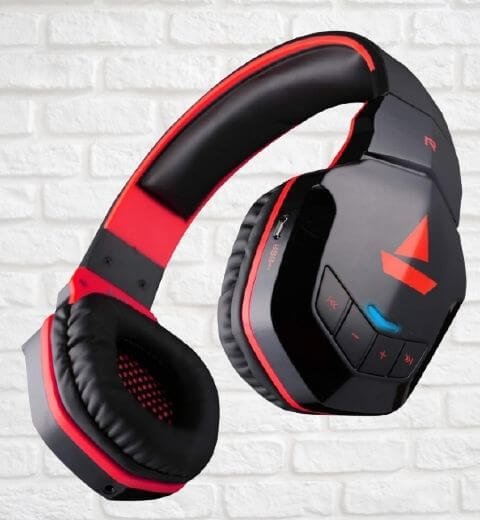 The definition of comfort is different with both the headphones. BoAt Rockerz 450 earphones are circular whereas Rockerz 510 has slightly tilted squared earcups. This directly affects comfort due to their design.
Since Rockerz 450 have circular earcups they will rest completely on your ears. This is good and bad, depending upon how you like your headphone to be (I will come here in a sec). Secondly, the earcups are tiltable and adaptive in design. i.e. they will form a firm grip depending on how you plan to wear them.
Whereas Rockerz 510 has bigger ear cups this will perfectly cover your ears. Even though, it is on-ear headphones still it covers the ears perfectly. This will help you with better comfort in long hours. I use it, for 2 to 3 hours daily it easily handles it.
In the beginning with Rockerz 510, you might feel the headphone to be tight and rigid. It will stay rigid due to the design but with a few days of use, it adapts and you will find your perfect spot.
Now coming back to Rockerz 450, since they will rest on top of your ears it will put some amount of pressure. And if you wear spectacles, then it is going to be slightly more uncomfortable in the beginning. This will also change after using it for a while.
If you ask me, Rockerz 510 is more comfortable than Rockerz 450. But if you are not comfortable with heavy headphones then stick to Rockerz 450 as it the best lightweight wireless headphone under 1500 Rupees.
4. Best Audio Experience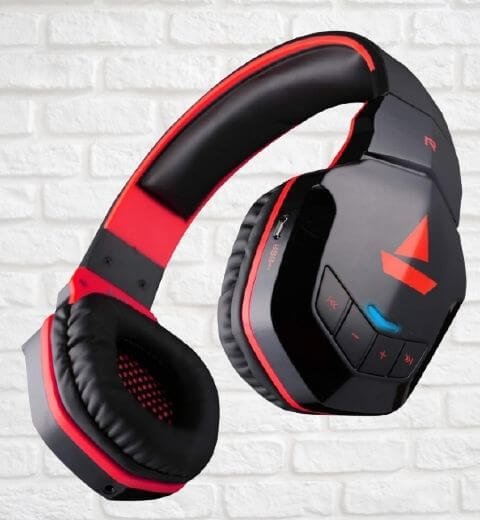 Since both of them are from the Rockerz series, they genuinely sound good. Everything from bass to vocals to instruments, clarity everything is balanced and you would be enjoying quality music. I've seen few reviews where people say BoAt earphones are not worth, etc, etc. it's not true (well sort of).
I've tried and tested so many headphones from different brands. However, of BoAt, I personally have tested BoAt Rockerz 255, BoAt Bassheads 900, BoAt Airdopes 121v2, BoAt Airdopes 131.
So, I know what music on them sounds like. I am not saying nothing is better than boAt, but they are certainly not bad products. if you are not 100 percent in for BoAt products then Infinity Glide 501 By JBL is a great alternative.
Read More: Infinity Glide 501 Review
Now coming back to the BoAt Rockerz 510 vs 450 comparison, don't get worried about the negative feedback. They sound good. However, if you enjoy loud and bass-heavy music then Rockerz 510 takes the cake here! This is all due to the 50mm audio drives. Unlike, 40mm on Rockerz 450.
By any means, I am not quoting Rockerz 450 have bad bass or anything. It just, Rockerz 510 takes few extra miles. What so special is that you can literally feel the bass thumping on your ears!
5. Audio Leak And Noise Cancellation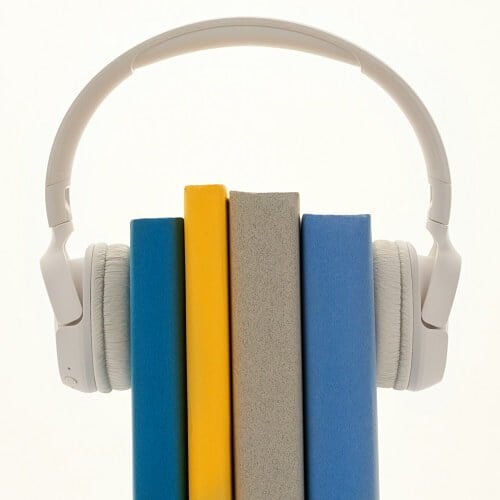 When we talk about loudness then one should always think about audio leaks and noise cancellations. If you don't know audio leak means the sound from headphones coming out and mixing with your surroundings like in bus or metro. This can be embarrassing if you are watching any roasting video!
With these headphones, you will go through an audio leak situation as both are not good in terms of audio proofing. But I've noted fewer audio leaks on Rockerz 510. You can easily prevent audio leaks by reducing the volume on both headphones. At around 50 to 70, there will be very few audio leaks (tried and tested).
Now comes another crucial point, and that's noise cancellation. Unlike audio leaks, noise cancellation prevents the outside world noise like car horns, people talking, metro announcements can be blocked or reduced so that the audio listing experience stays on top.
Passive noise cancellation is present in every headphone even Rockerz 450 and 510 have that. But it's not Active noise cancellation (ANC). So as a result, they cannot outright block the outside noise but can reduce some of it. Here also, Rockerz 510 does better noise cancellation.
Note: If you need to know more in detail about the types of noise cancellation and audio leaks, then check our explanation in layman's language that you and I can understand!
Read More: What Is Noise Cancellation And Audio Leaks  
6. Battery Backup And Charing Time
One thing, that BoAt has clearly taken a strong interest is in the battery size and optimization on both headphones. Even if you are out of battery, you can still use them (will come here in a sec!).
BoAt Rockerz 450 features a 300 mAh battery. The real-life figures are around 8 hours of battery backup if you listen at 100 percent volume. Lowering the volume between 60 to 80 will get you few more hours. This backup is considered good in this price category with such heavy 40mm audio drivers.
With Rockerz 510 things are even better. You can expect anywhere between 13 to 15 hours of battery backup depending upon volume. So if you want to listen to your favorite songs wirelessly for a very long time then 510 is the way to go.
The charging time of both headphones is anywhere between 2 to 4 hours and it majorly depends on the type of charger. The good news is you can use any charger. I use OnePlus Dash Charger and Moto 20 Watt Turbocharger so they get charged within 2 to 3 hours tops.
BoAt has kept you covered even after the headphones are out of battery. And that's dual pair mode. Not to be confused with, Bluetooth dual paring!
With this mode, you can plug in your headphone with your smartphone or any device using the AUX cable (provided in the box). It is going to be quite helpful if you need to preserve the battery when you are tracking in the woods or any other outdoor activity.
Note:- Since we have the old shape Rockerz 450 it used to come with an AUX cable. However, the new shape doesn't come with the 3.5mm cable. But the cable comes with Rockerz 510.
While we are at the wired connectivity, there's something you should know. On any of the two headphones, you will not be able to take calls in this mode.
What happens is when you'll connect via cable the headphones turns off so as the mic. Therefore, if you need to make calls with aux mode then you would need a cable that has a mic. Otherwise, you can do wireless calling via Bluetooth.
7. Bluetooth Version And Connectivity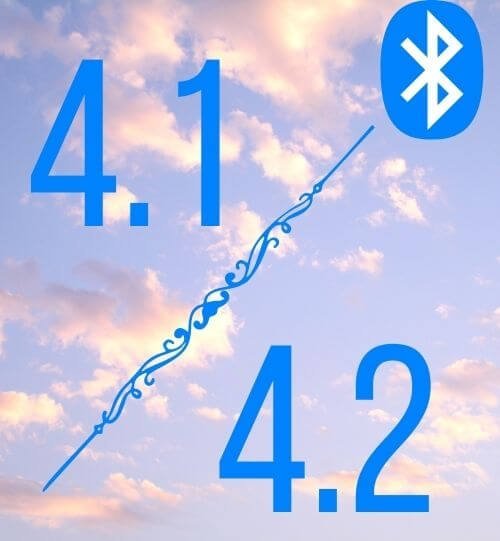 When it comes to seamless wireless connectivity, the Bluetooth version comes to mind and there's general working is; The newer the better.
On the above principle, BoAt Rockerz 450 is better due to Bluetooth version 4.2. Though, in 2021 it is not the latest, but still better than 4.1 of Rockerz 510.
The difference you are going to feel is negligible. But it's definitely there. Both headphones claim up to 10 meters of range and they are somewhat true to their specs.
You would notice distortion on Rockerz 450 after 6 meters away from the connected device. While on Rockerz 510, distortion will be felt at 5 to 6 meters.
Note: This test was done few times before stating the fact above. In both cases, the connected device was on the table in an open area with no closed walls. If there are walls then the test results will vary.
8. You Got More Media Controls In This!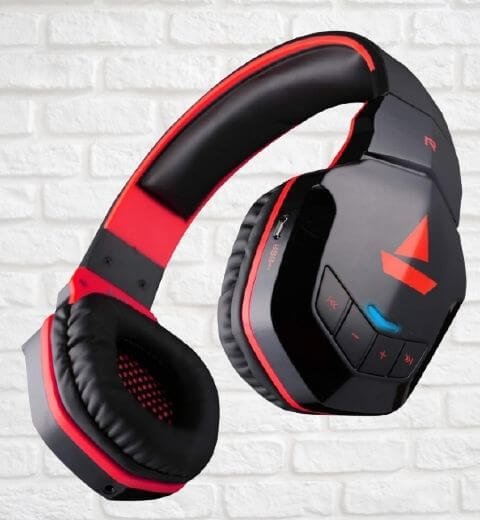 On both headphones, you will get multiple buttons, but Rockerz 510 has got more. You must be thinking what difference does it make? The difference these buttons bring is for user-friendliness and quick response.
For e.g. if you need to change track on Rockerz 450 you have to either press the plus volume button for 2 seconds to play the next song in the list or press and hold the minus button to repeat the song or play the previous song.
But on Rockerz 510, you have got dedicated buttons to play the next or previous song. This certainly helps if you listen to a particular playlist and know where is the song you want to listen to without changing it from the connected device. Secondly. the response time is quick while changing songs.
On Rockerz 450 you got three buttons play/pause, increase volume/seek next track, decrease volume/seek the previous song. So a single button is doing muti works.
While Rockerz 510 has dedicated buttons to increase volume, decrease volume, seek the next song, seek the previous song, play/pause.
So if you need better and quick media controls then BoAt Rockerz 510 is the one for you.
9. Best For Travelling
After enjoying music on the go where do you think you are going to keep your headphone? Is it going to be on your neck or resting in a backpack? You should definitely consider such questions before buying your next headphone!
The buying guide for travel-friendly headphones is one that is lightweight and has somewhat flexibility so that if it is on your neck or resting in the backpack it should handle bumps and unforeseen circumstances like someone bumping in a crowded bus or metro.
Because if the headphone is rigid, it might not handle the bump lightly and might break.
So going with the above explanation it is BoAt Rockerz 450 which is very lightweight and can easily rest on your neck. Secondly, it can be folded, so it adds an additional layer of protection.
Whereas, Rockerz 510 is rigid and offers no flexibility other than the headband adjustment. So keeping them on your neck will not be comfortable. Secondly, if you are planning to keep them in the backpack then watch outfalls can break it apart.
10. Which Is More Durable
After using them for a good while, I checked a few reviews and I don't agree with some of them. I found Rockerz 450 to be more durable than 510.
In the reviews, they have said due to high weight Rockerz 510 is more durable so can handle falls. But they haven't talked about the rigid headband and non-tilting earcups.
When it comes to durability, there has to be some motion or flexibility so that the product can handle a fall or a bump in the bag pack.
So as per my experience, I feel Rockerz 450 will handle more ruff use than Rockerz 510. The complete credit goes to the tiltable and foldable ear cups. They provide good flexibility. Thus, increasing resistance to handle unforeseen situations.
So Which One Should You Buy BoAt Rockerz 450 Or 510?
As I said in the beginning both are meant for different sets of people. If you read the above 10 major differences between BoAt Rockerz 450 and 510, then you would have made your mind. But if not, don't worry let me summarise in short.
If built quality is your priority then going with 450 will be a better choice. Be it ear cushions, headband, tillable ear cups it appears to be more "premium" than 510.
Since looks are subjective hence I will not say much. But If you like funky and glossy colors then Rokcerz 510 takes the bigger pie of the cake. While Rockerz 450 is for people who prefer matte colors and simple design.
When it comes to sound quality then both will deliver overall good quality and clear audio. With Rockerz 510, you can experience ever louder and better bass output. So if you have heavy bass in mind or want to literally feel the bass then BoAt Rockerz 510 is the one for you!
Need wireless headphones for work from home? Then both will lend a hand to help you! But it's BoAt Rockerz 510 that packs in a better in-line microphone. And also, it will not bother you with any discomfort other than weight.
Note: if you primarily need the best wireless headphone for calling under 2000 Rupees then I would recommend checking out Infinity Glide 501 BY JBL. Here is our long-term review for it.
Read More: Infinity Glide 501 Long Term Review
In terms of battery backup, it's again going to be BoAt Rockerz 510. Few extra hours on the go really helps when you are stuck in traffic and nothing else to do!
So all in all, both of them are great headphones and you would really enjoy listing to your favorite playlist be on the go or at home. Rest it is up to you, what you feel like. But that's for sure you will not regret buying any of them, for sure!
If this BoAt Rockerz 510 vs 450 was of any help in your decision making then please use the above Best Buy links of Amazon. As it will motivate us to buy new products and bring comparisons that will help you and others make decisions before buying.
That's About It, Folks!
I hope our BoAt Rockerz 450 vs 510 comparison would have answered your questions. If not, then do let me know in the comments or PadhKeDekho's Twitter, Facebook, and Instagram. We will love to help you out as soon as possible!
Just like the above article, we share our 2 cents in the form of reviews, tips & tricks, comparisons and opinions so do check out those articles. And if you liked the content do share it with your friends and family! Thanks, we will see you at the next one!
F.A.Q
Is boAt Rockerz 450 mono channel or stereo channel?

Hi! It depends on the connected device. You can change mono to stereo or otherwise from the device settings.
Does BoAt Rockerz 450 work with Bluetooth 4.0?

Hello! You can connect BoAt Rockerz 450 with any device. If the device has Bluetooth then nothing will stop you from connecting!
How to enable mic in BoAt Rockerz 450 while it's used with wire?

Hey! BoAt Rockerz 450 turns off when it is connected via AUX mode hence you cannot use the mic at that time. But, if you'll buy an AUX cable with a mic then you can use it!
Is BoAt Rockerz 450 compatible with Samsung A10E?

Hello! Yes, you connect BoAt Rockerz 450 with Samsung A10E. In fact, it will connect with any phone that has Bluetooth irrespective of what Bluetooth version they have.
Does Boat Rockerz 450 leaks sound at max volume means can a person who is siting beside me can here it or not?

Yes, BoAt Rockerz 450 leaks sound. People close to you can easily hear what you are listing to. But you can avoid this situation by lowing the volume below 80. I've tested it myself, it works!
Are Boat Rockerz 510 worth it for online classes for kids?

Hello! BoAt Rockerz 510 offers a good mic and is comfortable for long use. My niece takes her online classes(5th class) using it and has not complained as such.
Is it possible to change the battery of Boat Rockerz 510?

Contact BoAt Support. If your headphone is in warranty then they can even replace it.
How many time will take to charge Boat Rockerz 510 for the first time?

Hi! The first charge can take anywhere 3 to 4 hours and it all depends on the charger. I used the OnePlus Dash charger it was charged for just over 2 hours.
Which is better BoAt Rockerz 450 Or 510?

Simply saying this one is better doesn't make it great! In this article, we have compared both of them and shared the 10 major differences as well. So do check it out before pressing the buy now button! Click now to learn more!