Infinity Glide 510 and BoAt Rockerz 550 are designed for different people straight out of the box. One is very comfortable to wear for prolonged hours while one has the best sound output and mic performance. So in this article, we are going to compare Infinity Glide 510 vs BoAt Rockerz 550 on all the possible aspects for decision making.
Update: Both headphones are available at a huge discount on Amazon's Great Freedom Festival sale. Click now and check out the deals!
In this Infinity Glide 510 vs BoAt Rockerz 550 comparison, you will get to know PadhKeDekho's rating, pros and cons, which one has better built, comfort, special features, sound output, battery backup, mic test, noise cancellation and audio leak, and finally our verdict.
At PadhKeDekho, we aim to provide relevant information in the form of reviews, comparisons, and best products. What makes us special is that we use the products like a consumer will use it so that we can bring a consumer-to-consumer review.
So that being said, let's begin the BoAt Rockerz 550 vs Infinity Glide 510 comparison with PadhKeDekho's rating!
Pros And Cons
1. Infinity Glide 510 Pros And Cons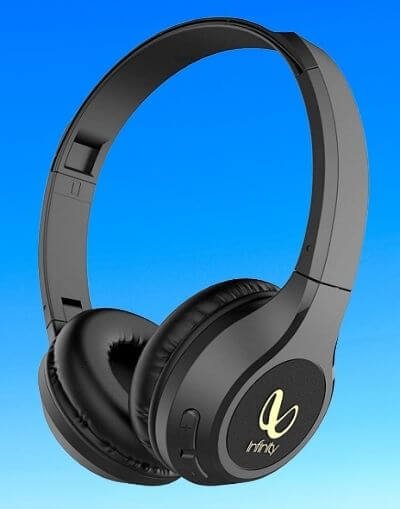 2. BoAt Rockerz 550 Pros And Cons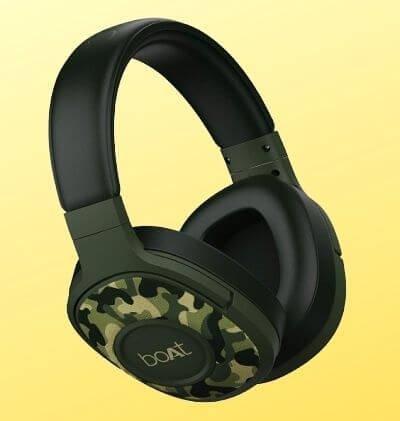 Which One Has Better Built Quality?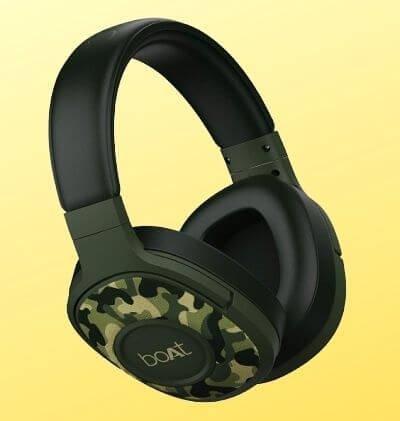 In simple words, BoAt Rockerz 550 has a better build. It all starts with the headband adjusters. Which are stainless steel on Rockerz 550. Whereas, it's plastic on Infinity Glide 510. However, the overall built of Glide 510 is High Tensile PP which is the best possible quality of plastic. This makes it the best option among the headphones that are of inferior plastic.
We have been using Infinity Glide 500/501 for the last year and have not experienced any issue so far in terms of build quality.
The next point is the quality of media controls. The buttons of Rockerz 550 make very little noise. But on Glide 510 you can hear a spring clicking which irritates when listing to music and controlling the volume. In other words, the buttons on Rockerz 550 feel more premium than Infinity Glide 510.
In Infinity Glide 510 Vs BoAt Rockerz 550 built quality test, we would go with BoAt Rockerz 550.
Which One Offers More Comfort?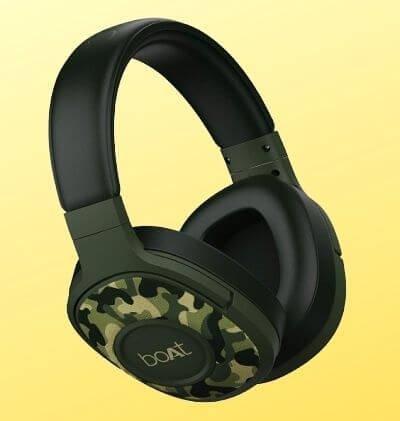 In this department, we will go with boAt Rockerz 550. Why? Because of the big size and large Over-Ear cups that will cover your ears completely with soft and comfortable cushions. As a result, you can wear it for 4 to 5 hours without any issue other than sweating!
On the bottom of the headband, you also get a soft layer of padding which helps to establish a firm grip. Hence tons of comfort to the end-user.
The best part about both of them is the tiltable ear cups. Due to this, the headphone will fit on your head and ears comfortably. Usually, most of the headphones don't have tiltable ear cups. So if you need more comfort then both are great options,
Since Infinity Glide 510 is On-Ear headphone so it will rest on your ears resulting in some pressure on your ears and head. As a result, you can't wear them for more than 4 hours. If you wear spectacles then a maximum of 3 to 3 and half hours.
Though this tightness will be there in the initial days. But within a week's use, it will adjust to your head size easily.
If you compare Over-Ear headphones with On-Ear ones then the latter one will definitely be going to lose. But if On-Ear ones are getting compared then Infinity Glide 510 will offer a very soft and snug fit experience.
However, it misses on a fabric below the headband.
So in terms of comfort test between Infinity Glide 510 vs BoAt Rockerz 550, the BoAt Rockerz 550 takes the lead.
Any Special Features on Offer?
In terms of special features, Infinity Glide 510 has one and that is Dual Mode. This mode will allow you to either listen to music on Deep Bass Mode or Normal Mode.
It will come in handy when you feel like enjoying vocals or classical music without punchy or deep bass. We will talk about audio output in the sound quality test!
Just like that, Rockerz 550 also provides you Dual Mode which is different from Infinity Glide 510. With Rockerz 550, you'll get options to pair your headphone wirelessly or with an aux cable (provide in the box). So you can plug in the aux cable and enjoy your favorite playlist even if the headphone is out of battery!
Now, this is up to you, whether you need dual audio modes or additional connectivity modes. For me personally, I would go with audio modes then connectivity.
In this features test between Infinity Glide 510 vs BoAt Rockerz 550, we would go with Infinity Glide 510 any day!
Which One Sounds Better?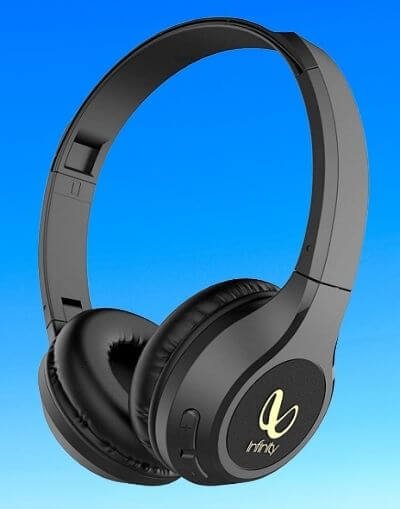 When it comes to audio then Infinity Glide 510 by JBL hits a home run! The output creation is amazing. Even though on paper it just has 36mm, audio drivers. But in real-life use, it's assuredly better than Rockerz's 550 50mm drivers!
As we said in the features section, Infinity Glide 510 has 2 modes to enjoy music. The first one is Normal mode. Which as the name applies, it tunes down everything especially bass and loudness, and kicks in vocals and instruments. This is best for podcasts or vocal-heavy songs.
The moment Deep Bass mode is activated, the bass and loudness kick in. And it is really thumping bass. If you enjoy bass boosted songs then you would appreciate using Infinity Glide 510 hands down!
If you care for music then the chances of you being familiar with Sony and JBL will be high. The primary reason for saying this is that they have got experience and used it to provide phenomenal audio quality. Be it vocals, instruments, bass, loudness you get all with Infinity Glide 510. It is really good even you will not notice any audio distortion at full volume.
It's not that BoAt Rockerz 550 is so behind. It is just as clear as Infinity Glide 510. Instruments on point. So as the treble. but it lacks the punchy bass. We are not saying that it has no bass. But next to infinity Glide 510 then yes it is decent but not great.
So for a better audio experience, we would recommend going with Glide 510 in Infinity Glide 510 vs BoAt Rockerz 550.
Which is Better For Work From Home?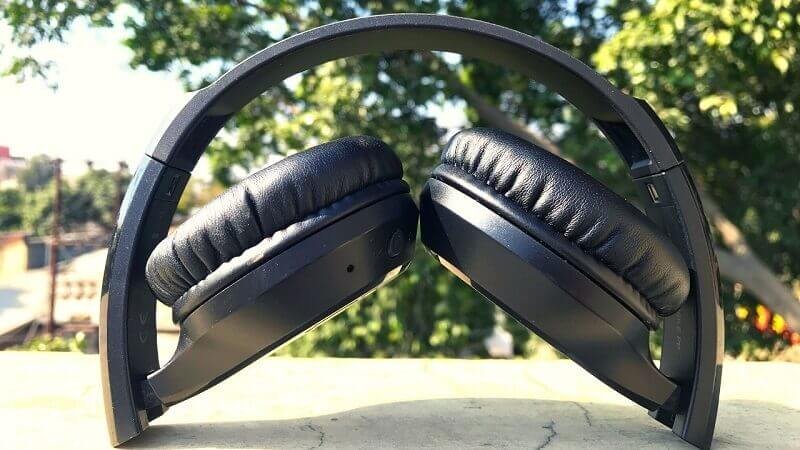 For a better work-from-home experience, you'll need a headphone that has the best microphone and a battery that never dies.
With those in mind, Infinity Glide 510 is the best wireless headphone with a good quality mic. The microphone captures more of your voice than the disturbance at home or outdoors.
We have tried so many headphones but 510 is simply the best.
Secondly, the 610 mAh battery is a marathon runner. It goes on and on. We will talk about it in the battery section of the article.
So if you need to take your online classes or be a part of a very important meeting from home then grab any of Infinity headphones you will not be disappointed.
BoAt Rockerz 550 is also good but we would not recommend it for professional work like recording audio or meetings. The only issue we had was the robotic voice. Which can be okay for online classes but not for meetings and audio recording.
So in this Infinity Glide 510 vs BoAt Rockerz 550 mic test, we will go with Infinity Glide 510.
Whose Battery Will Last Long?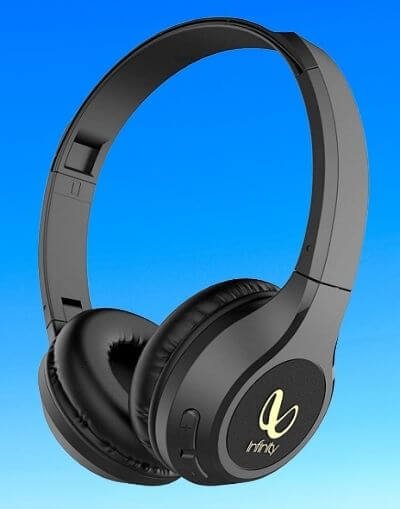 Without a doubt, it's Infinity Glide 510. With its 610 mAh battery, it can go up to 72 hours. Which is just unbelievable. Hitting this mark is only possible at 60 to 70 percent of volume though.
Secondly, the headphone supports fast charging which means if you are low on battery, by charging for 10 mins will give you juice for up to 2 hours. We tried that and it goes till 1 hour 20 mins at full volume with deep bass mode. So it does what Infinity claims for.
BoAt Rockerz 550 has a 500 mAh battery that can work as long as 15 hours depending upon volume. Which is also good keeping in mind that one would need to wear headphone for 9 hours on and off if he/she is a working professional. Even if we add 3 hours of Netflix then also it will still have juice left for the next day.
With Rockerz 550, you get an aux cable with which the dependency on the battery becomes none existing! But the microphone will not work. This can be amended by using a 2 female to 1 male cable (sold separately).
So in Infinity Glide 510 vs BoAt Rockerz 550 battery test, going with Infinity Glide 510 seems a better deal.
What About Bluetooth Range And Network Disturbance?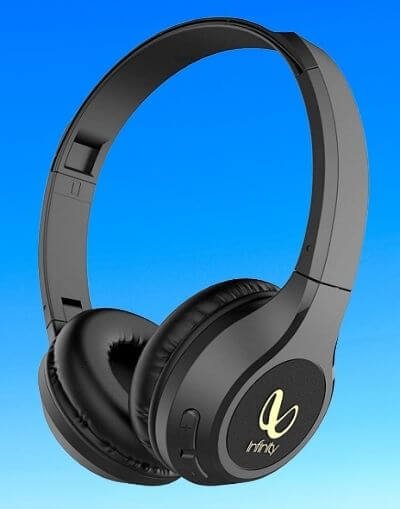 Even though both headphones support Bluetooth 5.0 then also differences are present.
In this situation, we will prefer Infinity Glide 510. Because you will experience relatively less audio disturbance and network breaking. Even if the connected device is 6 to 7 meters away. The same can be said for BoAt Rockerz 550. But only outdoors. If there will be walls in between then the network drops and audio disturbance will go high.
If you plan on using the headphone inside in your room, then both will do a great job without any issue.
For a better range and less network disturbance, we would vote for Infinity Glide 510 in Infinity Glide 510 vs BoAt Rockerz 550 comparison.
What About Audio Leak And Noise Cancellation?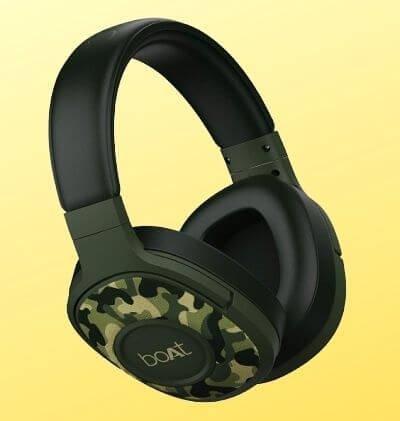 Audio leak and noise cancellation are better taken care of on Rockerz 550. Due to bigger ear cups, the audio leak from the headphone is sizably less compared to the on-ear setup of Infinity Glide 510. So people sitting next to you will be able to hear what you are listing to more on Infinity Glide 510 instead of Rockerz 550.
Though you can reduce audio leaks on both headphones by reducing the volume to 60 to 80 percent.
Both the headphones don't come with active noise cancellation but do a decent job of curtailing outside noise. It's BoAt Rockerz 550 that does it better.
This story is still the same as Infinity Glide 500 that we reviewed months ago. We hope Infinity will work on this with newer versions.
So in Infinity Glide 510 vs BoAt Rockerz 550 noise cancellation and audio leak test we have a clear winner and that's Rockerz 550.
So Which One Should You Buy?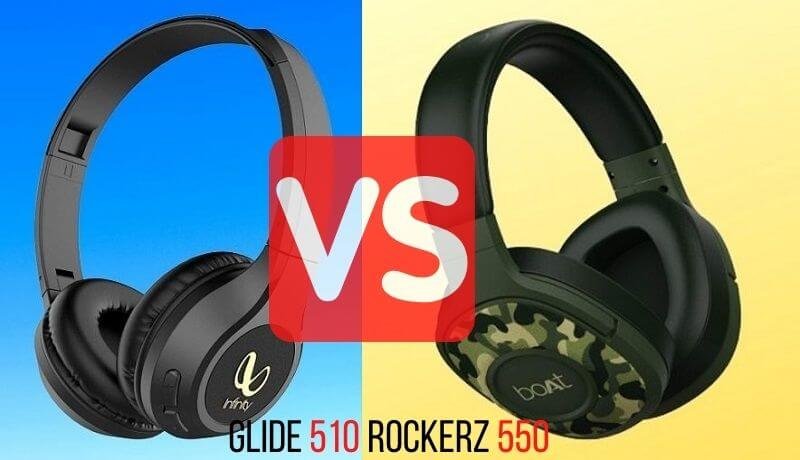 According to us, both are great pairs of wireless headphones. And you will not regret buying either of the two we are sure.
But there are so many things which one does better than the other. Let us break the review for your convenience.
If you need a headphone that sounds the best and has a mic that is good for calling or professional work and can go for days in terms of battery backup then Infinity Glide 510 is meant for you.
But if comfort is your priority and need a headphone that sounds good overall and that can handle better noise cancellation and audio leaks. Then going with BoAt Rockerz 550 is the way to go!
That's About it, Folks!
We hope this BoAt Rockerz 550 vs Infinity Glide 510 comparison would have been of any help in your decision-making. If it did, then do share it with your friends so that they should also choose better and as per their need!
If you still have doubts or feedback for us then do comment below or reach us at PadhKeDekho's social accounts below! We would love to help!
Thanks for reading our BoAt Rockerz 550 vs Infinity Glide 510 comparison! We hope for good health and prosperity for you all! PadhKeDekho signing off!
F.A.Q
Which is Better BoAt Rockerz 550 or Infinity Glide 510?

Both the headphone are designed for different users. One is comfortable for long hours and the other is good in audio quality and battery backup. And wait! There's more! In this comparison, we have talked about all the other important aspects that you must know before you buy! Click now to learn more!
BoAt Rockerz 550 vs Infinity Glide 510 Best For Battery Backup?

In terms of battery backup, Infinity Glide 510 is the best. It can provide you juice for 80 hours which is a company claim. While the actual result is somewhat less. In this, we have discussed it in detail. So click now to learn more!
Should I Buy Infinity Glide 510?

Infinity Glide 510 by JBL is a good on-ear wireless headphone that packs in a big battery and supports fast charging. All this with good sounding speakers and a wonderful mic for work from home. We have compared it with BoAt Rockerz 550 which also claims to be a good headphone. So which one is better? Click now to learn more!