[Updated on July 26, 2023] Noise Colorfit Pulse Grand and BoAt Wave Lite are the best-selling smartwatches under 2000 Rs. We bought these couple of months ago and did thorough testing about a month before writing this comparison. In this BoAt Wave Lite vs Noise ColorFit Pulse Grand comparison, we have talked about everything that can be a deal maker or breaker for you.
At PadhKeDekho, we provide customer-centric reviews and comparisons so that our readers make remarkable decisions instead of what brand PR says. Thus, we are supported by the readers. Buying anything using the below Amazon links will help us earn a small commission at no additional cost to you. This however does not change our view of the products. As here you will not find sponsored content, what you read is what our editorial team feels upon using the devices.
So without anything else, let's begin the BoAt Wave Lite vs Noise Colorfit Pulse Grand Comparison.
Noise ColorFit Pulse Grand

Android (5.0 +)

iOS (12.0+)

Android (4.4+)

iOS (10.0+)
BoAt Wave Lite Pros & Cons
Noise Colorfit Pulse Grand Pros & Cons
Built Quality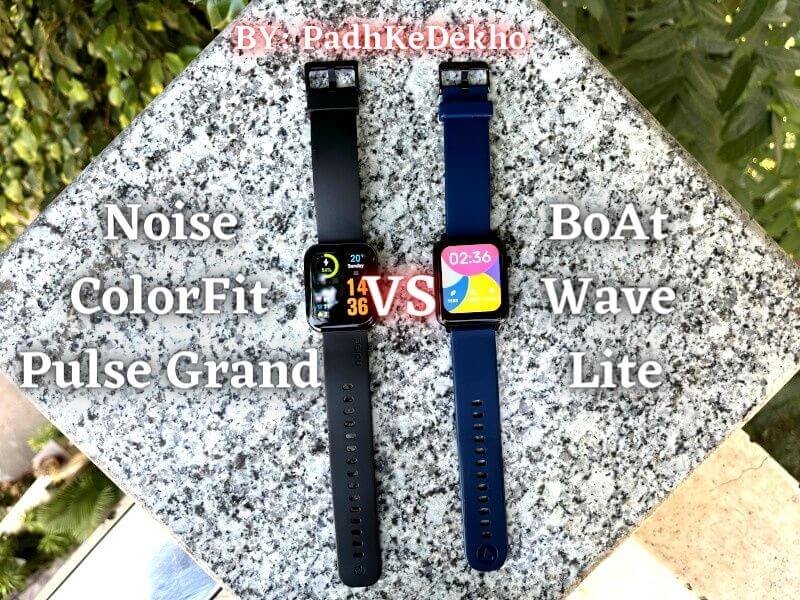 In terms of built quality both the smartwatch are sturdy. These are durable and can handle some amount of beating too. The plastic or other materials used are soft and there are no hard elements that can cut your figure or cause damage.
Noise ColorFit Pulse Grand's entire frame is made up of polycarbonate which is essentially plastic. As a result, the watch feels more lightweight than BoAt Wave Lite. Whereas, BoAt Wave Lite is made up of metal which is more durable than plastic but adds to the overall weight of the smartwatch.
As far as paper specs go for the weight, Noise ColorFit Pulse Grand is around 36.8 grams. While BoAt Wave Lite is 46 grams.
So if you need a lite weight smartwatch that adds practically no weight to your wrist, then Noise Colorfit Pulse Grand is your watch to be! On the other hand, BoAt has a little more durability with metal so you can consider BoAt Wave Lite if you will be more outdoors.
Design
Smartwatches have a very generic design. Identifying who is wearing which smartwatch is not easy. Either your watch will have flat edges or some will have a little curved display on the sides. This is what happens here.
BoAt Wave Lite has a little curve on the left and right sides. While Noise Colorfit Pulse Grand has slightly more curved edges on all sides. Do curved edges have advantages? Yes, curved edges help to interact better with the overall UI. While on flat edges some gestures of swiping left and right do not reflect.
Which one to go for? This is purely your decision to go for as there is not much of a difference. Though, on curved displays applying the screen guard gets bubbles after a few days of use.
As far as the overall looks of the smartwatch go, these two look great.
Noise ColorFit Pulse Grand comes in 5 amazing-looking colors; Olive Green, Champagne Grey, Rose Pink, Electric Blue, and Jet Black.
Unlike 5 color options on Noise, BoAt Wave Lite comes in 3 color options; Active Black , Deep Blue & Scarlet Red
So if you need more color options and better overall looks go with Noise ColorFit Pulse Grand. In our opinion, BoAt Wave Lite should've given better color options. if not, at least some color tint on the matte body would have made it look even better. For customizations, you can always buy straps on these watches.
Comfort
Comfort is a crucial factor when selecting any watch. Because the features are nothing if you can't wear the watch for long. The good news is, both watches are made to fit most people out there. That's because of the multiple indents on the strap.
As you can see above, Noise offers more indents next to BoAt, so if you have a slightly larger or petite wrist, you should opt for Noise ColorFit Pulse Grand. It's not a big thing though, as BoAt Wave lite can easily be worn by a gym goer or a teenager without any issue (personally tested).
Another good thing about both watches is the design of the dial. The square watch faces are more comfortable than the circular ones because the crown button on the right side does not disturb hand movement.
So for comfort, I would give both a good 4.5/5.
But there is one more thing.
The quality of the straps on both watches is different while being silicone. The Noise band is more plastic while the BoAt one feels rubberish. As a result, the band on BoAt feels more premium. But, as it's rubber it "rubs" more in the jeans pocket while talking or putting things in. Also, after working out, it's important to clean it as it gets dirty quickly.
On the other hand, the Noise band is not that rubbery and feels plasticky. This has helped the band survive rough use of about 5 months now. It still looks new and feels good.
So in terms of comfort, Noise gets 4.5 while BoAt gets 4.0. Purely because of the more intent on the watch strap.
Features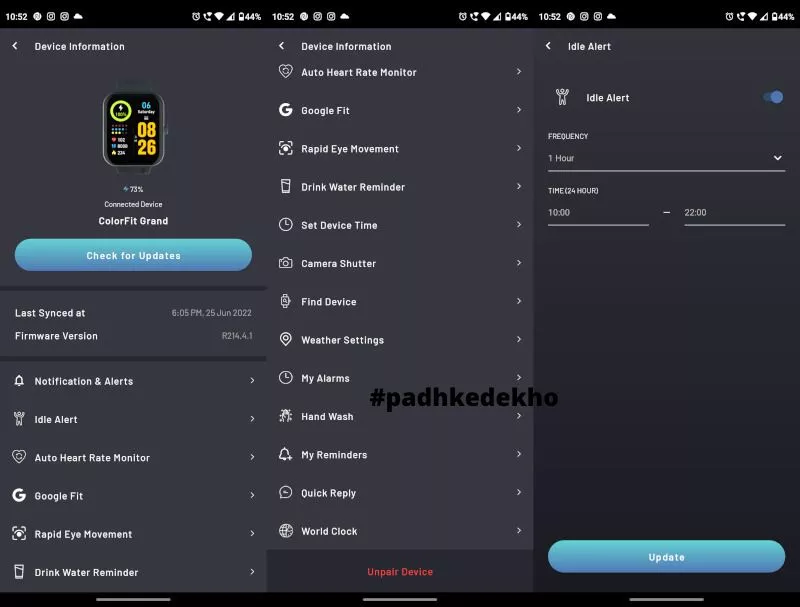 Both smartwatches offer significant features but Noise takes the game to the next level. But before that, let's have a look at the common features of both smartwatches.
If you wish to know the current weather for today or the next day, you can do that on these watches. For that, you have to allow location permission from your smartphone. We found the weather information to be accurate on both of these.
Do you wake up by snoozing alarm every 5 minutes? If yes, then these watches will help you wake up early. Because you can set an alarm as per your need on the wearable app on both watches. I found it pretty useful as I keep my smartphone a little far away from the bed. So you can also keep your phone away and have a pleasant sleep.
Oh while you are sleeping, both these watches are capable of sleep tracking. The good news is the watch's track sleep quite well while consuming very less battery.
if you have a habit of keeping your phone on low volume on the bed or anywhere, then these watches can help you find your phone or your smartwatch (and vice-versa) in a jiffy! Though for a smartwatch it will only vibrate. It's actually quite handy and useful.
Gone are the days, when we had to press the crown to turn on the screen of the watch. Now, we have raise to wake feature. As the name applies, the moment you will tilt your wrist towards your face the screen will turn on and turn off if you take it away. Out of 10 times, it's BoAt that reacts fast to wrist movement. However, if you are cycling or bike riding the sensor sometimes does not activate. Pressing the crown button helps. While it's better on Noise with different angles.
If you take photos when your phone is mounted on a tripod via Bluetooth button do not lose focus or disbalance the camera by pressing the click button. Your smartwatch can help you take a shot by just tapping on the screen. This feature is only available on BoAt Wave Lite.
The watches are capable of showing phone notifications for any supported app, however, replying to the alert is only available on Noise smartwatch that is synced with an Android-only smartphone.
Another feature in which Noise got us hooked is the Alert movement. This will notify you to know when to move and stretch a little. It's not automatic unlike Apple Watch but it's completely software-driven so you can modify it as per need.
Purely on the basis of features, its Noise Colorfit Pulse Grand which not only offers more but also pratical features that will help in your day-to-day life. About Noise smartwatch features we've already written a detailed post that you can check out.

Here a detailed article that we covered about the best features of Noise smartwatches.
While BoAt being a "Lite" smartwatch has done cost-cutting by not offering features like a flashlight and storing workout data on the smartwatch.
Other Features
| Features | BoAt Wave Lite | Noise ColorFit Pulse Grand |
| --- | --- | --- |
| OS Supported | Android (5.0 +) iOS (12.0+) | Android (4.4+) iOS (10.0+) |
| Call & SMS Quick Reply | No | Yes (on Android) |
| Flashlight Feature | No | Yes |
| Customizable Watch Faces/ Cloud Based | Yes | Yes |
| Menstrual Cycle Tracking | Yes | Yes |
| Weight | 46 Grams | 36.8 Grams |
| Watch Dial Material | Metal | Polycarbonate |
| Water Resistance | IP68 | IP68 |
| Health Monitoring | SPO2, Step Tracker, Calories Burnt, Distance Travelled, Activate Heart Rate Monitoring | SPO2, Step Tracker, Calories Burnt, Distance Travelled, Activate Heart Rate Monitoring |
| Best Buy Link | Amazon | Amazon |
Workouts Modes

If you simply look at the workout modes on the Noise smartwatch, you will be blown away by the options. There are a total of 60 workouts! Like how? It's simple.
There are a total of 9 main categories and then more sub-options. E.G. if you want to have a walking session, you will tap on Running Sports and then Walking. The major workouts are, Outdoor Running, Walking, Treadmill, Outdoor Cycling, Gymnastics, Freestyle, Core Training, Skateboarding, Roller Skating, Cricket, Basketball, Badminton, Squash, Volleyball, Pingball, Football, Ballet, Zumba, Street Dance, Ballroom Dance, Normal Dance, etc are all present. Hence, you will not be disappointed with the choices of workouts for sure!
Whereas, BoAt Wave Lite is "light" simply because of the workouts. There are a total of 10 workouts which is the bare minimum in 2022. The workouts available are Walking, Running, Cycling, Climbing, Yoga, Basketball, Football, Badminton, Skipping, and Swimming.
So clearly, BoAt Wave Lite offers limited fitness features. Whereas, Noise ColrFit Pulse Grand tick marks all of the above.
This was the workout mode. But what about statistics? Find out below!
Workout Statistics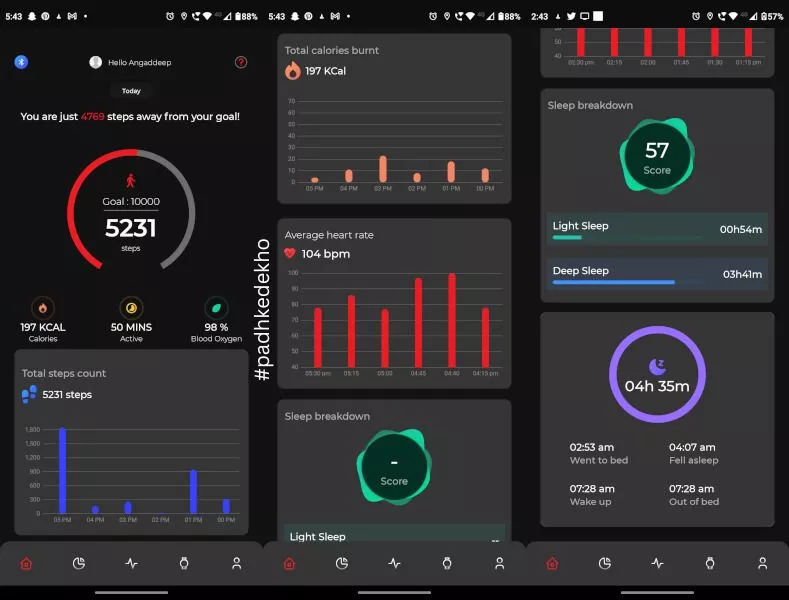 In this context, both watches are almost the same but there are a few things that will certainly tilt toward Noise and BoAt as per your interests. Let's first talk about the similarities between both.
Both are capable to track steps taken, calories burnt, distance covered, constant heart rate, SPO2, Stress Monitor, Sleep tracking (Light Sleep, Deep Sleep), and Breathing mode.
But what makes Noise smartwatch shine is the map tracking of a workout. Be it walking or cycling, you will get a detailed map view of the workout. Not just that, Average Pace, Average Speed, Average Stride, Average Cadence, and a few things more.
This is where BoAt Wave Lite becomes "light" in workout statistics. So not only you will be getting more workout modes but also more statistics data.
And two more things, during a workout, be it walking or running, if you feel like changing the soundtrack or increasing or decreasing the volume, you can do that on Noise ColorFit Grand while BoAt Wave Lite cannot during a workout.
The other thing is this. Let's say you want to run for 10 mins and don't need any distractions you can set a workout time on the Noise smartwatch. It will automatically vibrate and let you know that you have achieved your task. Whereas, on BoAt, you have to do it all, manually.
BoAt outshines Noise when it comes to starting or pausing a workout. Since the watch is not monitoring the geo-location, it begins tracking the moment you will tap on any workout. Whereas, Noise takes about 10 seconds to form a connection and then a 3-second timer to make you ready for the drill.
The pause and resume on these watches work great. I purposely stopped a workout for good 30 mins and none of the watches gave any error.
So, I don't mind using any of these watches for workouts. But if you need more statistical data, then Noise ColorFit Pulse Grand is certainly way ahead of BoAt Wave Lite.
BoAt Wave Lite vs Noise ColorFit Pulse Grand Which is More Accurate?
Both watches record pretty much similar workout stats. My primary wearable tech is Apple Watch 3 and I found these quite to the level. Be it heart rate, SPO2, Stress Monitoring, or even sleep tracking, and others. So what's the problem with these? Nothing. You can absolutely buy these. It will help you keep an eye on your workouts and how many calories you are burning.
But if you want these to identify any health issues or provide 100 percent accurate statistics then sorry these are not medical aid for that. These are tech gadgets that can give a hint of what you are doing and how much you are burning.
You will see comments that the tracking is not accurate. Well, that's true, like BoAt Wave Lite has the most reactive motion sensor. Even if you are working and moving around your computer table it will register that as a step. Like any other smartwatch, these are also not 100 percent accurate. But very close to Apple Watch 3.
In other words, you can grab any of these both are quite similar in this context and are not very far off from the real statistics.
App Experience
When someone buys a smartwatch their sole purpose can be anything. Be it looks, features, style, etc. But most buy smartwatches for staying fit and tracking their workouts. Basic information like steps taken, activities done, and calories burnt are the beginner's way to stay fit. Because motivation is the crucial factor for being fit.
Here Noise has implemented the above point quite clearly. In the Noise Wearable app, you will find trophies for completing milestones of steps and kilometers.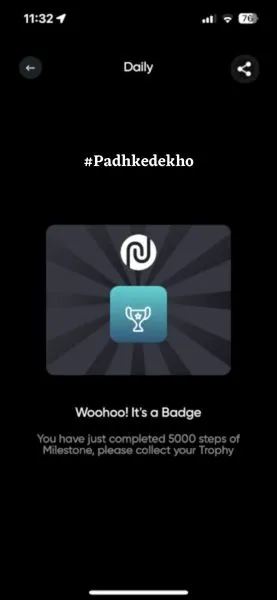 Noise keeps on organizing events where you can compete with real users and win gifts like AirBuds Mini, a 30% discount coupon, and the last price a 20 % discount.
Also, you can add your friends who use Noise smartwatches and can challenge them to participate (which again lets you stay focused and achieve your body goal).
Whereas, BoAt Wearable App for Wave Lite is more workout centric…alone! You get the workout statics, customizations, watch faces, BoAt support, Health goals, etc. This is great but fails to motivate the person. Sure, you get timely notifications to work out but certainly not enough like Noise Wearable App. But other BoAt watches like the BoAt Xtend work with a different app called BoAt Wave which offers more features.
So the Noise Wearable app is more all-rounder and looks quite polished too. BoAt Wearable, is a little closer but Noise is better. Hence 4.5 to Noise and 4 to BoAt.
Customizations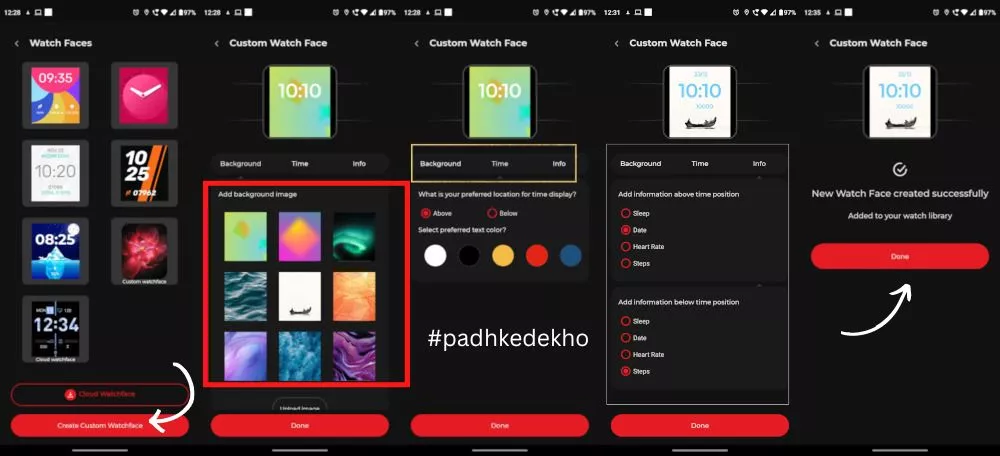 In customizations. both are quite good. You can buy a variety of straps and customize your watch as you wish to do. Here BoAt and Noise are on the same track. No problems here. But when it comes to customizations of the "software look" or watch faces of the app, then Noise is better.
In our BoAt Wave Lite review, we stated that the pre-defined watch faces are great. You get access to over 150 watch faces that BoAt keeps on updating. However, BoAt needs to work on the custom watch faces. The preview is different than the final output.
Here is a quick comparison of the same image on both smartwatches. You can see on the Noise smartwatch on the right, the image looks a little zoomed in and the text on the bottom is readable and looks good. Whereas, BoAt's watch face custom watch needs improvements.
if you are not in for custom watch faces and prefer the predefined ones, then you would love both of these watches. The predefined watch faces are very detailed.
So, if you wish to have your custom watch face then Noise Colorfit Pulse Grand is better than BoAt Wave Lite.
Battery Backup
So how much battery backup can you expect with these smartwatches?
BoAt and Noise both claim 7 days of battery backup. Interestingly BoAt Wave Lite has a smaller battery at 240 mAh while Noise has 260. Noise Will do better? Well, that's not the case (you should always read the customer review, not the tech specs!!!)
Between Noise ColorFit Pulse Grand VS BoAt Wave Lite, BoAt Wave Lite will give you a better battery backup. Primarily because Wave Lite has a brighter display you don't need to keep it at a higher level of brightness. While Noise ColorFit Pulse Grand has a slightly lower-lit display. As a result, you will need to keep the brightness above 50 percent to actually see a thing.
What about charging speed and timing?
Both watches support up to 5 watts and 2 amp chargers so the charge time will be slightly higher. But keeping in mind the total battery backup, the time taken to charge these watches is good.
BoAt Wave Lite and Noise ColorFit Pulse Grand get charged within 3 hours if you are charging them via the computer or laptop. if you will be charging with a wall charger, then the battery will reach from 0 to 100% in under 2 hours and 30 mins.
The charging pattern is quite different among these watches. BoAt picks up the pace quickly and reaches 50 percent within 20 mins and then moves ahead slowly. Whereas, Noise is quick to charge up to 30 percent and then takes the process slowly.
This means if you are low on battery but need to carry along and track the workouts, then these watches can do that. 10 mins of charge can get you about 4 to 5 hours of juice for extreme use and about a day for normal use.
So in terms of battery backup and charging these are good and no complaints in this context.
BoAt Wave Lite VS Noise Colorfit Grand Pulse Which is Better?
After using both the smartwatches on and off and continuously on both hands (many times), I am quite impressed with them. Gone are the days, when smartwatches under 5000 were bad and buggy. Things are very different now. Sure, they are not as polished as an Apple Watch but are totally usable.
We can confidently recommend BoAt Wave Lite & Noise ColorFit Pulse Grand. But which one is more appreciated for you? Don't worry, we have a direct answer for you based on the below scenarios.
if you like to work out and aim to do gymming, indoor cycling (cardio), strength training, or Zumba more then Noise ColorFit Pulse Grand is the best choice. The 60 sport modes are no joke and certainly keep you covered if you are more into workouts. Along with that it also monitors the map view of the activities. Moreover, you can also control the media playback during a workout. And last but not least, the Noise smartwatch can save workouts data for a week on the watch itself.
Whereas, BoAt Wave Lite is a "light" workout mode kind of watch and does the bare minimum. You get 10 total modes that start almost instantly because it does not track map view for any workout. And also does not saves any workout data on the smartwatch. It's more dependent on the smartphone. Moreover, it does not let you interact with media during workouts.
These are the biggest differences I found between the two. there are a few more but not that major.
The statistics recorded on both are quite similar, like the heart rate, SPO2, stress, etc. My primary watch is Apple Watch 3 and these two are fairly close. So you can surely use these to get an idea of how good or bad you are doing to achieve your goal.
For me though, it's Noise ColorFit Pulse Grand that I wear during workouts and BoAt Wave Lite when I will outdoors working daily life chores.
Wrapping up
It's the end of the article. I hope our BoAt Wave Lite vs Noise ColorFit Pulse Grand comparison would have been helpful. if you still have doubts then feel free to ping us on the below social accounts. We love to help our readers.
Want to support genuine content? Please shop from Amazon using the below links. It will help us earn a small commission at no additional cost to you. This helps us buy more products and bring original reviews for readers like you.
Best Buy Links For BoAT Wave Lite & Noise COlorFit Pulse Grand
F.A.Q
Which is Better BoAt Wave Lite vs Noise ColorFit Pulse Grand?
Both are good watches under 2000 Rs. Sure, the use case is different. In this detailed comparison, we've talked about the biggest differences after using these watches for more than a month. Click now to learn more!
Which offers more battery; BoAt Wave Lite vs Noise ColorFit Pulse Grand?
In terms of battery backup, it's the BoAt Wave Lite that is better. Here's our comparison of both watches after 1 month of use. Click now.
BoAt Wave Lite vs Noise ColorFit Pulse Grand; Better Customizations?
It's Noise that offers more customization options for watch faces.