[Updated on 24 Feb 2023] BoAt is the most preferred brand when it comes to TWS earphones. Be it entry-level models or slightly medium-range ones like BoAt Airdopes 441 Pro and 621 you will find tons of great feedback. So far we've tested 15+ BoAt Airdopes and out of which 5 are all-time best. You can find the best BoAt Airdopes in 2022 so far here. But today, we have an interesting one for you and that's BoAt Airdopes 441 Pro Vs 621 comparison.
Both the Airdopes are targeted toward workout-centric people. Those who are looking for the best workout earbuds must've got to know about these. So what makes them special? Which is a better one and which one will tick-mark most of your requirements? Well, that's what we are here for!
If this is your first time at PadhKeDekho, we provide honest and consumer-centric reviews and comparisons after using the products for at least a month. This gives our readers a real-life use case review and ultimately helps to make a better-informed decision.
Let's begin this BoAt Airdopes 441 Pro vs 621 comparison with differences.
Differences
| | | |
| --- | --- | --- |
| | | |
| | | |
| | | |
| | | |
| Case Charging Time (Tested) | | |
| Buds 0 to 100% Charge Time (Tested) | | |
| Multi-Funtion Button Type | | |
| Bass-Centric Sound Signature | | |
| | | |
| | | |
BoAt Airdopes 441 Pro – Pros & Cons
BoAt Airdopes 621 Pros & Cons
Built Quality
If you are worried that your earbuds or case will have a flimsy body or will have a squeaking noise when adjusting? Then we have good news for you. Both the Airdopes offer exceptional built quality. They do speak earphones worth 4000. Be it the earbuds or the carry case itself, they are incredible.
BoAt has not left any stone unturned in terms of built quality. So if you are concerned about built quality then look no else and grab any of these.
But if you need the best built out of these, then Airdopes 621 is the best choice. Especially the hinges offer great click noise. Hinges on TWS earbuds are the most essential thing. Why you may ask? if the hinges become loose it will prevent the earbuds to turn off and turn on. So having good quality hinges make sure of the extended life.
Hence we would give BoAt Airdopes 441 Pro a good 8.5 while BoAt Airdopes 621 a whopping 9.
Look & Feel
In terms of looks, both cases have a big boxy design. BoAt Airdopes 441 Pro has a tuff body that looks solid. It's remarkable how compact the case is with a big 2600 mAh battery inside. Though adding a little LCD screen for battery status would've been good. No issues, you have battery indicator LEDs.
Whereas, BoAt Airdopes 621 has a good size display which makes it look more premium. A unique touch with the display is the design. The Display is fixed to the box whereas the outer casing opens. When you will do this in public people many times make an inquiry about the TWS earbuds. So in terms of a trendsetter, BoAt Airdopes 621 looks dope.
BoAt Airdopes 441 offers a completely matte finish. Whereas Airdopes 621 is majorly matty but around the display, you will find a glossy screen.
In terms of size, BoAt Airdopes 621 is slightly bigger and heavier. So if you are looking for a small factor tws earbuds with a big battery then BoAt Airdopes 441 Pro is great. Otherwise, if space is not an issue, you can go with BoAt Airdopes 621. As we keep the tws in the backpack, size doesn't matter to us.
Comfort & Grip
TWS earphones in general are more comfortable than headphones. You can easily wear them for 4+ hours on a go without feeling discomfort. If somehow you found the buds not comfortable you can change the ear tips to a smaller or bigger size as per your preference.
BoAt Airdopes 441 and 621 take the comfort and grip to the next level by giving 3 ear tips as well as ear hooks for the ultimate comfort. So not only does it make the earbuds properly seal the ear canal but the earbuds will not move while you are working out or cycling.
Trust me when I say this, not all earbuds are meant for sport-oriented people. Here at PadhKeDekho, we have used more than 20 earbuds and there are just a few that we can confidently recommend for runners or gym goers. Both of these are on the top of the list.
So in terms of grip, both Airdopes 441 Pro and BoAt Airdopes 621 score a good 9!
Feature Differences
Since BoAt Airdopes 621 is the next-gen model of Airdopes 441 Pro it took a few steps forward and 1 step back!
Both the Airdopes have a USB-C port for charging but only BoAt Airdopes 621 supports fast charging. This is great as it charges the massive 2600 mAH battery in around 4 hours. For context, BoAt Airdopes 441 Pro takes around 5.5 hours to charge completely.
Then comes a big and bright battery display on BoAt Airdopes 621 which tells the exact battery status of the buds. Whereas, on BoAt Airdopes 441 Pro there's no screen for battery status on Airdopes 441. Though, you have battery indications LEDs. This can be a big thing if you are looking for a big battery display.
The thing which chipped our experience with BoAt Airdopes 621 is the physical Multi-Function Buttons to control media and calling. BoAt Airdopes 441 Pro comes with touch capacity buttons that offer three types of LED lights around the BoAt branding. BoAt should've gone with touch controls.
Feature Similarities
Fortunately, BoAt didn't mess around with the features. The uniqueness of both of these is "power bank" like capabilities. You can charge your smartphone in case of an emergency. More about battery-related features are in the batteries section below.
Since both the tws are made for sport and fitness people, you will not only get 2 additional pairs of ear tips but also ear hooks for better grip and comfort. Earhooks not only offer better grip during workouts but also when you are constantly listing to music or watching movies sweat is prominent and earbuds without ear hooks start to lose grip. But not on BoAT Airdopes 441 Pro and 621.
As sports will involve sweat and it might rain when you are running. So you don't water to stop your workout for the rain! BoAt knew this and has equipped both the earbuds with IPX7 water resistance. When you are a little far away from your phone(under 10 meters) while being connected to your Airdopes you don't need audio breaks. The good news here is that both Airdopes pack in good quality Bluetooth 5.0 drivers.
Many phones even in 2022 come with Bluetooth 5.0 so you don't need to rush and grab Bluetooth 5.2 or 5.3 earbuds. Because there will be some connectivity issues or maybe it will affect the Bluetooth range. So look at your phone's Bluetooth version and then make a choice.
BoAt Airdopes 441 Pro vs 621 Sound Test Review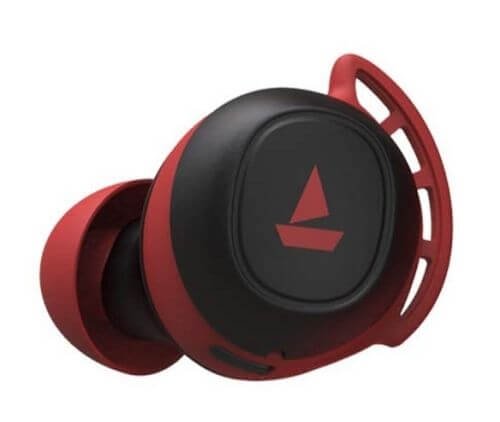 Here in the audio test, both are very similar with 6mm audio drivers at least on paper. Don't get dishearted with the driver size as here many people take the wrong decision. We have talked about the audio driver size and it's a myth that bigger is better! The quality of the driver plays a vital role.
We were left amused after listing to the audio quality. Both offer clean vocals and detailed sharpness be it vocals or instruments. Even if you hit the full volume, the earbuds don't start any audio distortion or unpleased stressful music. Listing to Qawwali, podcasts, and audiobooks is great on these.
But which is for you?
We would recommend BoAt Airdopes 441Pro if you value detailed audio quality in terms of vocals, instruments, treble, or overall sound signature.
Whereas, BoAt Airdopes 621 is a bass-heavy earbud. That does all the audio-centric things like 441 Pro but takes the bass to the next level by limiting some treble. So if you are one of those who love bass, then grab the BoAt Airdopes 621 any day!
BoAt Airdopes 441 Pro: 8/10 || BoAt Airdopes 621: 9/10
Battery Backup
As both the Airdopes are meant for workouts and travel-oriented people, BoAt knew getting access to chargers will not be a likely situation. Yes, a power bank is a thing and you can carry that around. But why would you add more weight to your backpack which already will be filled with other things?
So having a piece of audio equipment that will last a full week or even more based on your use will be a nice add-on to your travel bag!
Both have 2600 mAh carry case hence you do not need to worry about battery backup! In case of an emergency, you can charge your smartphone. It will not be able to fully charge it but still, around 40 to 50 percent will be helpful. In my case, it charged my iPhone 7 to a good 80 percent. Hence it can behave as a power bank too that will provide backup up to 2600 mAh.
How long can you use the buds? On continuous use, both the Airdopes can work for anywhere around 4.5 to 6 hours depending upon the volume and calls taken. And once you put the buds back in the case they will begin charging.
How long do the buds take to charge completely? Let's say your BoAt Airdopes 441 Pro is dead then it will be at 100 percent in around 1.5 hours. Whereas, BoAt Airdopes 621 buds get fully charged in under 50 mins. And the carry case is out of juice, which will take time due to the big size.
What about the carry case? How long will it take to charge fully? BoAt Airdopes 441 Pro carry case gets charged under 5.5 Hours. While BoAt Airdopes 621 case gets charged under 4 hours. This charging time difference is due to the fast charging. BoAt Airdopes 441 Pro does not support it which is a bummer as it offers a type-c charging port.
So, we would recommend going with BoAt Airdopes 621 as it will charge with the same charger as your type-c powered smartphone.
Airdopes 441 Pro: 8/10 || Airdopes 621: 9/10
BoAt Airdopes 621 vs 441 Pro Which One to Buy?
Both are great pairs of TWS earphones from BoAt under 3000 even as of 2022. if you talk about built quality, comfort, look & feel, design, mic quality, and gaming performance they are hardly any major differences. But as we have used these for a month we can clearly guide you with the best use-case scenario.
If you looking for a display screen with current battery status in your next TWS earphones then BoAt Airdopes 621 is the way to go. The second difference lies in terms of audio quality. BoAt Airdopes 441 Pro has an overall great sound signature but a little moderate bass. On the other hand, BoAt Airopes 621 carry forwards all the goods of Airdopes 441 Pro in terms of audio and adds a little more bass. So if you like bass-heavy sound signature then again BoAt Airdopes 621 takes the lead.
Another major difference comes in terms of charging. BoAt Airodpes 441 Pro doesn't support fast charging. While BoAt Airdopes 621 offers fast charging. So you don't need to carry a separate charger/cable just for that.
But if the size matters to you the most then BoAt Airdopes 441 Pro are lighter and more pocketable than Airdopes 621. And finally, if you need touch capacity buttons to control media and accept or reject calls then BoAt Airdopes 441 Pro is a better choice. It's a bummer, BoAt Airdopes 621 which is more expensive than Airdopes 441 Pro comes with physical buttons.
So now you know which one to buy!
| | | |
| --- | --- | --- |
| | | |
| | | |
| | | |
| | | |
| Case Charging Time (Tested) | | |
| Buds 0 to 100% Charge Time (Tested) | | |
| Multi-Funtion Button Type | | |
| Bass-Centric Sound Signature | | |
| | | |
| | | |
If you have any last-minute doubts then feel free to comment below or ping us on below social accounts we love to help our readers.
Wrapping up!
This was our detailed BoAt Airdopes 441 Pro Vs 621 comparison after using the Airdopes for one month. We will soon be doing a full one-year review of these on YouTube shortly so do follow us there too! And if you found this helpful and you are ready to make your purchase then please use the below Amazon link as it will support us without charging you a single Ruppe extra! Thanks for your kind support so far!
F.A.Q
Does BoAt Airdopes 621 Has Noise Cancellation?

No, Airdopes 621 doesn't have noise cancellation. But the passive noise cancellation thanks to the snug fit is excellent. Listing to music at 40% volume will make the surrounding noise negligible.
BoAt Airdopes 441 Pro Supports Fast Charging?

Airdopes 441 Pro doesn't support fast charging though it has a USB-C charging port.
Which is Better BoAt Airdopes 441 Pro or Airdopes 621?

Both are good tws earbuds under 3000 Rs. We've used these for a month and here's a detailed comparison for you. Click now to make a better-informed choice.