TWS earbuds from Mivi are always interesting because not only do they pack in great features but also they come with volume controls too. 2 new products in their lineup are added; DuoPods A350 and A550. We bought these a few months back and here's our Mivi DuoPods A350 vs A550 comparison.
If you are finding the best one between these two then our article is all you need. Why? At PadhKeDekho we buy products to review and compare them with similar price products after using a month. This gives our readers a personal touch in articles. Rather than writing articles by just reading the tech specs and calling it a day.
Since we don't do sponsored content your support is always appreciated. You can use any of the Amazon links on this page to confirm your order. We assure you, you will not be charged a penny extra. This will ultimately help readers like you to make a better-informed decision. Thanks again for supporting genuine content.
In this comparison, we've talked about their pros & cons, built quality, looks, comfort, audio quality, mic test, battery backup, and ultimately our verdict about which TWS you should buy.
That being said, let's begin the Mivi DuoPods A550 vs A350 comparison with pros and cons.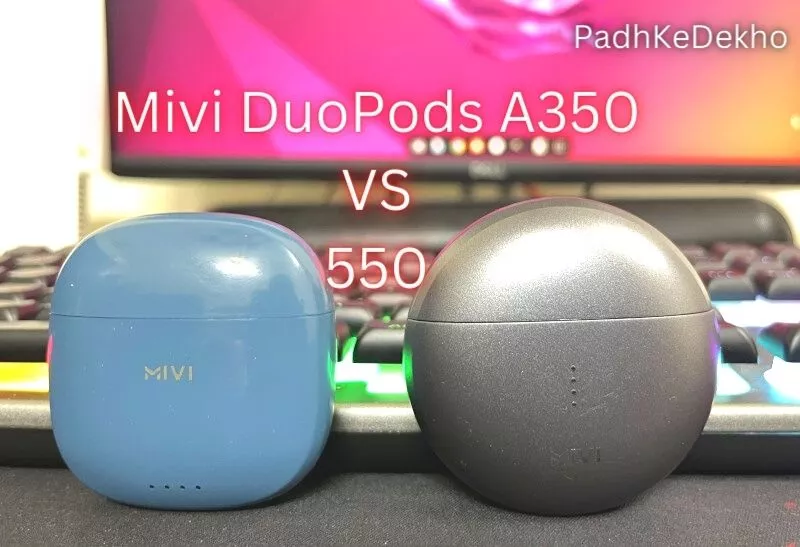 Mivi DuoPods A350 Pros and Cons
Mivi DuoPods A550 Pros and Cons
Built Quality
If any of these are going to be your first TWS then there are a couple of things to know. To begin with, as of now, TWS earbuds of any price are built only of plastic. Only the quality differs. Secondly, the carry case holds magnet connections that help to close the lid. Similarly, the earbuds have marked left and right sides. You cannot put the left in the right and vice versa. Moreover, The earbuds are kept fixed with the help of magnets hence they do not fall that easily from the case even if you purposely upside down them.
All the above parameters are checked and marked by Mivi products every time now. Before buying these two we had a Bluetooth speaker from Mivi (review soon) and Mivi DuoPods A25 a TWS that we bought a year ago (review) which is the cheapest Mivi TWS. Even that had a stellar built quality. These two are also on the same track. Mivi never skimps on the quality.
Though the case and buds are plastic which is industry standard, these two feel the same and are very premium. Be it the hinges or the magnetic pull. Even there's no panel squeaking on the case or the buds. Both are good for everyday use. But which is better the two?
It's Mivi DuoPods A350 which offers a satisfying click when closing the lid. Secondly, the lid opens wider than DuoPods A550. So taking out and putting back the earbuds is easy on DuoPods A350.
Looks
In terms of looks, they are quite different. DuoPods A350 looks more like a compact power box! Which makes it slightly bigger next to DuoPods A550. But the case is slim which helps it be better portable without causing a bump in your pocket.
Whereas the DuoPods A550 case is small but the width is more. As a result, a bump will form in your pocket. Not a big thing but you should know.
On the subject of looks, both the DuoPods are available in many shades. If you need more color options then Mivi DuoPods A350 is ahead. Another major difference in terms of looks is the design language. DuoPods A350 has a matte design whereas Mivi DuoPods A550 is a glossy one.
For better decision-making, matte is good when it comes to covering up scratches and glossy becomes a scratches magnet in no time!
Comfort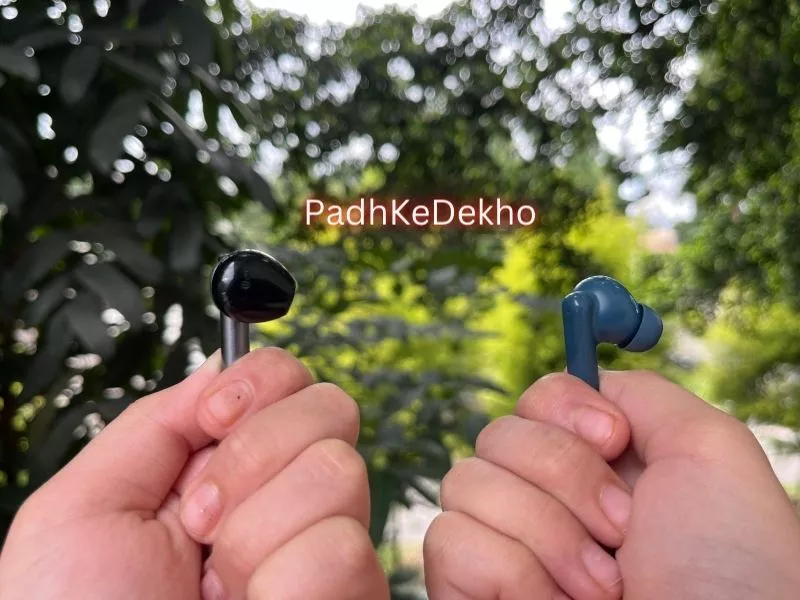 Comfort is an essential feature while selecting a TWS. What's the use of the features when you can't wear those for more than 30 mins?
So which Mivi DuoPod should you buy?
To answer this here's a question for you. What kind of TWS you are already using? Is it half in-ear or offers silicon tips on earbuds? Why is this important? This is important because it will decide what type of ears you have!
If you already have a half-ear design it means you most probably have normal to small ears. In that case, DuoPods A350 is the best choice for you.
Whereas if you have tws with ear tips that means you have medium to large ears as a result you should go with DuoPods A550.
So how long can you wear these buds? If you buy as per your previous earbuds then these are quite comfortable ones.
I personally had no issues wearing Mivi DuoPods A550 for more than 5 hours on a stretch. The same story is with Mivi DuoPods A550. As I have large ears DuoPods A350 doesn't fit well. So my colleague helped out which she claimed to be easily 3 to 4 hours. Enough to watch a film!
Got comfort on your mind? then you can confidently go with these earbuds. The earbuds are soft and do not cause pain. Even the DuoPods A350 which doesn't offer ear tips is quite comfortable too but not as comfortable as the DuoPods A550.
Audio Quality
As far as the audio driver goes, both earbuds have 13mm drivers. Buy we never recommend going after any audio gadget based on the driver size. Because numbers can be deceiving. So after using these for a month here's the audio quality comparison of Mivi DuoPods A350 vs A550.
In terms of audio quality, both are very different and it had to be because of the design. Because of the silicone ear tips Mivi DuoPods A550 jumps ahead in a better snug fit and utilizes the drivers to the max.
So what to expect from both the DuoPods?
Mivi DuoPods A550 offers base centric sound signature with crisp vocals and lowered treble to compensate for deep bass and quite loud audio drivers. If you like bass then Mivi DuoPods A550 is better. For 2000, we found BoAt Airdopes 141 (review) and Mivi DuoPods A550 (review) to be the best base-centric TWS under 2000.
Whereas, Mivi DuoPods A350 (review) is a more vocal-centric and instrument monster. The vocals are very crisp and make it ideal for watching movies or listing to podcasts. On the same note, the loudness is even better than Mivi DuoPods A550.
So which one should you buy? If your ear size allows TWS with ear tips then buy Mivi DuoPods A550. Otherwise, Mivi DuoPods A350 is not bad either.
Mic Test
if you have "calling needs" to attend then these two are good options. In fact, any TWS from Mivi offers a decent to a good microphone. A year ago we bought Mivi DuoPods A25 (review) along with others for the purpose of review and the mic was never hit or miss.
So which one offers the best mic between Mivi DuoPods A350 and DuoPods A550?
There are three things that you should look out for while testing a microphone. The first one is, how well the mic picks up your voice. The second point is, how well it transfers it to the other caller. And lastly, how well the mic blocks the ambient noise.
So based on these three pointers here is what I felt with the mics of these DuoPods.
Mivi DuoPods A350 will pick up your voice more clearly than DuoPods A550. The transmitted quality is quite loud too; you are very close to the mic. However, for the third point, it does not block any outside noise. So grandparents watching the news close to you will be heard as clearly by the caller as you can hear it.
Whereas, Mivi DuoPods A550, will also pick up your voice quite clearly. However, the transmitted quality sounds distant like you are far away from the microphone. But the good news is, it blocks some amount of ambient noise.
So, if you need to block the background noise, then go with Mivi DuoPods A550 and speak a little loudly or manage the ambient noise and enjoy good call quality.
One more thing, Mivi DuoPods offer much better call quality than other TWS in the market. One strong competitor for calling is BoAt Airdopes 141 (review).
Battery Backup
if you are worried about battery backup while listing to your favorite playlist, then throw that thought out of your conscience. Mivi DuoPods A350 or even A550 offers a monster battery.
On the specs side, both DuoPods have a 500 mAh carry case while earbuds have 40 mAh each. Mivi claims about 50 hours of total playback. While the buds can be used for 8.5 hours on the go. But can you count on these claims?
Yes, you can count on the claims. But for that, you have to stay below 70% of the volume! The figures drop afterward. If you are like me who will stay at full volume then you can expect the buds to last about 6 to 7 hours straight without any issues. And about the case, you can easily go 35 to 40 hours. In fact, the case can charge the buds 5 times from 0 to 100% so you will be good to go for at least a week.
As far as charging goes both the DuoPods support fast charging. Just 10 mins of charge can get you around 1 hour of playback! To charge the case you can use any power adapter. I used the OnePlus Dash charger and the case gets charged for around 1 hour. Though the charging results vary based on the charger. With Moto 20 Watt Turbo Charger both the TWS took around 2 hours. So you can take the charging time anywhere between 1 to 2.5 hours.
Hence, you can have more enjoyment while spending less time charging. In the battery department, both Mivi DuoPods A350 and Mivi DuoPods A550 get a tie.
Mivi DuoPods A350 vs A550 Which One to Buy?
Both are good TWS under 2000. They offer well built, offer premium looks, good audio quality, decent to good calling, monster battery backup and fast charge, touch controls, volume controls, etc. But, one major feature is missing on Mivi DuoPods A350 if you are a gamer. A350 lacks low latency mode hence fast pace games like COD Mobile and others will not give the best results. Whereas Mivi DuoPods A550 packs the gaming mode which makes the overall gaming experience good.
Not a gamer? below points based on our use case scenarios can be a deal maker and breaker for you.
if you are comfortable with half-ear design earbuds then most probably you have small to normal ears hence you should consider Mivi DuoPods A350. Otherwise, Mivi DuoPods A550 is perfect for people who have medium to large ears. Since I've large ears, I had trouble using Mivi DuoPods A350. So this is about the design.
Here are the major differences.
The primary difference is in terms of audio quality. DuoPods A350 is vocal and instrument centric while being quite loud. On the other hand, Mivi DuoPods A550 is bass-centric with clear vocals while compromising on treble and loudness.
if you use BoAt audio gear then you can take the loudness as 80 percent. Mivi DuoPods A350 is great to enjoy podcasts, classical songs, and techno songs. While DuoPods A550 is an all-rounder with deep bass.
Another major difference is the call quality. Both will pick up your voice quite clearly. Mivi DuoPods A350 will transmit your voice slightly louder but will not filter out the background noise. On the other hand, Mivi DuoPods A550 takes advantage of Environmental Noise Cancellation and lowers the ambient noise. But due to this, the final call quality seems slightly lowered.
Wrapping up!
There you have it guys! This is our Mivi DuoPods A350 vs A550 comparison after 1 month of use. if you still have doubts or last-minute questions then feel free to ping us on below given social accounts. We love to help our readers.
Did this Mivi DuoPods A350 vs A550 comparison help in your decision-making? Then please use the below Amazon link to place your order. You will not be charged a Rupee extra. Amazon will pay us on a qualifying sale. In this way, you'll be supporting genuine customer reviews rather than tech sheet comparisons.
Related: Mivi Service Experience
FAQ
Which is Better Mivi DuoPods A350 or A550?

Both are good options under 2000. We've used these for more than a month and here's out a detailed comparison. Click now to learn more.
Bass Heavy TWS Under 1500 Rs?

If you are bass lower then you can consider Mivi DuoPods A550. Here's our 1 month review. Click now!
is Mivi a Good Brand?

Yes, Mivi is a good brand. Their products offer good quality for the price.