After 6 months of daily use, finally, my Mivi DuoPods A25 stopped working. As it was my first Mivi product I was worried and excited. Because I wanted to know how my service experience will be. So after getting through Mivi email support. Here's my Mivi service experience.
Disclaimer: This article is my personal experience. Mivi was not aware with whom they were communicating hence here's genuine service feedback. As one would get from a brand like Mivi.
The Problem
So exactly 6 months ago, I bought Mivi Duopods A25. If you don't know it's a great TWS earbud under 1500 Rs. What happened was that the right earbud stopped working. By not working, I mean there was no audio coming out of it. It was addressing touch controls, play or pause music commands were working. Even was capable to launch the voice assistant. So with this, I was looking for Mivi service.
Psst… Below I've Shared My Experience With Mivi Service
Their contact number was never picked up, called many times within office time off course. But, they are very active on Email (support@mivi.in) that's where my problem got their attention. With a mail they sent a service request form where you have to fill in all the required information.
Based on the details shared, they generated a Service ID. Then Mivi scheduled a pickup of the defective product. The product was picked up from Dehradun & Reached their service center in Hyderabad within a week.
Then Mivi service took more than a week to test and product and finally after 1 week and 3 days they send my earbuds back after successfully repairing them. Now the shipment took another 3 to 4 days to reach my doorstep.
So, Mivi has repaired the faulty right earbud and now it is working absolutely fine. The total service window for my earbuds was exactly one month. The process started on Jan 9, 2022, and I got my earbuds back on Monday 7 Feb 2022.
Therefore, I will say you can invest in Mivi and you will get full service. But you'll have to allow them some time and do maintain your patience with the team.
More Service Experiences
This is not the first time, we've covered the service experience from a brand. A while ago, we shared service experience with Apple and BoAt. So if you are interested in these service experiences then do bookmark PadhKeDekho for more updates.
if you wish to know exactly everything then keep on reading!!!
Initial Experience With Mivi Service (Detailed)
1. Reaching Out Mivi Support
On Mivi's official website, you will find a contact number next to office timings. I followed the office timings and made a few calls, none of them were answered.
Maybe due to Covid, the physical offices are closed and the team is working from home. So with a little dilemma in my mind, made a tweet. And just like the calls, got no revert back. Now the dilemma transformed into worry.
Then finally, dropped an email to support@mivi.in and surprisingly got a reply!
2. Explaining The Issue
Getting an Email from Mivi support was such a relief. In the mail, they generated the ticket id on Jan 9th, 2022. The mail came at 2.30 PM. In the mail, Mivi said, "someone from the team will review the details and get back shortly." No one from Mivi reverted on the 9th.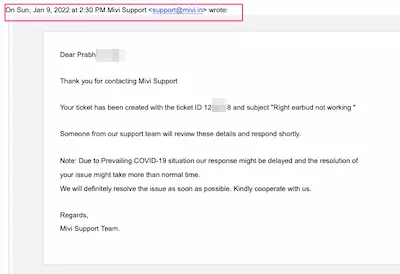 Hence on the next day i.e. on 10th Jan, I dropped another email for a revert. Again got no reply. On the 14th of Jan, someone from the team reverted and asked me to do some steps to rectify the issue from my side. The email was highly detailed and I had a good feeling it will be helpful but no the steps didn't help.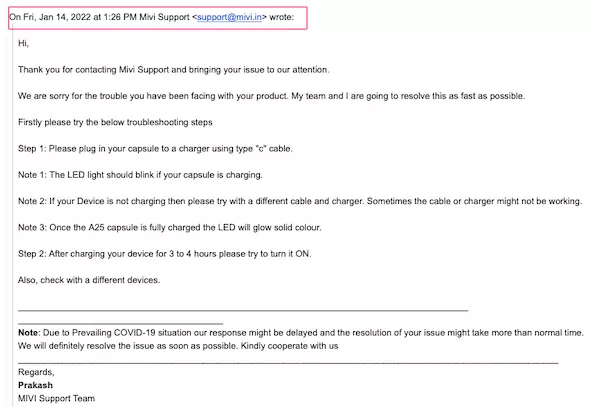 Since it was Friday, I didn't drop a mail. But on Monday which was 17 Jan, told them about the issue is still present. Then on the next day which was 18th Jan (Tuesday), got an email in which they said "we will arrange the pickup within 48 hours and send you a shipping label.
By Friday i.e. 21st Jan, the pickup was done. A guy came from Smart Express courier. He picked the item and gave me a receipt. This pickup was scheduled and paid for by Mivi. The next day morning, I got an email from Mivi support letting me how to pack and other things? Well, this was not expected! The email came a little late so I ignored it.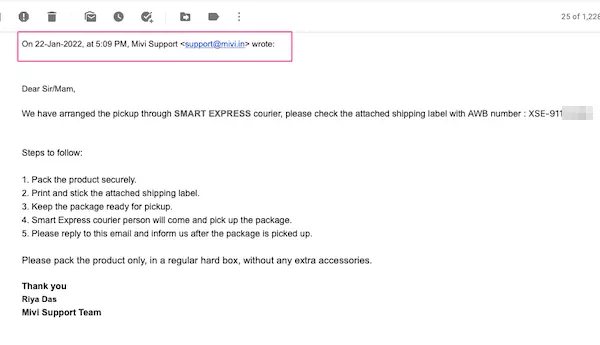 I gave them the same reply "the product has been given tomorrow to the Smart Express courier". Now I was curious what will happen. Because the last time with BoAt, my Rockerz 255 become faulty and BoAt replaced it. So I was expecting some good news.
Mivi Email Support Gone Missing!
How will you feel when the product is shipped back to the company however the email support is not responding to you for 1 week? In this state, I showed my concern via the Email attached below.
The attachment is the mail is the Smart Express courier tracking details though which I got to know the current whereabouts of the delivery. Then Finally on 2nd Feb got a reply that the issue is fixed and the device will be shipped to you within 48 hours.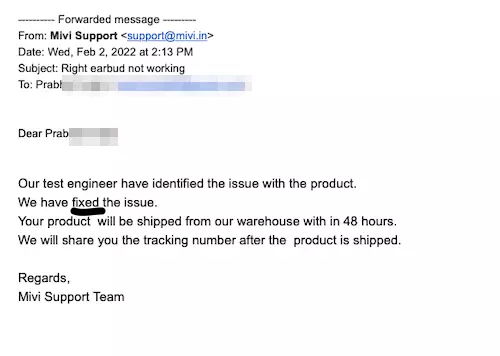 After this email, there was no communication from Mivi whereas the product got delivered to my doorstep on the 7th of Feb which was Monday. Since then I've been using Mivi DuoPods A25 and it's been working quite well.
So that's my Mivi service experience.
How Good/Bad is Mivi Service?
Well, my experience with Mivi was a mixed bag. But in the end, I got my Mivi DuoPods A25 problem solved. The good news is, both earbuds are now working. So Mivi service does exist even if you have bought via Flipkart or Amazon you will get the service.
Why mixed bag? Well, The thing which was not professional was no one picked up the calls. Then the email support was not inspiring. I had to reach out for the updates that they were supposed to update me with.
Then, there was a time when the product got received at their service station. But there were no replies from the Mivi support. I got a feeling that my earbuds are misplaced and will not be coming back. But after a few days, got an update and the product was shipped back upon testing.
So will I recommend Mivi products? Yes, you can go ahead with Mivi as they do provide service but you have to allow them some time and maintain your patience. In my case, they took a good month.
F.A.Q
Is Mivi Service Good?
Mivi service is available but you have to be patient with the team as they take time. In my case, the total service window was 1 month. You can click here and learn about my detailed experience.
How is Mivi Warrenty Service?
Mivi warranty service is decent. They repaired my faulty earphones which were like 6 months old. The work done by the team was good.
How Do i Complaint to Mivi?
On the Mivi website, you'll get some contact details. I would recommend going for Email support.