At PadhKeDekho we keep on testing new TWS at our reader's request. Recently after testing a handful of those we were quite impressed with BoAt Airdopes 141 and Mivi DuoPods A550. After using these for more than a month, here is PadhKeDekho style BoAt Airdopes 141 vs Mivi DuoPods A550 comparison.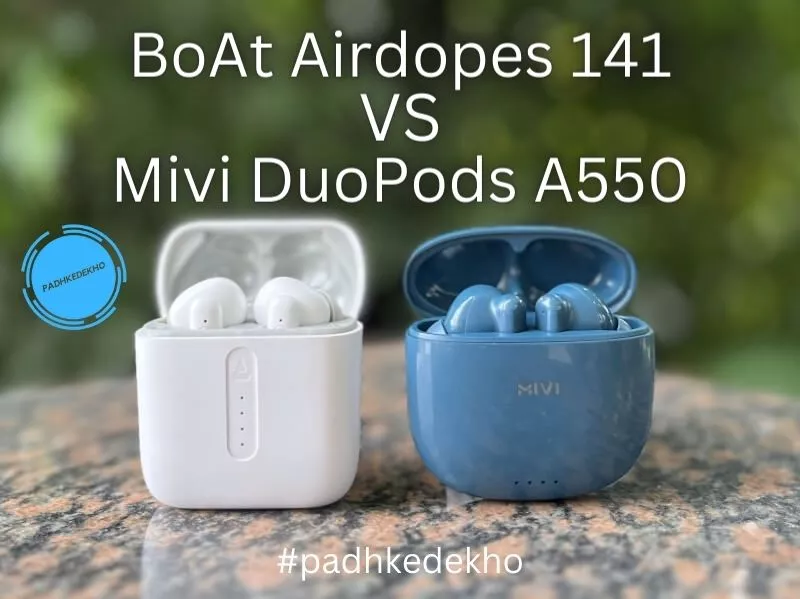 if you are confused between these two, then please spare the next 5 to 10 mins to read this detailed comparison. Unlike others, we've used the devices for a month before sharing them with you. Here, you will get to know the Pros & Cons, Service experience, Built Quality, Looks, Comfort, Features, Audio Quality, Gaming, Mic Performance, Battery Backup, and finally our winner!
Disclaimer: This page has Amazon affiliate links that will help us earn a little commission at no additional cost to you. By this, you support genuine content where real people actually "test" a product!
Now let's begin the Mivi DuoPods A550 vs BoAt Airdopes 141 comparison with pros and cons.
BoAt Airdopes 141 Pros & Cons
Mivi DuoPods A550 Pros & Cons
Service Experience
Before investing your money in products, you must know what kind of service they offer. We needed service for two of our products; Mivi and BoAt and got first-hand experience.
If you want to know in detail then here is our service experience with BoAt And here's with Mivi. To cut it short, Mivi and BoAt are decent to good depending upon the Indian state you are in.
BoAt has its main service plant in Delhi hence in north India your services will be treated early. Just like that Mivi is in Hyderabad so it might take some time to dispatch, repair, and resend to you. So be patent with your service if you are away from the service centers.
Hows is the service quality? Service quality is good depending upon the product. if repair or replacement is recommended they will do that and update you via email support, just like Mivi.
So, if your product needs service feel free to reach out to BoAt and Mivi they are not bad. Just allow some time and that's only due to distance.
Built Quality
When it comes to build or the overall strongness of a case in events of drop or harsh use, the outer casing is most important. Not just that, it also ensures how long the buds will be operational. We always talk about 3 things.
#1 The Outer Case Body
Whatever happens, the important thing to take care of is the outer box. Because if it breaks you will not be getting any replacement hence buying a new TWS is the only option.
The good news here is, Both the buds have strong built quality. We dropped the cases quite a few times and they survived the falls. Though you will not be doing that purposely, however, you should know these two can handle some drops from waist height.
So outer case body gets a tie.
#2 The Hinges
The hinges or the magnet clips are important for the "satisfying click" and keeping the lid closed. Because these new TWS are very smart. The moment the lip opens they start looking for the connected device. So if the lip or the magnetic clips are not strong enough you will be losing on the battery backup.
The magnetic pull on both the buds is great. Even if you put them upside down or try to force them open by shaking them back and forth, these cases will not open. These are good. But the hinges on Mivi DuoPods A550 don't offer a "satisfying click". Instead, it's so silent which makes it perfect for bedside use or when you don't want to disturb somebody sleeping close by.
On the other hand, Hinges on BoAt Airdopes 141 take the cake here. The click is so good. It's closely similar to the Apple AirPods.
#3 The Earbuds
Earbuds are of three types; half ear like Apple Airpods, Second like these two with a stem. Third, without a stem-like Airdopes 121v2 below.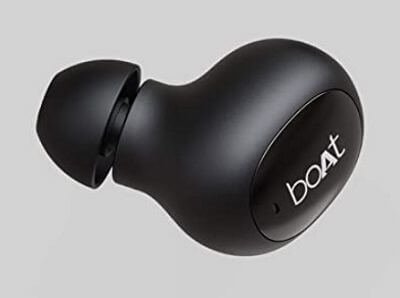 These two i.e. BoAt Airdopes 141 and Mivi DuoPods A550 are having a stem and silicon ear tips. This means these can be used for workouts and while you are moving the grip will be decent.
For an even better grip, you should consider BoAt Airdopes 441 (under 2000) or Airdopes 441 Pro (under 3000).
if we talk about the bud's weight, generally the ones with steam are heavy. With that said, Mivi DuoPods A550 earbuds are slightly heavier and thus feel stronger than the Airdopes 141. This can be good or bad based on your preference. if you like lightweight earbuds then BoAt Airdopes 141 is exemplary.
So in terms of bud quality, Mivi DuoPods A550 is better. Whereas, BoAt Airdopes 141 are lightweight in comparison.
Looks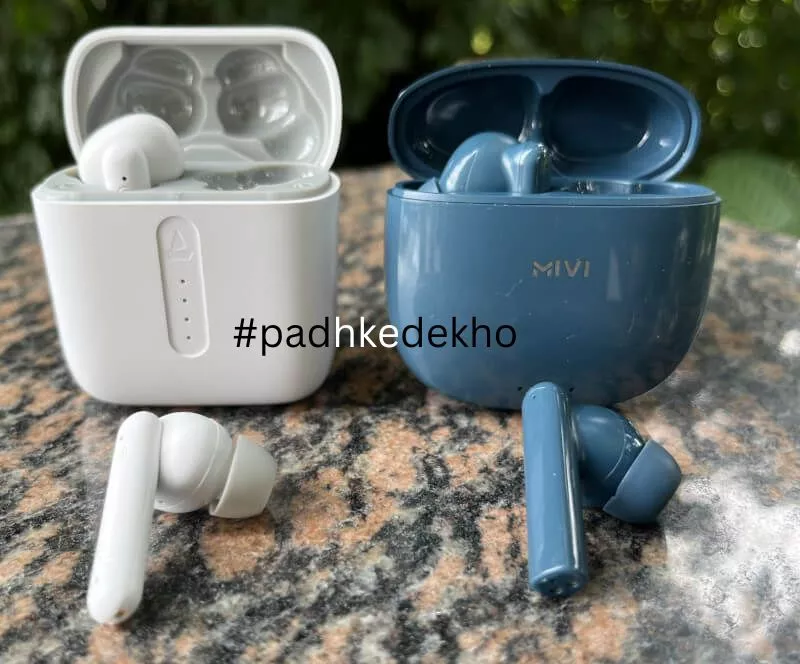 As far as looks go, both the earbuds, as well as the case, are quite similar. The noticeable difference is the branding, LED placement, and outer texture of the case. Mivi DuoPods A550 case has a metallic glossy design whereas, BoAt Airdopes 141 offers a matte design not only on the case but on the buds too. In the longer run, glossy will show more scratches than matte.
As far as color shades go, Mivi DuoPods A550 comes in 4 color options (Black, Blue, White & Mint Green). While BoAt Airdopes 141 comes in 3 (Black, Cider & White)
Are you in for customizations? Then buying Airdopes 141 is better since more compatible accessories are available online as well as offline. Mivi is more available online for accessories but the cases available are very less in comparison to BoAt.
In customizations, brands should come up with customization options so that one can truly make their product, unique!
Comfort
If your TWS packs in great features but it will be of no use if the buds are not comfortable. Most people complain of "TWS not being comfortable" while others for the same TWS say "very comfortable". Why does this happen? It happens because not all have a similar types of ears. Some have small or normal, medium, and large. So how would you know what type of ears you have?
It's simple. Look at what type of earbuds you use. If those are half in-ear like the Apple Airpods or the below image then odds are you have small to normal ears.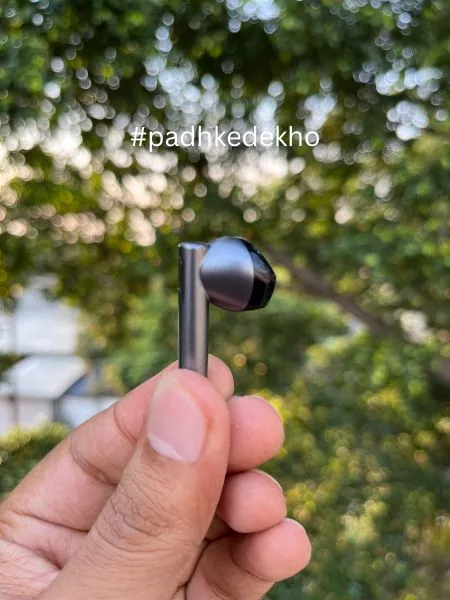 In that case, you should avoid both Airdopes 141 and Mivi DuoPods A550. You can check out our article which shortlists the best TWS earbuds for small ears under 2000 Rupees.
Otherwise, if your earbuds got silicon ear tips then these two i.e. BoAt Airdopes 141 and Mivi DuoPods A550 are good options for you. Both earbuds have soft silicone on the in-ear earbuds (though BoAt silicone is softer).
So how long can you wear these? Since BoAt Airdopes 141 are lightweight I had no issues wearing the buds for even 5 hours. Whereas, DuoPods A550 is fine for about 4 hours. Frankly, you will wear these longer while watching a movie or video content hence no issues in regards to comfort.
For the next question; which one offers a better grip?
Well, both are quite similar in context to grip. For walking or jogging wearing these will not be an issue. However, if you have a plan for serious workouts while listing to music then we'd advise checking out Airdopes 441 (under 2000 Rs) or 441 Pro (under 3000 Rs). 
Due to its lightweight Airdopes 141 loses the grip with some sweat and needs re-adjusting. While Mivi DuoPods A550 puts hold.
Features
BoAt and Mivi products are our highly tested ones. Because they pack in good features for the price. 2 years ago, when we started reviewing and comparing TWS, it was BoAt that changed the game from neckbands to Airdopes in the budget category.
And now Mivi shares the tag and probably leads because of one feature and that's the volume control. I don't know why BoAt is not serious about it. Volume controls on TWS allow great convenience. Just think about it, you don't need to take out your smartphone just to change the volume. How safe you will be in Delhi Metro when you change the song by just tapping and holding for a few seconds?
Rest there are many similarities like super responsive touch controls, launch voice assistant, media controls, call accept and decline, gaming mode, noise isolation, support for fast charging, Type-C charging socket, and IPX 4 Water Resistance!
A few differences are there. A slightly bigger battery of buds on DuoPods A550 at 40 mAh instead of 30 mAh. And Bluetooth 5.1 unlike Airdopes 141 with 5.0. Though Bluetooth performance is quite similar.
if you wish your next TWS to offer volume control and slightly better backup then you can go with Mivi DuoPods A550. Otherwise, I see no harm in checking out BoAt Airdopes 141.
Audio Quality
We've owned, reviewed, and compared more than 20 TWS (along with many headphones, neckbands, etc) earbuds and have had a good experience testing for the last 2 years. So we know what good or bad sounds like. Since we are independently owned we don't mind saying the truth as we don't do brand collaborations at all! Hence you can trust our opinion.
Ultimately you are buying TWS for listing to music and having a good time. What good can features bring if the audio quality is lackluster? Believe me when I say this most of the TWS from new brands are just average with high marketing.
These two earbuds on the other hand are quite opposite.
The 8 and 13mm audio drivers on Airdopes 141 and DuoPods A550 are superb for bass lovers. If you are a bass-head and looking for bass-centric TWS under 2000, then these should be on the top of your list.
In the beginning, I said "8 and 13mm audio drivers". This statement makes an impression that the 13mm being bigger in size might be better, but that's not the case.
BoAt Airdopes 141 offers an amazing bass, crystal clear vocals, and a good amount of treble. The overall sound signature is perfect to enjoy music and enjoying along. Surprisingly the BoAt's 8mm driver is louder than Mivi DuoPods A550's 13mm drivers. if you have used BoAt Airdopes, then you can take the loudness of DuoPods A550 at 80%.
Whereas, Mivi DuoPods A550 packs in even better bass than Airdopes 141 and distortion-free or clear vocals. However, to compensate for the bass, the treble is detuned. This is good while listing to bass-bosted songs, but watching movies or listing to podcasts doesn't sound that exciting.
So if you need good or more balanced audio quality then Airdopes 141 is good. And if the bass is above all, then Mivi DuoPods A550 is great.
Gaming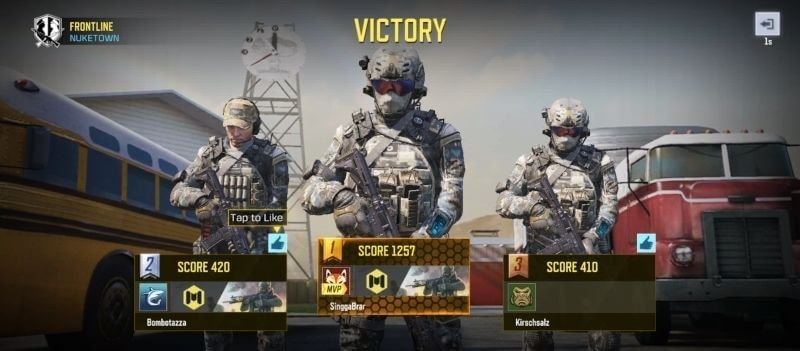 While gaming or watching high-quality videos "latency" is something that no one wants! It spoils the mood with a delay while gaming. Online multi-players need low latency so that there can be a sync between the shot fired and enemy steps noise. A higher latency will not only cause bad gaming but also there can be a dialogue sync issue. So latency is not a minor thing to ignore.
So are these good or bad for low-latency gaming?
The good news is both earbuds offer low latency mode. on Mivi it is by default and there is no toggle to enable or disable it. Whereas, on Airdopes 141 it's known as "Beast Mode" and can be enabled by pressing any earbud's touch control 3 times.
Mivi on paper has not told how much latency A550 can rectify. However, BoAt made the claim of up to 80ms. So does BoAt only claim and offer? or Mivi is ahead?
As I said, both are good for gaming. Certainly, better than earbuds that don't come with any latency mode. But which is the great one?
It's clearly, BoAt Airdopes 141.
Though there is not much delay difference, both are quite identical to each. But due to BoAt Airdopes 141 audio driver that offers more treble and loudness, I could hear enemy footsteps better.
So in gaming, BoAt Airdopes 141 is great. While Mivi DuoPods A550 is good.
Mic Test
Be it for any reason; calling needs or recording audio for YouTube, the quality of the mic plays a vital role. Before Covid I used to take office calls via the wired headsets from Logitech but later when I switched to TWS with good call quality, I never went back!
There are three things to look out for while selecting a good-quality mic. However, you cannot test that before buying so this part is very important for you. It's coming from someone who has taken about 30 calls on each in a month.
The three things are audio pick-up, audio transferred quality, and background noise blocking.
So how those this two stack up? Let's talk about each at a time.
BoAt Airdopes 141 pick up your voice quite clearly. Then transmit it just like that. I.e. without modifying the quality. And about background noise blocking, it works beautifully. The ENx technology helps to reduce the background noise by focusing more on your voice.
In the Metro, most of the budget TWS picks up the announcement even better than the speaker's voice. BoAt has really taken their call-quality game quite seriously.
Mivi DuoPods A550 is not far behind either. It will pick up your voice quite clearly. ENC (Environmental Noise Cancellation) kicks in and filters out the ambient noise. However, this does affect the call quality and another user complains of your voice being low. So you are advised to speak a little loudly.
But to be honest, these two are quite good for calling. You will have a good time taking calls via these.
Battery Backup
if you are worried about battery backup then these two are fantastic audio gear one should consider under 2000.
The overall claim figures are 42 hours on BoAt Airdopes 141 and Mivi DuoPods A550 crosses half-century at 50 hours! While the buds can be continuously used for up to 5 hours and the latter for 8.5 hours. These are claim values and real-life scenario is different for different users.
If you are a gamer and play for very long hours then you can extract a battery backup of about 3 hours on Airdopes 141. While DuoPods A550 can easily cross 4 hours mark.
A mixed user who plays for about 2 hours, listens to music for 3 to 4 hours and a few calls on a given day can easily extract 1 week of overall battery backup. Mivi will go on for a few days more.
If you just watch movies and listen to songs then you can extract 5 hours of playback on Airdopes 141. While Mivi can easily cross 6 hours mark.
Overall, Mivi DuoPods A550 offers more battery backup than BoAt Airdopes 141. The difference lies about 3 to 4 hours.
As far as charging goes, both earbuds support fast charging. If you have a OnePlus Dash charger then these buds will be charged 0 to 100% in around 1 hour. With Moto 20 Watt charger, it takes 2 hours. And with a 5-watt charger, these take about 3 hours.
So depending on your charger, the charging time can be between 1 and 3 hours.
BoAt Airdopes 141 vs Mivi DuoPods A550 Which is Better?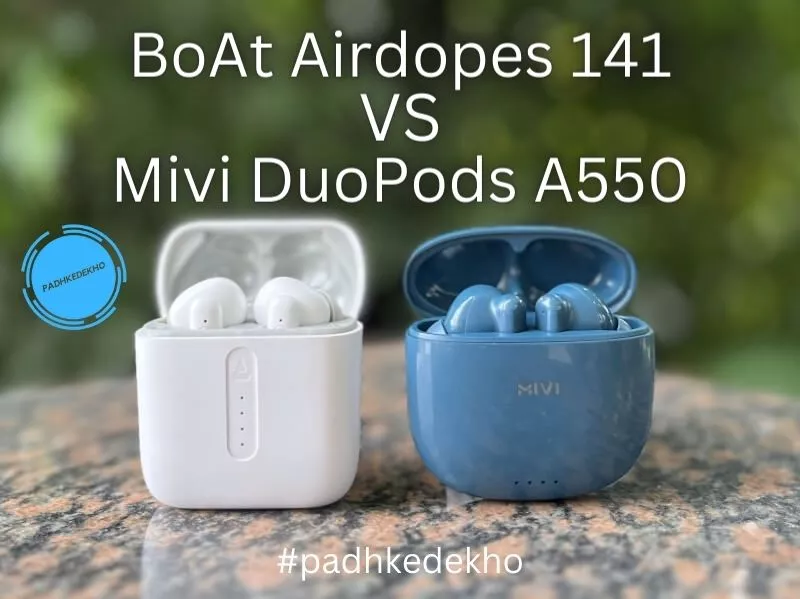 After spending a good one month with these, both earbuds are meant for people who enjoy music, play multi-player games, need a killer battery backup with support for fast charging, along with good call quality. Find a combination of good audio quality and calling is quite rare under 2000 Rs. Luckily, these are great and are our recommendations for someone who is looking for an answer.
But which is better Mivi DuoPods A550 or BoAt Airdopes 141?
As a said, before both are good, and going with any is not a bad decision. But for the best, I would pick BoAt Airdopes 141 over Mivi DuoPods A550. Because of the reasons.
BoAt Airdopes 141 earbuds are lightweight, the silicon ear tips are softer, the case offers satisfying clicks, better accessories (case) available, a better gaming experience due to sounder treble and overall loudness, crisp call quality (though noise isolation is not as good DuoPods A550).
So, if you buy either BoAt Airdopes 141 or Mivi DuoPods A550 you will not be disappointed. PadhKeDekho recommends these two.
Please use the below links to order from Amazon. We assure you, you will not be charged a Rupee extra. You will be supporting genuine reviews who have actually bought a product rather than just "comparing marketing tech values". Thanks for the support!
Wrapping up
There you have it, folks! This is our Airdopes 141 vs Mivi DuoPods A550 comparison after a full month of use. if you have any questions or queries then feel free to reach out on below social accounts. We love to help as many readers as possible.