[Updated on 14 July 2023] We've been using this combo for over 2 years now and the keys and buttons are in good shape. No issues whatsoever. This model is discontinued and replaced with KM3322W. Nothing major has happened both are almost the same. You can confidently read this Dell KM117 Review after 2 years of use! Back to the article.
Planning to buy a wireless keyboard and mouse combo for work-from-home purposes? Then buying a Dell KM117 combo must've rang a bell!
If not, it should! As it is one of the best selling wireless mice and keyboard set under 1500 Rupees we have seen and tested. So we present to you the Dell KM117 review after 2 years of use. And in this Dell KM117 long term review you will find answers regarding its battery backup, built quality, look and feel and so much more!
Update: This keyboard is available at a huge discount on Amazon's Sale. Click now to check out the deal!
Buying a wireless keyboard and mouse combo other than USB ones not only offers you convenience but also portability. This makes the wireless Dell KM117 wireless keyboard mouse a worthy purchase. But how it is actually? Then this 2-year review is gonna explain what to expect.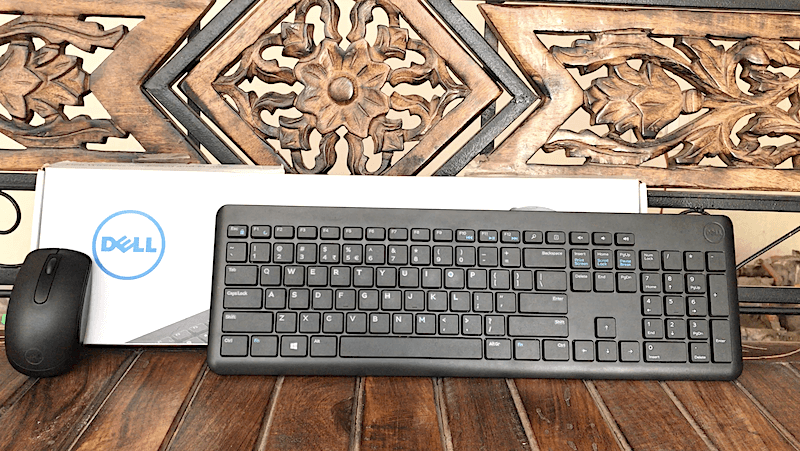 KM117 Wireless Keyboard Mouse Combo Review
Let's start with the Dell Km117 specifications, dimensions, pros and cons, built quality, and features of the keyboard, mouse, and battery backup. For your convenience, clicking on any of the prior links will navigate you to the particular section. But it is advisable to check out each point as it can be the deal maker or breaker for you!
Dell KM117 Specifications
| | |
| --- | --- |
| | |
| | Using 2.4 GHz Wireless Nano Dongle |
| Full Size Keyboard With Num Pad | |
| Multimedia Controls And Shorcuts | |
| | |
| | |
| Mouse Optical Sensor Based | |
| | Yes 3 Nos (1 AA For Mouse, 2 AAA For Keyboard) |
Dimensions
Dell KM117 Pros And Cons
Keyboard Built Quality And Features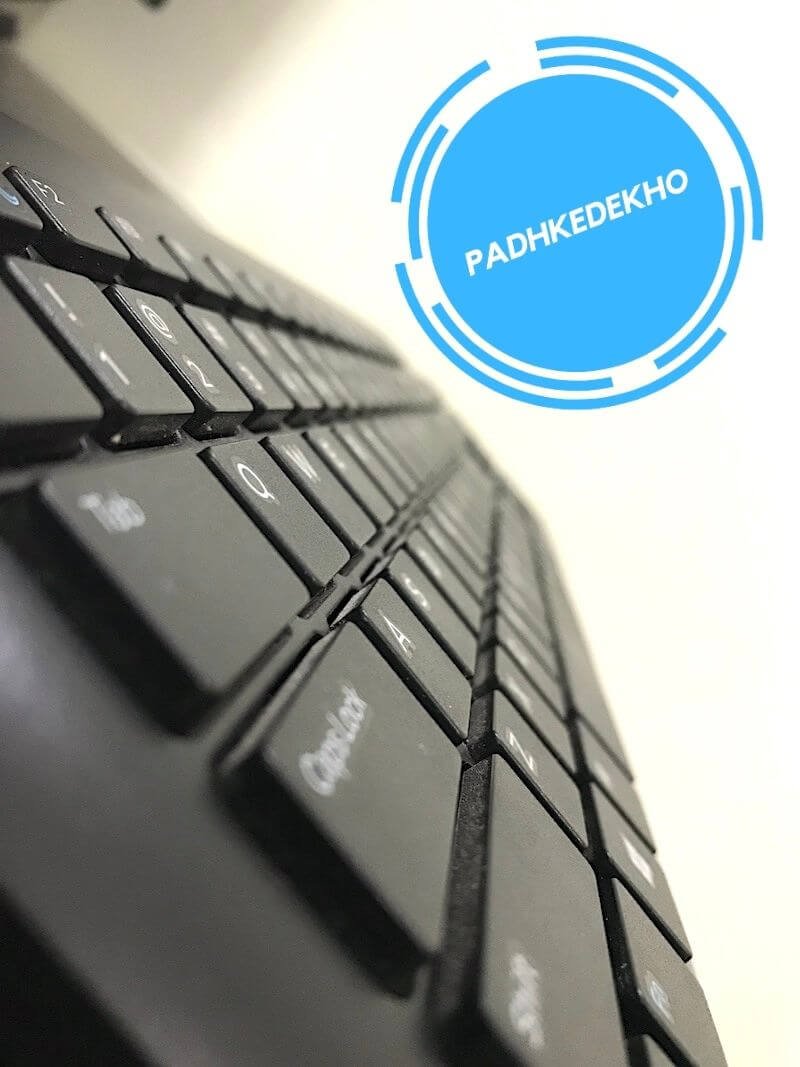 Getting a wireless keyboard and mouse combo from a company like Dell at this price seems impossible. In this competitive computer peripheral market, products from Logitech and Lenovo are in direct competition. We have also used products from Logitech like the M170 wireless mouse and K230 Wireless Keyboard (review coming soon).
I would say the built quality of Dell KM117 is definitely better than Logitech K230 but the bottom plastic part of the keyboard makes squeaking noise while pressing or twisting. Once it's on the lap or table you will not experience any speaking noise.
It is a full-sized keyboard with a dedicated Num Pad which is similar to the standard keyboard you might be using with a computer. The best part about the keys is the chiclet design which helps in better and more accurate keystrokes. The keys are well-raised and due to the dimensions, the key travel is good. So if you like to write then this keyboard is going to be a pleasant one!
The keys are very soft and the noise of the keystrokes is very less. So if you need silent and soft keys then this keyboard is good for you. But as the keys are raised, there is a good possibility of dust going inside the keyboard so you will need to clean it more often.
Other than that, Dell KM117 is a multimedia keyboard and it has controls or shortcuts. Like the lock on the Escape key, sleep on F1, repeat the song on F10, play or pause on F11, and play the next song on F12 on the top row. Along with search and mute, etc. So you can watch YouTube videos and control the volume through the keyboard or switch to different songs in Windows Music Player Or iTunes at your convenience.
Mouse Built Quality And Precision
With the KM117 you will get a compact-size mouse that will have a matte finish all around. All the buttons like the left button, scroll wheel, and right button are conveniently placed. The curvature design of the mouse makes it very comfortable to be used by every hand type. I myself have large hands, but even then I found it quite comfortable to be used for long hours.
The buttons and the scroll wheel are working as great as they were a year ago. I never had any issues with the mouse at all. Though the mouse feels slightly heavy compared to the Logitech M170 Bluetooth mouse. But due to the weight, the mouse feels accurate while editing photos in Photoshop or similar editing tools.
I don't play many games but whenever I play there is not a single network latency issue while panning and moving the game character. Even the mouse button clicks are so precise that you will not miss a shoot via button click. This is also possible due to the higher DPI of Dell KM117 which is 1000.
Along with that, the optical sensor does a great job of smooth movement while navigating files and folders or switching through web pages. Unlike Logitech 170 which has invisible L.E.D, you get red light below the mouse. So it can distract you while working at night.
On the back, you get a toggle to turn on or off the mouse and slot to change the battery or cell. While we are at it, the km117 mouse needs a 1 AA battery. I really enjoy using this combo with my Smart TV while lying on the couch. What improves my overall experience is the Bluetooth range which is 10 Meters so rest assured of any latency issues!
Battery Backup Dell KM117
Since the Dell KM117 keyboard and mouse works wirelessly the source of power is the batteries or the cells. The supplied ones are not rechargeable ones but they do a great job. In fact, I had to replace the battery of the keyboard after 1 year while the one in the mouse is still going on! So Dell Km117 battery life is great!
I use them for around 10 hours a day, every day! So in terms of battery backup, you can expect it to last a minimum of 1 year. But it all depends on usage. A subscriber told us he replaced the batteries after 2 years of use! So you don't need to be worried about it.
The best part about this combo is that Dell has provided the batteries pre-installed (1 AA in the mouse and 2 AAA in the keyboard). Which makes the true nature of the product shine; that is plug and play!
How To Connect Dell Wireless Keyboard And Mouse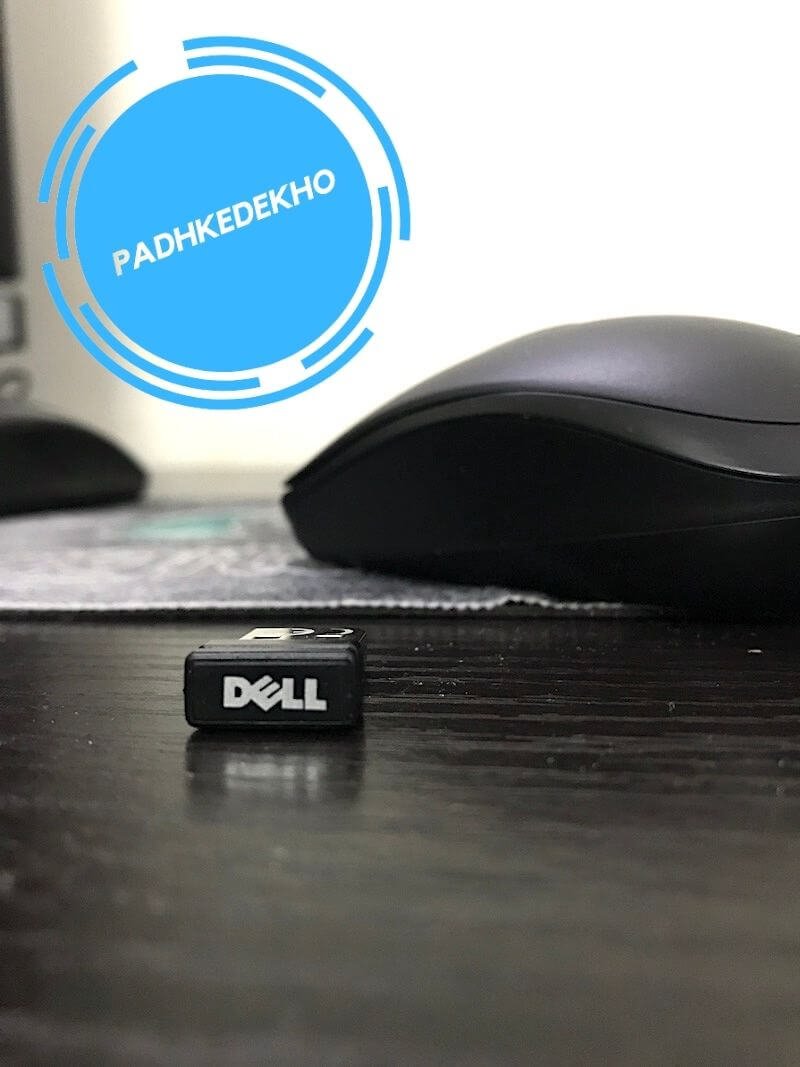 Since KM117 is a plug-and-play type of wireless keyboard and mouse combo, it comes with a USB receiver that goes in the USB 2.0 or 3.0 of your laptop, computer, smartphone (using OTG cable), and even television. Within seconds the keyboard will form a connection and is usable.
Because the keyboard doesn't have a turn-on or off toggle. For the mouse to work, you will need to toggle on from the bottom. Once it's on, it will connect within seconds too!
On some retail websites, Dell KM117 compatibility is only restricted to Windows 7 and 8. However, I've tested KM117 on Windows 10, Ubuntu 20.04, and even macOS Big Sur it works flawlessly! On Windows 10 you might have to install the latest drivers. As I received a popup for the same.
So Should You Buy Dell KM117 Wireless Keyboard Mouse Combo?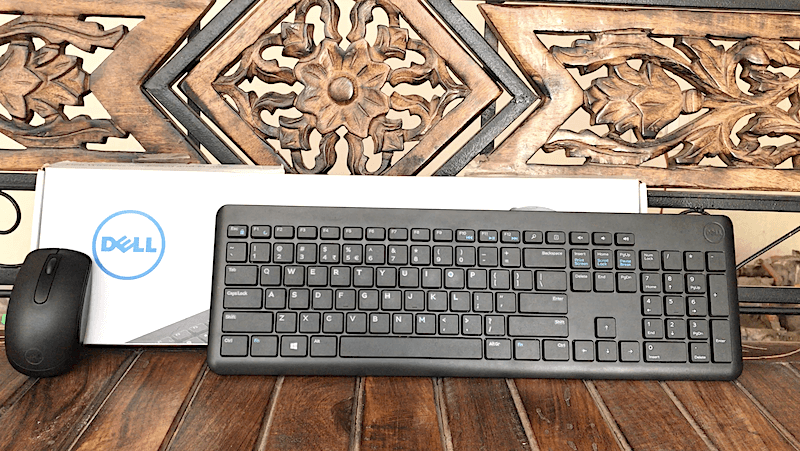 If you are looking for a branded good quality wireless keyboard and mouse then nothing is as good as Dell products. The keyboard offers a soft and tactile feel while typing. It is best for people who like to have a good "key travel" between the keys. You might find the keyboard to be big and wide, so it can be a good choice for gifting to elderly parents.
Other great aspects of the keyboard are silent keys with raised-up buttons for easy typing. The addition of a Num Pad on the side enhances productivity if you have to do a lot of calculations or you work with numbers. The multimedia and shortcut keys can be of great help for adding convenience. It helps a lot when you are writing a piece of content and need to change the song or control the volume without leaving the document file!
Though it has so many pros, there is one thing that disappoints me and that is the lack of L.E.D notification light for Num pad and Caps Lock key. This can be an issue while entering passwords where you might have few capitals and small letters. Other than that, I don't think anything else would cause you any issues.
Keeping in mind the built quality, features, and being a product of a reputed brand like Dell makes it a worthy purchase. So all in all, the Dell KM117 combo set is a good buy and you should give it some consideration.
Wrapping Up
This was our Dell KM117 wireless keyboard mouse review. If you think we helped you in decision-making, then please support us by buying this keyboard-mouse combo from the below buttons will help the website grow at no cost to you!
Do share this with your friends and family so that it can help more people in decision-making. Thank you so much for reading and if you are new to our website, then hit the red bell icon on the left to be notified of our new coverage.
If you have any issues or queries then please reach out at PadhKeDekho's Twitter, Facebook, and Instagram. We would love to help! Thanks for taking out the time in reading our Dell KM117 review!
Just like the above article, we share our 2 cents in the form of reviews, tips & tricks, comparisons, and opinions so do check out those articles. And if you liked the content do share it with your friends and family! Thanks, we will see you at the next one!
Articles That Might Interest You!
F.A.Q
Is Dell KM117 Good?
Yes, it is a good product under 1500 Rupees. Everything from built quality, keys, multimedia options makes it a great deal.
Dell KM117 Good For Gaming?
Yes, even though the combo is wireless we had no latency issues while gaming. Even the mouse offers a great grip when pressing keys and holding.
Are Dell Keyboard Any Good?
Dell in general offers good quality keyboards with great keys and durability. However, they are slightly on the expensive side.
How long Does The Batteries last On Dell Wireless Keyboard?
it totally depends on your usage. I use the KM117 keyboard for 10 hours daily, every day, and it easily survived a year with the supplied battires.
How To Turn Off Dell Wireless Keyboard KM117?
On Dell KM117, there is no toggle to turn on or off the keyboard. You can only control that on the supplied wireless mouse in the combo.
How To Connect Dell Wireless Keyboard Mouse?
With every wireless keyboard mouse combo, dell provides a USB receiver that can be inserted in any USB 2.0 or 3.0 ports of a laptop, computer, desktop, smartphone (using OTG cable), or even television!