[Updated on July 18, 2023] This mic is over a year old and serves the purpose it should be. No static noise or uneven audio. It's been a good purchase and we recommend checking it out. Back to the Boya BYM1 Review!
Do you believe people are not staying longer on your videos due to the bad audio quality? Trust me, it has happened with us too. Being new to YouTube, you have to understand that some amount of investment has to be done.
So after making many videos using the mic of the phone and headphones, we finally moved to Boya BYM1 omnidirectional mic as we got great feedback for it. Therefore, in this Boya BYM1 review, we will be sharing its pros and cons along with other things!
Note: This is not a sponsored article whatsoever. We wanted to upgrade our equipment and it is the most popular wired mic under 1000 Rs. So this review is going to be unbiased and most importantly true.
Padhkedekho.com is supported by the readers like you. Buying anything using the below Amazon links will help us earn some commission from the brand at no additional cost to you. This helps us to maintain the website and keep the user experience ad-free!
Boya BYM1 Mic Pros & Cons
In-Box Contents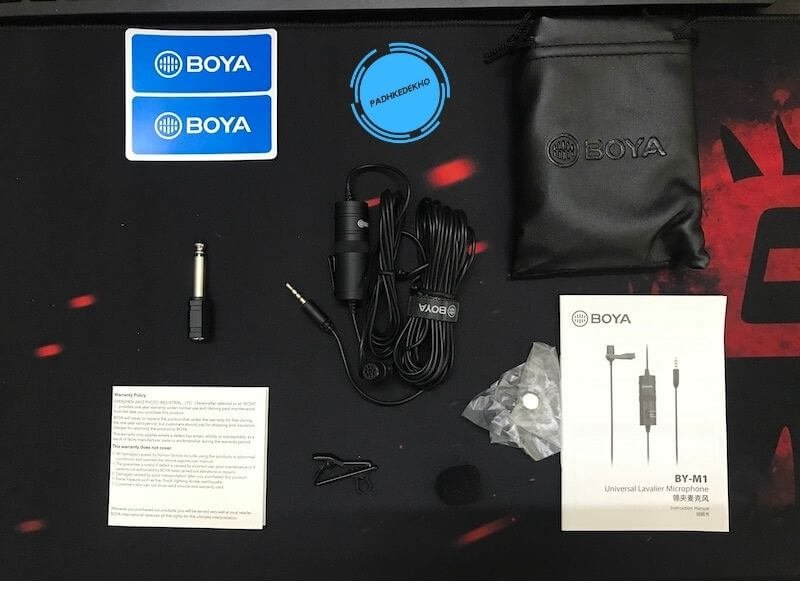 With Boya BYM1 you will get;
The Omnidirectional Microphone Itself
Wind Blast Protection or Form Windscreen
Mic Holder
A Letherrite Pouch
1/4″ inch audio jack
One LR44 Battery
2 Bright Blue Stickers
In the box, you get many accessories. All of those are very sturdy and don't feel cheap. So in terms of in-box content, one could have not asked for more. This brings us to the built quality.
Built Quality
When you buy a wired microphone, the most important thing to take care of is the cable itself. Before telling you about the quality, you should know the length, which is 6 meters. So if you are planning to make a video that will require you to move around then it will be more than enough.
Now in terms of built quality, the wire is good and not very fragile. I have given it under my tracksuit zipper multiple times now and it's still working fine!
Other than the cable, the Power Module feels strong & lightweight at around 18 grams. it also comes with a clip that will help you tuck it in your sweater or jacket/t-shirt without any issue. The toggle to switch between camera and smartphone is very precise and sturdy.
The 3.5mm jack is gold-plated and looks quite good too! As far as connectivity goes, it works perfectly without any issues. So it is sturdy and durable.
The pouch that comes in the box feels like a leatherette type of material. It is big enough to carry the 6m cable, power module, and other accessories too!
So, Boya BYM1 offers good built quality and portability for under 1000 Rupees.
Compatibility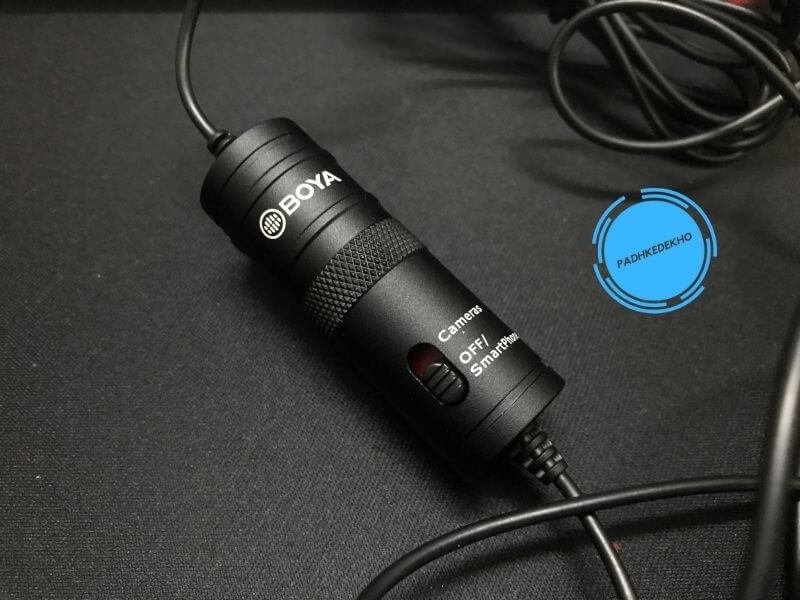 Boya BYM1 is compatible with smartphones, DSLRs, handy cams, tablets, laptops (Windows/Mac/Linux), and computers (Windows/Mac/Linux). However, the way it works on Windows/Linux and Mac is different. Don't worry we are also telling you how to connect Boya BYM1 to PC just now!
For Computers/PC running on Windows or Linux, DSLR/ Point To Shoot Cameras, you need to insert the battery and switch the toggle to Camera Mode. Whereas on Mac, the functionality is as same as a smartphone. I.E. you don't need the battery just toggle the switch to "OFF/Smartphone" mode.
Note:- if you need to use Audacity then you might need to install some drivers on Windows. The drivers are completely free and easy to install.
Now, let's talk about smartphones. Be it Android or iOS, you don't need to use the supplied battery. All you need is to toggle "OFF/Smartphone" mode on the Power Module.
I've tested it with many Android phones and even a few iPhones (with the lighting port connector of course!). It worked very well. So in terms of compatibility with smartphones, you'll get support for many devices and as per price, it is great.
Hence, you can be less worried about compatibility!
How's The Audio Quality?
In this Boya BYM1 review, I am very impressed with the audio quality. To be completely honest with you if your voice is rich in treble then it is going to record just like that. I mean it's not the mic's fault how your vocal actually sounds. But you can later enhance it using free tools and software like Audacity.
From the moment, we started YouTube we used the Smartphones' native mic recorder. Back then our testing phone was an iPhone and it had an amazing microphone. And thanks to Audacity, you could even take it a few notches above.
But this Boya BYM1 does things a little differently. Since you will be tucking the mic near your neck then you will be facing straight rather than below in the case of a smartphone. So this will give you very clear vocals. Now it's the nature of your vocals. Some have bass-rich vocals while many have high treble vocals.
The good thing is, the mic adds some amount of bass to audio recordings. This will make your voice feel more confident. That's how you should sound in a product review or unboxing video. But don't get carried away with too much bass, it will not be sounding very professional. Having a balance of treble and bass will be great.
So in terms of audio quality, out of the box, the vocals will have some bass to your voice and the audio quality will be nifty clear.
Noise Cancellation/Noise Isolation
Boya BYM1 is an Omnidirectional microphone which means the mic will capture sound from all directions. So as per noise cancellation and noise isolation, this microphone will help a little but not very much. Therefore you have to maintain silence around your place. Otherwise, you can take advantage of software like Audacity to remove unwanted background noise.
What Boya has done with BYM1 is, it has given a form widescreen that will cover the entire mic. This helps in restricting some of the noise while recording. So in a way, you can say some amount of noise isolation is present.
So in short, you don't delicately have noise cancellation or isolation but you can always use the widescreen and later software like Audacity or Apple's Voice Memos app to reduce the background noise.
Boya BYM1 Specifications
| Specifications | Boya BYM1 |
| --- | --- |
| Pattern | Omni-Directional |
| Transducer | Electret Condenser |
| Frequency Range | 65Hz – 18KHz |
| Signal Decibels | 74dB |
| Output Impedance | Up to 1000 Ohm |
| In-Box Contents | The Clip, LR44 Battery, Form Widescreen, 1/4″ adapter |
| Battery Type Supported | LR44 only |
| Dimensions | Cable: 6 Meters, Microphone: 18×8.30×8.30 (mm) (h*w*d) |
| Weight | Microphone: 2.5 Grams, Power Module: 18 Grams |
| Boya BYM1 Price | 600-900 Rs (Ind) |
Boya BYM1 Specifications
Should You Buy Boya BYM1 Microphone?
We were confused between two microphones; Boya BYM1 and the Maono AU-400. Even though Boya BYM1 is expensive we went with it. why? but before that, we are already working on a detailed comparison of both of these that we will be sharing soon.
So for the context, we went with Boya because it offers better quality wires and is a long cable at about 6 meters. Whereas, Maono AU-400 offers just 2 meters. Moreover, Boya offers a 1-year warranty on their products. So for longer peace of mind, going with Boya BYM1 is a better choice. Rest we will be sharing in the detailed comparison!
Now coming back to the Boya BYM1 review, As far as mic quality goes, the audio output is very clear and has a good amount of bass. This means you just need to monitor the treble in your audio recordings. A few touch-ups using Audacity will fine-tune your vocals to the next level.
Usually, you can find Boya BYM1 for around 800 Rs on Amazon. We got lucky and got it for just 699 on the recent sale. So if you keep a vultures eye you can get it for a lower price tag!
So as per its ideal price of around 800 Rs, it is a worthy mic that will boost your confidence while recording the audio which ultimately increases the average view duration on YouTube!
On our YouTube channel, you can check the audio output. To be precise the unboxing of Redgear MP80 is done using Boya BYM1.
Wrapping up
These were our few cents for the Boya BYM1 review. If this review helped in your decision making then be a good Samaritan by sharing it with others! Got last-minute doubt? Don't worry! You can always reach us out on below given social accounts. We love to help as much as possible!
Do support us by buying this microphone using the below Amazon button. It will help us earn some commission from the brand at no additional cost to you.
Articles That Might Interest You!
F.A.Q
is BOYA a Good Brand?

Yes, Boya is a good brand as the products we have used till now offered great built and are durable. But we can't say about the service quality as none of the products have gone bad!
Boya BY-M1 Doesn't Work With Adacity?

if your Boya mic is not working or giving issues with Audacity then you need to install a few drivers that you can get from Google. In many cases, installing a Realtek Audio Driver enables the Boya mic in Audacity.
is Boya BYM1 Good For Singing?

Yes, Boya BYM1 can be used for singing but do keep in mind, it's an omnidirectional mic which means it will capture audio from all sides. Hence, you have to maintain silence in the room.
is Boya BY-M1 Omidirectional?

Yes, Boya BY-M1 or Boya MYM1 is omnidirectional.
Boya BYM1 Review, Signing off!