[Updated on 18 July 2023] It's been around 8 months and this kettle works well and built quality is not a problem either. You can check out this product. Back to Lifelong LLEKBT01 Electric Kettle 1.5l review!
Among the greatest inventions in human mankind, an electric kettle is quite an important one! Well, I don't use to believe that but from the last few years in Covid and home quarantine, electric kettles have been a great help.
Secondly, working from home, I've completely shifted to an electric kettle from the traditional gas Chula for the sake of tea and coffee. Because it is convenient and quick.
Initially, I was using the Pigeon Electric kettle (Review) which is a straight-up competition to the Lifelong electric kettle. So in this Lifelong LLEKBT01 Electric Kettle 1.5L Review, I will compare it with the Pigeon as well!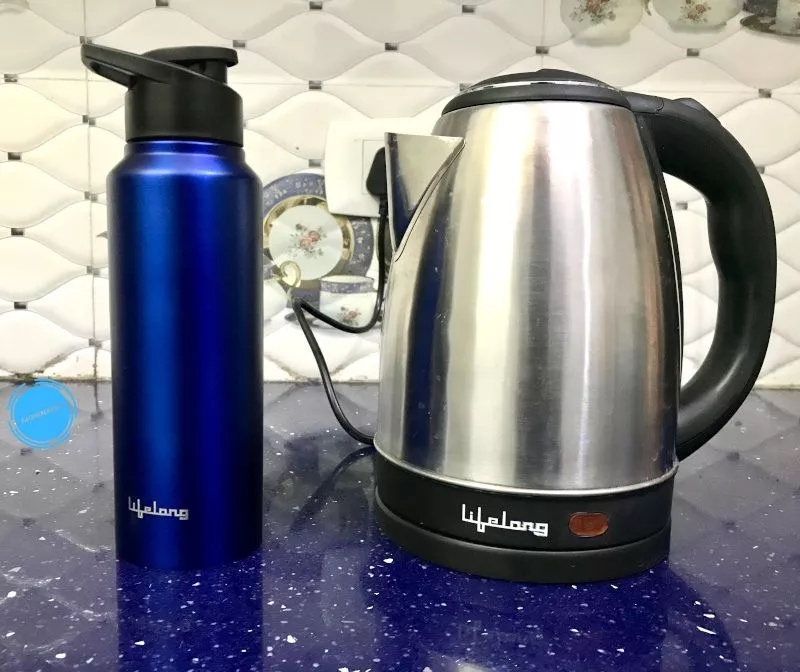 Padhkedekho.com is supported by readers like you. Some links below are Amazon-affiliated links. Making your purchase using them will help us earn some commission at no additional cost to you. This helps us to run the website and keep the experience ad-free!

Admin
Lifelong LLEKBT01 Electric Kettle 1.5L Review – Pros & Cons
Built Quality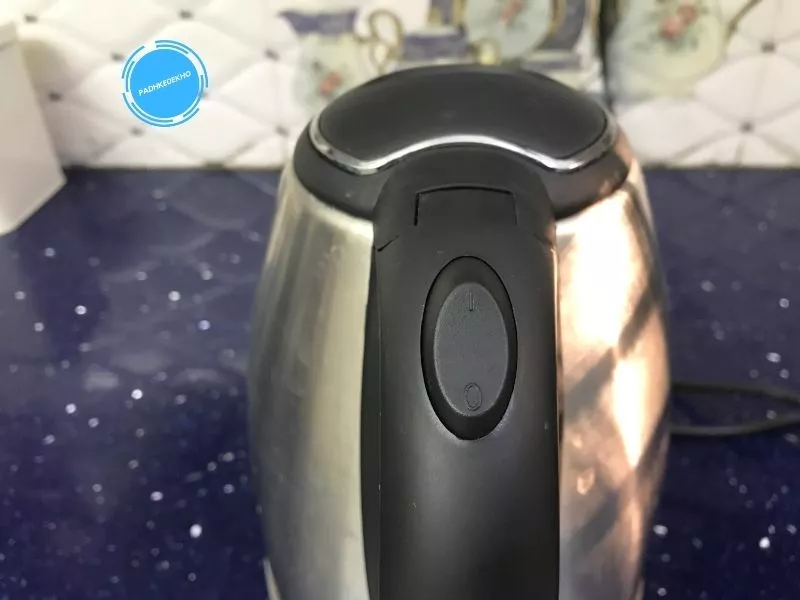 The entry-level electric kettles start with Stainless steel construction which is a good thing. But not all offer good built quality. I can confidently say, the Lifelong LLEKBT01 electric kettle 1.5L offers good built quality. This is coming after using it for 4 months.
Typically lower built electric kettles start to lose grip from the bottom plastic. Which means they offer weak adhesive. The good thing is, I've not experienced any issues with this Lifelong electric kettle.
Now you can buy the Lifelong LLEK15 electric kettle (which is around 600 Rs at the moment ) or the Lifelong LLEKBT01 (this comes with a stainless steel water bottle combo) has similar features and built quality.
To be honest, built quality is the most essential thing to look out for when buying an electric kettle. Because the life of the kettle is based on it. If you like me who uses a product for at least a year, then Lifelong LLEKBT01 makes more sense. Even it's better than the Pigeon Amaze Plus electric kettle at this price.
Features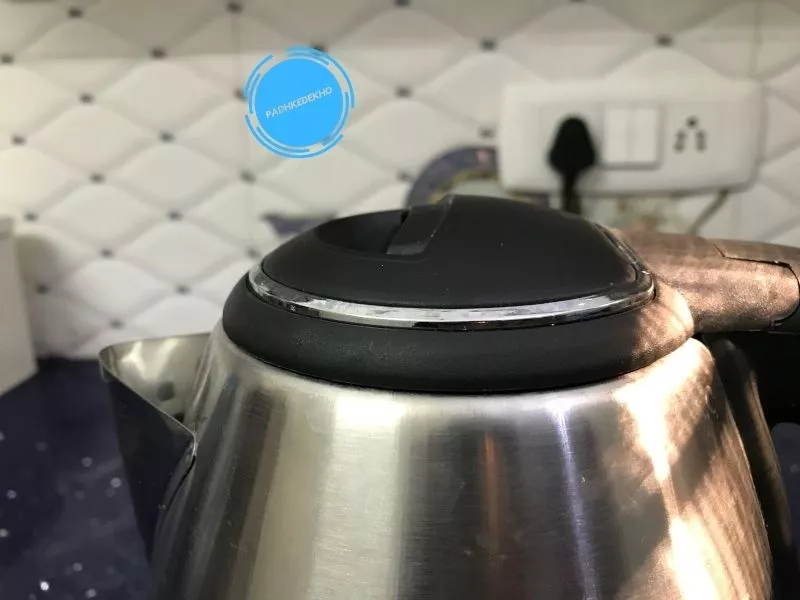 It brings quite exciting features to the table. The most important feature is auto switch off. What it means is, the electric kettle will stop the heating process if there's no water in the kettle. Trust me this happens many times. When you leave the kettle full and someone filled a water bottle with that hot water!
This way, it prevents the kettle from producing dry heating. This is the primary reason for the electric kettle getting damaged and ultimately stopping to work! So Lifelong has thought about it and given this important feature in a budget electric kettle.
Another interesting feature is overheating protection. In layman's terms, it's Auto Cut. This electric kettle will automatically stop the heating once the water inside has reached the boiling state. In this way the electric plate will stop the current flow as a result the thermostat will not get damaged due to excessive heat. So this feature ensures the long life of the electric kettle.
Since the water inside the kettle will be reaching boiling temperatures, it means you cannot simply hold it with bare hands. In this kettle, you'll get a cold handle that stays cool even at the boiling stage. Unlike some kettles, whose handle also gets some amount of heat this one does not. So with this kettle, you don't have to worry about feeling the heat on your hand.
Another thing to talk about is the heating element. It can boil the "max level" of water for under 7 minutes. This reading is taken when the water temperature was about 5 deg Celsius! In the summers the reading will be much less when water will be around 25 deg Celcius.
Boiling 1.5 liters of water under 7 is quite impressive. Moreover, 1.5L capacity is no joke either! You can easily make up to 10 cups of tea/coffee(depending upon the size of the cup) for an evening party without any stress.
So as per the price you are getting many practical features that will make your life easier.
Usability
Okay… So there are some misunderstandings about an electric kettle that many have. E.g. Lifelong electric kettle itself can only be used for boiling water. Many people think they can make Maggi, tea, coffee, or boil eggs or milk but this should not be done.
But if you are willing to take the risk and clean it afterward then you can do it. But if anything goes wrong it will be your responsibility only. Here's a link on how to clean an electric kettle!
So to be safe, just use it for warming or boiling water. And then use the hot water for making Maggi or tea or coffee or perhaps just to drink it. I hope this would have cleared some doubts.
if this is your first time with an electric kettle then you should know the following points:
Always keep some water in the kettle.
Never keep water below or more than the market values inside the kettle.
The lid should be kept closed when the kettle is on.
Never open the lid in between boiling as water can fall out.
Keep out of reach of small kids. The body can be hot and can cause some problems.
Using an electric kettle is very convenient and time-saving. Secondly, the residual of making tea and afterward is quite less. I.e. at the max, you will have a dirty cup and a used tea bag but at least the tea pan will not be dirty. So if you are a bachelor or want to use fewer utensils then an electric kettle makes more sense.
And on top of it, the electric kettle is way faster than gas Chula. Boiling 1.5 liters of water on a Lifelong LLEKBT01 electric kettle takes less than 7 minutes. Whereas, that amount of water will easily take 15 minutes on a gas Chula. So electric kettle not only brings features but is also practical.
What About Cleaning?
The electric kettle's outer body never gets that dirty. Only water droplets leave an impression that can easily be cleaned with a damped cloth. Whereas, if you'll be only boiling water then you don't need any cleaning from the inside for at least a month. Then afterward, you can rinse water as you do in a new water bottle before using it. And it will be good to go!
if by mistake you have boiled milk or tried to make Maggi in it then don't worry you can clean the kettle. But you'll require a few things. In this article, we've talked about how to clean an electric kettle. After reading it, you will not require to buy a new kettle.
Is Lifelong Electric Kettle Better Than Pigeon Amaze Plus?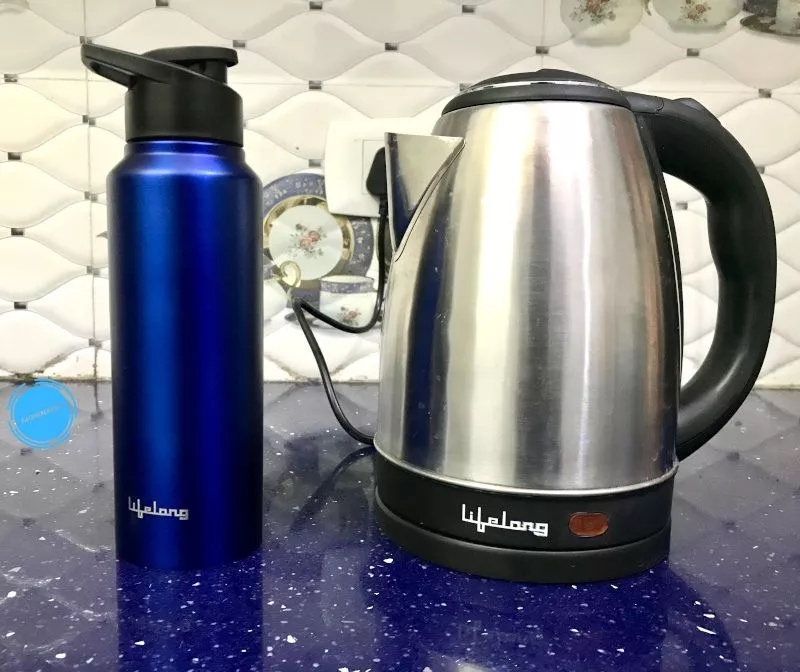 Both are good electric kettles under 1000 Rs. But if I have to choose then it's Lifelong electric kettle that I will rank more.
Why? It offers a better build. It is distinctly visible from the 360 deg swivel that comes in the box. Lifelong gives a good quality swivel. Whereas with Pigeon the base is not flat from the surface.
Secondly, the adhesive that joins the stainless with the plastic bottom of the Pigeon Amaze Plus electric kettle was very weak and after 3 months of use, I had to apply Elfy to keep them together. It was a good fix, as even today it is working fine!
Another reason will be the length of the cable. It is quite long on Lifeline. Whereas on Pigeon it is very tiny.
On paper, Pigeon Amaze Plus also comes with auto-off while dry heating. But somehow it doesn't work on my model. Maybe they introduced this with the newer models? or Maybe I've applied Elfy for the fix!
So not only does Lifelong offers better features but in terms of practicality and longevity going with Lifelong is a better idea.
If you are interested in Lifelong, then do consider going with this model as it comes with a blue stainless steel anti-spill water bottle. It's a great one. I take it outdoors too in a backpack and it has not damaged the papers or the laptop.
So coming to the end, the Lifelong electric kettle is a good one under 1000 Rs. One should buy it without any doubt.
Wrapping up!
There you go, guys, this is the most detailed Lifelong LLEKBT01 Electric Kettle 1.5l review you will ever read! If this was of any help then do share it with others so that they should beforehand what they are getting into!
Got last-minute doubts about whether this is good for you? Then feel free to reach out on the below social accounts. We are helping our readers for the last two years!
if you have made up your mind then please use the below Amazon link as it will help us earn some commission from the brand at no additional cost to you. It helps us in keeping the website up and running and without ads of course!
Articles That Might Interest You!
F.A.Q
Which Electric Kettle is Good For Daily Use?

I've been using Lifelong LLEKBT01 1.5L electric kettle for the past 3 months and it's been pretty good. It is quite economical at about 800 Rs and comes with great practical features too! Here's a detailed review for you. Click now to learn more.
Which Kettle is Good For Home Use?

For home use, you can buy an electric kettle that comes with dry heating protection and auto cut feature for the family. Both of these essential features are present on Lifelong LLEKBT01 which is under 1000 Rs as well. Click here to learn more!