[Updated on 18 July 2023] It's been 7 months and Noise Buds VS 103 are working fine. No battery issue no connectivity issue. You can confidently check it out. Back to Noise Buds VS 103 Review!
There are so many TWS earphones available in India and all try to offer something different. Many present us with touch controls. But mostly earbuds miss volume controls.
Noise has thought about it and here's Noise Buds VS 103 with all of the features along with volume controls too!
So in this Noise Buds VS 103 review, we have done our testing for a few weeks before publishing the article.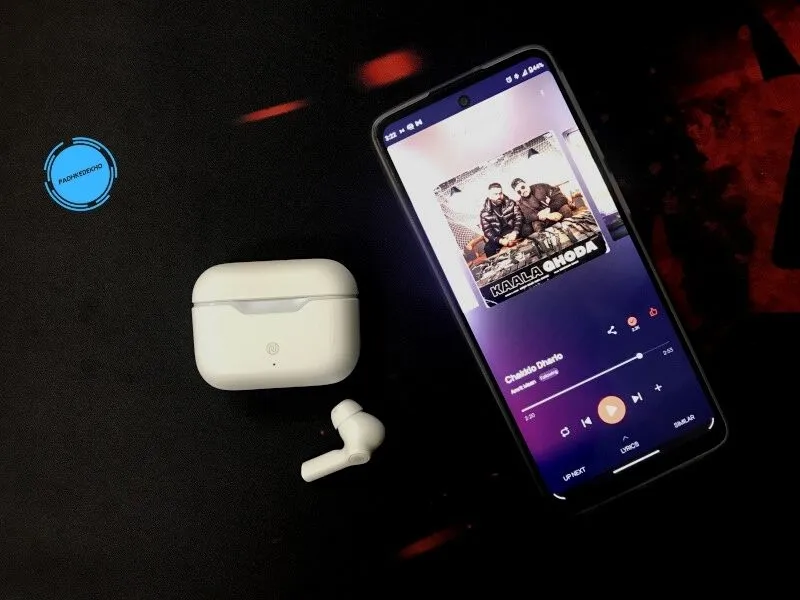 Here we will talk about its pros and cons, built quality, look and feel, features, audio quality, mic test, gaming latency, battery backup and so much more. So let's get started with the Noise Buds VS103 review.
Padhkedekho.com is supported by readers like you. This article has some Amazon-affiliated links that will let us earn some commission at no additional cost to you. This helps us to buy new products and bring honest and consumer-centric reviews to our audience. Thank you for supporting local talent.
Pros and Cons
Noise Buds VS 103 Review – Built Quality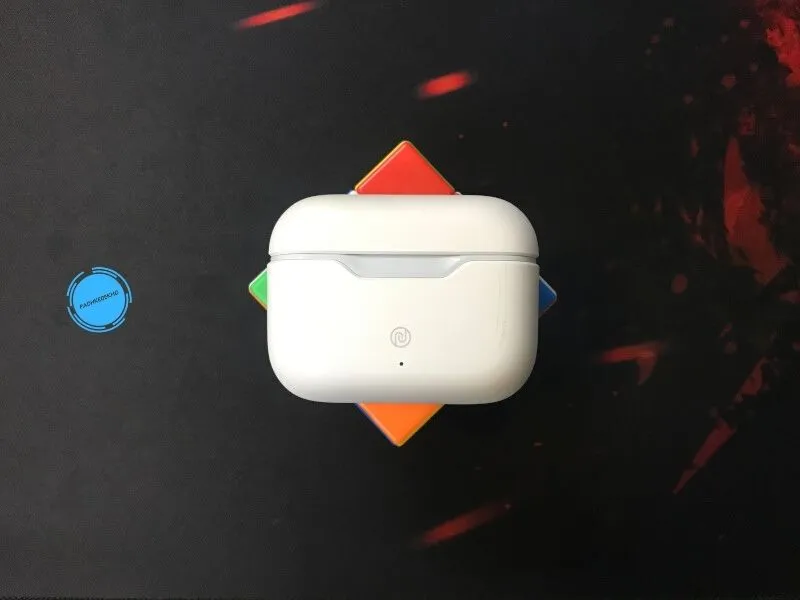 Under 1500 Rs, we can count tws earphones that offer good quality carry case as well as earbuds. One such tws option is Noise Buds VS 103.
Though the overall construction is of plastic still it feels quite premium. The case has no rough edges or any squeaking voice. As per as the hinges on the carry case are concerned they are quite good and can be operated with one hand.
The magnet that holds the earbuds in the case, is not very strong but the buds don't fall off if you put the box upside down!
Just like the case, Buds offers a similar level of quality. They don't make a squeaking noise and feel sturdy while checking them out.
Under 1500 Rs, we are quite impressed with the built quality, and seems like Noise has done its homework!
Built Quality: 4.5/5
Check The Best Deal on Amazon || Buy From Noise
Look & Feel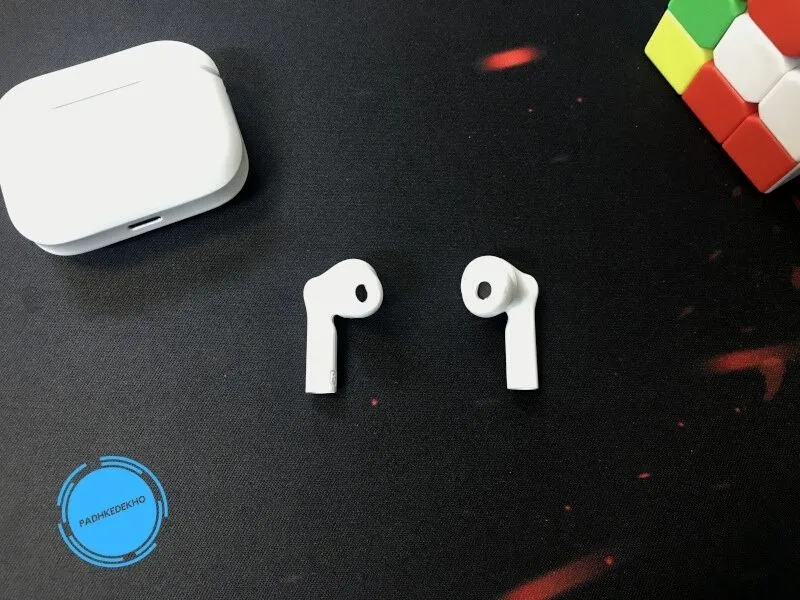 Do you like the more matte design or the glossy one when it comes to carrying cases? Personally, I prefer the matte as it doesn't show scratches in the lower run and secondly, the matte gives an impression of premium. So in terms of case design and matte look, Noise Buds VS103 get full marks!
In terms of the looks of the buds, Noise has chosen a tried and tested design language. Which are Silicone ear tips and a long stem that has the mic and the magnets to charge. Just like the shape, the color choices are limited to Jet Black and Pearl White.
So if you like the Apple Airpods-inspired design then you can go with these. As per my linking, I feel the stem is quite thick. It could have been a little slimmer like Mivi DuoPods A25. But looks are subjective and you might have a different opinion.
Noise Buds VS103 impressed us with the grip and fit. If you like earbuds that will stay in your ears while you are running, jogging, or doing cardio or muscle workouts then you will love this one! Secondly, we have tested it for longer hours like 4 to 5 hours on a stretch, and had no issue of pain or discomfort.
The earbud is slightly bigger than the regular size, so if you have small ears you will need to change the silicone ear tip with smaller tips available in the box. The total you get three pairs.
So in terms of look and feel, Noise Buds VS103 is a standard-looking earbud but ideal for workouts and usage while moving.
Look & Feel (case): 5/5 || (earbuds): 3.5/5 || Grip: 4.5/5
Check The Current Sale Price on Amazon || Buy From Noise
Noise Buds VS 103 Review – Features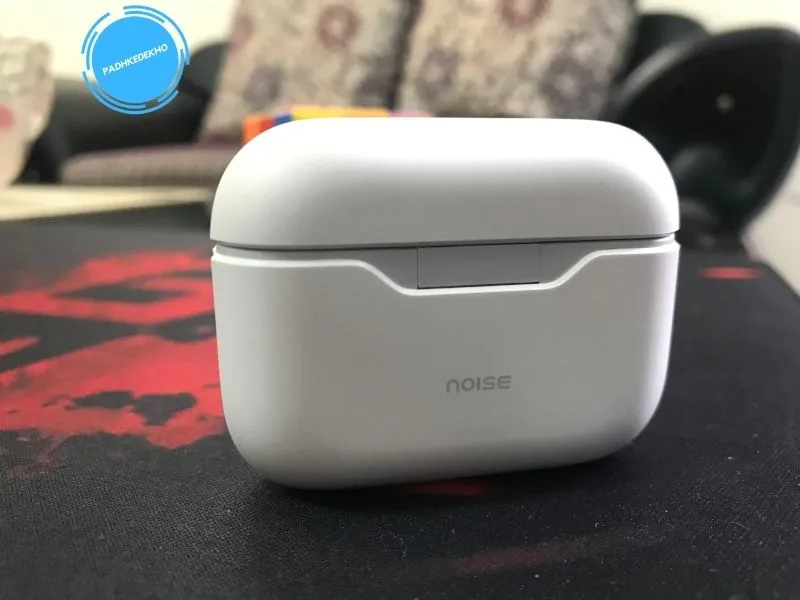 When it comes to Features we are most impressed with BoAt earbuds. Since those pack many features. For context, I am talking about BoAt Airdopes 141. It comes with touch controls, supports fast charging, and IPX5 water resistance under 1500 Rs. Sometimes on sale, you can get those for just 999!
But when it comes to Noise VS103 it gains a few more features but misses a major one! we will talk about it below. The good news is these features are not just on paper but in day-to-day life they do make a difference.
For us and maybe for you, volume control would have been a desired feature. I've personally tried many tws and this is where I was always left desired for more.
That's not all on offer! Noise has done acceptable homework and brought some exciting features to the table like Hyper Sync Technology with Bluetooth 5.0. Once you have paired your smartphone or tablet, etc with these, the next time you will try to connect, they will connect within 3 seconds. That's quite impressive! If you have used BoAt earbuds with IWP (Insta Wake N Pair) it is just like that.
For many people including me, the faster it can connect to the smartphone the better! It's even better than some of the earbuds with Bluetooth 5.1 we have tested!
Since the buds deliver a great fit, offering IPX5 water resistance gives you the freedom to hit the tarmac while working out in the gym or just running and meeting your cardio goals. As we also own BoAt Airdopes 441 (that's for the fitness people). if you are like us, then it's also quite acceptable despite it doesn't come with ear hooks.
Now for charging it comes with a USB-C slot, which is good. But what is not good, is it doesn't support fast charging! it's the biggest bummer. So how long do the buds take to charge completely? head over to the battery section to know more!
These were the few features that most people talk about. And now let's check the audio quality.
Features: 4/5
Best Buy Link || Buy From Noise
Audio Quality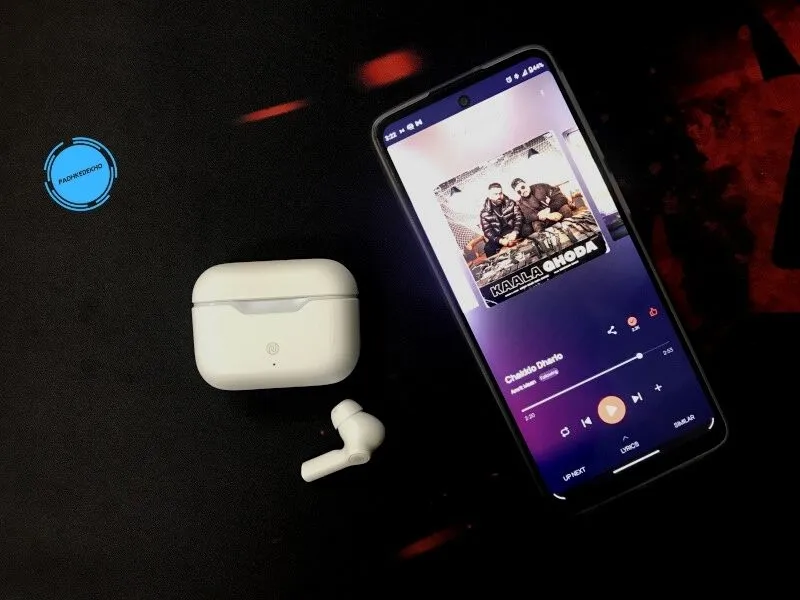 We've owned, reviewed & compared many wireless earbuds over the last two years and have got a good idea of how they sound! So you can trust our review. We're not just going behind the audio driver size and concluding our verdict!
Coming back to Noise VS 103, they do pack in 10mm audio drivers for each earbud. And the moment you will play the first song you will appreciate how loud these earbuds can go. if you were used to listening at full volume then with these, you will not go beyond 75% volume. Sure you can hit 100 and enjoy distortion-free music but these go very, very loud. if you have used BoAt Airdopes 161 then almost similar.
So that's about loudness. But I know you are more interested in the bass. Yes! Gotcha! Even if you don't you will enjoy the sound signature on these. At around 70 to 80 percent volume you will experience great bass. It's somewhat like Oneplus Buds Z but as soon as you go beyond that volume, the vocals, treble, and instruments pick up the pace.
For the best audio experience, we would recommend staying close to 60 to 70 percent. You will experience good bass, sharp vocals, and instruments for any genre.
So if you are behind the great audio quality and a punchy bass then Noise Buds VS103 is great!
Audio Quality (overall): 4.5/5 || Bass: 5/5 || Trebel: 3.5/5 || Vocals: 4/5
Check The Sale Price || Buy Directly From Noise
Noise Buds VS 103 Review – Battery Backup
When it comes to battery, Noise Buds VS103 has a 380 mAh carry case. That can allow up to 18 hours of audio bliss and 4.5 of continuous playback. These are claimed figures. Our testing that was undergone for a few weeks had a different experience with diverse users.
On a stretch, the buds can go as high as 5.5 hours at a volume of about 50 to 70%. If you have a habit of listing at full volume or above 70% then you can witness about 4 hours. Which by any means, is not bad!
Since the buds and case don't support fast charging hence 5 watt 1-amp charger is recommended. Using any other power will not make it charge faster. Plus you can even harm the battery. Hence, use a 5-watt 1 amp charger only.
So how much time will the buds and case take to charge completely? Well, the earbuds charging time is about 2 hours. This is quite similar to the carry case as well.
We've tested many tws earbuds that can hit 7+ hours on a stretch. Hence cannot say that the battery backup with Noise Buds VS103 is amazing. However, around 4 hours of juice is enough for a few episodes or perhaps a movie!
Battery Backup: 3.5/5
Checkout The Best Deal on Amazon || Buy Directly From Noise
Gaming Test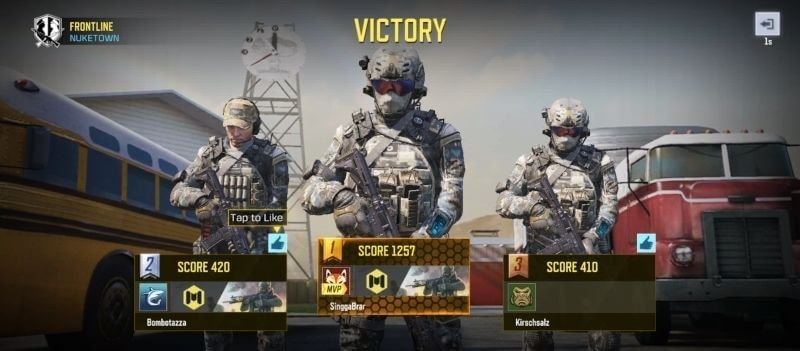 Gaming via wireless earphones and headphones doesn't always have a pleasant experience. But Noise VS103 is quite the opposite! You will experience almost non-existing latency while playing fast pace shooting or racing games. This surprises us too since it doesn't have a dedicated low latency mode or gimmicks but does gaming right!
It also implies watching videos on YouTube, Netflix, etc. So if you need a wireless solution but a latency-free user experience then Noise Buds VS103 gets a clear recommendation.
Gaming Experience: 4/5
Check the current sale price || Buy From Noise Assured
Noise Buds VS103 Review – Mic Test
To be honest with you, if you are looking for a tws with good call quality then you can go with Mivi DuoPods A25 or BoAt Airdopes 141. Both offer crisp vocals and no network breaking was experienced while testing.
Whereas on Noise Buds VS103, your audio will sound original i.e. the way you speak to others face to face. This is good and increases engagement. This comes as a consequence that the mic tends to capture more background noise like announcements in Metros or people's chatter in the market. This however at home or indoors will not be an issue.
Mic Quality: 3.5/5
Should You Buy Noise Budd VS103?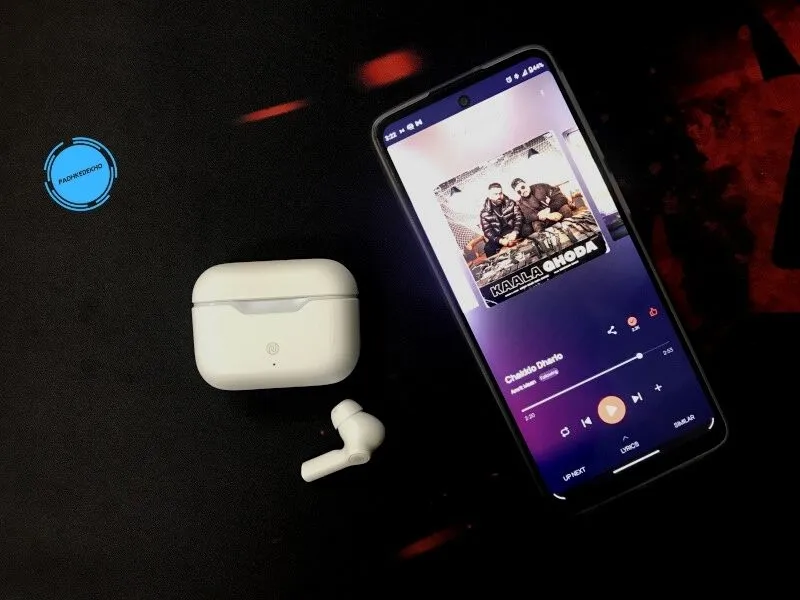 Noise Buds VS103 is a great TWS option under 1500 Rs. Why? Because it offers good built quality be it earbuds or the carry case. Built quality is important as it reflects longevity because not all people change earphones every second month!
Secondly, the design of the earbuds is good as it offers more grip. Moreover, you get 3 total pairs of silicone ear tips that will help you find the best comfort and grip.
Noise has given good quality 10mm audio drivers that deliver distortion-free audio quality with great bass and sharp vocals. This sound signature is great for listing to songs and content consumption. Moreover, the earbuds can go very loud.
Though it offers Bluetooth 5.0 the range or audio breaking was never a problem. Additionally, the Hyper Sync Technology is snappy that within 3 seconds it can form a connection.
The battery is also not a problem either. You can get anywhere between 4 to 5.5 hours on a single go depending upon use.
Like all the earbuds this one also has its cons or shortcomings.
if Noise takes these points positively and works on them, then their products will be among the top-selling ones. They do have potential but some work has to do.
To begin with, the lack of fast charging upsets a little. Even earbuds under 1000 Rs support fast charging.
So to sum up, Noise Buds VS103 offers great value at 1500 Rs and without a doubt, if these cons don't affect you, then you can clearly go with it! And most importantly, do you need volume controls? then this is the one to get!
Checkout The Best Deal || Buy From Noise
Wrapping up
That's about our Noise Buds VS103 Review. if this was of any help then do share it with others and let them know what to expect! Got last-minute doubts? Then, feel free to reach us on the below social accounts. We love to help our readers! We're doing this with love for two years now!
Like the review? Then, do support us by placing your order using the below Amazon link. It will help us earn a small commission from the brand at no additional cost to you. By this, you encourage us to buy new products and produce honest and genuine customer-centric reviews. Thanks for supporting local content.
Articles That Might Interest You!
F.A.Q
Is Noise VS103 Good?

Yes, and no! It totally depends on what you are looking for. if you need good-quality audio, touch controls along other features, then yes it's a good one. But for calling it's not that good. Rest we have talked about it in our detailed review after weeks of use. Click now to learn more!