if you spend more than 3 hours looking down at your laptop screen every day then the odds of neck pain or Cervical Spondylosis are very high. Though it's natural and it's not life-threatening, however, it's totally painful and hampers the work routine.
Since work requires your time you can always check out some alternatives to make your life easier.
One such product is a laptop stand. As the name implies, a laptop stand holds the laptop at a tilted angle at a height which ultimately helps you with your seating posture.
Here's a little demo that can help you understand the concept.

A while ago we bought a budget STRIFF laptop stand (Review) that cost half the price! It's been a good purchase but we were willing to buy a good quality laptop stand. And here's Amkette Ergo View that we've been using for over a month and here's our Amkette Ergo View Laptop stand review!
Here we will tell you about the unboxing experience, built quality, looks, features, usability, and finally our verdict. Since we've used around 5 laptop stands so far we are also sharing some of our recommendations below as well.
So with that said, welcome to PadhkeDekho. suppose you are new around here. At PadhkeDekho, we provide customer-centric reviews of tech products and accessories upon using them for at least a month. It gives readers like you insights that help in decision-making.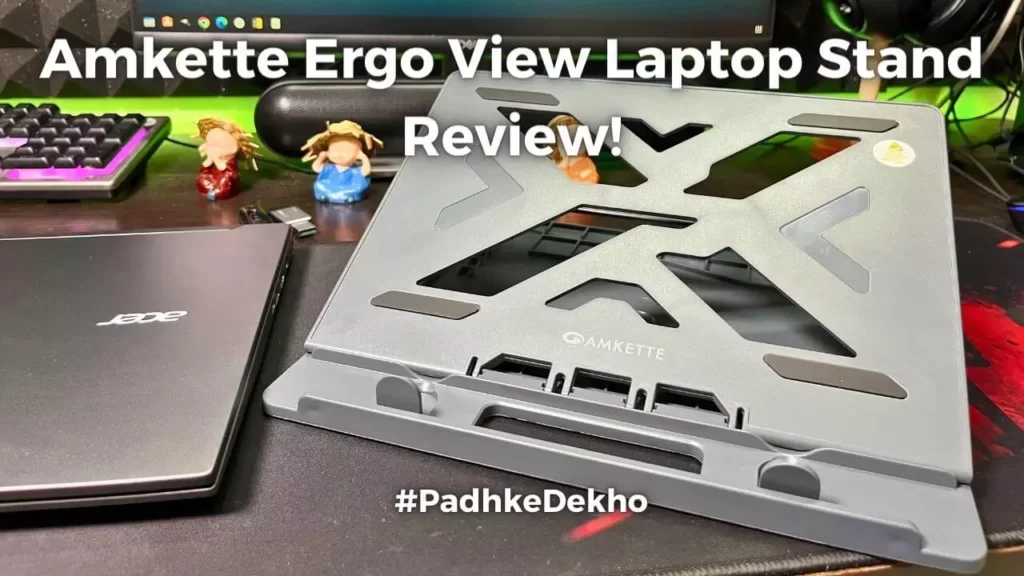 Since we are supported by readers like you. Buying anything using the Amazon links on this page will help us earn a small commission at no additional cost to you. This however does not affect our feedback regarding a product.
So let's start the Amkette Ergo View laptop stand review with Pros and cons
Box Contents/Unboxing Experience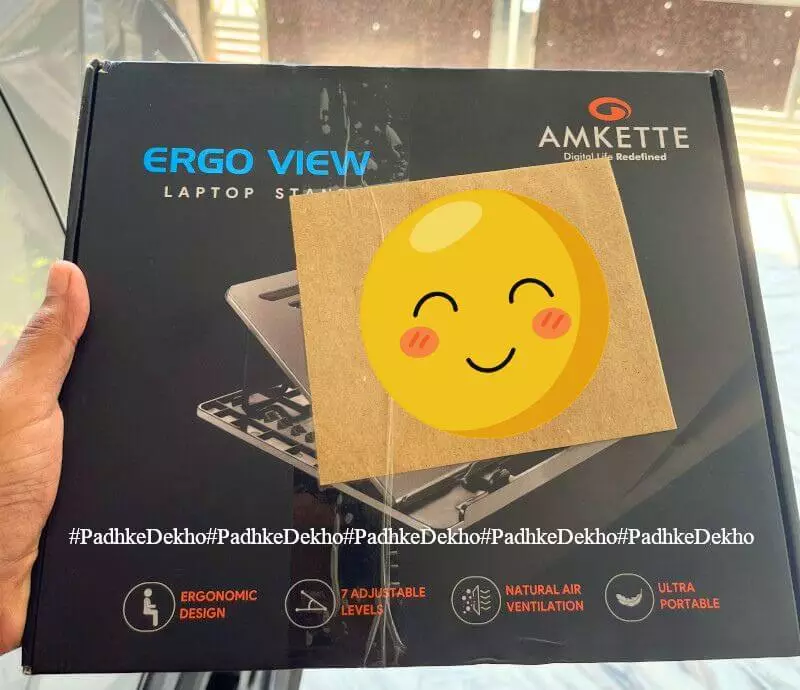 We've bought 5 laptop stands so far and all come with just the brand's cardboard box. This raises a few concerns as sometimes the plastic on the laptop stands breaks. This happened with our STRIFF laptop stand that we mentioned in the review.
We were quite skeptical until we got our unit and unboxed it. The plastic taping was untempered and the box felt fresh like a new box. Thanks to the bubble wrap the laptop stand was not broken or damaged. Our parcel came from Tamil Naidu (South India) to Dehradun (North India)!
In the box, you get a laptop stand wrapped in bubble wrap and an angle adjustment guide. Bubble wrap was a nice touch. While many laptop stands come with a plastic wrapper. Good job there, Amkeete.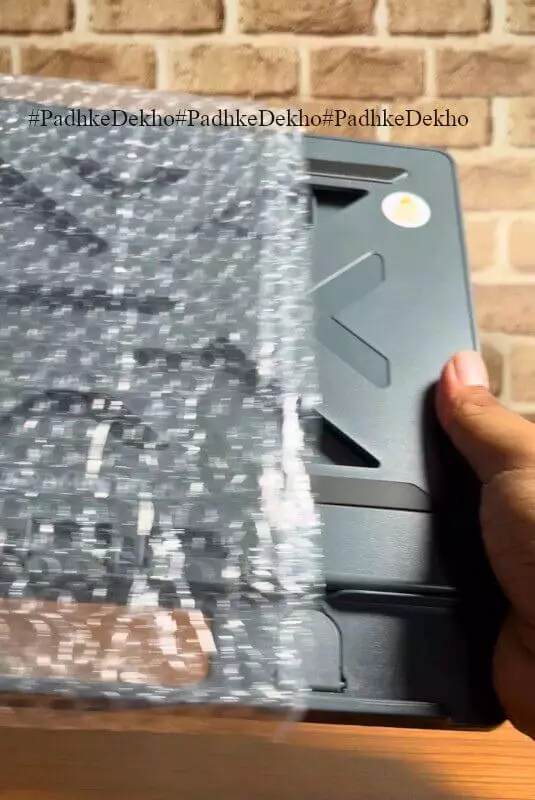 So our unboxing experience was good. 5/5. Though we wished Amazon box could've been there.
Built Quality (10/10)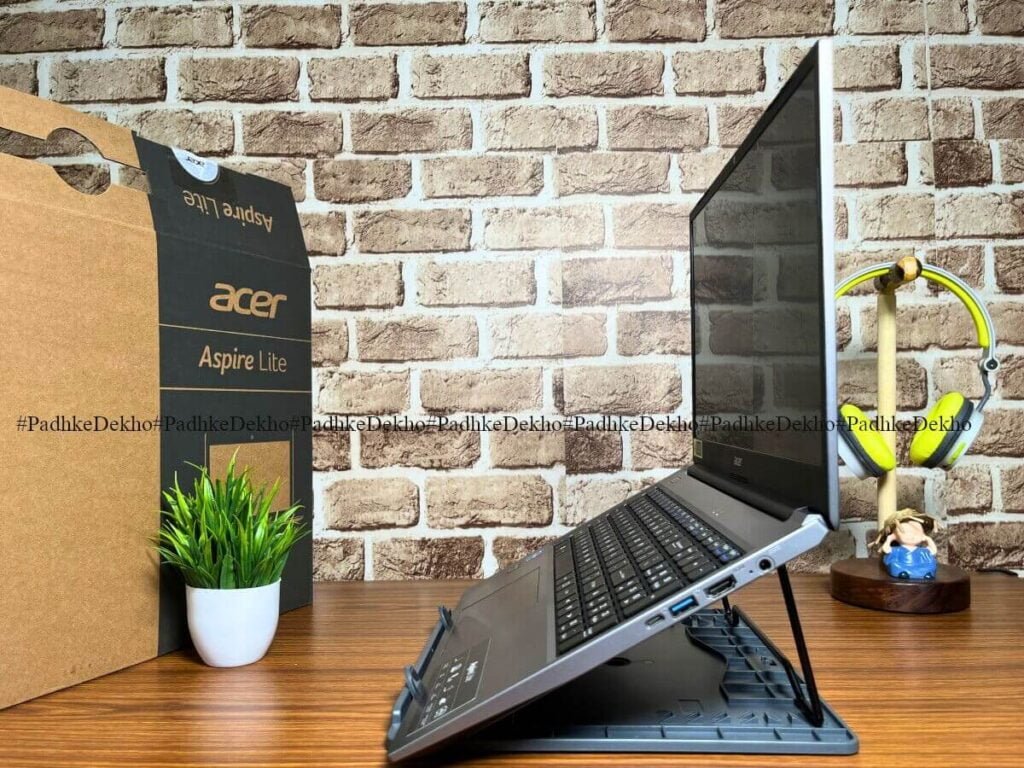 The overall build of the Amkette Ergo View laptop is plastic, which is a good one. There are no uneven edges or sharp corners that can discomfort you. Attention to detail is given around the corners, front, and bottom.
The height adjuster is pure metal and feels strong when adjusted. It's rigid and the laptop does not lose grip.
As far as rubber grips go you get plenty of those; 4 on the surface where you will put the laptop, 2 near the trackpad, and 4 on the bottom where the laptop stand will rest.

Note: Do remove the plastic wrapping otherwise your laptop can slip.
So, are the rubber grips work or are they just for show? Well, they are solid. We've talked more about those in the user experience section below
Hence for the built, the Amkette Ergo View laptop stand gets full marks; 10/10!
Looks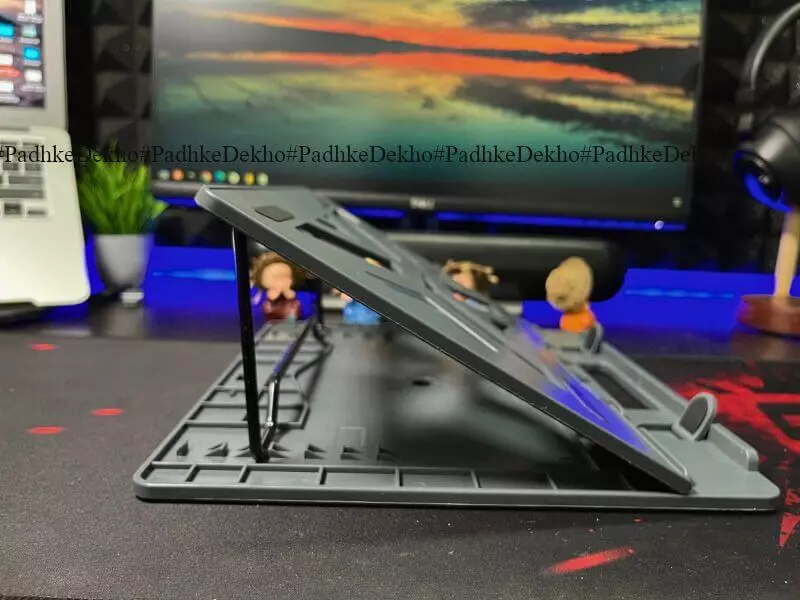 Unlike many laptop stands, that just come in one color; Amkeete Ergo View comes in two color options; Grey and the other one is Black. We bought it in Grey color since it adds dual color combinations as the height adjuster is Black.
So how does it look? Well, it looks top-class for sure. From an angle, it speaks quality. The detail in everything is quite visible.
Even the color remains the same even on the bottom where many laptop stand cut corners with a lighter color bottom. This color goes very well with Dark Grey, Black, and Silver laptops.
Hence for looks, Amkeete has done a good job. I honestly do not like laptop stands where brand name stricks as the first thing. Though Amkeete has also given their logo it hides when you put the laptop on top.
Therefore, for looks, the Amkeete Ergo View laptop stand gets an 8.5/10.
Features
1: One Size Fits All! Thanks to the design, this Amkeete laptop stand can hold any laptop you have. Be it a 10-inch notebook, 13-inch Macbook, 14-inch Dell Vostro, or a full-size 15.6-inch laptop. This laptop stand will grip it like a baby and not let it fall.
2: Heat Dispersement: Amkeete has done something clever here. Instead of giving a full plastic base, they added big cutouts that help in heat dispersing. Sure it's not like the cooling laptop stands that you buy for the same price, but it's still better in context to not using a laptop stand.
3: 7 Level of Adjustments: That's the point you will buy this laptop stand. It offers 7 height adjustments that come in handy when you have multiple tables or no tables at all to work on! The maximum and minimum angles are decently set using the metal adjuster on the back.
4: Non-Skid Design: Many laptop stands are good but lack good quality rubber skids. Not only on the surface below the laptop but also on the bottom of the laptop stand. Amkeete Agro View laptop stand had a total of 5 non-skid rubber stoppers below the laptop. 2 skid plates near the trackpad and 4 on the bottom. This ensures an amazing grip on wood/Plywood(non-glossy) tables and even glass tables.
5: No Scope of Sctraches: We've used a few metal laptop stands that leave scratches on the back, bottom, and around the trackpad area. That's certainly you will not wish for your new laptop!
That's why we went with the Amkette laptop stand. The edges are smooth, the rubber grips quite well and the back panel has 5 rubber grips that work as raisers too. So the laptop surface does not get scratched.
Hence for features, Amkeete Argo Laptop Stand gets a 9/10.
User Experience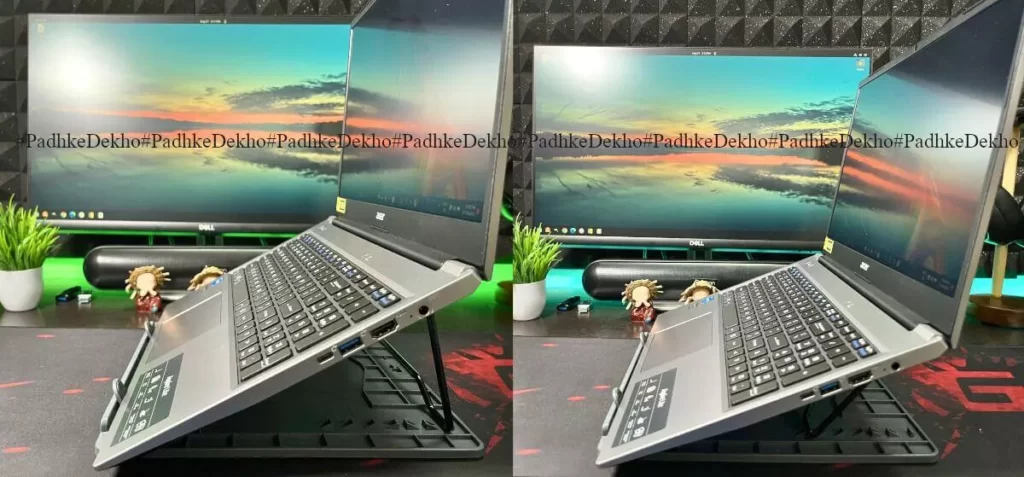 It's been over a month of daily testing on the Amkeete Ergo View laptop stand and so far it's been worth the price.
Let's first talk about portability. the laptop stand is compact and can quickly be taken in a bag-pack along with your laptop. We have tested in three different bags and we faced no issues.
The laptop stand has a 7-level adjustment. We measured the minimum height as well as the maximum height along with their angles so that you can have a better idea.
The minimum height is 2.5 inches and it goes to 5.5 inches. Hence, you can choose the height and angle as per your comfort.
While there are laptop stands that offer more height typing on these or using the trackpad becomes an issue. In those cases buying a separate keyboard and mouse will be essential.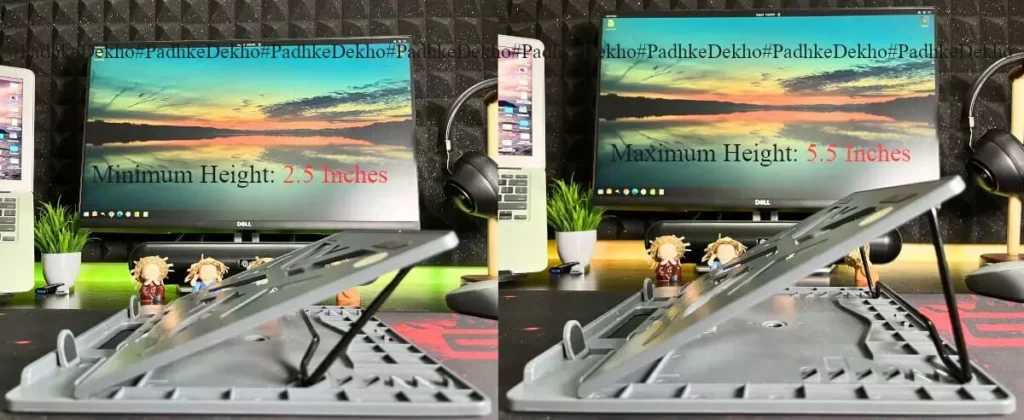 Since the Anti-skid rubber stoppers are raised and grip any surface quite easily, we did not have any issues with a big gaming mouse pad, Glass tables, Wood tables, and even bed tables which are generally plywood tables.
So, you can trust the Amkeete laptop stand with your expensive laptop.
The angle adjuster is metal which gives more confidence. It snugs in all the cutouts quite easily and stands firmly. We tried the lowest angle with a heavy Dell laptop and the laptop stand did not collapse or get stressed.
Many budget laptop stands wobble when you type on them. Whereas on Amkette the wobble is quite less. if you are a hard hitter then you should use a keyword and a mouse.
Even if you type softly, it's better to buy an additional keyboard and mouse because there will be a tilt angle and it can cause some pain after prolonged hours of use.
One more thing to talk about here is the heat dispersion. Since the elevation is quite good and then there are big cutouts on the laptop stand that help to cool down the laptop naturally.
This will not only help to cool down your laptop but also help to improve your laptop overall life as heat is the biggest enemy of tech gadgets.
So far our user experience is quite good. The only thing missing on the Amkette Argo laptop stand is the phone/tablet holder. Though it's not a deal breaker it certainly helps to keep devices aligned and the table looks clean.
So Should You Buy an Amkette Ergo View Laptop Stand? Alternatives?
Amkette Ergo View laptop stand is a good option under 1000 Rs. If you are looking for a premium good quality product that offers soft edges and speaks quality then it's worth it product.
Unlike other laptop stands, it comes with a 1-year manufacturer warranty which can come in handy if something goes wrong.
Thanks to the metal height adjuster, it takes the overall visual look and practicality to the next level. While adjusting the angle you will feel confident putting your expensive laptop on top of it.
As for looks, the Egro View laptop stand comes in two color options. Which gives options.
So is this the best laptop stand under 1000 Rs? Well, it's certainly a worthy option under 1000 Rs. Though the price could've been better.
Don't get us wrong, the build is good, the metal adjuster inspires confidence, and the grip is quite good laptop stand does not lose grip. But this is also true that you can get an air-cooled laptop stand with LED lights/Fans for a similar price.
if you prefer an air-cooled laptop stand or a laptop stand with a fan you can check out the Zinq Cool Slate Dual Fan Cooling Fan (Review soon).
With everything in mind, the Amkette Ergo View laptop stand gets our approval as a good quality laptop stand that's travel-friendly and inspires confidence. You can certainly check it out.
| Brand | Feature | Best Price |
| --- | --- | --- |
| STRIFF Laptop Stand (Review) | Laptop Stand + Phone/Tablet Holder | Amazon |
| Amkette Ergo View | Premium Built (Metal Adjustment) + Good Grip | Amazon |
| Zinq Cool Slate | LaptopStand With Fans/LEDs | Amazon |
| Amazon Basics Laptop Stand | Aluminum Built | Amazon |
The best laptop stands under 1000 Rs in India 2023
Wrapping up!
There you have it folks! This is PadhkeDekho's Amkette Ergo View Laptop Stand Review after 1 month of testing. if you have any questions then please comment below or reach us on the social accounts. We love to help our readers with the best options.
Did you like the content and feel like supporting local content? Then please use the Amazon button below to buy the Amkette Ergo View laptop stand. Rest assured you will not be charged a Ruppe extra. It helps us keep the website up and running and buying more products to review. Thanks for your support, we are 3 tears old now!
Suggested Articles
F.A.Q
Is Amkette Ergo View Laptop Stand Good?
Yes, It's certainly a good quality stand under 1000 Rs. But there are more things that you should know before buying. Here's our 1 month review. Tap now to learn more.
What is the Minimum And Maximum Height of Amkeete Ergo View Laptop Stand?
This laptop stand offers many angles between 2.5 inches and 5.5 inches. There are a total of 7 adjustments that you can choose from. Which is better? That you will get to know in this article. Tap now to learn more.
Amkette Ergo View Laptop Stand Dimentions?
The dimensions are 28 x 25 x 1.5 cm (LxBxH) when folded.