if you work on a laptop and don't own a laptop stand then you are messing with your health as well as your laptop. How? What can go wrong? In this STRIFF Laptop stand review, we will talk about those two things.
Looking down at a laptop screen constantly can not put stress on your neck but in the longer run, it can cause cervical spontaneous or similar neck problems. I've been through it, and it's bad. It can be avoided by purchasing a Computer monitor or getting your hands on a laptop stand.
On Instagram, our readers wanted us to check out the STRIFF laptop stand as it's available under 500 RS and has received quite good feedback. Since we've used it for a month now, here's our STRIFF Laptop Stand Review.
In this STIRFF adjustable laptop stand review, we've talked about the pros and cons, alternatives, built quality, features, how-to-use, our verdict, and other alternatives. So, this review is quite an important one.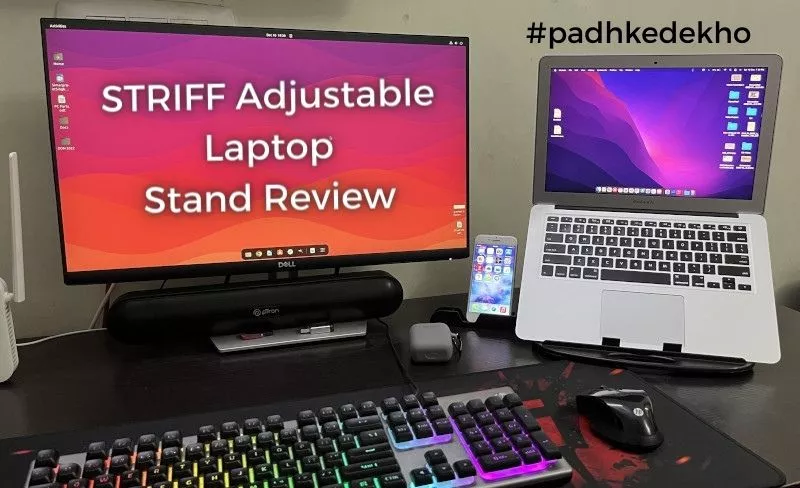 At PadhKeDekho we buy products, review them and make a few comparisons with a similar pricing products. This gives our readers a real picture of the product rather than the marketing statements. The opinions shared below are of our editorial team and their first-hand experiences. So you can trust our review. To support us, you find Amazon affiliate links that help us earn a small commission at no additional cost to you. Thanks for the support so far!
Let's start things with the pros and cons of STRIFF Laptop Stand Review.
STRIFF Laptop Stand Review – Pros & Cons
Best Laptop Stands Under 1000 Rs | Alternatives?
Best Laptop Stands Under 1000 Rs
Built Quality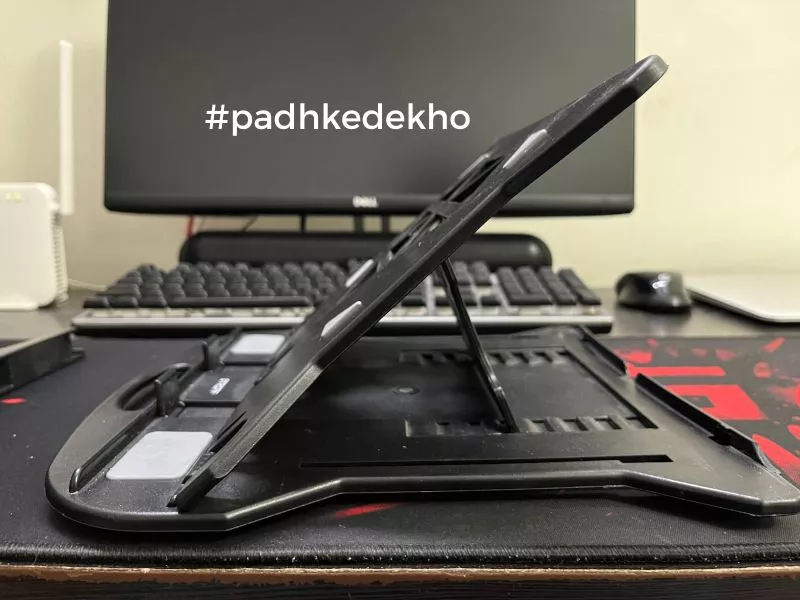 The overall build of the STRIFF laptop stand is completely plastic. Which is to be expected for the price. But the question is it durable? Ultimately can you trust putting your expensive laptop on this cheap laptop stand? Well yes, you can!
I was skeptical about the angles on this cheap laptop stand but seems like the hooks are quite sturdy and it holds the laptop at the same angle.
We tried using a MacBook Air which is lightweight and a 15-inch Acer Gateway laptop which is easily 3 KGs and a few Maths books weighing around 4 kg. The stand was as sturdy as a Nokia 3310!
But I will not give it a 10/10 because of 2 things. Because our product came a little damaged out of the box. We asked for a replacement and kudos to Amazon for replacing the device with a new one. And after a few days, got a new one and guess what it was broken from the same side! Maybe they sent it back? or did the new one also got broken in transit?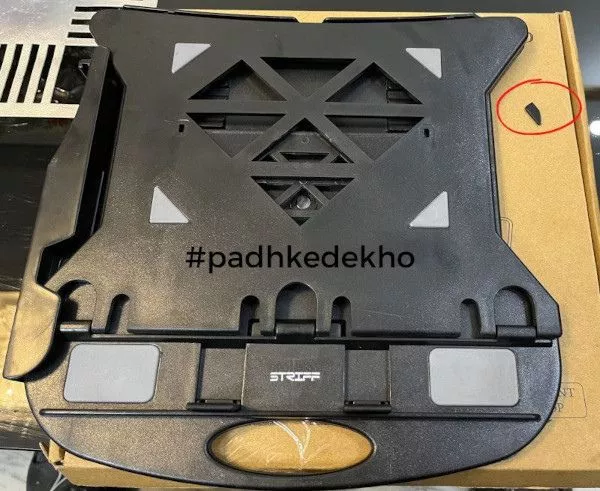 So, either the laptop stand has a manufacturing glitch or the 2 pieces I got actually got damaged. Though, the broken piece causes no issues I've tested his laptop stand for the 1 month in the damaged piece only.
Hence I will not give above 8/10.
STRIFF Laptop Stand Review Features
#1 Angle Elevation up to 60 deg: If you have been working on a laptop that's on a table you can still feel a stain on your neck because you are seeing it down for a very long time. This laptop stand offers 7 angles on a laptop stand help to raise or lower the screen height which will give you pleasure when you look at it.
#2 Prevents Overheating: on the bottom of your laptop, you will see air vents. From there the fans disperse the hot air produced while you are working even if your laptop is "just on". With more work, the heat will increase. Heat is a serious issue in the longer run. It causes the laptop internals like HDD, RAM, power supply, etc to depreciate the total life span. or even damage a component.
So having a laptop stand is vital for your laptop. These elevations not only help to keep your laptop cool but also improves performance.
#3 Phone Holder: Be it any profession you work looking at multiple screens is "part of the job". So having a phone holder is a blessing. on the STIRFF laptop stand you can choose where you want to mount your phone; either on the left or right of the laptop. The phone holder is adjustable as per user need.
#4 Book Stand: Since the laptop can withstand up to 55 LB of weight you can mount any book and have a good time. 55 LB is a wide claim and we test with a few heavy books we had!
So as per features and keeping in mind the price of 400 Rs makes STRIFF laptop stand it irresistible to ignore. Hence 5/5!
STRIFF Laptop Stand How to Use?

if this is your first laptop stand then you will need to be more careful. Because the hinges are delicate and the overall plastic will not be strong enough. So how to open the laptop stand?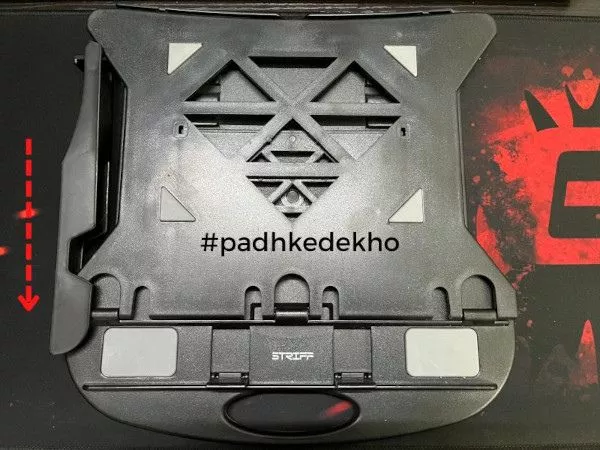 But before that, you will need to remove the phone holder without damaging it! So you will need to hold the phone holder and gently pull it downwards. It will pop out.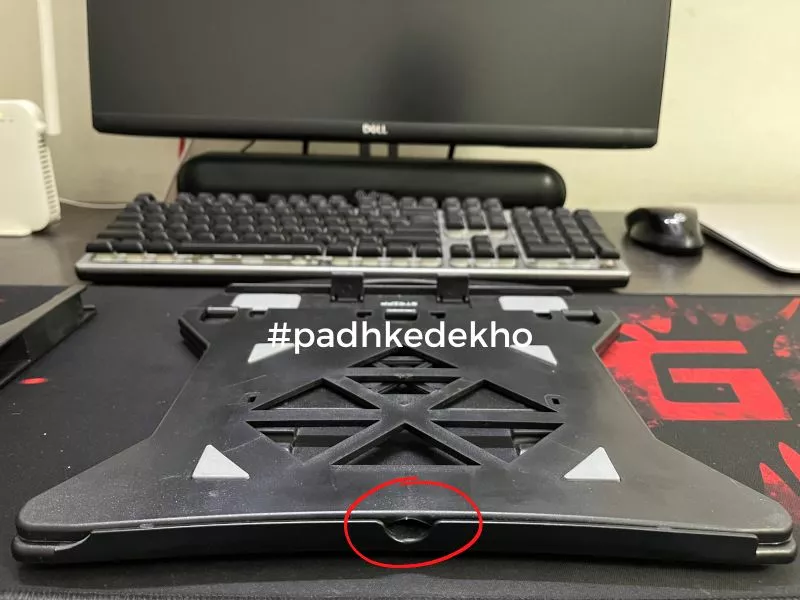 Do you see the center cutout? Here you have to pull and apply force. Since it's packed quite tightly you have to be patient for the first time. Start gently and keep increasing force it might take multiple attempts.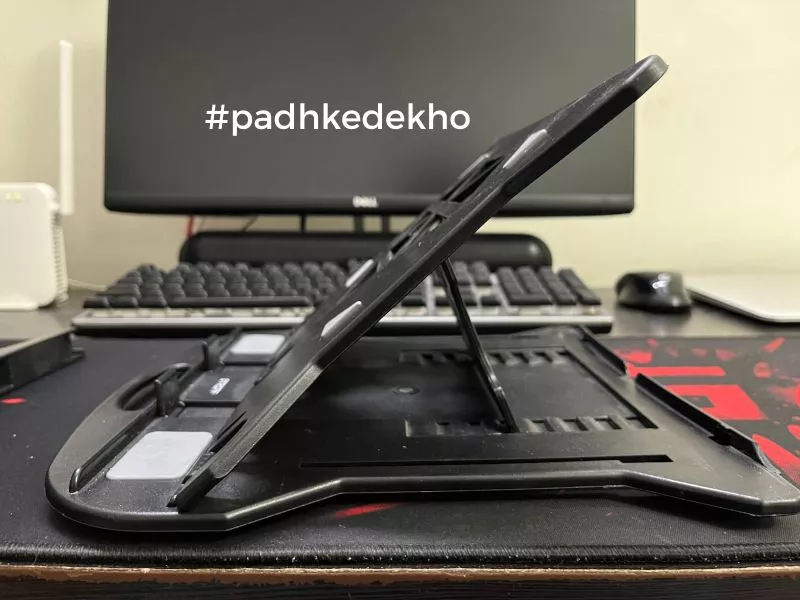 Now, it's open and you will see 8 levels on the back. These are simply the level of an angle you wish to work upon. Make sure to check whether both hooks are on the same lever. The smallest level will higher the screen which will pull your neck up and relax you a lot. While the lower one will drop your neck and will be more dependent on the adjustable chair.
Once that is done. You have to put the laptop or slide the laptop until the bottom two levels strongly hold your laptop. The only thing left now is the phone holder. The best part about this laptop stand is the option to hold the phone either on the left or the right at your convenience. Not just that, you can bring the phone close or away from your hand reach.
That's pretty much the basic how-to-use STRIFF laptop stand. if you are going to keep it on the desk then there is no need to fold it up you can keep it on any side and feel like a second monitor!
So now you know how to use STRIFF Laptop Stand!
Should You Buy STRIFF Laptop Stand? Alternatives?

Yes, you should confidently buy this STRIFF laptop stand. Why? because the features mentioned above are quite essential and will make your life easier. Another reason will be durability as we have tested it by putting a weight of about 5 KGS!
Due to the compact design, you can easily carry it around in your backpack to your office or somewhere like a hotel while you be getting some free time to write or perhaps read your favorite book!
So for the price of 400 Rs, the STRIFF laptop stand gets our vote and you can confidently buy it. We would advise buying it using Amazon as it will not only help us earn some common (at no additional cost to you) but also there is a return option if you got a damaged product.
Therefore, we would give the STRIFF laptop stand an overall score of 8/10.
Since this is not the only laptop stand we've owned in a while. if you can stretch your budget by a few hundred you can check out the Amazon Basics laptop stand which offers far better-built quality and features.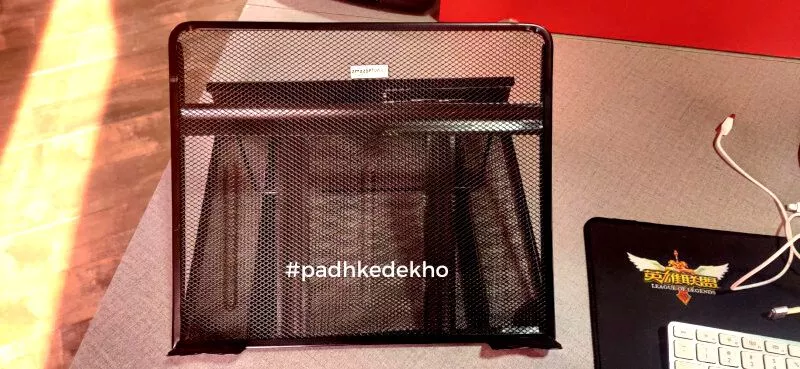 Need more alternatives under 1500 Rs? Here are the ones we've tested (review/comparison will be up soon)
Best Laptop Stands Under 1000 Rs
Wrapping up!
This was our STRIFF Laptop Stand Review. if you have any questions then feel free to ping us on below given social accounts. We love to help our readers!
Like the content? Then please share it with others who might be in the need of best product reviews and comparisons!
STRIFF Laptop Stand Review – F.A.Q
Is is better to have a laptop on a stand?

Yes, it's always better to have a laptop stand. Why? first, it helps your neck to be trouble-free. Moreover, the elevation helps to disperse heat products inside the laptop easily. Furthermore, portability is also not a problem as many laptop stands are lightweight.
Is laptop stand good for neck?

100% it's a great invention. It not only prevents the pain but also makes you so comfortable at an upright angle.
How can i use my laptop without hurting my neck?

I've been through this neck stress and pain and I'd advise you to buy a laptop stand. The budget ones start with a complete plastic body while the premium ones are of metal or aluminum with mesh sheets.
Laptop stand for desk?

if you are buying a laptop stand for the first time, then you can consider the TRIFF entry-level model. It's entirely plastic and is perfect to introduce you to laptop stands. It's available for under 500 Rs in India. Here's our review after a month of use. Tap now!
Should I get a laptop stand?

Yes, it's always better to have a laptop stand. Why? first, it helps your neck to be trouble-free. Moreover, the elevation helps to disperse heat products inside the laptop easily. Furthermore, portability is also not a problem as many laptop stands are lightweight.
Can you type with a laptop stand?

Yes, you can type with a laptop stand if it's on a table or a strong surface. Whereas, in the lap, the elevation will go high, and might become hard to type for long hours.