If you are spending around 30,000 Rs then we'd suggest investing a little more and at least getting an Intel i3. One such great laptop is Acer Aspire Lite 11th Gen. Why is it so? Here are all the things that make it the best laptop under 35000 Rs. This Acer Aspire Lite 11th Gen i3 Review is all you need!
First of all, it's a 2023 newly launched laptop. On top of it, it comes with a metal body which is unbelievable for the price. As far as storage goes it comes with 512 GB SSD while major competitors come with 256GB.
So these are some of the highlights which make it a good laptop. But the question is how good it is to use?
Well, here is our Acer Aspire Lite 11th Gen i3 review after 1 Week of extreme use. With that said, Welcome to PadhkeDekho, and let's get started.
Note: All the opinions shared below are our editor's consent it has nothing to do with the brand. So what you are going to read is 100% honest! As a support to us, you can buy this laptop with the Amazon links on this page. It will help us earn a small commission at no additional cost to you!
Also, Amazon actually has this laptop in stock, we tried Croma and many other stores they do not have the same model on display or in stock to purchase yet (at the time of writing the article).
Pros & Cons
Other Recommandations
Some Major Specifications
| Feature | Value |
| --- | --- |
| Processor | Intel i3 (1115G4) AKA (Tiger Lake-U) |
| Processor Specs | 1 Processor, 2 Cores, 4 Threads |
| Power | 3.00 Ghz |
| Peak Power | 4.1 GHz |
| RAM | 8GB (Expendable up to 32GB) |
| Storage Type | SSD (512GB) |
| Display Size | 15.6 Inches |
| Resolution | 1080p Full HD |
| Display Type | Anti-Glare |
| Screen Tilt | Up to 180 Deg |
| More Specs on Amazon | Amazon |
Ports Selection
On the left, you have a Security Lock Slot, RJ-45 LAN Jack, MicroSD Card Reader, USB 2.0 (2 slots) & 2-in-1 Audio Jack. Whereas on the right, USB 3.2 Gen 2 Type-C Port, USB 3.2 Gen 2 Type-A Port, HDMI Output, Battery Power LED Indicator & DC-In Jack.
As far as port selection goes, the ports are satisfactory and do make the laptop modern ports and support old components via SD card and USB 2.0's.
Built Quality
if you don't know Laptops under 40,000 Rupees are not special. In fact, they struggle with the built quality. It's mostly hard plastic or if it's Dell/HP you will find a blend of plastic and rubber. Which is decent but nothing to brag about. Whereas, Acer did something unique.
On Acer Aspire Lite AL15-51 the overall build is metal which makes the whole deal even more promising. The metal sheet is not flimsy at all even if you apply force on the top or the bottom. So far we have not heard a single squeaking noise as well.
So the outer body is stronger and feels durable.
Another aspect of a good-quality laptop is the hinge of the display. Some laptops do not inspire confidence when you try to open or close the lid. But Acer Aspire Lite 11th Gen is different.
Sure, it will not open the screen with one hand you will need around the webcam (center part of the screen) & with the other hand put some weight on the bottom. But the overall mechanism seems strong.
Another thing that gives more confidence is the working angle. You can set up to 180 deg flat screen. That's right, you can do that. We know most will not do it. But what does this mean?
This means the hinge is strong enough to flat out the display. Which even premium laptops can't do. Fun Fact, after using this laptop I try to bend my MacBook Air even further!
Hence for built quality, Acer Aspire Lite 11th gen gets 4/5.
Looks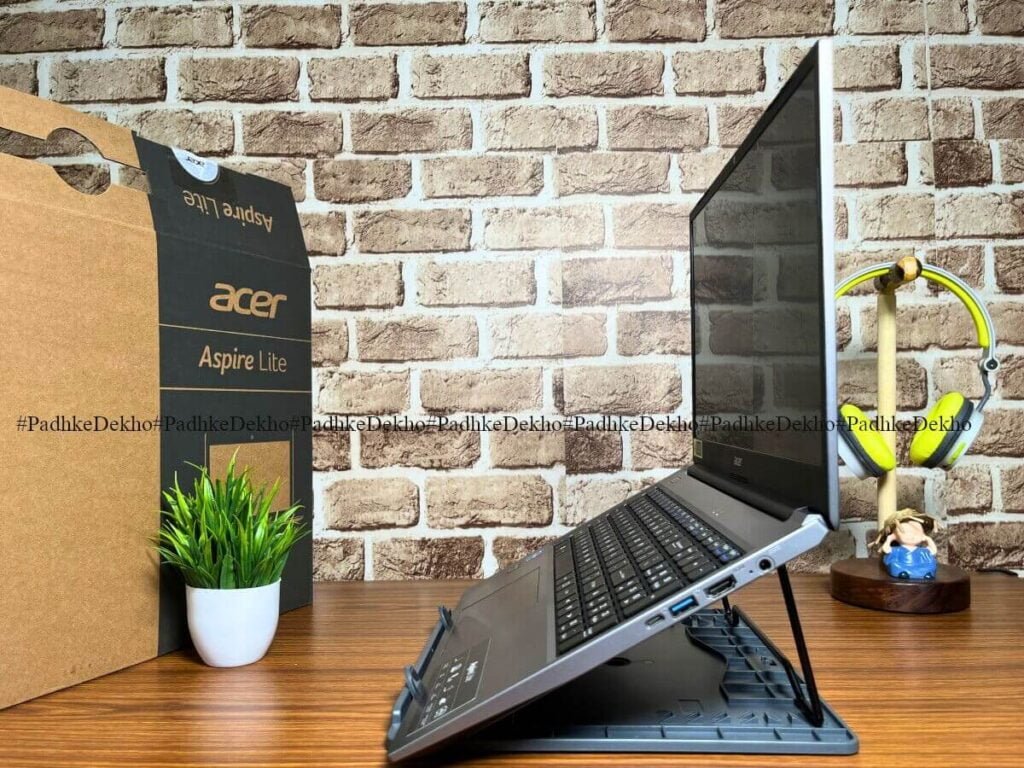 Acer Aspire Lite 11th gen comes in only one color and that's Steel Grey. And it's good. Just have a look yourself.
The overall design is glossy while being matte which means it will not reflect. The top and sides are grey while the bottom is black with fan cutouts. Be it from any angle you look at it, it does not feel like a laptop worth 33,000 Rs.
In fact, it looks pretty good next to Apple MacBook Air!
The sides are not curved instead they are flat which means it looks quite sturdy and premium from the sides.
With looks in mind, we are more than confident you will not find anything as cool and premium under 35,000 Rs.
Hence, for looks, Acer Aspire Lite 11th Gen gets a 4.5/5.
Screen
Let's talk about some technical features of the display and then our experience with it.
Acer Aspire Lite 11th Gen comes with a 15.6 inches Anti Glear LCD. With Full HD resolution. As far as tilt angles go, it can lie flat down with up to 180 deg rotation. The Aspect ratio is 16:9 with 83% narrow bezels.
For the price, the specs are quite good.
Acer Aspire Lite 11th gen comes with an Anti-Glare display which is the icing on the cake! if you don't know, glare happens when you have a light source pointing toward your monitor or laptop screen. Typically LED lights or sun raises from the windows.
This glare does produce reflection and visibility takes a hit and puts more pressure on the eyes. To avoid all the pain and unwanted reflections, Anti Glare displays are widely demanded in laptops or even computer monitors.
The best part is the 1080P HD resolution. Because many laptops at this price cannot go beyond 1366X768. Which is not bad but still not at par with a proper Full HD display.
So how good is the display? What about the viewing angles? And color shift when tilting? Brightness?
The first thing to talk about is the bezels. For the price, they are quite minimal for sure other than the bottom which could've been cut a little. Even though, you get a good surface area to multitask.
Let's talk about the viewing angles. Even here you will not be disappointed. If you keep it around 90 to 120 Deg and move yourself to the left or the right side you will not witness any discoloration.
However, as it's an LCD there's some amount of color shift when you tilt more than 120 deg or lesser than 80 Deg.
So if you have friends along to join in for a movie then no worries they will not complain about the video quality.
About brightness, it's quite good. The low can get very low which makes it perfect for reading. And the maximum brightness is even good for outdoor use. We think the ideal brightness is about 40 to 80% in office conditions.
Acer Aspire Lite has a good screen that can let you have a good viewing experience.
Note: We've read some reviews claiming the screen to be average. This is not true. If you go out and check laptops under 35000 Rs you will see how bad the displays are.
When we were covering laptops under 30,000 we saw that and did not like it. With that view in mind, we found Acer's display to be good for the price. This does not mean there is no color shift or anything but it's manageable you will get used to it.
Hence for the screen, Acer Aspire Lite AL15-51 Gets 4/5.
Features
#1 Upgradability/Futureproffing: This laptop has the potential to be used for many years. First of all, the 8GB RAM & 512GB (Storage), and 11TH Gen i3 (Processor) are not weak or outdated hardware. They are fairly new and the laptop is launched a few days back in 2023!
So you are certainly putting money into a worthy laptop. Secondly, Acer Aspire Lite 11th Gen i3 supports up to 32GB of RAM and even upgrades the SSD to an even higher spec.
This means in the future after 3 years you can swap the RAM sticks or add 1 more or even bump up the storage as well, instead of buying a new laptop! With this, you will be saving a good chunk of money.
#2 Anti-Glare Display: In the Display/Screen section we talked a little about Anti-Glare. Let's give you some more insights in comparison to regular or glossy displays.
Anti Glare displays are more expensive than regular display panels. Which becomes a brownie when you buy a budget laptop like Acer Aspire Lite!
Anti-Glare displays bring more pros to the table. Among those, amazing content consumption and deeper color saturation, less strain on the eyes are our favorite features.
if you work for long hours you will appreciate the Anti-Glare display on the Acer Aspire Lite.
#3 Up to 180 Deg Screen Tilt: For some people, it's just a gimmick as they will never tilt their laptop screen for fun! But someone who works with a team and feels like sharing a presentation like this when the meeting room is taken will appreciate it.
For me though, it's not a deal-maker but it surely tells something more.
This shows how much the brand has trust in the quality of laptop hinges. Most of the laptops don't go beyond 120 Deg and this means the mechanism Acer is offering is durable and will certainly live a longer life.
#4 Nahimic Audio: In many laptops, Realtek Audio drivers are found which is nothing to brag about. We all know they are good and make the audio experience better. On the same level, Nahinic Audio from SteelSeries takes the audio game to the next level.
You can customize the audio preferences to your liking, there's even a noise cancellation mode that helps to remove some of the background noise while using a mic in a game or online class.
To make this work all you need is to download Nahimic App from Windows Store in Your Windows 11.
With the features in mind, we'd give Acer Aspire Lite 11th Gen i3 a 4.5/5.
Audio Quality
Unlike some laptops that do not come with any special treatment for audio or mic needs, Acer Aspire Lite cones with Nahimic Audio Drivers. Which means customizing the audio output. You can customize the vocals, treble and overall loudness.
So how good is the audio quality?
The very moment you will listing to the audio you will feel it quite less. It happened to us too! You will feel the laptop is trying hard to pump in more bass and treble and the vocals seem low. But this is not what Nahimic audio drivers should sound like.
You will need to install the Nahimic App via the Windows App Store. And once it's done you can customize the audio profile and reduce the bass. This will help the laptop produce more treble and vocals.
Once that's done, You will feel it quite loud in a closed room when the laptop is on a solid surface. The dialogs are quite clear and the audio effects ( surround sound) are quite well managed. You can enjoy movies without needing a headphone or earphones.
Since the speakers are on the bottom, if you will put the laptop on a bed then the audio will sound low. For that situation, you can put a laptop stand or use a headphone/earphones for a better experience.
Hence for audio quality, Acer Aspire Lite AL15-51 gets 4/5.
Performance
This is the strong suit of the laptop. We call it a workhorse for the price. With Acer Aspire Lite 11th Gen, you get an eleventh-gen i3 processor, which is a dual-core unit each clocked at 3.00 GHz and with a turbo frequency of 4.1 GHz with 4 threads.
As far as Cache memory goes, here's a table.
| Cache Type | Value |
| --- | --- |
| L1 Instructable Cache | 32.0 KB x 2 |
| L1 Data Cache | 48.0 KB x 2 |
| L2 Cache | 1.25 MB x 2 |
| L3 Cache | 6.00 MB x 1 |
With that in mind, this laptop got our eyebrows wowed! So are the specs for the show or can it handle some heavy-duty tasks? Here are some of the benchmarks we did on these a few times.
Here's CINEBENCH R23, CPU (Multi Core, Single Core & MP Ratio)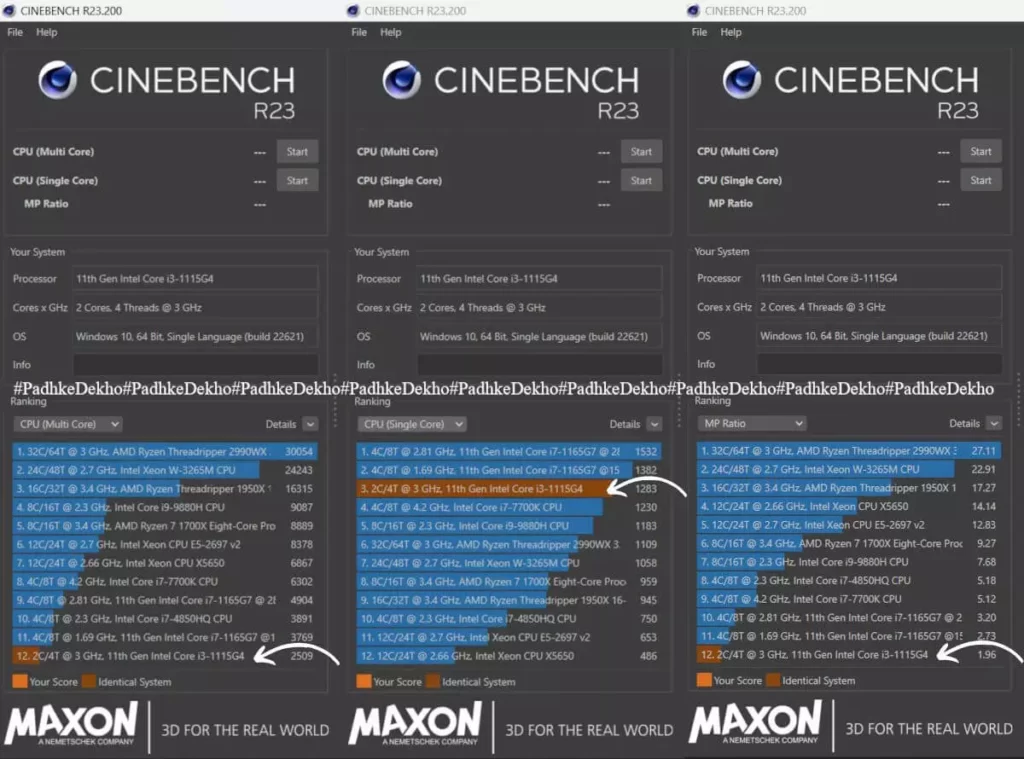 The score on Multi-Core seems low, but also look at the comparison it has been done. Whereas, in Single Core, it's bypassing Intel Core i7-7700k CPU!
What about Geekbench 6? Well, with Geekbench we also tested the CPU as well as the GPU. Here are the results.
Breakup of CPU benchmarks.
Though the laptop only has UHD graphics, here are the GPU results.

Breakup of Graphics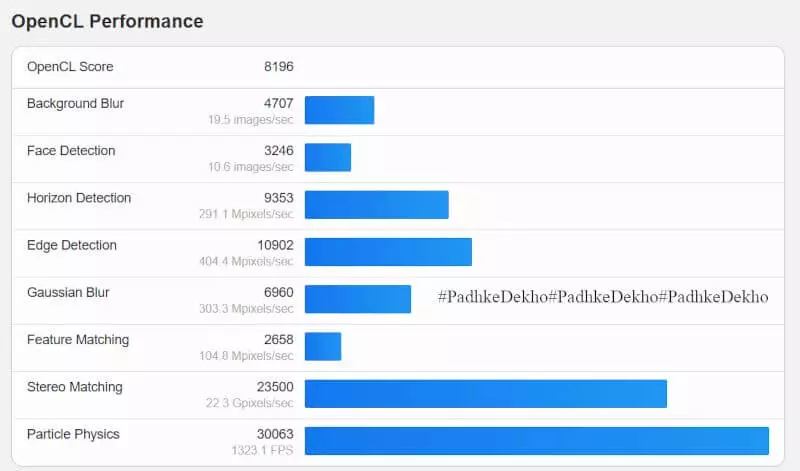 As you can see in the screenshots the numbers are certainly impressive for a laptop worth 33,000 Rs.
What do these numbers mean? It means the laptop is quite a performance packet with satisfactory graphics for work needs. So Acer Aspire Lite 11th Gen I3 is not suitable for gaming? Let's talk about that in the gaming section.
Battery Backup & Charging
Acer Aspire Lite 11th Gen i3 comes with a 45 Wh 3 Cell Lithium Ion battery. Acer claims up to 11 hours of battery backup.
So does it deliver such battery backup or the claims are accurate?
Before getting into the numbers and the series of operations we did on this laptop we got a high range of differences. But one thing is sure, it takes about 2 Hrs and 40 mins to fully charge.
Just like a smartphone, the laptop behaves the same as even any device that runs on Lithium Ion batteries; The more you put load the more easily it will choke.
Hence, if you are gaming then you cannot expect more than 2 hours with 100% battery (aiming for the higher side). And if you put as little load or tasks you can get good battery backup.
So let's have a look at the numbers, shall we?
User Experiences!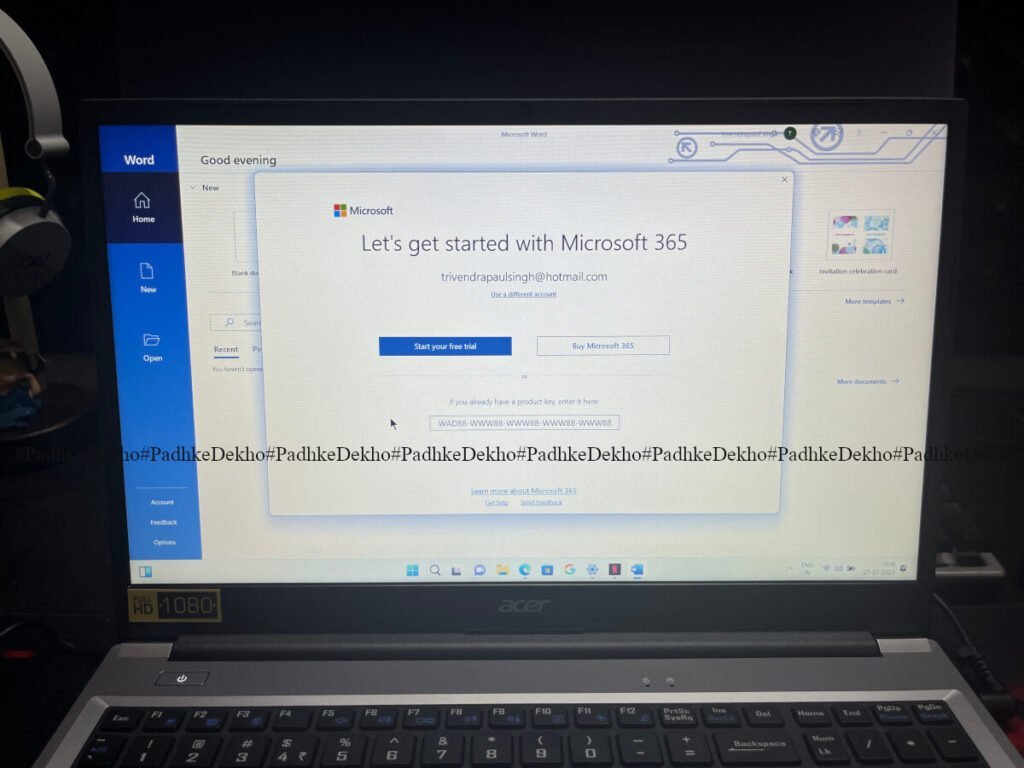 This is the section that will decide whether Acer Aspire Lite 11th Gen i3 is good for you or not. Here we're sharing with you 4 scenarios that can help you make a better-informed decision. It starts with Movie Marathon, Casual Using, Work Mode & Last is Gaming!
So let's kick things off with Movie Marathon!
Scenario 1: Movie Marathon
As the name applies movie marathon means, you are chilling out your weekend with lots of fun and unlimited data! You wish to complete a few episodes of your favorite show or perhaps a movie.
In this case, one web browser or an OTT app is open at good brightness, and wired/wireless headphones are plugged in/connected. So with this picture in mind, you can expect anywhere around 6 to 7 hours of playback.
Which is quite exceptional; After watching a complete movie, the laptop was still left with 65 percent battery.
Scenario 2: Casual Using
It's that time of the day when you are not working. Usually, this time people check for Windows updates, surf social media, watch some YouTube videos, listing to music, and movies, and keep on switching between the apps. Maybe a few restarts to allow the updates to Windows 11.
Casual using only sounds casual it puts a good load on the laptop. This task is a little more battery & performance consuming hence you can expect anywhere between 4 to 5 hours.
#3 Work Mode
If you are working from home or office, most businesses use similar apps like MS Office, Google Docs, Skype, Zoom, tons of Google Chrome tabs, etc. It's the most demanding task (Battery as well as performance) after gaming.
With that in mind, Acer Aspire Lite 11th Gen i3 can provide juice for 3 to 5 hours. battery saving mode you can expect a little over 2 hours for overall battery backup.
This battery backup is quite good. Certainly not close to the claimed figures but certainly not bad either.
While we are at it, the Acer Aspire Lite 11th Gen i3 does not heat up and makes a lot of fan noise. We tested it under AC as well as Non-Ac environment.
#4 Gaming Test
So here's what happening. We are working on a dedicated video for the gaming performance. With all the benchmarks and FPS, etc. Hence, cannot break that yet. But the laptop is quite capable of playing games in low to medium settings.
We have tested COD 4 (Medium settings;25-40 FPS), COD 5 World at War (low settings; 30-50 FPS), GTA 4 ( Low settings; 50-60+ FPS, BGMI (Default; 25-40 FPS), Fortnight (Default; 20-40 FPS), Test Drive Unlimited (Medium settings; 40-60 FPS, Need For Speed UnderCover (Low; 20-35 FPS).
With these FPS in mind, you can see where we are going. You cannot play any latest AAA games on this laptop. It's only good for older games as we have mentioned above.
if you have plans to do casual gaming or missing out on the old games then it's a good laptop and can be considered for gaming. Hence, if you feel like gaming on Acer Aspire Lite 11th Gen i3, you can consider it.
For gaming, we'd give Acer Aspire Lite 11th Gen a 3/5.
So Should You Buy Acer Aspire Lite 11th Gen i3 Laptop?
We can confidently vouch for this laptop. In this 1 week of testing, the overall experience has been spectacular. Everything from the built quality to the user experience is unlike any budget laptop we've covered so far (reviews popping up soon) on the YouTube channel.
There are many reasons to pick Acer Aspire Lite 11th Gen i3. Some of them are the 11th gen i3 which has a base clock of 3.00 GHz and is paired with 8GB RAM (up to 32GB upgradeable) making it a good performer.
As far as graphics go it comes with basic UMD graphics from Intel. But as we are currently testing the gaming performance we are quite confident it can take care of your casual gaming needs.
So far we haven't come up with a major con. It's been good so far. Just one thing we have noticed is that the laptop does not charge till 100%. The light turns Green but still when you unplug from charging it stays around 98 or 97 percent.
Though that 1 percent will not make any change but it's there.
Hence if you are looking for a well-built laptop with good performance and impressive looks that do not look budget at all, then Acer Aspire Lite 11th gen i3 makes sense.
Other Recommendations
Wrapping up!
There you have it folks! Here's PadhkeDekho's Acer Aspire Lite 11th gen i3 review after 1 month of testing. if you have any questions then please comment below or reach us on our social accounts, we love to help our readers with the best solutions.
Found the content helpful? Then please use the below Amazon button to make your purchase. Be assured you will not be charged a penny extra. It helps us buy more products and ultimately bring genuine content for readers like you. Thanks for the support, PadhkeDekho is 3 years old now!
Acer Aspire Lite 11th Gen I3 FAQ
Acer Aspire Lite 11th Gen i3 Worth it?

Yes, it's a good laptop under 35000 Rs. We've been testing it for over 1 week now and it's like a workhorse. Glides throw when multi-tasking. Turns on and off in a glass and offers 512GB SSD storage. Tap now to check our detailed review.
Acer Apire Lite 11th Gen i3 Battery Size?

Acer Aspire Lite 11th Gen i3 AL15-51 comes with a 45 wh 3 cell battery. The battery backup is between 3 to 8 hours. Check the detailed review here.
Can you play games on Acer Aspire Lite AL15-51?

Yes, you can. But not modern AAA games. We've tested many games like Call of Duty 4: Modern Welfare, Call of Duty 5: World at War, BGMI, Fortnight, Test Drive Unlimited, Gta 4, etc., and the laptop played well with 30 to 45 FPS.