Windows 10 was introduced in 2015 and since then it has received numerous software updates that bought multiple improvements. We tried Windows 10 when it was new and didn't enjoy it at all. But recently got my hands on it and the experience was very different.
Therefore, I am sharing a few things that you would love after upgrading from the earlier Windows. I myself upgrade Windows 8 to Windows 10 64 bit.
So welcome to Padhkedekho and let's get started with Windows 10 features…
If you are on this site for the first time, please bookmark the website and press the red bell icon on the left for the new updates. Were at PadhKeDekho we bring interesting articles like this, tips and tricks, reviews, unboxings, comparisons of consumer products and services.
1. Look And Feel
Just have a look at the desktop and tell me ain't that beautiful and modern looking!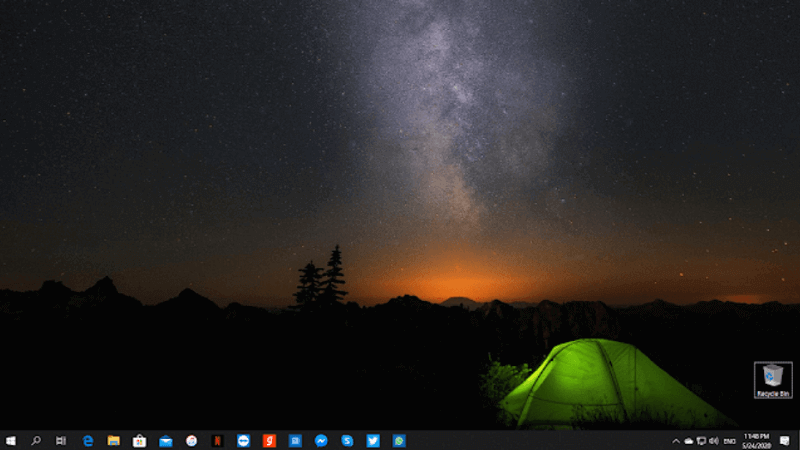 This is a native Windows 10 wallpaper that is provided on Windows 10 Pro. All my most used applications are pinned to the taskbar that feels modern as well as futuristic compared to Windows 8. While clicking on the pinned icons on the taskbar, it gives a new vertical animation effect below the icon. The animation is subtle in nature however enhances the overall experience. Below you can see that Edge and Explorer are open and the vertical lines are there.
As I was using Windows 8, Microsoft Store access has retired way back because of which you don't see app icons on the taskbar on the left image.
As Windows 10 is new it feels more polished that makes it better appealing to the eyes and feels more modern. On the left, you can see there is no Start button which was removed in Windows 8 and there are a few favorites apps on the taskbar.
While on the other side you can see a search icon along with other pinned apps which reduces the opening time of applications for better time management.
2. Best File Explorer Ever
Microsoft has not only worked on polishing Windows 10 but also improved the functionality of the operating system. To begin with, let's compare the File Explorer on both Windows versions. In Windows 8 when you click on the File Explorer it takes you to the Libraries from where you can access files in Documents, Music, Pictures, and Videos.
On the left panel, you have default settings for Desktop, Downloads, Recent places along with Libraries and Computer hard disk partitions if any.
In Windows 10 when you click on the File Explorer it shows you Frequent folders and Recent files which is very helpful and time-saving if you have already visited any folder or file.
On the left panel, you can see pinned locations where I have pinned the "dell keyboard" folder. It helps me to access the folder and it's content to the earliest rather than personally navigating to the source location.
Pinning a folder is very easy; just right-click on any folder and select "pin to quick access".
3. Windows 10 Dark Mode
Since the day I got Dark Mode on my iPhone I wanted the same on my Windows computer. There are ways of getting Dark Mode on Windows 8 by doing certain tricks and hacks which certainly I didn't wish to perform.
The very first thing I did after installing Windows 10 was heading over to Personalization then selecting Black in the Color Setting! As the name applies Dark Mode will be applied everywhere in the operating system.
Dark Mode on Windows 10 was a very crucial reason that made me upgrade to Windows 10!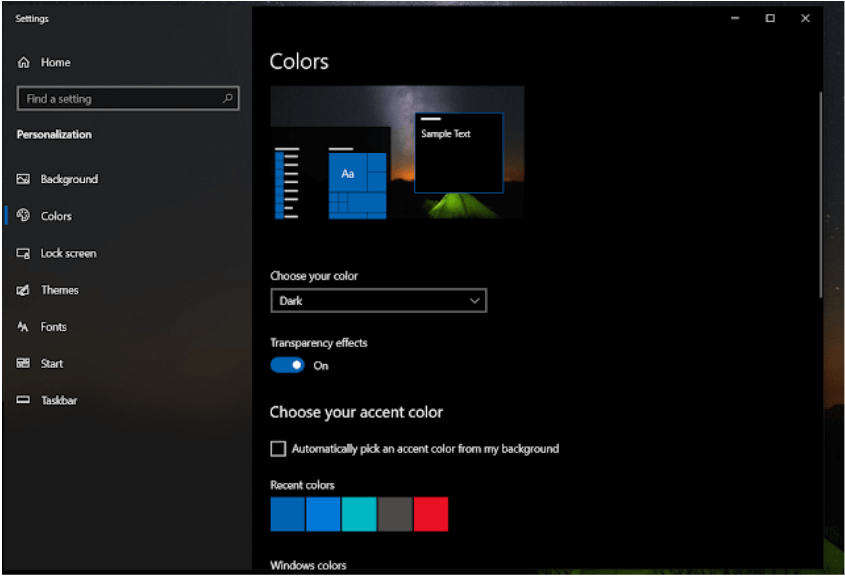 The Dark Mode not only just looks better but it also reduces the white light coming out of the monitor resulting in lesser eye stress and pain as mostly I used my computer in the night for around 3 to 4 hours with the lights off.
I have been using Dark Mode and Windows 10 for only one week now. And I don't think I will be able to go back to Light Mode or even Windows 8 ever!
4. Edge Is The New Windows Explorer!
You know that Internet Explorer has never been people's choice of browser and we know the reasons however this new browser from Windows is simply very refined.
To begin with, as soon as you click the edge button launcher you will be in a very known place(Similar to Google Chrome) from where you can link or make shortcuts to your favorite websites on the bing homepage.
I generally use very few tabs and Edge has not disappointed me even once. This was something that I was not expecting from Internet Explorer! Just like any other browser Edge also supports Extensions(even Google Chrome's extensions). I only needed Grammarly which was easily available at the Microsoft store.
As per my initial experience, Edge is my default browser and I am not looking forward to any other browser on my computer.
5. Newer and updated apps
Since I was using Windows 8, the Windows Store was no longer available to access. This simply made me mark my frequently used app's websites as a favorite on the taskbar and access the same when I wanted it.
On Windows 10 I have installed all my essential applications on the computer. Now I can take advantage of the Mobile apps on the computer rather than the Website view. Just have a look at the most popular games on Windows 10.
6. Task View
Task View is a new feature on Windows 10 which initially I ignored but now I am using it more frequently. Let's say you were browsing and got a really nice article and you accidentally closed it now what will you do?
You will click CTRL + H for History on any browser and select the desired link. But now with Task View, you can see all your recently viewed web pages for easy access. Not only web pages but also recently used files. It's more like a convenience rather than a feature.
7. Better Windows Settings panel
Don't get me wrong Windows 8 settings panel does look good but not as good as the Windows 10 Setting panel. The Windows 10 Setting panel looks more professional and well sorted. Settings page provides even more control of Windows which was not the case with Windows 8.
I could have ignored this point but when I was playing around in the Settings panel I was freaked to see so many options. It felt good that Microsoft has allowed making so many changes according to one's preference than before.
8. Windows 10 is the last operating system from Microsoft
When Windows 10 was introduced, guys from Microsoft confirmed that it's the last Windows from Microsoft. Indeed, it was true and we haven't seen Windows 11 yet. This is actually good because as Windows 10 is the last/latest Windows it means Microsoft will be working on providing improvements and bug fixes.
Most importantly it means that this version of Windows will not have an end of support(Just keep on upgrading!).
9. Most Secure Windows Ever
Every new iteration brings more security on the table than the previous year's ones(in my case around 8 years!). Since my childhood, I have only had access to Windows. I have used Windows XP, Windows Vista, Windows 7, Windows 8(which I recently upgraded to Windows 10). The point of bringing this up is that I never had any issue in terms of security on any version.
Yes, I am aware of some ransomware hacks which affected Windows users but I believe it can happen on any operating system because nothing is 100% secure. As a customer, we can stay up-to-date with software updates.
10. Night Light
Windows 10 not only brings Dark Mode but also Night Light. As the name applies, Night Light in the night converts the blue light coming out from the screen to slightly Yellowish in color. This is very important because blue light prevents your eyes from feeling tiredness that will keep you awake all night.
However, with the Night Light, the screen will turn yellowish that will signal your brain to make you sleepy and you'll sleep rather than staying all night watching videos! The night light can be enabled by clicking the Notification button(which is the second bottom from the right on the taskbar) and then toggling the Night Light button.
You can only toggle it on and off from the Notification center and if you wish to do a few changes according to you, then you have to achieve that via heading to the Settings and then Display. From there you can also enable the Night Light.
11. Faster
If you are on Windows 7 then my dear you are missing the party! When I upgraded from Windows 7 to 8 the speed difference was a lot and now it's even more after upgrading to Windows 10. Don't believe me try it yourself and let me know in the comment section!
So Should You Upgrade To Windows 10?
If the above features matter to you then you should immediately upgrade to Windows 10. Even as of now you can upgrade to Windows 10 for free!
Give it a shot and trust me your experience will be amazing. So by any means, you are not getting the free update you can always check out Amazon for deals running on Windows 10 OEM as well as retail packs!
One more thing to keep in mind is that the latest version of Windows 10 packs a lot of security with it. So you are all covered with the latest features and security from Microsoft.