[Updated on July 26, 2023] Other than the invoice or bill of the phone, The thing that can prove your ownership is the IMEI of your mobile phone. And once the phone is lost or stolen it can be tracked down via IMEI number. So you can understand how important it is. To find the IMEI number of your phone there are multiple methods.
Let's face it, when it comes to finding the IMEI number of the phone, most people don't know how to check it. For some people *#06# is the only IMEI number code for finding the IMEI number. But there are so many other methods that are even more convenient.
So in this article, we are sharing with you 5 ways to find the IMEI number of any phone be it an Android or iPhone, or even a feature phone! That's not all, here you will also get to know how to find the IMEI number of lost phones as well!
Without Anything else, Welcome to PadhKeDekho! If you are first time here, we provide helpful tips and tricks like this, to make your life a tad easier! So please bookmark the website!
1. Check IMEI Number On The Phone
It doesn't matter what phone you have. Be it an iPhone or any Android running version 2.2 or a feature phone. All phones have an IMEI number that is unique in nature as per telecom regularity.
Dual sim-capable phones come with 2 IMEI numbers in case you didn't know! On any phone, you can dial *#06# and as soon as you press the last # you will have your phone's unique IMEI number in front of you.
You can note it done somewhere if you are using a feature phone. Otherwise, you can take a screenshot of it and keep it on your smartphone. This is something that you would have already known but wait there is more! Keep on reading!
Find IMEI On Android Phone
If you have your phone with you then finding IMEI on your Android phone is very easy. We have tried the steps on Android 10 as well as Android 7.1 they are more or less the same.
So, head over to Settings -> About phone -> Status -> IMEI information. And here's your Android phone IMEI number[s].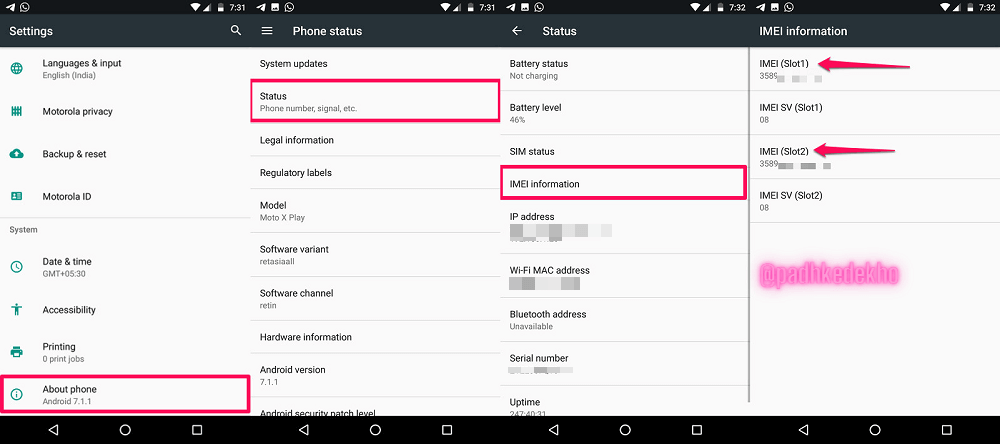 On newer Android like Android 12, all you need is to follow the above steps till About phone!
What if you don't have your Android phone with you anymore? Then Don't worry, you can use your Google account to find the IMEI number.
Ways To Check IMEI On iPhone
Just like on Android, Apple has also given iOS users the flexibility of finding and keeping IMEI numbers in their iPhones. However, Apple provides tons of other ways to check the IMEI of your iPhone. The steps are pretty similar on every iPhone.
1: From The iPhone
Open Settings. Tap on General. Then select About. Swipe all the way down and your IMEI number will be there next to Bluetooth!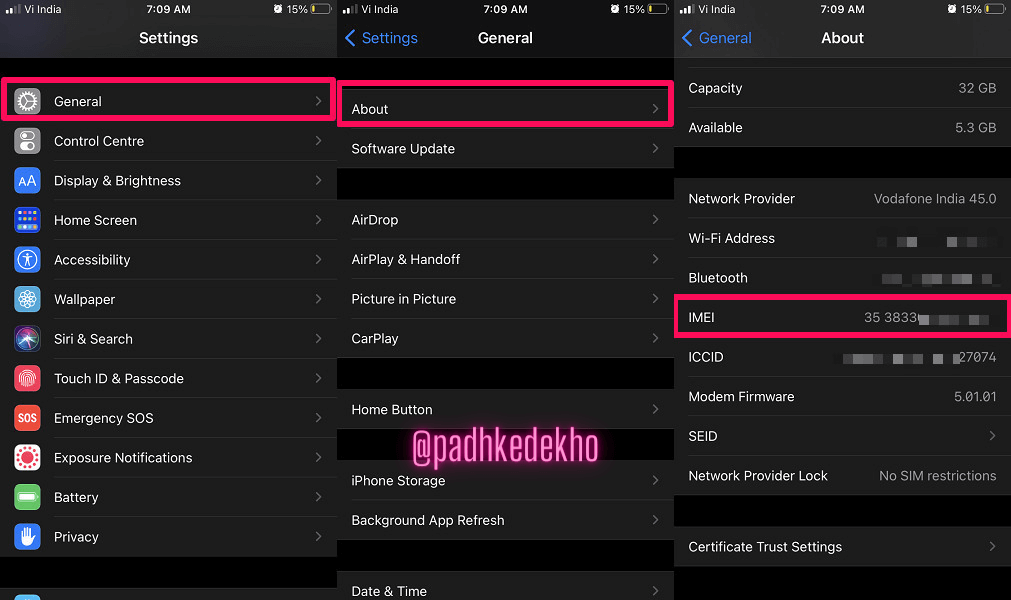 The steps are still the same on iOS 15.6.1
You can keep a copy of the IMEI number on iCloud or any other cloud-based service like OneDrive, Google Drive, Dropbox, etc.
2: Using Apple iTunes
If are running on macOS Catalina or above, then you can find the IMEI of your iPhone from the Finder window. To do so, connect your iPhone to the Mac and click on iPhone under Locations in the Finder.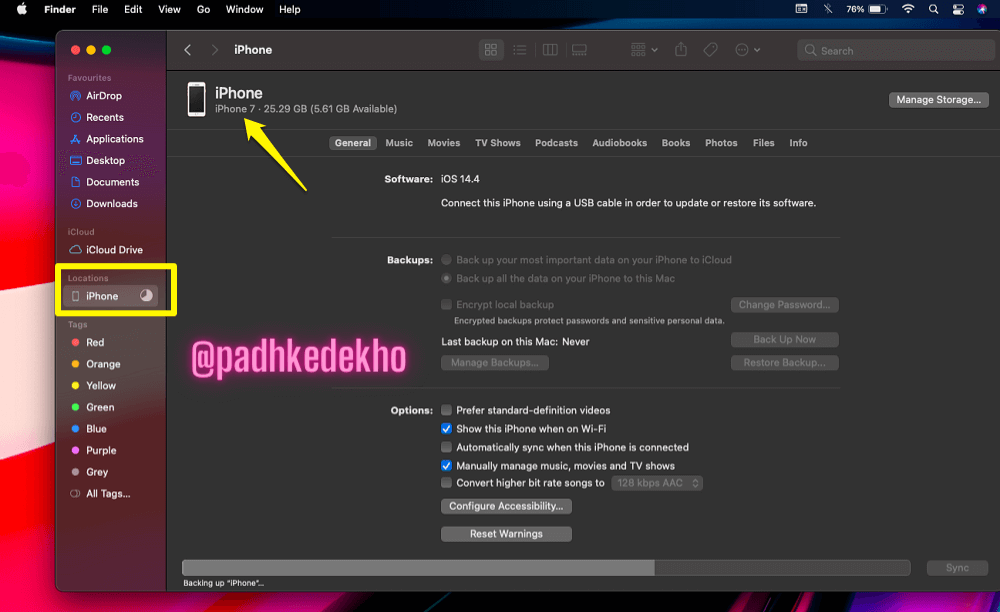 You will see the model and the storage available on your iPhone. Clicking on it will show you the current mobile number present on the phone, IMEI, and ICCID.
On the Mac versions prior to Catalina or on Windows PC, the above steps can be done on iTunes software.
3: The Sim Tray
Do you know the sim card tray on your iPhone has an engraved IMEI number on your phone? For that, all you need is the sim ejection tool. This feature started with iPhone 6S. So if you have iPhone 6S or above just pop open the sim tray!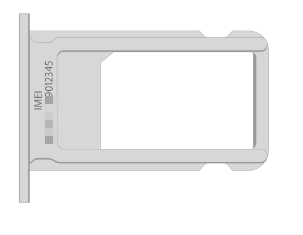 For the previous generation's iPhones (Below 6S) you can find the IMEI on the back of the iPhone.
2. Check The Invoice/Bill
So what if you don't have a phone at the moment but you need IMEI information? for that, the seller of the phone must have kept you covered! You can find the IMEI number of your smartphone on the invoice or bill that you would have gotten on your purchase.
Other than the date of purchase, the invoice holds the most important aspect of your phone. And that is the IMEI number. Doesn't matter if you bought the phone online or offline.
3. The Box Of Your Phone
Every mobile manufacturer puts IMEI information on the outer box for easy access. Do you know why?
This is done so that you can compare the IMEI number printed on the box with the one on the invoice before tampering with the seal on the phone's box. As a result, you get confirmation that you have got the correct phone.
Moreover, inside the box, IMEI is also present for convenience. So before throwing or dismantling the box do take care of it beforehand.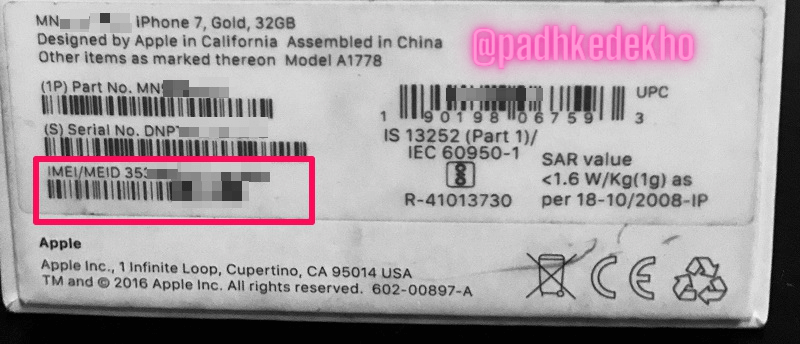 4. Does Your Android Phone Come With A Sticker?
Some Android phones come with a pre-applied sticker on the back. That sticker is none other than the IMEI numbers of your phone. Yes, we said numbers because dual sim smartphones have two different IMEI numbers!
Therefore, if you are aiming to use the phone with a case, it's better to leave the sticker where it is. Or stick it inside the case that you are going to put on. So that when you need to enter an IMEI number let's say while buying an insurance policy for the phone!
5. Lost Phone But Need IMEI?
God forbid maybe you have lost your phone somewhere and you need IMEI to register an F.I.R or a complaint with the cops. If you just want to know the IMEI without using your smartphone then you can find it by following the steps.
The good news is, that both Android, as well as iOS, do a great job of accessing the IMEI number without a phone. However, the steps are different and are discussed below.
How To Find IMEI Of Lost Android Phone
Finding the IMEI of the lost Android Phone is a little complicated for the first-timer so do check the following steps thoroughly. For that, we are going to use is Google Dashboard.
Google Dashboard keeps a track of all the information related to your Android phone, like Serial number, IMEI, etc. along with the app data like YouTube and YouTube Music, etc. But for the scope of this article, we are going to find and download the IMEI information only.
So you can download the data and keep a copy with yourself on your computer or Mac. Now let's have a look at the steps.
1. Log in to Google Dashboard using the same Google Id that was used to sign in on the smartphone.
2. Click on Download your data. if you don't find this choice tap on Data & personalization. There you'll find the Download your data option.
3. Google Takeout page will open. Under Select data to include, select the check box saying Android Device Configuration Service.
4. Scroll down until you see the Next step with blue background. Click on it.
5. Now under Choose file type, frequency & destination select Send the download link via email in Delivery method,
6. And just below select Frequency as Export once. Under File type and size, don't make any changes. And click on Create export.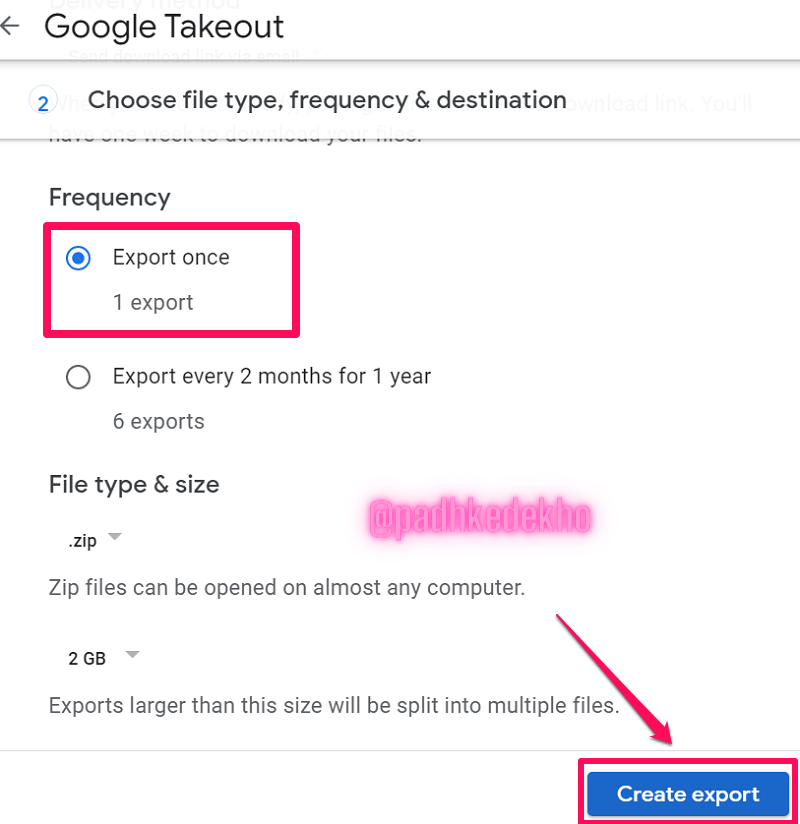 7. Within a few minutes Manage your exports page will open that will have information like Created on, Available until, etc. Click on the Blue Download button.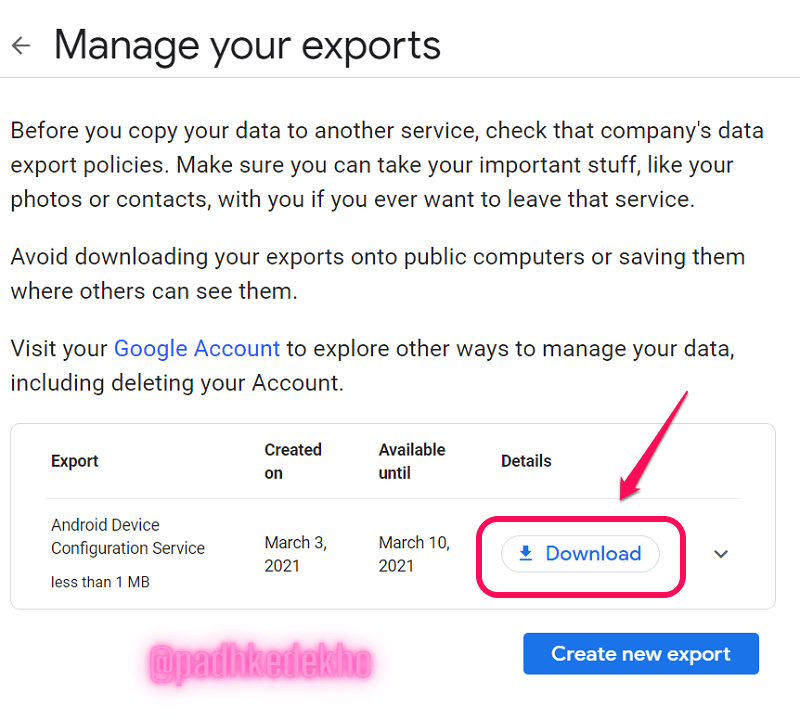 8. The file will download to your computer. Since it is going to be a .zip file you will need to extract it.
9. After extracting, a folder named Takeout will be there. Double-click on it. You will see a folder named Android Device Configuration Service. In the folder, will be a file named Device. Double-left-click on it.
10. The file will open in a web browser. This file will not just contain the IMEI number but also the Android ID, Serial Numbers, Locale, Hardware, etc.
And that's how you find the IMEI number using a Google account!
How To Find IMEI Of Lost Or Missing iPhone
You can log in to Apple's official website using the same Apple ID credentials that are used on the iPhone. However, for it to work you need a macOS device running with the same Apple ID.
MacBook or iMac will be required if 2FA (2-factor authorization) is enabled on your iPhone. Because any attempt of signing in using the same credentials will require the 6-digit code sent to your iPhone. Since you don't have the iPhone anymore means you cannot receive and verify it.
With a Mac using the same ID will not trigger the passcode while logging in. So that being said, let's log in.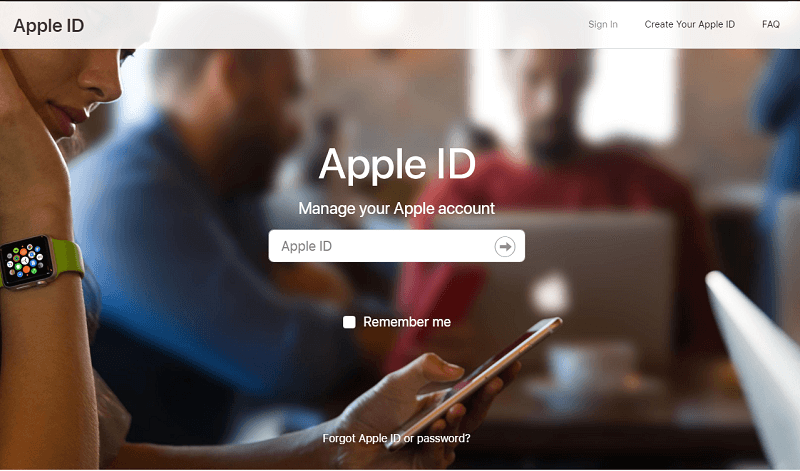 On the bottom, you will find all your Devices using the same Apple ID. Tap on iPhone and voila that's how you find the IMEI Number using Apple ID on the Apple website.
There You Go, Guys!
Thanks for reading! If you have any queries or feedback do comment below or reach us out on PadhKeDekho's Twitter, Instagram, or Facebook! We would love to help!
Just like the above article, we share our 2 cents in the form of reviews, tips & tricks, comparisons and opinions so do check out those articles. And if you liked the content do share it with your friends and family! Thanks, we will see you at the next one!
F.A.Q
How To Find IMEI In Google Dashboard?

Earlier Google Dashboard used to show IMEI numbers but not anymore. In this article, we have shared 5 ways through which you can find out the IMEI number of stolen or missing phones. Click now to find out!
How To Find Imei Number of Lost Phone?

There are so many ways to find out the IMEI number of Lost phones other than <*#06#> and in this article, we have shared 5 such methods. So click now and find out your missing phone.