[Updated on July 13, 2023] It's been more than 2 years with this microwave and the performance is good. You can confidently buy it. Back to the original article.
Microwave is the common kitchen gadget in every household. So much common that people take microwave shopping so easily peasy that they go out and bring home one that was offering the best discount. But is it worth it? There are so many things to check out before buying a microwave. So with our research, we were able to buy Morphy Richards 20MS microwave for our daily needs. After using it for a few months now, here is Morphy Richards's 20MS microwave review and our initial impressions of it.
We hope you will find our Morphy Richards 20MS microwave review helpful, if you have any queries or concerns do let us know in the comments or ping us on our social accounts Twitter, Facebook, and Instagram.
Without saying much, welcome to PadhKeDekho, and let's have a look at Morphy Richards 20MS microwave review, shall we?
What's In The Box?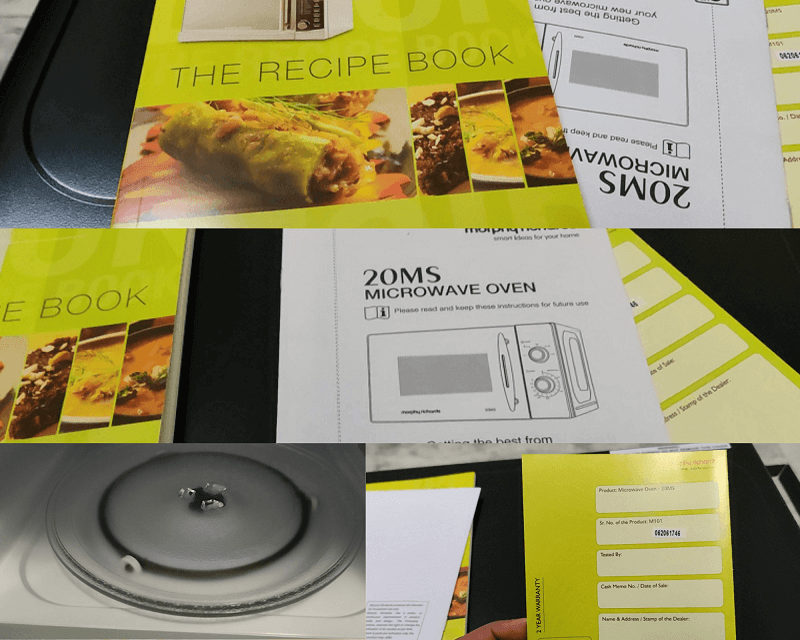 In the box of Morphy Richards 20MS microwave oven, you'll get
A good quality glass turntable plate
Thick Indian recipe book (which is quite useful)
User manual with tons of instructions and precautions
Customer care list
Warranty card
Morphy Richards 20MS Built Quality (4/5)
Morphy Richards 20MS is a countertop type microwave from a British manufacturer that offers stainless steel construction all around and a mirror glass design upfront.
At first glance, it doesn't look like a budget microwave. The microwave offers great built quality you will not find a single squeaking from the body. 
The front panel of the Morphy Richards 20 L Solo Microwave has a black mirror design that enhances the facial look.
For protection, there is a plastic scratch guard pre-applied. If you find scratches near the knobs on the protection cover you can remove the layer. We have seen quite a few reviews on Amazon highlighting it as a con, however, it is not!
On the top of the microwave, you will not find any air vents which improves the looks and seems clean as internal parts are not visible. Since the previous microwave we owned had big air vents as a result it used to look dirty.
For opening and closing the microwave a plastic door handle is given which gives an impression of steel. The handle seems strong.
Along with the handle, you will find two control knobs that are very precise and offer a good feel while operating.
More about them in the features section of the article. Unlike some microwaves that have a flimsy quality and can break at any moment.
On the back, you will find a high-quality cable and a strong 3-point connector. As per our initial thoughts, it is a quite rigid and best-looking microwave on a budget, period!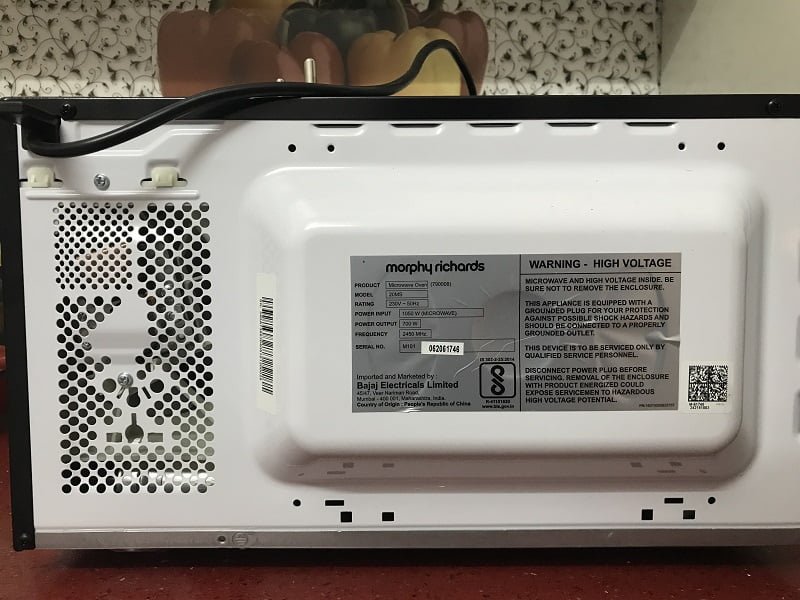 Features Of Morphy Richards 20MS (4/5)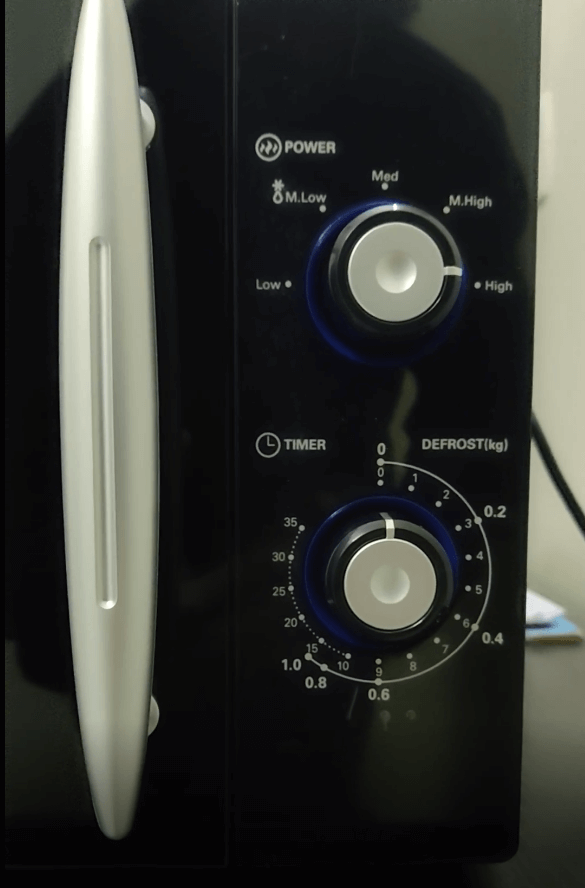 This particular microwave is a basic one that can only be used for reheating, defrosting, and cooking. Since it doesn't come with OTG capabilities, if you plan on making pizzas or cakes at home then you can go with Morphy Richards 20 L Grill Microwave Oven.
#1 5 Different Power Options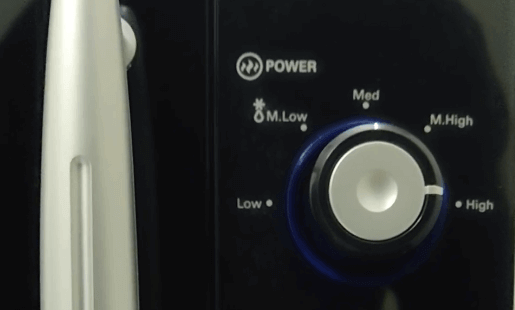 The first knob is for 5 different power options namely Low, M.Low (medium-low), Med, M.High (medium-high), and high.
These are not just gimmicks but they work. When you cook on a conventional gas stove different dishes consume gas for different durations and velocities. The same is applied to a microwave.
If you have to melt/soften ice cream or butter for a sandwich you will use the low-power option. To defrost frozen food switch the power option to M. Low setting. Planning to cook rice, fish, or minced meat? then change the power option to M.High. And last but not least if you want to reheat, or boil water then High power mode is the way to go.
Even in the recipe book, you will find a great variety of power options for dishes. Since we upgraded from a very basic microwave this was something new for us.
#2 Advanced Timer
The other knob on the MWO 20MS is for the timer which at first glance seems complicated but it is not!
The numbers from 1 to 35 represent minutes, which is common in today's microwaves. What makes Morphy Richards 20MS microwave special are the marking on number 3 as 0.2, 0.4 on 6, 0.6 on 9, 0.8 on 10 denotes grams to defrost or cooking(1.0 on 15 denotes 1 kg.)
This will be helpful when you have to defrost your Mccain or any other frozen snacks for the evening!
Since you can't put your frozen snacks directly in the heating pan on the gas you should defrost the ice for a better-tasting experience.
#3 Comes With 2 Years Warranty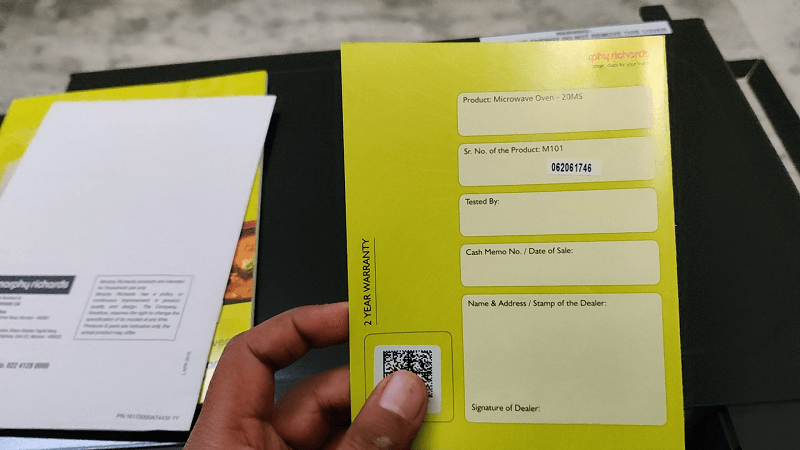 Morphy Richards 20MS microwave comes with a 2 years warranty! This gave us the confidence to buy it.
Even top brands like Samsung or Panasonic offer a 1-year warranty (on the models that we shortlisted).
So you get peace of mind for a while longer! Since we bought it from Amazon so the date of service and stamp of the dealer is missing.
But our product is under warranty and we have verified the same by the Morphy Richards customer care.
#4 A Thick Recipe Book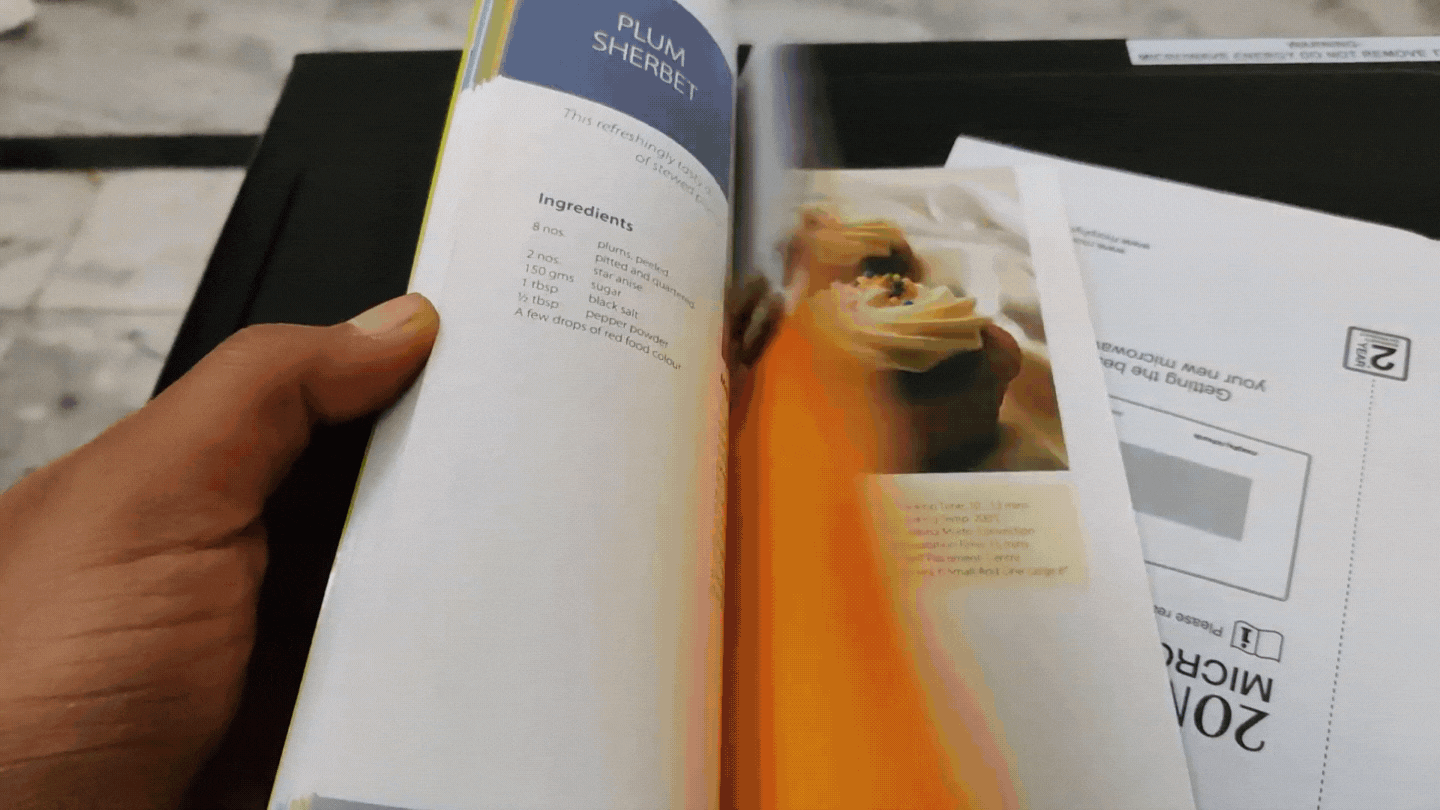 We were going to ignore this point but couldn't. Because there are so many recipes in the book that are interesting and well-explained.
Inside you'll find recipes for soups, starter snacks, main courses, pasta, rice, salads, desserts, and beverages!
Out of those, we have tried a few dishes and well will not brag, though they were quite detailed we need more practice :)! If like us, you also want to try new things then the recipe book with Morphy Richards 20 MS microwave will come in handy.
#5 20L Capacity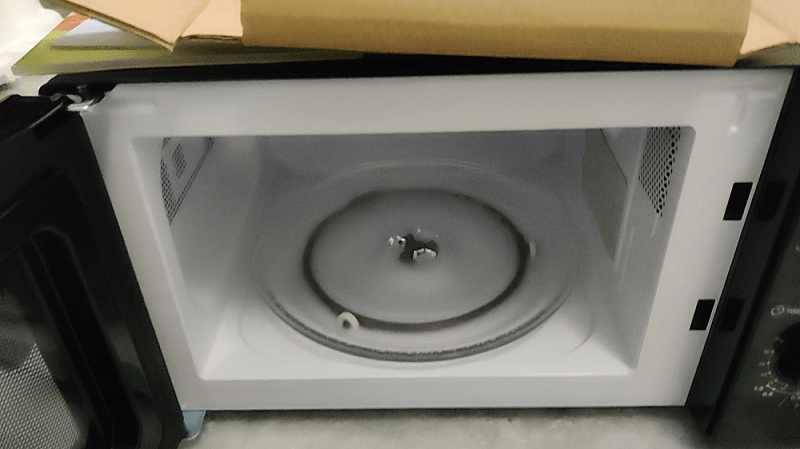 The microwave is quite small and still manages to hold a capacity of up to 20 liters. Since we are a few bachelors at our residence so it works great.
Usually, on weekends we have leftovers. In that case, the microwave can warm up 2 slices of Domino's medium pizza or a 10-inch pizza along with a glass of water to maintain the crispiness of the pizza.
As per the size of the microwave, it is advisable for small families. But if you are smart enough then you can make it work for a family of 4 to 6! Because we have one at home so we know!
Should You Buy Morphy Richards 20MS Microwave?
Morphy Richards 20MS Microwave is a basic microwave for day-to-day heavy as well as lite use.
Along with basic features like reheating, you can also cook and defrost your favorite veg or non veg snacks. The most important factor for the long life of a microwave is the built quality, and we are happy to report that you will experience the best-built quality in this budget.
The knobs, door handles, and hinges of the door seem strong like a sturdy product.
As per our initial experience, we are quite impressed with the reheating and defrosting.
Once the desired time is elapsed it makes a "ding" tone which is quite soothing and doesn't bother, unlike other microwaves which are used to make an alert buzzer.
Our experience so far has been spectacular with Morphy Richards. Be it the microwave or the service we are required to verify the warranty details. Everything has been perfect and on point. We will be buying more of Morphy Richards from now on!
If you are willing to buy a microwave in the budget category then buying Morphy Richards 20MS Microwave is logical. As it offers 2 years warranty, provides defrosting and cooking options.
But do remember it is a basic microwave so baking pizza and cakes is not possible for that you have to buy either Morphy Richards 20 L Grill Microwave Oven or any other OTG-capable microwave oven from other brands.
There You Go, Guys!
This was our Morphy Richards 20MS Microwave review. If you have any concerns or questions you can reach us in the comments section below or on our social handles Twitter, Instagram, and Facebook. We will revert as soon as possible!
Just like the above article, we share our 2 cents in the form of reviews, tips & tricks, and opinions so do check out those articles. And if you liked the content do share it with your friends and family! Thanks, we will see you at the next one!
Thanks for reading guys! Hope you have found our Morphy Richards 20MS microwave review helpful!
Articles That Might Interest You!
Is Morphy Richards Microwave Good?
Morphy Richards offers premium-quality microwaves at convenient prices.
Is Morphy Richards a good brand?
Yes, everything starting from the product quality to service is on point and the products seem long-lasting.
Is Morphy Richard Indian brand?
No, Morphy Richard is a British brand. Import and service are taken care of by Bajaj Electricals LTD.