[Updated on July 13, 2023] It's been more than 2 years and the performance of the microwave is great. The article stands valid even today.
If you are looking for a microwave you must have seen so many by now. Due to high demand, microwaves are flooded in e-commerce as well as offline markets. They are available in different shapes and sizes. To make their product unique some brands offer the best looks and some work on the features side. What if we tell you about a microwave that is a blend of looks as well as features? The one we are talking about is Morphy Richards 20L Solo Microwave which will checkmark all your basic requirements.
Update: Morphy Richards 20L microwave is available at a huge discount at Amazon's Sale. Click now to check out the deals!
In this article, you'll find our review of this budget microwave, technical specs, features, things to consider before buying a new microwave, and most importantly should you buy one?
So without saying much let's get started!
Morphy Richards 20L Solo Microwave Specifications
This is something that most people overlook while buying a new microwave. So let us share some of the vital specifications of the Morphy Richards 20L Solo Microwave.
| Specification | Value |
| --- | --- |
| Oven Capacity | 20 Litres |
| Cooking System | Turntable System |
| Weight | 10.7 KG |
| Ideal For | Small Family |
| Dimensions | 440 mm x 340 mm x 259 mm (h*w*d) |
| Material | Stainless Steel |
| Features | Reheating, Defrosting, and Cooking |
| | |
Morphy Richards 20L Solo Microwave Specifications
The best part of this microwave is the outer body. Morphy Richards has not done any cost-cutting and has offered this microwave in stainless steel material.
As stainless steel doesn't catch rust so longevity is definitely for this product compared to iron or metal microwaves.
Morphy Richards 20L Solo Microwave Features
| Features | Availability |
| --- | --- |
| Reheat | Yes |
| Defrost | Yes |
| Cooking | Yes |
| Advanced Timer | Yes |
| OTG Capabilities | No |
Some Features Of The Microwave
Morphy Richards 20L is a solo type of basic microwave. By basic microwave we mean it can not only reheat your food but also can help you in defrosting and cooking. It has so many useful features that we covered recently in detail. Check the link below!
Read More: Morphy Richards 20L Features And How To Use Them
Note:- Morphy Richards 20L is a solo microwave where you cannot bake cakes and pizzas. For that, you can try microwaves with grill or convection microwaves (click to learn more). Morphy Richards 20L Grill Microwave oven can be a better choice.
Things To Keep In Mind While Buying A Microwave In 2022
We know people who buy kitchen equipment simply by the looks and the discount tag they have on them! Well, that's a way of putting it but usually, products on discount seem promising but you should always have a checklist before pressing the buy now button!
#1 What Type Of Microwave You Should Buy?
There are three primary types of microwaves; solo, grill, and convection.
The basic one is the solo. This type of microwave is the easiest to operate and comes with features like defrosting, heating, and cooking. Unfortunately misses on OTG capabilities hence you can't bake cake or pizza or naan in them.
Grill microwaves are the ones that can take care of the basic functions of solo and also let you bake cakes, cookies, and pizzas. Most sellers confuse the customer with grill microwaves to convection microwaves.
Convection microwaves are the most expensive ones as they combine both the two categories above. Additionally, these types of microwaves can use electricity as well as heat so it is ideal for someone who is going to bake a lot of cakes and pizzas. What's good about this, is that it cuts the baking time by half compared to Grill!
2. Warranty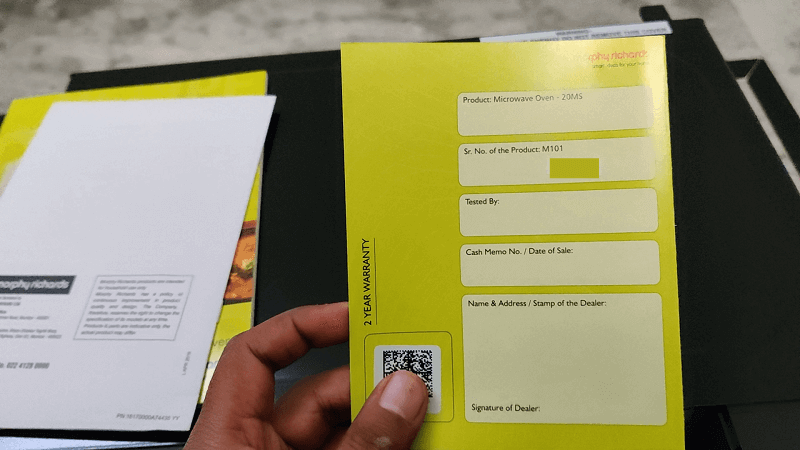 While we were shortlisting the microwave, the warranty was among the top priorities. With this Morphy Richards microwave, you'll get 2 years of warranty which is impressive.
Because most of the top brands only offer a 1-year warranty on their products.
Warranty is peace of mind, the more you have the better you feel good. So before buying one, do ask for a warranty as well as AMC (annual maintenance contract) if you plan on using it for a long time.
3. After-Sale Service
Brands that operate in India tie up with an Indian brand so that they can provide the best service. Morphy Richards has partnered with Bajaj Electronics Limited which takes care of the import of their products and services to the customers.
Since Bajaj Electronics is an Indian brand it has a wide service network that you can take advantage of. As a result, you can get service in even rural areas of India. Which is remarkable. So always keep this in mind before buying your next microwave from an international brand.
#4 Built Quality
Another point to take into account is the outer body of the microwave. Some microwaves are of metal or iron instead of steel. The prime reason for doing this is to keep the cost low.
Fortunately, Morphy Richards 20L Solo Microwave has a stainless steel construction.
As stainless steel is a good conductor of heat. So the heating capabilities of a stainless steel microwave will be better than the Iron or metal microwave.
Secondly rusting on the iron will also be a factor to consider while choosing your next microwave.
#5 Power Ratings
Power ratings also explain a lot about any product. Microwaves come in various power consumption in terms of Watts. This depends on the type of microwave you select. The ideal range of watts is from 600 to 1600.
The more the wattage the better heating you'll get and the lesser time consumed for the task be it cooking, reheating, or defrosting.
You will find a few microwaves that advertise "low power mode" which consumes less electricity but takes more time to complete a task. So keep that in mind as well.
Should You Buy Morphy Richards 20L Solo Microwave?
Yes, because there are so many reasons for it. The primary one for you can be the 2-year warranty on this product. The service of Morphy Richards products is done by Bajaj Electronics Limited.
This is great because Bajaj has numerous service centers even in rural parts of India! So you can be less worried.
For a long life of a product, the built quality is the essential factor. This mwo20 is among the few microwaves that offer the best-built quality. It is reflected on the knobs and door handle of the microwave.
In terms of features, it carries most of the essential ones keeping in mind the price. You get options to reheat, defrost and cook. Unfortunately, it lacks OTG (oven toaster griller) capabilities as a result you cannot bake cakes or pizzas.
If you want to bake cakes and pizzas then buying Morphy Richards 20L Grill Microwave Oven will be a better choice.
We have used it mostly for defrosting and reheating. Initially, it took us time to understand defrost process as it was something new to us. So far we haven't faced any issues with the microwave.
Considering a product from a British manufacturer that is offering such built quality, features, warranty/services in the comitative price market is indeed remarkable.
So you can give this microwave a shot and stay trouble-free for a longer time.
That's It, For Now, Folkes!
This was our Morphy Richards 20L solo microwave review. If you have any queries do reach us on our social media accounts. We would love to help! Twitter, Facebook, Instagram.
Just like the above article, we share our 2 cents in the form of reviews, tips & tricks, and opinions so do check out those articles. And if you liked the content do share it with your friends and family! Thanks, we will see you at the next one!
Articles That Might Interest You!