[Updated on 21 Feb 2023] In this PHILIPS Air Fryer HD9200 Review, we have talked about how an air fryer can save you money! While making your food healthy while being tasty! This is not sponsored content what you are going to read is our editorial review after using it for a few months.
Does 5 PM ring a bell in your mind and a craving for chai samosa happens? Or perhaps, feel like frying some of the frozen snacks and eating them piping hot? Then, my dear, you are not the only one! I don't know but being Indian our love for fried food is unmatchable.
During this Diwali sale, we bought our first Air fryer for the office as we all are foody and not in a good shape lately! We were in search of the best one. Our lovely readers recommend us to try PHILIPS Air Fryer and here's our PHILIPS Air Fryer HD9200 Review after 2 months of extensive use.
if you are new to PadhKeDekho, we review and compare products after intensive testing for a month. This helps our readers with added value, unlike others who just post the tech specs and call it a day!
Features of PHILIPS Air Fryer HD9200/90
#1 Less Oil = Savings: This air fryer "claims to use up to 90% less oil" for frying which means healthy food. This is not wrong in any sense. Also, it will let you save cost on two things; less use of refined oils and consumption of LPG gas.
We cooked finger fries of about 4 big potatoes in just 2 teaspoons of refined oil! Just think how much oil you will be saving which can be beneficial for your monthly household responsibilities.
#2 Bigger Capacity: One serving of snacks can take about 20 minutes per round. This can be an issue if you party over or have a joint family. But here, PHILIPS Air Fryers HD9200/90 has a big 4.1 Liter capacity that can fill a platter of 5 to 6 people at a time.
During the Christmas party, we had 6 people to feed and we kept oil in the pan ready if snacks will get delayed but no! The Air Fryer did not leave the party feeling hungry!
#3 Not Just Frying: With PHILIPS Air Fryer HD9200/90 you can fry (obviously), grill, bake, roast, and even reheat. Initially, we focused on frying but now we tried to bake muffins it went pretty well too!
#4 Easy to Clean Mess: Air fryers do leave a lot of oil and residue while cooking. But, it's effortless to clean. If you just add two glasses of warm water, most of the oil and leftover can be wiped with a wet towel. Feel free to use any liquid wash inside the tub and frying pan. These two are dishwasher ready too. So you can be more confident!
#5 Auto OFF Feature: You can set the timer and focus on other things while your food is being prepared. The "ding" once the timer reaches zero is loud yet sweet. The timer control and the temperature control knob are dual-directional. So if you set a higher time or want to lower it you can do it by 're-turning" the knobs. You will need to apply more force while doing this.
Taste Difference Between Air Fried or Oil Fried?
Yes and no! The scale of difference will vary based on the snacks you are preparing.
Are you going to eat frozen snacks? If yes, you will not feel any difference between air-fried or oil fried. We were also shocked. I tried Macens Veg Sticks, Allu tikki, and potato shots and none at a party can guess these were prepared in the air fryer. In fact, snacks prepared in an air fryer are crisper.
If you are going to prepare food from scratch i.e. peeled potatoes for finger fries or Allu tikki or any food without preservatives then yes, the taste will be different. On a scale of 10 and after testing about 20 odd snacks from the Air fryer we have not moved back to traditional oil fried.
Air Fryer Recipes Indian Using PHILIPS Air Fryer HD9200/90?
You can make pretty much anything but non gravy in this. The air fryer can let you fry, grill, bake, reheat, and even roast. On weekends, we generally make snacks for the whole team. So far we've made both veg and non-veg snacks. Some were frozen (pre-cooked just fried) and a few were done from the scratch.
Here are the following dishes.
#1 Mccain Snacks
| Time | Temperature | Shack Interval |
| --- | --- | --- |
| 10-15 Mins | 160-200 Deg | Every 5 Mins |
PHILIPS Air Fryer HD9200/90 Review
Few Things to Keep in Mind
Be it any frozen snack you are preparing just make sure the items are oil brushed. The temperature gauge is purely simple. If you need your snacks to be "well done" keep the temperature around 160 deg and run the timer for about 20 Minutes. It will smell delicious as it does in Burger King!
Or you can keep it at a maximum of 200 Deg and reduce the time to 15 minutes.
To be in full control, you can set the timer on your phone or smartwatch for every 5 minutes and give the snacks a good swivel or with the help of a spoon turn the snacks. Though it's not necessary the motor inside can cook the delicacies 360 deg even still we do it for overall crispness.
For the first cold run, the air fryer will take about 20 minutes to prepare the dish. However, the second and third rounds will be quicker at about 12 mins.
#2 Cheesy Garlic Bread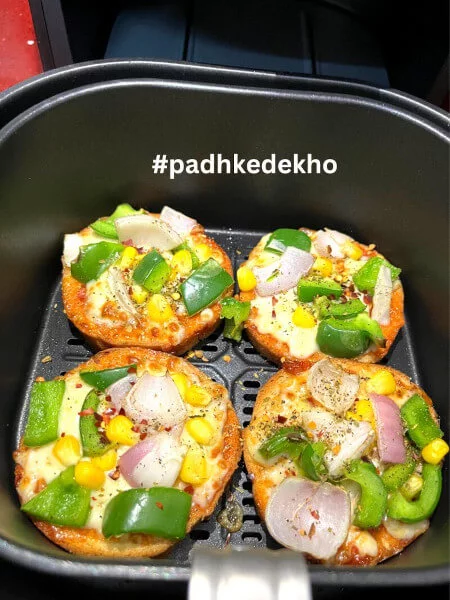 | Time | Temperature |
| --- | --- |
| 8-10 MIns | 200 Deg |
PHILIPS Air Fryer HD9200/90 Review
To make cheesy garlic bread we used fresh garlic bread from a grocery store, Amul Mozilla Cheese Diced, Mayonise, freshly chopped vegetables, and seasoning. And that's what it needs. It does not need to swivel just set the timer and wait for just 10 minutes and be ready for a cheese pull! Yum!
The bread will get a slight crisp and the cheese will be hot which is perfect for the wintertime. Do give it a try.
#3 Boneless Chiken Snacks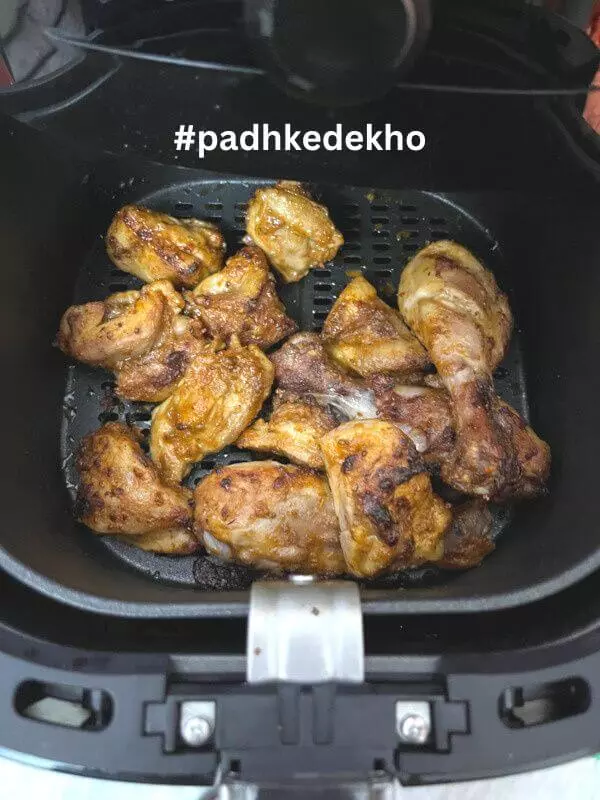 | Time | Temperature | Swivel Need |
| --- | --- | --- |
| 15-20 Mins | 200 Deg | Yes, Every 5 mins |
To prepare this dish, we got half a kg of freshly cut boneless chicken. Marinated it and simply put it in the air fryer. Some people leave it overnight in the freezer and then make it the very next day. We, however, don't have much time and we crave more. Be assured the chicken will be well cooked and tastes great. Just prepare grin mint chutney alongside.
Every 5 minutes do give the chicken a good swivel as it put roast flavor overall.
#4 Chicken Leg Pieces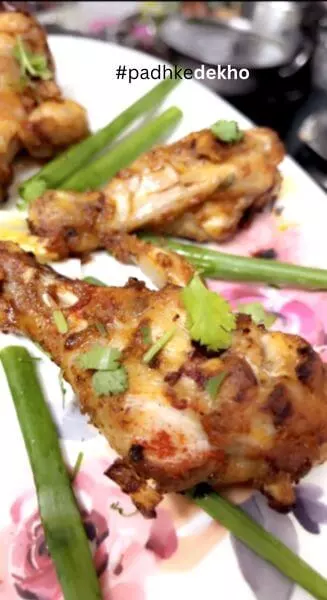 | Time | Temperature | Swivel Need |
| --- | --- | --- |
| 15-20 Mins | 200 Deg | Yes, Every 5 mins |
Just like the boneless chicken recipe, we shared above, leg pieces can be made the very same way. The cooing time is also the same and a swivel is needed for a better roast flavor all around.
But you will need to do some temperature variance. In the beginning, keep the temperature at 160 deg for about 12 minutes. This will cook the chicken from the inside and then for them and then raise the temperature to 200 deg. It will make sure the roast is on point!
So Should you Buy PHILIPS Air Fryer HD9200/90?
From the photos and recipes above, it's very hard not to recommend this air fryer. It serves the purpose, saves oil and LPG gas, and what else you can ask for? Cleaning? Well, thanks to the nonstick base, the overall cleaning process is very simple, and if you have not washed the utensils ever in life. Can do that easily.
Just avoid using dishwashing soaps or stainless steel scrubbers it can damage the utensils. And also do not wash the electrical or upper part of the air fryer with water or anything. A wet tissue will be more than enough to wipe the oil stains or fingerprints.
We are quite happy with the PHILIPS Air Fryer HD9200/90 and we recommend our readers to give it a try if you are looking to buy one from a reputed brand.
Wrapping up!
There you have it, folks! This is our PHILIPS Air Fryer HD9200/90 Review after 3 months of use. if you found it helpful then you can check the best recipe using the Amazon link below. If you wish to support us, then please use the below link to confirm your order. It will let us earn a small commission at no cost to you. Amazon will take care of it.
Got queries? Don't worry! Feel free to reach us on the below social accounts., We love to help our readers.
PHILIPS Air Fryer HD9200/90 Review – F.A.Q
Are Air Fryers Healthy?

Yes, Air Fryers are healthy because the heating/cooking/roasting is done via hot air instead of oil.
Are Air Fryers Worth it?

Yes, Air Fryers are totally worth it if you make/consume a lot of fried snacks/foods. It caves on oil and LPG gas which are certainly not cheap.
Are Air Fryers Good For Vegetarians?

Air fryers are good for veg as well as non-veg eaters. We've made around 20 snacks using PHILIPS air fryers and are not going to traditional oil frying! Click now to learn more about the best recipes for Air Fryers.
PHILIPS Air Fryer HD9200/90 Review – Good?

It's great! You can "fry" with this, reheat, bake, grill, and even roast! So should you buy one? Here is our detailed review after 3 months of use. Click now to learn more.