Under 1500 Rs there are so many tws earbuds available but these two are certainly good. In fact, they are great for the bucks. Be it performance or features there is no denying. But which is more ideal for you? Which one sounds better? Then in this Mivi DuoPods A25 vs Boat Airdopes 121v2, you will get to know many things!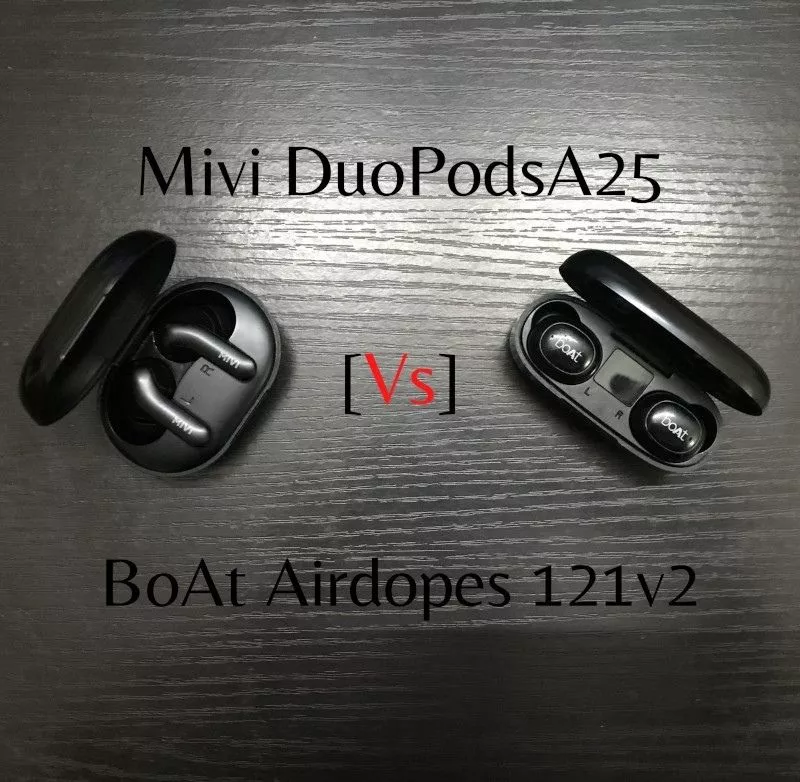 In this BoAt Airdopes 121v2 vs Mivi DuoPods A25 comparison, we will put these side by side in terms of differences, pros and cons, built quality, design, look and feel, features, gripping, audio quality, mic output, battery backup, and finally our conclusion. So it's going to be an important one for you. To save your time. clicking on the prior links will take you to the respective section.
Disclaimer: This detailed comparison is not sponsored by any brand in any form. The opinion and review shared is my personal experience with these after months of use. So, you can trust my word for it.
Padhkedekho.com is supported by readers like you! Buying any earbuds using the below Amazon links will help us earn some commission at no additional cost to you. This however doesn't affect our review about the same.
So that being said, let's begin Mivi DuoPods A25 vs BoAt Airdopes 121v2 comparison with differences.
Differences Between The Two
| | | |
| --- | --- | --- |
| | | |
| | 5 Colors: Black, Blue, White, Midnight Blue, Red | 3 Colors: Black, Light Blue, Pink |
| | | |
| Battery Percentage Display (TFT) | | |
| | | |
| | | |
| | | |
| | | |
| | | |
| | | |
BoAt Airdopes 121v2 Pros & Cons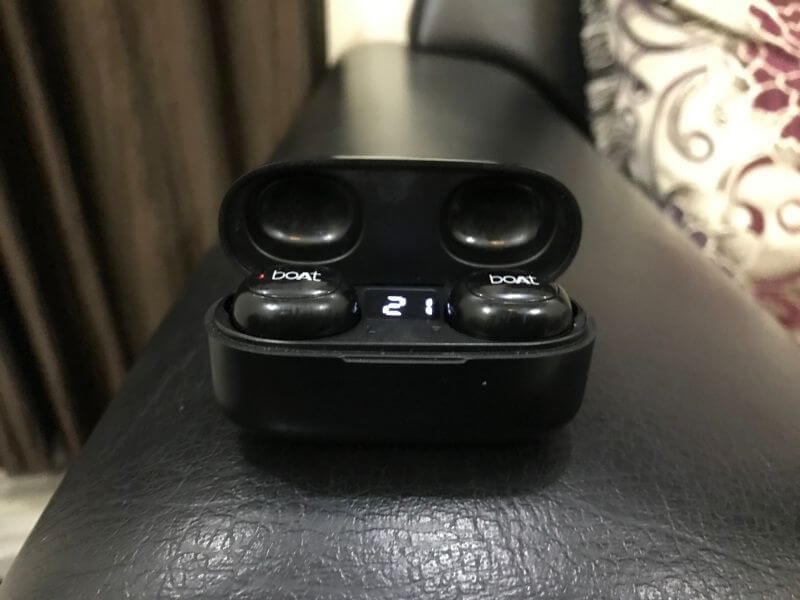 Mivi DuoPods A25 Pros & Cons
Built Quality
Both the TWS options from BoAt and Mivi have great-built earbuds. In the hands or ears, they don't have any rough edges or flimsy bodies. So for long hour use both will not cause any trouble. But the difference lies in the carry/charge case.
Mivi DuoPods A25 doesn't offer a good click noise when closing the lid. This means the hinges are a little stiff. Whereas on BoAt Airdopes the opening and closing mechanism feels better than Mivi but the cap is a little flimsy.
Since I am using both of them for a very long time (1 year plus for Airdopes 121v2 and 7+ for Mivi DuoPods A25) both are going strong! I found it different hence mentioned it. Usually, both of these have a price difference of about 300 to 500, which is certainly not a small difference as both are under 1500. Here I would love to give more marks to MiviDuoPods A25 for that!
BoAt Airdopes 121v2: 4/5 || Mivi DuoPods A25: 4.5/5
Design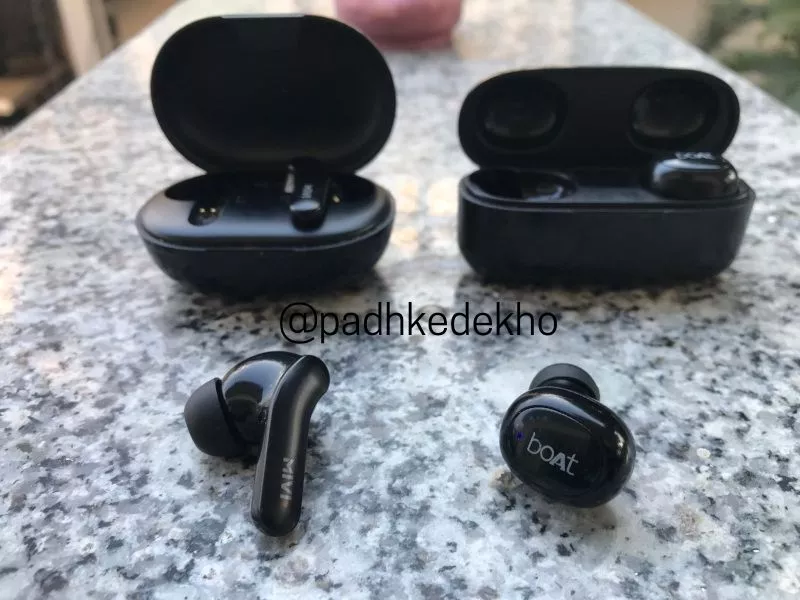 The distinctive difference is in the design itself. Mivi has a more common and slightly bigger size form factor. Whereas BoAt seems very small. So when both are in your ears, Mivi DuoPods A25 will be more prominent and protruding outwards. Whereas BoAt 121V2 can easily be hidden in a winter cap or bandana. At the same time, Mivi will offer better grip during movements like walking, jogging. etc.
Due to this difference in size, the carry case reports the same story. Since the Mivi Buds are bigger they need slightly more space to accommodate the buds. On the other hand, the Airdopes 121v2 case seems like a long Gulab Jamun!
As for me, I don't hate any of the form factors. As I back and forth swap between earbuds, these differences don't bother me that much. So you can easily go with any of these. But if I've to choose, it's BoAt Airdopes 121v2 due to its compact nature.
Look & Feel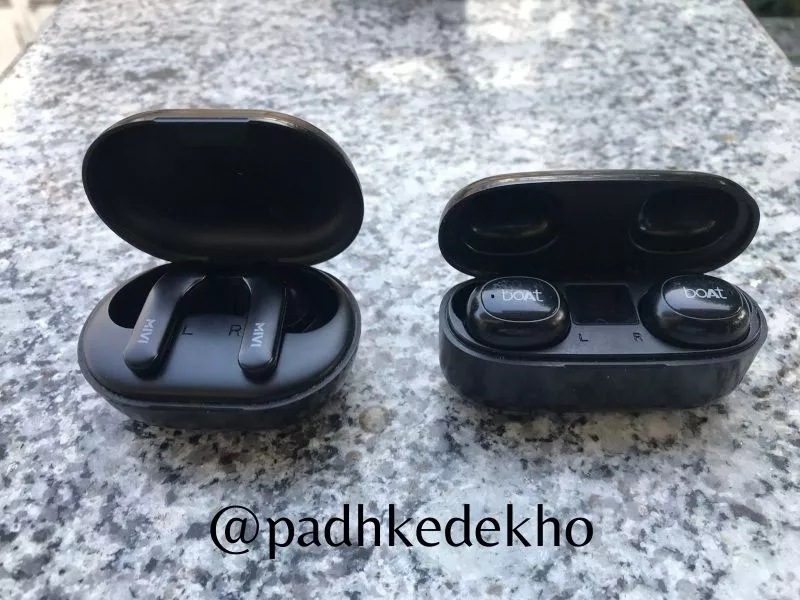 In this "case", both have a matte design which I absolutely love. Sure, it attracts more scratches but still matte looks good. But when it comes to the earbuds, then the story is very different. Here, one is purely glossy while the other is a blend of both. That's why I went with black color on these.
BoAt Airdopes 121v2 is completely glossy but the best part is its dual color scheme that saves the day. It's not very evident in the color I bought but if you try going with Blue it will look even better. To a level, where BoAt branding gets hidden from some level!
On the other hand, Mivi DuoPods A25 has the stem as matte which looks really very attractive. Then you have a glossy element, but no offense that goes in the ear hence no one is going to look at that! So in terms of looks, both are very different.
Here due to matte looks, I personally like Mivi DuoPods A25 More than Airdopes 121v2.
For comfort, I can easily recommend any of the two. Since you get silicone ear tips on both the tws options, you can easily wear them for 5 hours on a stretch. Recently I did a trip From Delhi to Dehradun and I just give them a rest for 30 mins. If you don't know the bus travel takes around 6 hours. So no worries you can even take these for traveling too.
Looks: Mivi: 4.5/5 and BoAt 4/5
Grip
Will you use these earbuds for strength workouts like gyming or running? then yes you can buy these. I usually take these for jogging and lightweight workout they can be used. But one takes the lead and that's Mivi DuoPods A25. Thanks to the ear canal design and long steam it hugs the ears more prominently than the Airdopes 121v2. So for workouts, Mivi DuoPods A25 is better.
If you are more into workouts then you should definitely try either BoAt Airdopes 441 or OnePlus Buds Z. Both of these are incredible value to the price and are supper grippy during intensive workouts too. Since I've owned both of these, you should read this detailed comparison before making a decision.
Grip: Mivi: 4.5/5 || BoAt: 3.5/5
Audio Quality
When it comes to the audio quality then both are very different. Mivi DuoPods A25 has a 10mm audio driver while the BoAt 121v2 is 8mm. So what difference can it make? Well too much actually.
But before that let's talk about the similarities. Both the two earbuds have good vocals and instrument separation. So you will have a good time listing to music.
Now for the differences. Mivi DuoPods A25 is louder and offers thumping bass. If you like deep bass, then Mivi DuoPods A25 is better. Moreover, the treble on Mivi Buds is quite low which is great for people who prefer to play songs at full volume.
BoAt Airdopes 121v2 is not a flat line either when it comes to bass. It's better than BoAt Airdopes 131 any day. But due to the 8mm drivers, it cannot surpass the Mivi DuoPods A25, period.
So for music, it's going to be Mivi DuoPods A25.
Audio Quality: Mivi 4.5/5 || BoAt: 4/5
Features
Mivi has done their homework! At a sale price of 1000 Rs, it offers touch controls on both earbuds, IPX4 water resistance, 10mm audio drivers, Bluetooth 5.0, voice assistant, and above all, it's a made-in-India Local brand.
So if the above features excite you then Mivi DuoPods A25 is a bang for the bucks.
Now, BoAt is not behind either. The biggest feature of Airdopes 121v2 is the big and bright TFT display for the current battery status. Believe it or not, I always miss on the newer Airdopes model. Ya, you can see the battery percentage in the notifications panel and settings of your smartphone. But for many earbuds, it's just telling you the status of the earbuds, not the case.
As far as Bluetooth connection goes, it also comes with Bluetooth 5.0 which works decently. In closer proximity of 3 to 4 meters, it's fine but beyond that, the signals start to lose. Due to the design, the form factor of BoAt Aurdopes 121v2 is very small and lightweight at around 4 grams only. To be honest, you will not even feel them in the ears.
So for features, both are great, and choosing one over the other is your personal call. These features are not gimmicky they do make your life easier.
Mic Test
if you have plans to make calls using the wireless earbuds then choose wisely between the two as one is great and the other is average at best. But both can be used for calling, there are many earbuds that offer far, far lower mic quality.
So for calling or audio recording you can use both but it's Mivi DuoPods A25 that are far better than BoAt Airdopes 121v2. Why? because the final audio output is not in a robotic voice. Furthermore. the mic captures more detail from your voice. On top of it, there is no network drop or audio break. I've tested this earbud in Metro as well.
Hence for calling, my recommendation will be Mivi DuoPods A25.
Mic Quality: Mivi – 4/5 || BoAt- 3/5
Battery Backup
Both the wireless earbuds have a good battery backup. As per companies' claims, Mivi DuoPods can get you up to 40 hours of backup and 7.5 hours on a single stretch. Whereas BoAt Airdopes 121v2 suggests 14 hours to total playback with about 3.5 hours on a single stretch. Which on paper doesn't seem very promising for BoAt.
But in reality, things are very different. This information will certainly come from a person who has "actually used" it rather than just reading some specs from here and there!
Coming back to the topic, BoAt Airdopes 121v2 can give you a battery backup of about 5 hours on a single go. With the same use at full volume, you can expect around 5.5 hours of juice from Mivi DuoPods A25.
These figures will go up if you are not a fan of 100 percent volume. So as per battery backup, both are good and I have no complaints other than just one.
BoAt Airdopes 121v2 still comes with Micro USB/USB 2.0 which is not a good thing. Whereas, Mivi has offered USB-C for charging. Though it doesn't support fast charging still it's convenient as many phones now have TYPE-C for charging.
The carry case on both earbuds can get charged under 3 hours which is not great but based on their battery backups it's fine no issues with that too!
Mivi DuoPods A25 vs Boat Airdopes 121v2 Which One to Buy?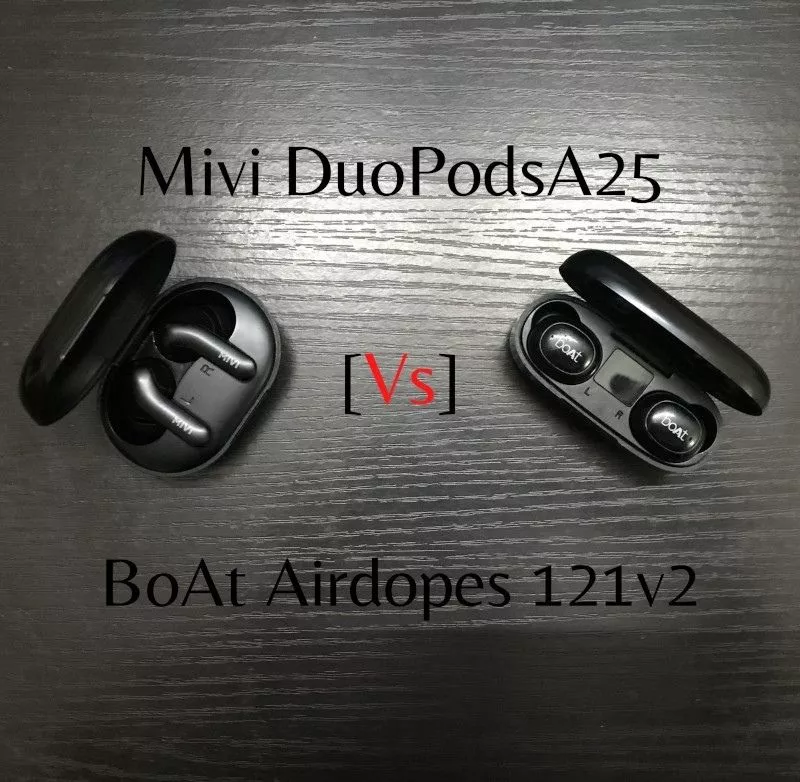 After using both of these and experiencing their repair/services too, I think both are great for the price and longevity. Airdopes 121v2 is more than a year old and Mivi A25 is around 7 months old at the time of writing this. So both are a fantastic purchase and I don't regret buying them! They have many differences as mentioned above in this Mivi DuoPods A25 vs Boat Airdopes 121v2 comparison that you have read.
if you are concerned about the durability of the audio gear then both are good and I think they can easily last for years. As far as service is concerned, I've experience with both Mivi as well as BoAt. You can read the experience as it might help you in the future.
To cut short, it's BoAt that gave me a better experience. Maybe due to BoAt having a service plant in Delhi while Mivi has that in Banglore. So if something goes wrong with your Mivi product and you don't stay in Banglore then don't worry, your product will be repaired or replaced but you have to allow them a month's time (give or take).
Now for the most important part, audio quality. If you like deep and punchy bass then Mivi DuoPods A25 is better. While retaining full detail of vocals and instruments. Similarly, BoAt Airdopes 121v2 also takes care of vocals and instrument separation but it lacks that punchy bass on offer. The 2mm audio driver difference does make a lot of difference.
Then comes the call quality. Where I would rank Mivi DuoPods A25 as the best one under 1200 Rs, period. I've used many tws earbuds like BoAt Airdopes 121v2, 131, Noise Buds VS103, etc. but Mivi has done really an incredible job. So if you need a truly wireless solution for calling then Mivi DuoPods A25 is the way to go!
| | | |
| --- | --- | --- |
| | | |
| | 5 Colors: Black, Blue, White, Midnight Blue, Red | 3 Colors: Black, Light Blue, Pink |
| | | |
| Battery Percentage Display (TFT) | | |
| | | |
| | | |
| | | |
| | | |
| | | |
| | | |
Wrapping up
I hope this Mivi DuoPods A25 vs BoAt Airdopes 121v2 detailed comparison would be of any help. if it did, then please use the below Amazon button to confirm your purchase. It will not cost you anything other than the earbuds cost.
Be a good samaritan and share this article with others so that they should know what to expect from their next purchase. Do share it with others so that they should also make a great choice. Did you get last-minute doubts? Then feel free to reach us on the below social accounts. We love to help our readers!
F.A.Q
Mivi DuoPods A25 vs Boat Airdopes 121v2 – Which one Sounds Better?

Both sound great. The best thing is the vocals and sounds don't get mixed. But the difference lies in bass and overall loudness. Click now to learn more!
Which is Better For Calling BoAt Airdopes 121v2 or Mivi DuoPods A25?

For calling or recording audio, It's Mivi DuoPods A25 is better.