In this new age, getting information is quick and easy, but it has something wrong. Myths have taken over and confusion is at its peak when it comes to how to charge earbuds! It's a little complicated but wrong information spoils the fun.
At PadhkeDekho we have owned 20+ TWS earbuds in the span of 3 years about which you can read over the review, compare & best products section. We gained experience (both good and bad) and are more than confident to write about it. With that said, let's dive in.
Here we've divided the article into 3 parts; Things You Should Know Before Charging Your Earbuds For The First Time, Some Frequently Asked Questions, and Ways to Charge Your Buds The Right Way!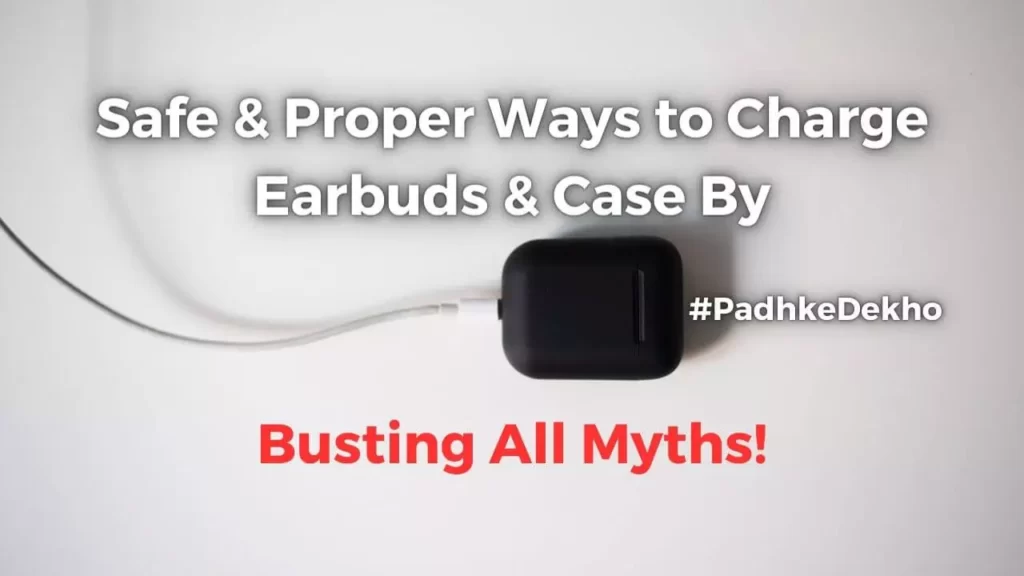 #1 Things You Should Know Before Charging Your New TWS Earbuds?
You just got your new TWS & in the user manual, it says to charge the buds 100% before using them. It's actually important because many people start using the buds at whatever percentage they get out of the box.
As a result, they don't get the claimed battery backup and people leave bad reviews and opt for return or exchange depending on their country. So, simply charge the case if you see it lower than 100%.
Now comes the first question; which charger should you use? The same one as your phone? No don't do that. Why? Because earbuds have low amp needs, unlike your phone which might get charged at 40 or 60 watts.
First, make sure that your earbuds support fast charging. You can get to know via the user manual or on the product page of the brand's website. if it's not mentioned anywhere then your earbuds do not support fast charging.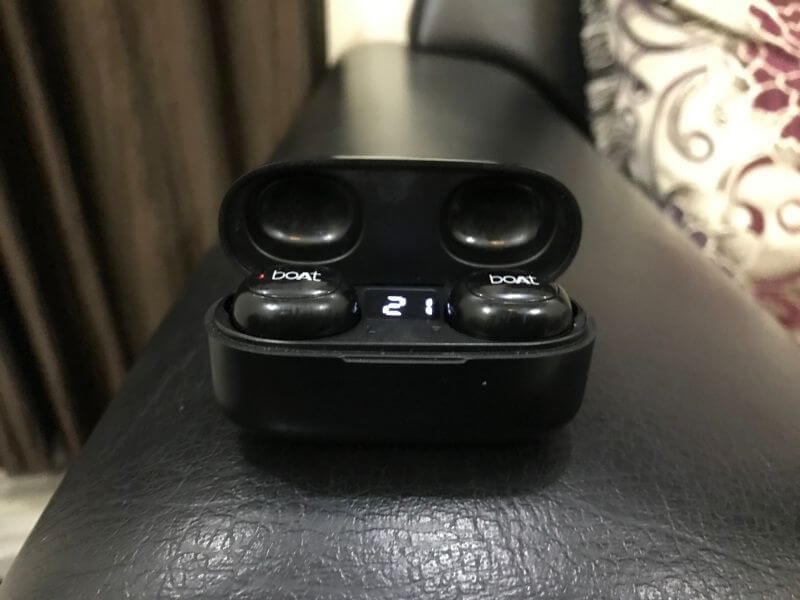 For context here's BoAt Airdopes 121v2 that we bought in 2020! These do not support fast charging. It's written on the BoAt product page's FAQ.
Charging these with a fast charger will not blow these away but will certainly impact the battery life in the long run. So if your earbuds do not support fast charging prefer charging them with a 5V 1 amp or 2 amp charger. Don't go beyond that.
Nowadays earbuds come with USB-C and support for fast charging hence you can use any high powered like a 20-watt or the one you use for your smartphone without worrying. What if you use 100 Watt charger? Will it damage the earbuds or the case? Will it charge the buds even more quickly?
Well, nothing bad will happen. Nowadays, chargers are quite intelligent as brands know we just don't use 1 charger for one device. Instead, we do otherwise! We use it for everything I.e. smartphones, tablets, even laptops, etc.
Usually, the power chargers have a USB input which by default is set to 5 watts. Doesn't matter if the charger is 40 watts, 60 watts, or even 100 watts. As much power, the device will "demand" the charger will "supply".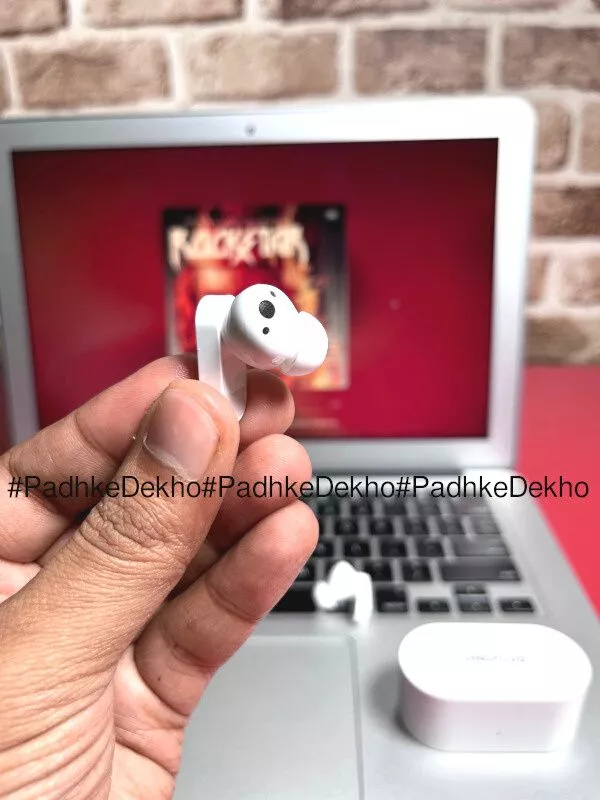 Here, OnePlus Nord Buds need a minimum of 5 Watt 1.5A power. So the charger will provide that and if OnePlus Nord Buds "demands" more the charger will "give more".
#2 Some Frequently Asked Questions
"I am going to use earbuds for the first time; how to use them correctly?"
This is a typical question we get a lot mostly from people who upgrade from headphones or neckbands.
When your headphone is out of power you put it to charge. Simple as that, but earbuds are different. They have separate batteries on both the earbuds and the carry case itself has charge and works as the power source. Let me explain.
The earbuds have a tiny inside them. This helps them hold a charge for about 6 to 7 hours. And when after use, you put the buds back in the case they start charging for the "next use".
In most "cases" the carry case can charge the buds fully for about 3 to 4 times. So you can also consider that the carry case acts as a "power bank" for your earbuds.
So to answer the question of whether you should charge the case or the buds first, the correct way is to just plug the charger into the case with the buds in. If you do that, you are good to go. There are a total of 3 methods to charge the buds and let's talk about that.
"When Earbuds or Case get a low battery which should I charge first; case or buds or both?"
That's the second most asked question and it's quite thoughtful. Let's say both the buds and the case are at 0% and you wish to charge them. Here are 3 possible situations that can arise.
#3 Ways to Charge The Earbuds & The Case Correctly
#1 Case With Buds Inside (Most Appropriate)
Charging the complete set will be better and saves time. Why? As the case begins charging it starts supplying charge to the earbuds.
Since the buds have smaller batteries they charge quickly. Within 10 minutes the buds will be ready to be used for about 30 to 60 mins depending upon the battery capacity and the power charge support.
And if you don't use the buds when they are charging then within 2 hours both will be fully charged. This will save you time as well as the inconvenience of doing them separately!
#2 Case Alone (Safe, But Not Ideal)
Let's say you wish to charge both; the case and buds separately. is it bad? No, but it's not convenient. Let us explain.
Since the buses are not inside the case, this means the carry case might charge quickly. This is fine if your buds are in use and you feel like charging for emergencies, etc.
Let's say the case is fully charged and now you have put in the buds with 0 batteries left. The buds will take about 30 to 40 mins to charge and have sufficient power to run.
If you look at the time spent, the case will take about 2 hours to charge and then the buds will take about 30 to 50 mins (depending upon normal charging or fast charging.) By this, the total time spent will be about 2 hrs and 30 mins.
Ultimately this step is complicated and consumes more charge and time. But is it wrong? No! You can do this as well it's not going to harm your case or the buds.
#3 When Buds Have Power But The Case is Dead:
This happens most of the time when the case has already charged the earbuds 3 or more full times.
In this case, the carry case loses all the juice, and the final change is given to the buds. In this way, you can use the buds while you put the case on charge.
Or, you can power off the buds manually and keep them somewhere safe while the case charges. This way you will not be using any battery for the earbuds.
These are the only charging conditions that can arise while you are using the buds. Now, let's have a look at one last question.
One More Question That Needs Attention
Before wrapping up, let's talk about 1 question that we get every other day! Can I charge my earbuds case via the earbuds? This left us confused for a while and here's why we think it can't be done, yet.
First, even as of 2023, TWS earbuds do not cross charging through which the case gets charged from the earbuds. Maybe in the future brands might come up with something!
And second, let's say they do come up with a solution. How the buds will provide power?
In the last 3 years of testing, we have not seen earbuds with more than 50 mAh of battery. But, we have certainly tested earbuds that come with 2600 mAh carry case like BoAt Airdopes 441 Pro.
My point is, how does 50 mAh or a tiny battery charge a big battery? So this is not possible, yet!
Wrapping up!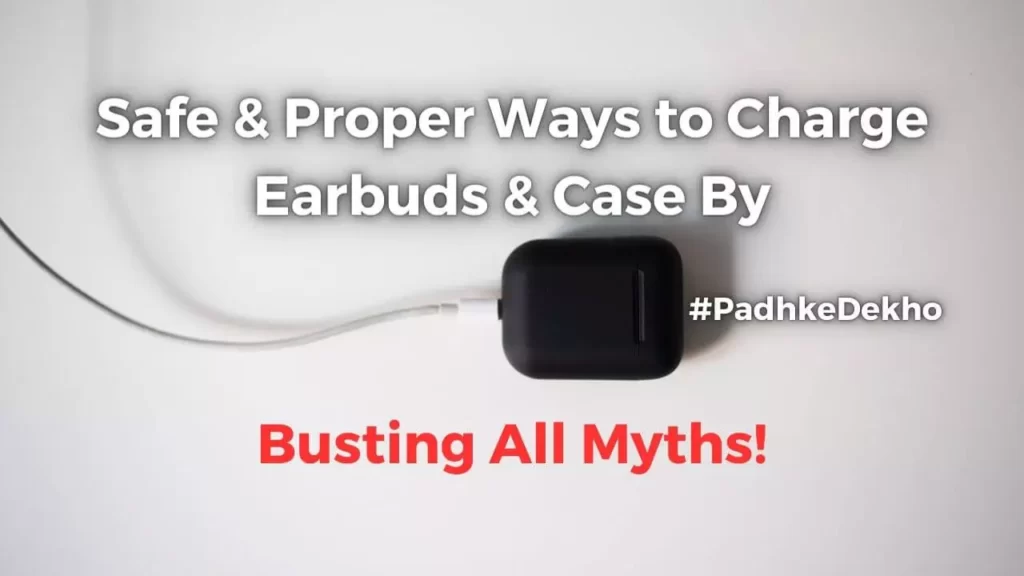 If you will follow the steps above you will not need any more myth to spoil the fun. These are the safest steps to charge earbuds without damaging the buds or the case.
Got questions? Feel free to ping us on the given social accounts we love to help out our loyal readers!
As a support to us, you can share the article with everyone who might need to know the reality of charging the buds, unlike the myths! So now you know how to charge Bud's case. This sums up our article on how to charge the earbuds properly.
F.A.Q
How to charge earbdus without case?

A few ways are there but it's better to leave because you might get an electrical shock. So, avoid doing that. if you have lost the case then you can reach out to the brand and maybe they can help you with a new case at a charge.
How to charge earbuds with phone?

Some premium flagship phones and earbuds support dual charging where you can put the case and they will begin charging. However, if you don't have the carry case, you will not be able to charge the earbuds with the phone.
Can i charge earbuds case with the earbuds?

Well no, you cannot do that. Maybe in the future, we might see earbuds with dual charging support.
How do i charge earbuds?

You can charge earbuds by simply putting them in the case. It will be notified with an LED glowing or on the battery percentage indicator screen.
Other Articles That Might Intrest You!