[Updated on July 26, 2023] Even today, people are still having many concerns regarding different types of Instagram accounts. One account type will give an open invitation to likes, comments, and followers. On the contrary, the other one will invite privacy protection and your control of the content. So do you ask yourself, should I have a public or private account for Instagram in 2023?
If yes, then we will explain both account types in detail so that you should know what to expect from them.
Hey there! Welcome to Padhkedekho, and let's get going!
Want is Your Motive?
Gone are the days when Instagram was simple and had only personal accounts. Now, things are different and you'll see more business accounts! And that's what we want to talk about.
If this is going to be your "personal account" where you might be sharing happy times, family outings, or general updates with the motive to update your actual friends and relatives then a personal account is best for you.
But, if you have business in mind or ultimately you wish to earn from paid post or collaborations with influencers, models or brands in general then business accounts is the perfect solution.
The scope of this article is for personal accounts. if you are interested in knowing the major differences between a personal account and a business account (professional account) then you can bookmark this website and wait for a while as we are updating that piece of content very soon.
Public Account Vs Private Account On Instagram
On Instagram, a personal account can be either a public account or a private account.
Whenever you'll make your first account or a new one on Instagram, the account will be public by default. By "public account" we mean that your post, stories, followers, and following will be visible to all the users of Instagram and nothing is exclusive between you and your followers.
If you want to keep things private between you and your followers then a private account is the way to go. By the above explanation, most people will select a public account but stop right here. There are consequences of public accounts that you'll get to know below. Now, let's talk about them in detail.
Public Instagram Account
The public account is for those users who aim to get entertained e.g. following profiles of celebrities, having social friends, posting stories, liking, commenting, etc. The whole idea is to communicate with people and cherish memories. Just like on Snapchat you can also make new friends and follow people you don't personally know.
With a public account, your identity will be like an open book. Instagrammers from any region, state, or even different countries can check out your post, stories, and bio! This can be something that you wish to aim but there are a few things you should know beforehand.
Everyone on the internet doesn't have the same intellect level and can cause you harm of any kind. Hence, while dealing with unknowns you should keep your privacy upfront before anything else.
By default, an Instagram account is public which means anyone can check out your post/stories and can perform a screenshot of the same and may reuse it for bad practice. So, if you are okay with screenshots and stuff then you can choose to have a public account for Instagram. For security, make sure your password is strong enough so that no one can decipher it.
Pros Of a Public Instagram Account
1. Anyone on the entire Instagram user base can communicate with you.
2. All your posts and stories can receive more likes and comments as they will reach more people.
3. Countless people can start following you without any notification
Cons Of Public Instagram Account
1. Your privacy is on the toss.
2. You can't keep anything hidden on your profile.
Private Instagram Account
If you want to take full advantage of Instagram and user privacy also matters to you then you can convert your account to private.
By making your account private, you are restricting unknown people/stockers to check out your post and stories. Only those profiles that follow you can check out your content.
If someone wants to check your posts and stories then they'll need to send you a request to follow you for the same. So before accepting their request, you can check their account first and then allow/reject/leave pending their follow request.
But keep this in mind that if you'll share the post from your private account onto other social accounts like Facebook, and Twitter then the post will be accessible to everyone who has access to the direct link/URL from that social account.
Moreover, If you use hashtags on your posts while your account is private then those hashtags will not link your post to the hashtag group.
Making your Instagram account private is very easy and can be done within seconds. For that, you need to follow a few steps
1. Open your profile by clicking the bottom right icon (marked with a circle below). Next, on the top right corner, you'll see a Hamberger icon (vertical 3 lines), tap on it. Select Settings from the list of options.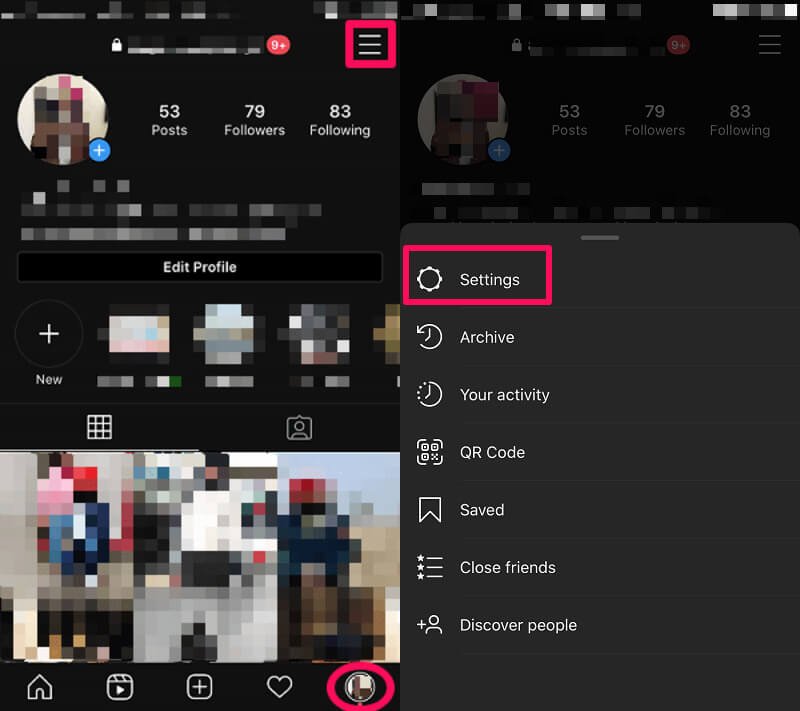 2. Then select Privacy under Settings. On the Privacy page, toggle the Private Account button to change your account from public to private.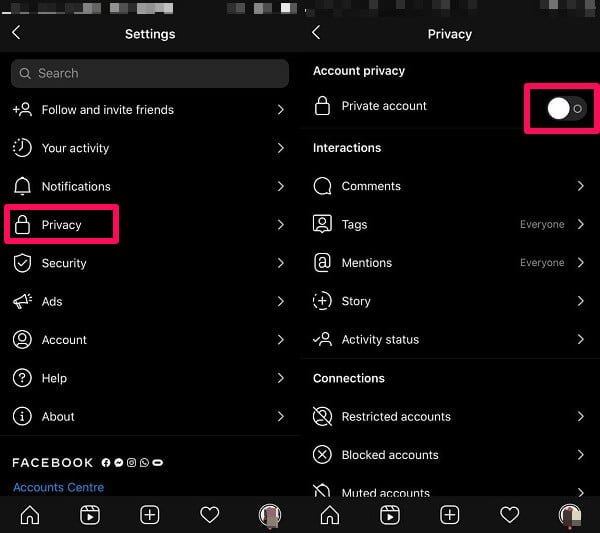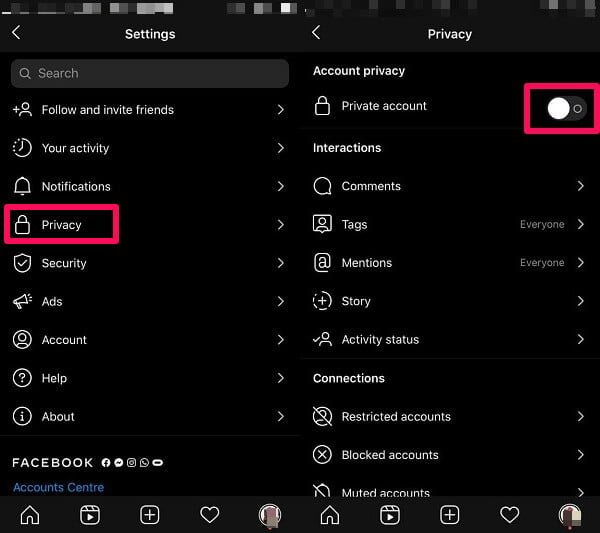 3. After toggling it on you will receive a popup saying Switch to private account, tap Switch to private.
By making your account private the data privacy of your account will be maintained, and stalkers will not be able to check out your profile.
To gain something you have to let go of a few things. That holds true for private Instagram Accounts too.
As your account will be private, your posts and stories will reach a lesser audience resulting in fewer likes and views on the posts/stories. So if likes and comments matter to you then a private account will not be a perfect choice for you.
Pros of a Private Instagram Account
1. Your post and stories are shown to those who follow you.
2. The probability of your private images getting reused is quite low.
Cons Of Private Instagram Account
1. Likes and views on your post will decrease.
2. Any users can send you media (photos and videos) to you even if you have a private account.
So Which Instagram Account Is Best For You?
If you are a casual user, Meme creator, influencer, etc. then the public account will be an ideal choice. Your posts and stories will be accessible to every user of Instagram on which they can engage with your content i.e. perform likes, shares, comments, etc.
We recently covered a method that will let you increase your likes and followers for free so definitely give it a try!
On the other hand, a private account is best if you want to share your posts and stories with limited/trusted accounts and want to protect your identity from bad pursuers. You can achieve the utmost level of privacy however at a cost. By making your account private, you will face a decrease in likes, comments, and views on your posts and stories.
These two are the most ideal use case scenarios for Instagrammers. Therefore, make necessary changes by keeping in mind the pros and cons of both accounts and make a selection. If you are not satisfied with the changes from public to private and viz-a-viz then you can always revert within seconds.
After making a selection of the type of account, you will need to make sure to enable 2FA for overall protection.
Two-Factor Authentication (2FA)
As the name applies, 2FA is a security mechanism that will prevent your account from being taken over by someone or hacked. For added security of your Instagram account, you should enable two-factor authentication.
If someone tries to gain access to your Insta profile, you will be notified to enter the special code that will be with you (after setting up) or re-enter your credentials to verify your identity so that Instagram can protect your account.
So if you have a public account or a private account it is better to have 2FA enabled.
To enable 2FA on Instagram you'll need to follow a few steps. Steps will remain the same for iOS as well as Android phone users.
1. Open your profile and tap on the 3 vertical lines (hamburger icon). Next from the list of options, press Settings.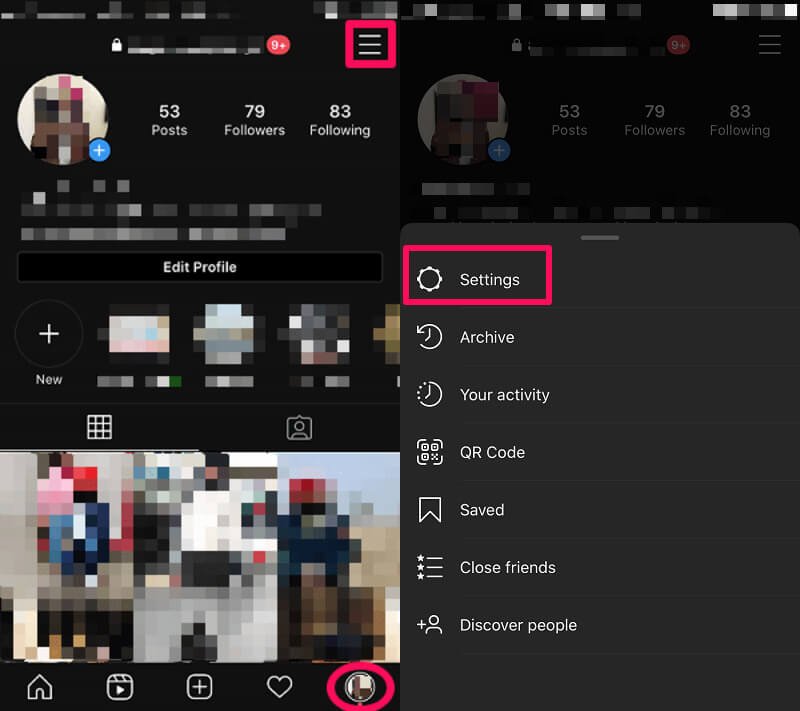 2. Next, click on Security and then Two-factor authentication.
3. From here you'll need to set up 2 FA for your account so that you have a registered mobile number and a few Backup codes for the emergency.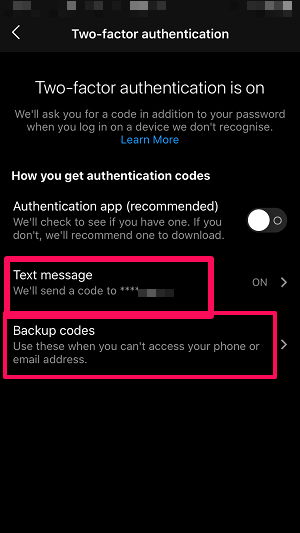 So there you go, guys!
Now you know what type of account to choose (public or private account for Instagram). We hope we were quite detailed to explain both of them. If you have any doubts or queries let us know in the comments sections below or DM us on our social media accounts Twitter, Facebook, and Instagram.
Just like this, we also have a few intresting Tips & Tricks that you can check out. Thanks! We'll see you on the next one!
Suggested Articles!