[Updated on July 20, 2023] It's been around 9 months of using this soundbar. It's pretty basic (No LED) but the vocals and instruments sound great. The bass is decent. For the price, it's a good soundbar and you can consider it. Back to the pTron Fusion Evo V2 soundbar review.
Soundbars are the new age speakers with tons of added features. Not only do they offer a Bluetooth connection which means you can take it wherever you go but can also be used with a traditional computer with just an aux cable.
We were searching for one under 1000 Rs and found this one from pTron which checks most of the basic needs. So should you buy one? Let's talk about that in this pTron Fusion Evo V2 Soundbar Review.
Like always, at PadhKeDekho.com we use a product for a month before publishing it to the web. Our only objective is to help readers like you make an informed decision. Because a brand's marketing words can force you to buy an inferior product.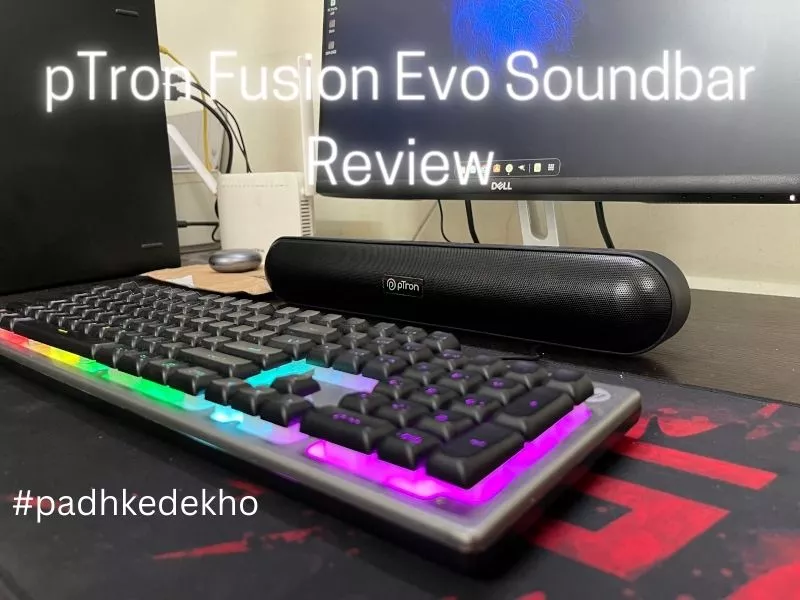 As support to us, below you will find Amazon links that work as an affiliate. which means with a valid purchase via Amazon will pay us a small commission that will not be charged to you. It ultimately helps readers like you to get a real picture, not a sales pitch!
That being said, in this pTron Fusion Evo V2 Soundbar review we have talked about pros and cons, built quality, look and feel, features, how to use, sound quality, battery backup, and finally our verdict on whether you should buy this or let this slide.
pTron Fusion Evo Soundbar Pros & Cons
Built Quality
In one word, Impressive!
We've seen many soundbars under 2000 Rs and most of them are made with poor-quality plastic. Everything from the front grill to the on-off switch. Not leaving aside the loud "power on", "looking for connection", "paired successfully" and other predefined notifications. That is what we were expecting with this soundbar. But no, pTron Fusion Evo surprised us with impressive built quality all around. The build is as good as a soundbar worth 2000 Rs. The soundbar has zero squeaking when pressing very hard or panel noise even when you hit the full volume.
On the front, you have a metal mesh grill unlike some who offer plastic with metallic paint! The top hosts 4 buttons that are clicky but seem of decent quality. In my 1 month of testing, they have been performing well. Another thing to note is the back circuit panel which hosts the aux port, memory card slot, and USB slot is of good quality as there is no play while inspecting or removing any media. Overall the build is great. It's quite similar to the Blaunpukt soundbar which is around 600 Rs more expensive.
To sum up the built quality of pTron Fusion Evo V2, pTron has nailed the built quality for the price. Hence 9/10.
Look & Feel
To be frank I am not a fan of RGB soundbars. I prefer the old music system vibe on the computer table i.e. Constant color all around. if your taste matches with me, then you will like this soundbar. pTron Fusion Evo comes in two colors: black and grey. I have the black color model which looks quite good. Though I've seen both colors, the shades are perfect on these.
pTron Fusion Evo has a premium design. The overall body is perfect for a computer table or TV wood cabinet. It can easily rest below your monitor/TV. You can take it outdoors too but it's not the smallest portable speaker by any means.
One more thing, it's way louder than any tiny wireless speakers that are available in this price range. So the big size compensates for that!
The top and sides are flat and on the edges, you'll have a smooth carving. I actually have a very sharp eye for quality detail and I liked this soundbar for that. The rear offers a textured panel that not only looks good but offers great grip.
On the front, you have a mesh grill with a tiny pTron logo which looks expensive. The mesh grill is quite thick that you cannot see the audio drivers in it. I prefer the design this way. The sides are plain. Whereas on the back you have a bubble textured which looks good from the back and also feels good in the hand.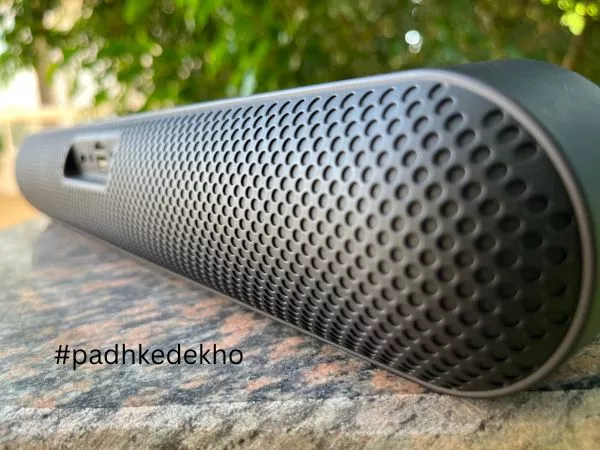 In terms of look, pTron Fusion Evo looks and feels good. Way above the 1000 mark category. Hence in this department too it gets 9/10.
Features
This soundbar is packed with so many connectivity features.
Let's start with aux-mode which I was keen to try. You can connect the soundbar to your PC, laptop, TV, or any other device that can play music. The supplied aux cable in the box is of decent quality but it's very small. if you plan to put it a little away from the connected source then you would need a different aux cable. if you are planning to use it with a PC that doesn't have a Bluetooth option then there are two ways to connect.
Aux-in without USB: In this mode, the soundbar will be using the in-built battery which is 1200 mAh (more about it in the battery section of the article).
Aux-in with USB: This mode will power the soundbar via the USB cable and the internal battery will not be used.
In both modes, the volume control buttons will work.
Don't need the wired connection? No problem! pTron Fusion Evo comes with a Bluetooth 5.0 connection too! It's all about the range and battery backup when you are connected wirelessly. pTron claims continuous playtime of up to 10 hours (will talk about that in the battery segment of the article).
To test the Bluetooth range, I tried taking it on the roof of about 1782 square feet while I was walking keeping the soundbar on the bottom of the roof and circling around! There were two things that I discovered.
First, the sound is very loud. You can think of a roof that big and open, what will happen in a closed 12×12 room? Yeah! it's party time. More about audio quality is in the audio section below. And the second thing is, there was not a single frequency drop or audio breaking. Which is quite commendable.
Other than wired and wireless modes, you have support for micro sd cards and even a pen drive mode. I tried these and they work well. Not sure, whether I will use these two modes but hey! it can be of great use for someone for sure.
Let's say you are in the mood to enjoy the rain listening to your favorite radio channel. you can do that too on this soundbar. Sure there can be a disturbance as it doesn't offer an adjustable antenna. But in open or at a height in the room, the connection will be mostly distortion free.
How to Use pTron Fusion Evo V2 Soundbar?
if this is your first time with a soundbar then don't worry we are here to explain the functions in this pTron Fusion Evo Soundbar Review. Everything from turning it on, and connecting to your device, to listing to your favorite music and then turning it off.
On the back, you have a toggle to turn the soundbar on. The moment you will turn it on, it will speak the last connected mode like "Bluetooth" if it was last used or perhaps "aux mode" if you used it with the computer.
Let's say you wish to connect your smartphone via Bluetooth to the soundbar. Turn on the soundbar, the first mode is Bluetooth. You don't need to press any buttons. Turn on the Bluetooth from your smartphone and search for pTron BT Speaker.
Upon tapping you will get a few permissions that you can allow or reject as per your need. When a connection is formed the soundbar will confirm the same. To disconnect all you need is to disconnect from your phone's notification panel or from the phone's settings as well.
So now you know how to turn on, look for a connection, and disconnected a connected device.
Let's see the media playback via Bluetooth. The first button on the left is (play||pause). Which works the way you will be used to on your smartphone, laptop, or anywhere you play music.
Things are different for the plus and minus buttons. Pressing the (-) button once will repeat the song or play the previous song from the playlist. if you just started playing the song pressing the minus button will play the previous song. But, if you have already heard half of the track then it will repeat the song. Long pressing the (-) button will decrease the volume.
Pressing the (+) button once will play the next track. You can move to the following track on the playlist by using the plus button. Pressing and holding the plus button for 3 seconds will increase the volume.
The next button is to change the mode i.e. choosing the options between FM & Bluetooth mode. All the other modes like Aux, Pendrive, and Micro SD card will enable automatically when you will connect any of these devices.
Let's say you are listing to FM and want to change the channel how will you do that on pTron fusion Evo? All you need is to press the Play||Pause button and it will switch to the next radio station.
Media playback via memory card and pen drive is similar to the Bluetooth mode. You have to play or pause, repeat the song, play the next song, and mode change.
So as per media playback and modes, pTron Fusion Evo has left behind the competition in this particular price range. We will give it 9.5/10 just like that.
pTron Fusion Evo Soundbar Audio Quality
Before jumping to my conclusion let's have a look at the specifications. The soundbar uses two speakers of 5 watts each making it 10 watts. What takes it to the next level are the 52mm audio drivers. As per specs, this is the best option under 1000 Rs. But the question is good enough? Does it offer bass? Let's talk about that now.
The sound signature is vocal and instrumental-centric. You will have a great time listing to religious rhymes, Qawwali, techno, and high-treble songs. Even while watching movies you will have no problem hearing dialogues.
Bass on the other hand is very minimal. You will not experience table vibrating bass for sure! It's not flatlined either. You can say it's present "but wish it was better" kind of bass.
So if you need thumping bass, then this is not for you. You can check out Blaupunkt 20w soundbar which is under 2000 rs.
What about loudness? pTron Fusion Evo is very loud. You cannot sit in front at 100 volume. Some level of distortion comes at full volume so staying about 85 is a sweet spot. One more thing, it's a mono soundbar so you will not be getting that stereo effect. What you will get is the same audio from both sides.
So out of 10, we would give 8/10. 2 marks cut due to average bass.
Battery Backup
pTron Fusion Evo V2 packs in a 1200 mAh battery which is certainly to check out. On paper, this is a good thing as, on the go, the battery is essential. Even if you wish to play songs via AUX mode you need to have some battery on the soundbar. So you need a strong battery backup. pTron claims straight 10 hours of battery backup. However, it's so long I couldn't test it fully! So we put it under a few tests.
But before that, you should know a few things.
Battery backup is entirely dependent on the mode via which you are playing the media, the volume, and how frequently you are charging the volume.
The first test was pairing it with the PC via Aux mode which will consume the battery. I watched a few movies, did daily work, and all the PC notifications. The overall battery backup in this test was 5 days. Mind you my PC runs a good 12 to 13 hours every day.
But the media playback is about 9 hours for Slack and Skype notifications. Calls are taken via headphones.
Scenario 2, Connecting with a smartphone via Bluetooth every day for about 2 hours worked for approximately 3 days. During testing, we tried at 100% volume. At a lower volume, the result will certainly improve.
As per battery backup, I am pretty satisfied. What about 0 to 100 charging time? Does it support fast charging? pTron Fusion Evo supports only 5-watt 1 Amp chargers so take out the tiny 5-watt Apple chargers for this!
This is because the soundbar has a micro USB charging socket that doesn't support fast charging. So these are the two summers with this soundbar.
So how long does pTron Fusion Evo take to charge fully? Well, it takes about 3 hours to reach 100 percent from 0. Keeping the longer battery backup in mind, this 3-hour is not bad!
Should You Buy pTron Fusion Evo V2 Soundbar?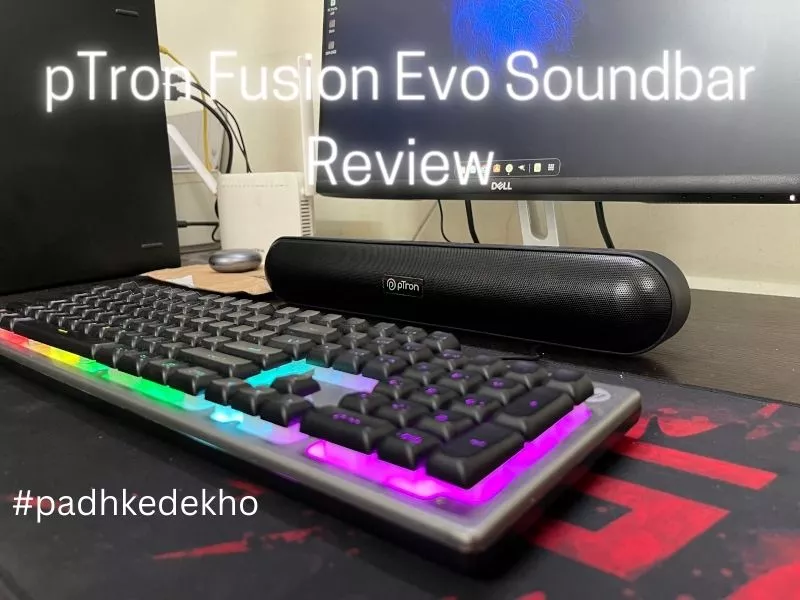 If you are looking for a premium-looking and soft-to-the-touch soundbar then yes, you should buy the pTron Fusion Evo soundbar. Along with the looks it packs in 5 modes to play your music. Be it aux, Bluetooth, pen drive, micro SD card, or even FM! You will not be bored anymore! Being a portable as well as a table soundbar it's compact and lightweight.
To cater to your music needs, the soundbar comes with a 1200 mAh battery which is great and you will not be having issues with it. The overall battery backup is shared above which you have read already.
As far as audio quality goes. it's almost distortion-free with good vocals and instruments. Sure, the bass is not that strong but it's surely there. Another thing to notice is the loudness. This soundbar is very loud for a big room of about 15×15 room. Not just that, even in the open it's quite loud. You can have a good time in a park or while camping.
So should you buy one? Well, yes you can confidently get this soundbar for under 1000 Rs. The only caveat is with the Micro USB charging port and lack of fast charging.
Other than that, it's a great soundbar that we confidently recommend.
Wrapping up!
This was our few cents for the pTron Fusion Evo soundbar review. if you find it helpful then do share it with someone who might be looking for a soundbar under 1000 Rs. Got any questions for us? Please reach us on the below social accounts or tweet us by using #padhkedekho. We will get back to you.
Want to support original and local content at no additional cost to you? Then please use the Amazon links on this page to confirm your order. With this, we can buy more products and ultimately help readers like you get the best possible information before investing your real money. Thanks for your support! PadhKeDekho is 2 years now!
Articles That Might Interest You!
F.A.Q
pTron Fusion Evo V2 Soundbar Any Good?
Yes, pTron Fusion Evo is a good option if your budget is under 1000 Rs. Everything from built quality to features, audio quality, and design, it's great. This is our detailed review after 1 month of review.
pTron Fusion Evo V2 Soundbar Sound Quality?
It's good. The 10-watt speakers produce clear vocals and instruments while being very loud. Bass is not the strong suit but it's there! Here we've talked about everything in detail. So do read it before making a quick decision.