[Updated on July 24, 2023] It's been with us for more than a year now and it's going strong! This BoAt Bassheads 242 review still holds up as new.
What if you need good-quality earphones that you can wear literally anywhere? It should sound good and the mic ought to be used for good-quality calls. All this could've been possible at the 1500 price bracket. But not anymore!
Here's BoAt Bassheads 242 for just under 600 RS. So is it actually good or just hyped-up earphones? Well, here's our BoAt Bassheads 242 review after 1 year of use!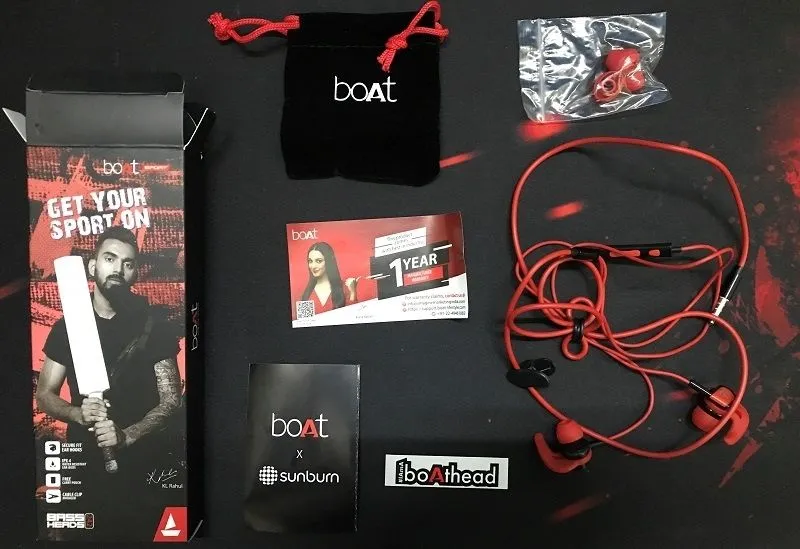 In this article, we've talked about its built quality, look and feel, pros & cons, specifications, practicality, audio test, mic quality, and finally our verdict.
Disclaimer: This earphone is bought by us and it's not a sponsored article. All the opinions shared below are of our editorial team and no brand has any influence on us. This review is going to be very helpful to the customers who might be interested in this product.
So that being said, welcome to PadhkeDekho and let's begin the BoAt Bassheads 242 review.
Boat bassheads 242 Specifications
| | |
| --- | --- |
| | |
| | |
| Ear Hooks For Better Grip | |
| BoAt Bassheads 242 Audio Drivers | |
| | |
| BoAt Bassheads 242 Lower Price | Between 499 - 549 on Amazon |
| | |
| | |
| | |
| | |
| | |
BoAt Bassheads 242 Pros And Cons
BoAt Bassheads 242 In-Box Contents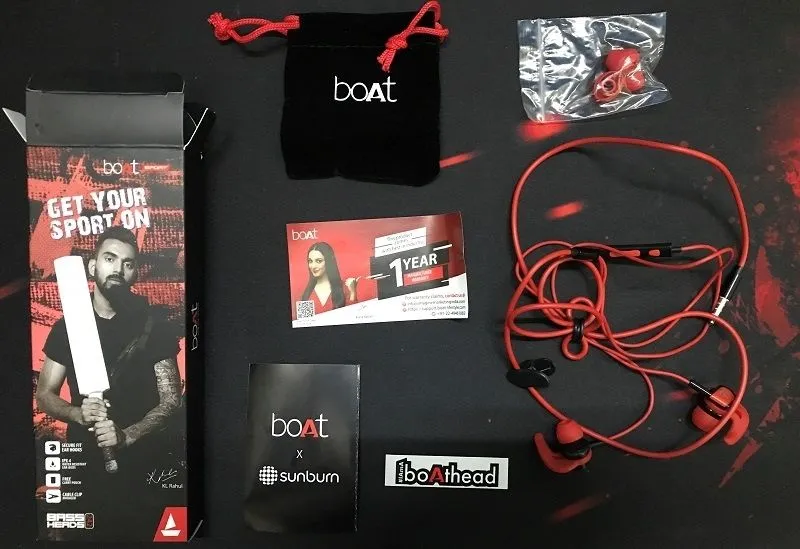 Just have a look at the above picture and think does the inbox contents justify the 600 Rs price? Since we try multiple earphones and headphones we can say, these are the highest number of in-box contents!
You'll get a carry pouch, 2 additional ear tips, a cable clip manager, a BoAt sticker, and a docket of other BoAt products.
Though there could have been one more thing (pamphlet actually) and that's for the media controls. It took us time to understand what was available and what was not.
Built Quality
The overall build of BoAt Bassheads 242 is plastic and rubber and that's pretty much common under 3000 Rs earphones so no complaints here. But the question is, are BoAt Bassheads 242 durable? Then in our one month of owning and testing these, we had no nickles with them.
The most essential element is the 3.5mm jack which has a plastic housing. Though the jack is not a gold-plated one. However, at this price, it can be easily ignored. The BoAt written enhances the look.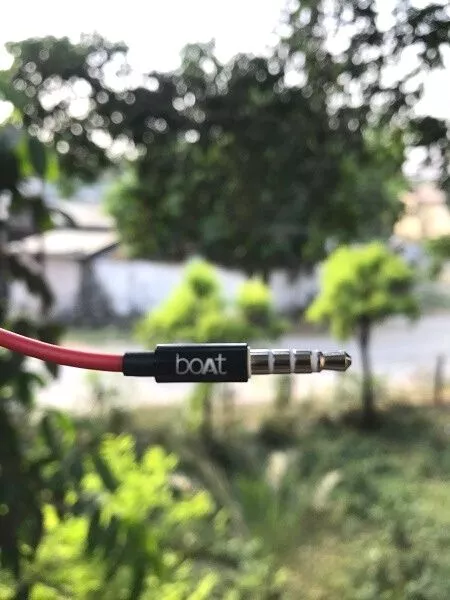 What cannot be ignored are the ear tips. Which offers great built quality too. There is no squeaking or plastic ratling while adjusting the ear tips. The silicon tips offer a good feel.
In the box, you'll also get 2 additional ear tips. Hence finding a comfortable spot will be easy. If you have large ears then the ones that come pre-applied. I.e. the medium ones will do the trick.
Rest you can test all of these for the best grip and comfort. Why I am mentioning this? Because many people have commented that BoAt Bassheads 242 wired headsets are not comfortable.
For an even better grip, you will find ear hooks that will improve your experience. It's been a while since we tested BoAt Airdopes 441 Pro that came with ear hooks and oh boy! We really miss it.
It's not a gimmick guys the ear hooks do improve the grip to the next level. We tried wearing these during workouts like running, jogging, treadmill, etc and faced no disappointments.
Sweating does make the ear tips a little loose but the ear hooks help them not fall off the ears.
So in terms of built quality, BoAt Bassheads 242 has done great work. Gets our recommendation under 600 Rs in 2023.
Look & Feel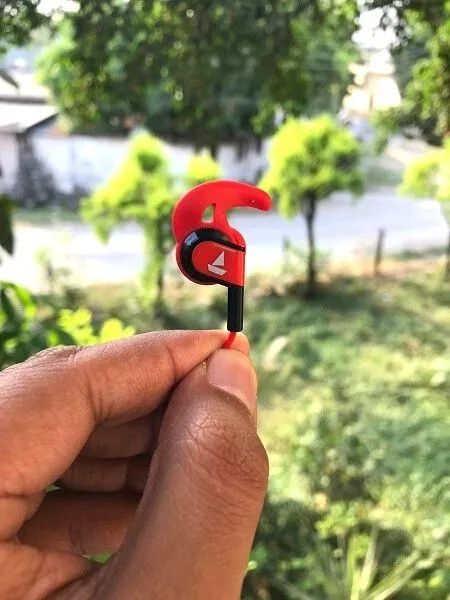 BoAt has really impressed us with the color options available for this model. To be honest, we couldn't decide which color to with! The one that impressed us the most is the Black/red combo.
All the colors are alive and make the earphones look more expensive than the price you are going to pay. In terms of looks, it earns full marks.
As far as the "fell" goes, these are quite comfortable too. Thanks to the soft rubber ear tips you can wear these for many hours on the go. The max we wore was for 5 hours.
But there's one thing that you need to know.
If you have small ears then the medium ear tips that come pre-installed will not be comfortable. So you should apply the smallest ear tips for comfort. And for some reason, if you don't find the ear hooks relaxing then you can remove those as well. Don't worry left and right are marked on the ear hooks too!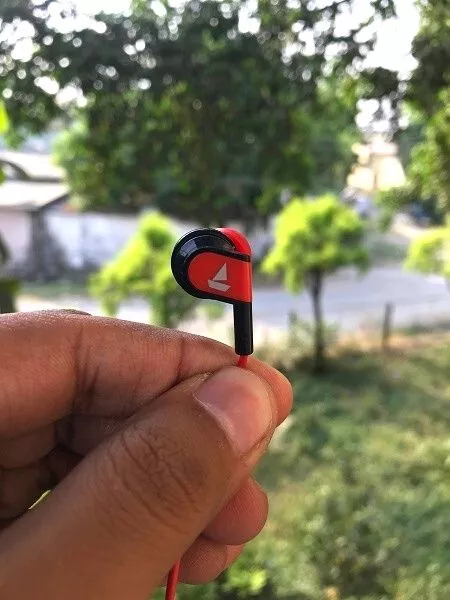 So if you need a wired earphone that is lightweight and comfortable for long hours of use then BoAt bassheads 242 gets our vote.
Practicality in Terms of Workouts
What makes BoAt Bassheads 242 special is being targeted to sports-enthusiastic people. Why is it so? Because it not only just offers ear hooks for a better/stronger grip. This means the earphone will not fall off if you are doing intensive workouts.
And secondly, it offers IPX4 water resistance. It will allow you to complete your workout without worrying about sweat or even jogging in the rain!
Hence in terms of practicality keeping 600 Rs in mind, Bassheads 242 is phenomenal. I doubt you will find workout-friendly earphones in this price range.
Along with that comes 2 more things that will make your life easier. And those are cable clips and a sweet little carry pouch.
So if you need to tuck the earphone close to you during a workout and have to attend a call? Then you can do that without stopping the workout.
Thus, in terms of practicality, I am impressed with BoAt's thought process for this earphone. All this around 600 RS makes it a great recommendation.
Media Controls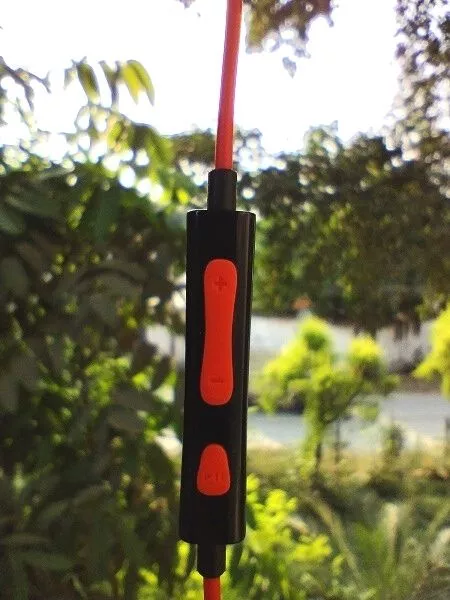 BoAt Bassheads 242 offers multiple media controls too like play, pause, skip tracks backward and forward, receive a call, and reject the call. The only feature you will be missing is the Voice Assistant activation.
You have your regular volume up and down button along with play/pause which is quite easy to understand. But BoAt went a little overboard with the media controls. The play/pause button acts as an MFB (Multi-Function Button).
Pressing the MFB 2 times when the music is playing will advance to the next song in the playlist. Similarly, doing the same 3 times will move back in the playlist.
So you get media functionalities like play, pause, next, repeat, and go back in the playlist. Now let's talk about calls.
You were jamming to your favorite song and your phone rang. Pressing the MFB button once will accept the call. If you wish to cut it then all you need is to hold the MFB for 2 seconds. Now you are done talking just press the MFB button once to cut the call.
BoAt has really offered all it could've done in terms of media and accessibility! Full marks to BoAt Bassheads 242!
Audio Quality
To be honest, what can you expect for around 600 Rs? Well! If you are gauging this earphone based on price then this will leave you impressed.
We didn't have high hopes for it but the 10mm drivers are great on this one. In our one month of testing BoAt Bassheads 242, we found a few things.
The BoAt sound signature is present on this one. What we meant is that the earphone is bass-heavy as any workout-centric earphone should be. You can literally feel the thumping that will help you keep the adrenaline pumping.
Surprisingly, the vocals are also quite vivid with full of details. We tried listing to live concerts and Qwallis and being budget earphones didn't disappoint us.
One more thing. The 10mm audio drivers are very loud. Staying around 75 percent will offer the best bass line! Under 600 Rs these are the best earphones that pack in great audio drivers, period. The second best we could find was Sony MDR-EX150AP which is around 1000 Rs.
So in terms of Audio quality, BoAt Bassheads 242 has done a great job. Hence 4.5/5.
Mic Test
If you need wired earphones for gaming and calling then this earphone will be a great choice. The mic on offer is amazing for calls. Boat Bassheads 242 wired headset with mic gets our recommendation.
Since they are wired there is no latency while watching movies, playing games, or even talking in Zoom meetings. On top of it, the call quality is very clear. We tried taking a few calls in Metro as well as indoors and face not a single issue. It's amazing to be experienced in this price category.
So need a gaming earphone for a smartphone under 600 rs, then BoAt Bassheads 242 is a good alternative.
Should You Buy BoAt Bassheads 242?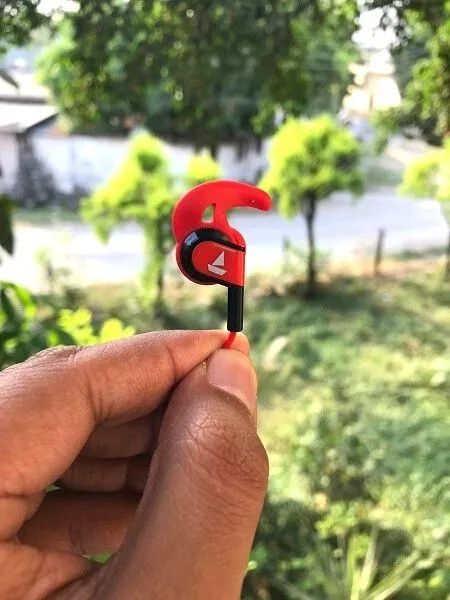 In this BoAt Bassheads 242 review after one month of use, we didn't find anything unusual or uncomfortable during our testing.
The best part about BoAt Bhassheads 242 is the level of comfort and grip during workouts or just casual walking. You will not need to reset it whenever you do skipping. That's the thing you get when you go for workout-centric earphones.
Since it is very lightweight you can wear it for long hours too. Only if you have small ears then you might need to change the ear tips to the small ones.
As far as audio goes, BoAt has really worked on the 10mm audio drivers. The overall audio profile is bass-centric but the level of quality of vocals and instruments is excellent.
You can enjoy multiple genres. I've personally tried bass-heavy, classical, metal, Qwallis, and live concerts even podcasts, it's good to an extent that's "not expected in this price range."
Another aspect to cover is the mic performance. Be it indoors or outdoors you would like the mic output.
To be honest, I've owned many BoAt headphones and earphones I've recommended a few for calling. And BoAt Bassheads 242 gets our vote! The final audio output is clear and doesn't sound robotic at all. It's so good that you can use it for office calls or Zoom meetings as well.
So to sum up, BoAt Bassheads 242 is a great buy.
But one thing, I didn't like is the price differences for the color choices. Neon Green, Orange, and Spirit Lime are available at 499 whereas Red, Black, and Blue are at 549. Though the price difference is not much I feel it should be the same for all the colors.
Wrapping up
There you have it, buddy! It's our BoAt Bassheads 242 review after one month of use. Got last-minute doubts about Bassheads 242? Then feel free to reach us on below social accounts. We love to help our readers!
Liked the content and want to support local content? Then please use the below Amazon link to confirm your purchase. You will not be charged a single penny extra only the cost of earphones. But Amazon will give us some commission that helps us keep the website running. Thanks for being a patron!
Suggested Articles!
BoAt Wired Earphones With Mic [4 Best Earphones Under 1000]

Believe it or not, wired earphones & headphones have their respective fan base. Be it a lag-free audio experience, better gaming involvement (thanks to the good microphones), and no need to be worried about the battery! In the past 3 years, we've owned many BoAt Wired Earphones With Mic. So in this article, here are …

Read more

BoAt Bassheads 242 Review | Best Running Earphone Under 500 Rs?

[Updated on July 24, 2023] It's been with us for more than a year now and it's going strong! This BoAt Bassheads 242 review still holds up as new. What if you need good-quality earphones that you can wear literally anywhere? It should sound good and the mic ought to be used for good-quality calls. …

Read more

Sony MDR EX150AP Review | Justifies The Price Tag?

[Updated on 19 July 2023] We've been using this earphone for over 4 months now. It's been going well and no major cons have come up so far. You can certainly check it out. Back to Sony MDR EX150AP Review. As far as wired earphones go, you can pretty much get a decent product from …

Read more
F.A.Q
is boat bassheads 242 good?

Yes, it's great! Everything from the built quality, look and feel, comfort, audio quality, and mic output. It's worth the 600 Rs price tag. In this article, we used this earphone for a month before publishing the review. Click now to learn more!
is BoAt Bassheads 242 Good For Gaming?

Since wired earphones don't have latency issues you can easily use them for gaming.
What's in the Box of BoAt Bassheads 242?

in the box, you'll get

1: Carry pouch

2: Warranty card

3: BoAt sticker

4: Clip

5: 2 Additional pair of ear tips