[Updated on 15 Feb 2023] Gone are the days when good TWS earbuds were always the expensive ones. This scenario got changed in 2021. We've tested more than 20 TWS earbuds and not all are all-rounders. One such earbud we really enjoyed testing was BoAt Airdopes 141 (review). A few months back we got our hands on OnePlus Nord Buds (review). So in this OnePlus Nord Buds VS BoAt Airdopes 141 comparison, we will talk about just that.
So the important question that arises is should you save money with BoAt Airdopes 141 or invest more? Will you be getting the extra money worth?
These are the questions we are going to address along with major differences, pros and cons, built quality, look and feel, audio quality, mic quality, battery backup, and our option about the best one!
At PadhKeDekho, we buy products to review and compare which helps our readers with better-informed decisions. The opinions shared below are our editor's first-hand experiences with the devices. As support to us, you will find Amazon affiliate links that help us earn a small commission on a qualifying purchase at no additional cost to you. Thanks for your support!
BoAt Airdopes 141 vs OnePlus Nord Buds Differences
| Features | BoAt Airdopes 141 | OnePlus Nord Buds |
| --- | --- | --- |
| Bluetooth | 5.1 | 5.2 |
| Noise Cancellation | ENx Technology | AI |
| Audio Drivers (mm) | 8 | 12.4 |
| IP Rating | IPX4 | IP55 |
| Gaming Mode | Yes | Yes (OTA Update) |
| Total Audio Playback (Hours) | 42 | 30 |
| App Support | No | Yes (Only Android) |
| Customizable Buttons | No | Yes |
| Total Color Options | 3 | 2 |
| Best Buy Link | Amazon | Amazon |
OnePlus Nord Buds Pros and Cons
BoAt Airdopes 141 Pros & Cons
Built Quality
For the price, both the TWS are doing a good job. Let's talk about 3 main things to look out for while buying a new TWS.
#1 Case Quality
Be it any price range, the TWS is made up of plastic. However, the quality improves as the price goes up. BoAt Airdopes 141 for 1500 RS has the best case built that we've tested there is no denying it. Just like that, OnePlus Nord Buds which are 1000 Rupees more feel a cut above.
We unintentionally dropped the cases and seems like no major damage was done other than scratches. So both are pretty durable too. if you intend to use these long time, then you can buy Silicon skins from Amazon or offline as you like.
So both are fine you will have no complaints.
#2 Earbud Quality
Just like the case, earbuds are also quite good on these. OnePlus Nord Buds are slightly wider and "look" heavy in the pictures. But it's not. In fact, both earbuds are quite lightweight. As BoAt Airdopes 141 buds are totally matte, the inner part of Nord Buds is glossy. Which certainly will require more cleaning.
Since both the buds are made of plastic, the feel on Nord Buds is superior to Airdopes 141. Though there are no rough edges on both, you can actually wear these for a long time.
On a scale of 10, BoAt Airdopes 141 will get 8.5/10 and OnePlus Nord Buds gets 9.5/10.
#3 Hinges/Magnetic Pull
If you have read our BoAt Airdopes 141 review, we mentioned it as the best TWS under 1500 because of the hinge's quality. it offers a satisfying click just like Apple AirPods 2 which is my daily driver. So no complaints there but OnePlus Nord Buds take this feeling to the next level.
Opening and closing BoAt Airdopes 141 with one hand is not easy. I mean you can do that, once you get a hang of it. Whereas, OnePlus Nord Buds can be easily opened or closed with one hand, right when you will get those. This is quite similar to Apple AirPods.
So the satisfying click is available on both but one-hand operations are better on OnePlus Nord Buds.
The story is the same for the magnetic pull. Both OnePlus nor BoAt has not skimped quality for the sake of reducing the price. Even if you upside down the case, the buds will not fall off.
Hence in terms of built quality, OnePlus Nord Buds is a notch above!
Design & Comfort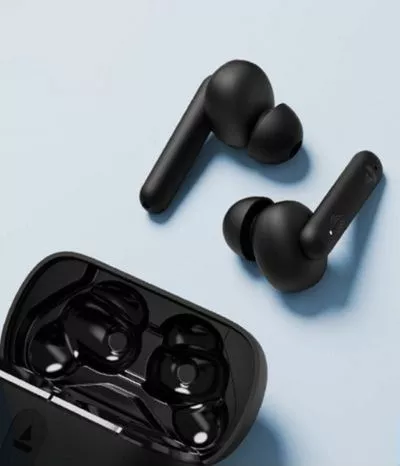 Both earbuds have a unique design language. BoAt Airdopes 141 has a slim stem while OnePlus has a thick and wide stem. This ultimately has effects too. if you have medium to large ears, then these are great for you. Otherwise, you can check out the best earbuds for small ears under 2000 that we covered recently.
I am a fan of matte-design cases and earbuds and these two are just perfect.
As far as comfort goes, you can easily wear these for 4+ hours. The silicon ear tips are very soft and the earbuds themselves have no sharp edges. For added comfort, you can always swap the ear tips with additional silicon tips provided in the box.
Another good thing about these is the grip on offer. You can wear these while traveling or lightweight running/ jogging, the buds will not fall off. These give the confidence to use them outside. While working out, you need some amount of sweat resistance for the bud's long life. The good news is, BoAt Airdopes 141 comes with IPX 4 while OnePlus has IP55!
Usually, when traveling I prefer neckbands because if they fall they will still be with me around my neck! But these two give me great confidence. Even I tried on a local bus to prove my point.
So these are good but which is better?
As such both are good but the stem of the OnePlus Nord Buds feels thick and is not my personal favorite. Just because of that, I will give BoAt Airdopes 141 an 8/10 while OnePlus Nord Buds get a 7/10.
Audio Quality
If you have been following us for a long, you would know that we never take the driver size into consideration when it comes to music. This comparison is also done after using the earbuds, side by side with the same song on different phones! It was hard because both are good.
The sound signature on these is bass-centric, there is no denying it. It's punchy, and full of detail be it vocals or instruments. Trebel is quite good too. Usually, bass-centric earbuds, compensate for treble, but not these.
As far as loudness goes, these are pretty loud. Both do not offer any audio distortion or audio breaking. But next to OnePlus, BoAt Airdopes 141 starts to lose quality at full volume. Don't get me wrong, Airdopes 141 is by far the best TWS under 1500 Rs if you have medium to large ears.
But there are many features on the OnePlus Nord Buds sleeve which make it great.
Out of the box, I did not like the default sound signature on Nord Buds. But after switching to the bass mode things improved. For the ultimate sound signature, I customized everything as per my liking, and it's the best output ever under 3000 Rupees. The good thing about Nord Buds is the quality.
On any EQ setting, you will appreciate the quality it has to offer. It has "nothing" over powring as such the overall audio quality speaks detail. You will experience instruments on your favorite songs that you never encountered!
To be frank, change from the default mode the moment you will get these on. The basic one is very badly tuned. Neither it offered bass or quality. It only had the treble.
So to sum up audio quality, both are good but the OnePlus Nord buds are great!
Mic Quality
| Features | BoAt Airdopes 141 | OnePlus Nord Buds |
| --- | --- | --- |
| Audio Pickup | 4/5 | 4.5/5 |
| AI Noise Cancellationn | 3/5 | 4/5 |
| Other Caller Feedback | 3.5/5 | 4/5 |
| Focus on Voice | 4/5 | 4/5 |
| Wind Reduction | 3/5 | 4/5 |
In this BoAt Airdopes 141 vs OnePlus Nord Buds, It's good vs great when it comes to mic quality.
BoAt has offered ENx technology and OnePlus has its AI-enabled Noise cancellation that helps in reducing background noise. i.e. Metro announcements, people chatting in close proximity, or TV being close to you will be filtered out. Surely not 100% but on a scale of 10, BoAt Airdopes 141 is at 5/10 while OnePlus is easily around 8 out of 10.
This is fine but the output is 100% dependent on how well the mic picks up your voice. The good news is, mics on these earbuds pick up the voice quite clearly.
Where OnePlus Nord Buds shines is when there is some wind noise like a fan or something it filters it out quite well. and additionally, it picks up vocals quite better than Airdopes 141.
So that's why it's good vs great!
Battery Backup
| Feature | BoAt Airdopes 141 | OnePlus Nord Buds |
| --- | --- | --- |
| Total Battery Backup (Up to) | 45 Hours | 30 Hours |
| Battery Capacity (Case) | 600 mAh | 480 mAh |
| Battery Capacity (Buds) | 30 mAh Per Bud | 41 mAh Per Bud |
| Fast Charging | Yes, 5 Mins = 1 Hr Playback | Yes, 10 MIns = 5 Hrs of playback |
| Ear Bud Max Battery Backup | Up to 6 Hours | up to 7 Hours |
| Best Buy Link | Amazon | Amazon |
When it comes to battery backup, both the good options. One thing is sure, you will never experience battery anxiety. Even if you have a low battery, just 5 to 10 mins of charging can get you at least a few hours for OnePlus and about an hour with BoAt.
How long you can use these buds? The claimed figures are claimed figures and achieving those involves using a standard volume which, to be honest, no one does. So you can give our take BoAt Airdopes 141 can be easily used for anywhere between 4 to 5 hours. While adding 1 more hour with Nord Buds.
But which is better in terms of battery backup? It's BoAt Airdopes 141!
Though the OnePlus Nord Buds have higher capacity buds, however, the carry case offers only 480 mAh which means the case can change the buds quite a lesser no of times than the BoAt Airdoeps 141. Keep in mind, the battery backup of the earbuds is almost the same. In other words, the carry case of BoAT Airdopes 141 will charge fewer times than the OnePlus Nord Buds.
Let's talk about the charging time. These TWS are quick to charge and within 2 hours (depending upon the charger) will be up and running. If you have a OnePlus Dash changer then these buds can charge for just a little over 1 hour.
So in this department, you will have no complaints with either BoAt Airdopes 141 or OnePlus Nord Buds.
Should You Buy OnePlus Nord Buds or BoAt Airdopes 141?
In this BoAt Airdopes 141 vs OnePlus Nord Buds comparison, the biggest question is should you save some money by purchasing BoAT Airdopes 141 or invest more and get a better product? Let that question sink in. Because the difference between the two is around double. Let me tell you my personal experience.
if you are tight on budget and want to save 1000 Rupees, BoAt Airdopes 141 is a perfect TWS under 1500 Rs. Here's our detailed review if you are interested. Be it call quality, gaming performance, audio quality, or comfort, it checks marks many boxes.
However, if you'll be spending more you will get so much more with OnePlus Nord Buds.
To start with, you can customize the EQ settings to your liking. Dual device connection is present which means you can connect and switch between two devices with just a push of a button.
Also, you can customize the touch controls on the earbuds. There's a myth that only OnePlus phones can do that but no, all Android phones can do that. All you need is an app called HeyMelody which is free from Google Play Store. Unfortunately, the app does not support iOS at the moment.
These are the major differences you will get after ditching BoAt Airdopes 141 for OnePlus Nord Buds. Are the upgrades worth it? Certainly! But if these are going to be your first TWS then you can start with BoAt Airdopes 141. The experience will be very pleasant. Otherwise, OnePlus Nord Buds are worth every single penny spent.
Out of 10, we would give BoAt Airdopes 141 an 8.5/10 and OnePlus Nord Buds a solid 9.5/10.
Wrapping up!
There you go, guys! This was our OnePlus Nord Buds VS BoAt Airdopes 141 comparison after using the buds for a month. if you have any questions and drop us a message on any social account below. We love to help our readers.
Below are the best deals on both earbuds that you can check out. if we helped in your decision-making then please use the below Amazon buttons to confirm your purchase. We will earn some commission from Amazon at no additional cost to you. This ultimately helps readers like you with honest and customer-centric reviews and comparisons.
BoAt Airdopes 141
OnePlus Nord
Best Deals Here!
Got Feedback For Our BoAt Airdopes 141 vs OnePlus Nord Buds?