[Updated on 24 Feb 2023] BoAt has literally bombarded the Airdopes in the Indian market like cars from Maruti Suzuki for under 10 lakh Rupees! For 3000 INR there are more than 15 Airdopes that you can choose from. If you are interested here's our guide for the best Airdopes in 2023 (so far) that you check. But today, we have a detailed comparison of BoAt Airdopes 141 vs 181 for you.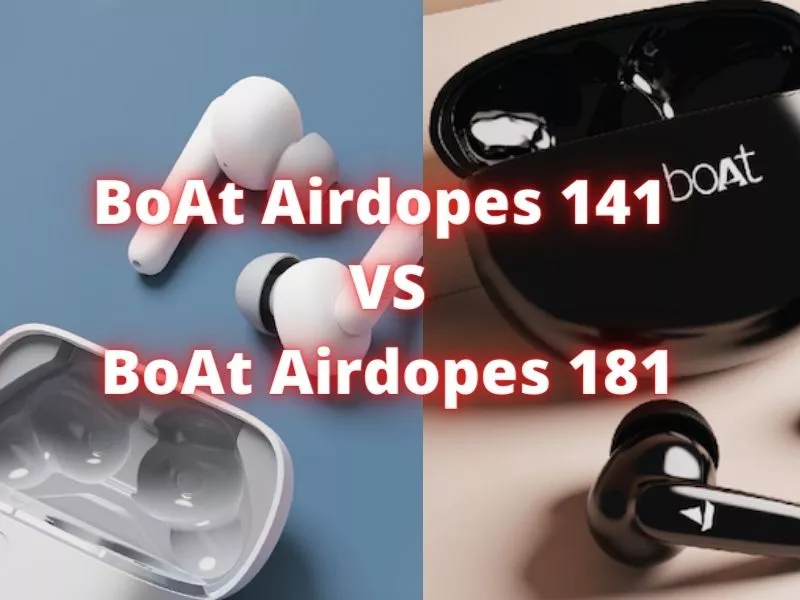 If you are new to Padhkedekho, we provide honest, customer-centric reviews and comparisons of products after using them for 1 month. With the objective to help you choose better! As support to us, below are some Amazon links that help us in keeping the website running. Please be advised you will not be charged a penny extra!
That being said, let's start the BoAt Airdopes 141 vs 181 comparison with differences.
Difference Between BoAt Airdopes 141 vs 181
| | | |
| --- | --- | --- |
| | | |
| | | |
| | | |
| | | |
| | | |
| Battery Size mAh (Buds *2 ) | | |
| Battery Backup 100% to 0% (Case) | | |
| Battery Backup 100% to 0% (Earbuds) Full Volume | | |
| | | |
| | | |
| | | |
BaAt Airdopes 141 Pros & Cons
BoAt Airdopes 181 Pros & Cons
Built Quality
Both Boat Airdopes 141 and 181 have a plastic body which is "industry standard". But the used materials offer a good feel and feedback. The edges are not at all sharp. This means the earbuds will not cause any pain or damage to your ears. Moreover, you will not be hearing any rattling noise while just pressing, inserting, or putting the buds back in the case. Full marks to the earbuds of both the Airdopes.
What about the carry case? Well, BoAt has really improved their carry cum charge case. For the last 1.7 years, we've been using BoAt Airdopes 121v2 which is nowhere close in terms of built quality but is still going well. Hence, these two are perfect for the price. One thing though, BoAt Airdopes 181 carry case hinges don't feel as good as Airdopes 141. Hence BoAt Airdopes 141 make a satisfying click.
Look & Feel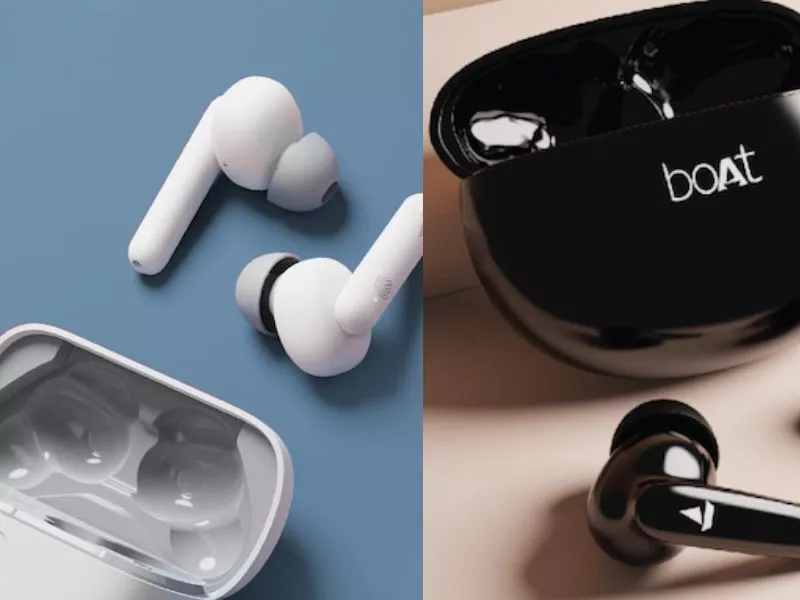 Here in this comparison, both are quite similar. Apple Airpods-inspired design language is most adopted by many brands for three main reasons. First, it gets the product more attention! Second, the grip/comfort on offer is great. Last but not least, the long stem helps in better mic quality ( saying this with our previous experience with Mivi DuoPods A25 (review), BoAt Airdopes 131 (review), and BoAt Airdopes 141 (review coming up soon) ).
Boat Airdopes 141 and 181 have glossy earbuds which are good as they will not get easily scratched unless they fall. Hence both have a similar look/design language. But are completely different in terms of the carry case looks.
BoAt Airdopes 141 is all matte whereas 181 is glossy. This is again a personal choice with which you would like to go. But do keep in mind, that Glossy looks good when the case is taken good care of. Otherwise, a 2-month-old BoAt Airdopes 181 will look like year-old earbuds.
On the other hand, matte will still get scratches but it doesn't pop out like on the glossy one. So it's your choice.
For me though, Matte takes more marks, hence.
Comfort Test
Most earbuds are great for comfort because of the silicone ear tips. Another reason is the "in-ear design language". So how good are these Airdopes? The good news is both the Airdopes have silicone ear tips and inner ear design language that helps in more comfort and long hours of use. I've personally tested these and can confirm both are great for 4 hours + hours of continuous use. But one can be worn for even longer and that's BoAt Airdopes 181!
To be honest, BoAt earbuds are very comfortable and offer a good grip. If you need a workout-centric earphone from BoAt then you can check out BoAt Bassheads 242 (under 600 RS) or BoAt Airdopes 441 (under 2k) and BoAt Airdopes 441 Pro (under 3k).
So in the comfort test, both are great and you can pick any of these. You also get two additional pairs of ear tips to find your perfect spot.
Features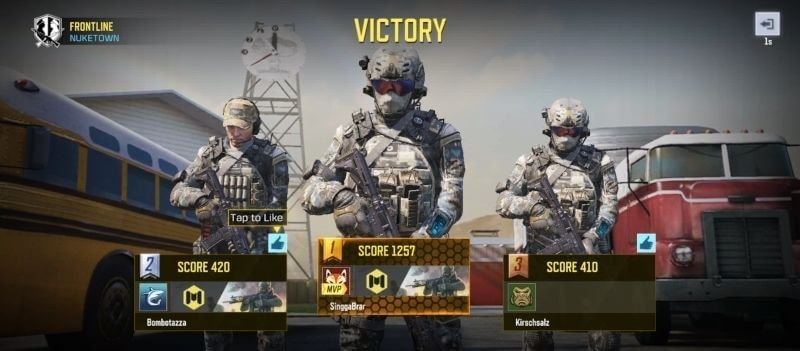 In terms of features, both are very close. You get touch-capacitive controls, IPX4 water resistance, support for fast charging, a type-c charging port, IWP (Insta Wake N Pair Technology), Beast Mode, and ENX Technology across both the Airdopes which is great.
Whatever you choose you will not be missing the above features. But there are two things that BoAt Airdopes 181 does better.
It offers Bluetooth 5.2 which delivers better connectivity and less battery drain. Which we have experienced lately with headphones and TWS running the latest Bluetooth. Hence if you have a Bluetooth 5.2 smartphone it's better to go with the latest version for your TWS for better compatibility. It's not a big difference though as BoAt Airdopes 141 is running at Bluetooth 5.1 and doesn't have an audio break or network breaking issue.
And the second point is, quite important for gamers and that's latency while playing FPS games. Even though both are good for gaming, BoAt Airdopes 181 takes the Beast mode to the next level by reducing the latency to 60ms. While BoAt Airdopes 141 is at 80ms. This 20ms difference is quite noticeable.
So. Airdopes 181 wins in this test.
That's about features. Let's now talk about the audio quality.
Audio Quality
So far both the Airdopes were head to head but in this test, you will find the major difference but both in a good way. Let's talk about that. Do you prefer a bass-heavy sound signature? Then both are boomy choices! With Airdopes 181 you get a decent level of clarity among lows and mids with a great level of loudness too. Thanks to the 10mm drivers. You will enjoy rap, hip hop, RnB, Punjabi songs, etc that pump in good low-end frequencies.
On a scale of 10, we would give it 8 purely on the basis of bass. Vocals are at 7 and trebles at 5.
What about BoAt Airdopes 141? It's a gem for detail lovers. Along with thumping bass, the overall audio signature is voice and instruments-focused. You will enjoy a wide range of genres unlike BoAt Airdopes 181. As far as loudness goes it is a little lesser than Airdopes 181.
Out of 10, we will give 8 marks to bass, 9 to vocals, and 8 to treble.
For better bass, you can go with BoAt Airdopes 181. For better detail that is vocal and instrument-centric then BoAt Airdopes 141 is better.
Call Quality/Mic Test
We had a history with BoAt earphones that have weak microphones because the voice output was robotic and not a pleasant one for the other side of the call. But the good news, is these two are different. Here you can take decent-quality calls (not saying great). The mic output is clean and distortion-free. ENX works but it will not magically remove the background noise!
It can restrict some amount of constant noise like a ceiling fan but not the things close in your proximity. In other words, don't take these as noise-canceling ones. Asking for those in this price range is not possible. So the end output of your call will be decent without your voice sounding like a robot or breaking audio.
After using many tws earphones from the brands like BoAt, Mivi, and Noise these are at par with Mivi DuoPods A25 with 30 percent better noise blocking.
Battery Backup
This is the most confusing part about these which makes them stand out for the different needs of individuals. We are here for you to get the logic behind these two fairly similar-priced tws with different battery sizes.
BoAt Airdopes 141 has 600 mAh of carrying power while BoAt Airdopes 181 has only 300 mAh. Secondly, the buds of Airdopes 141 have 30 mah batteries whereas BoAt Airdopes 181 ones are 35 mAh.
You can take this information like this. BoAt Airdopes 141 is good for people who want a longer piece of mind from the charger and a few extra charge cycles. Because the carry case battery size is bigger and the buds themselves have smaller batteries. But this will have a direct impact on continuous use. Let me explain. BoAt Airdopes 141 can be used for 4 to 4.5 hours at any volume. So you will need to put them back in the case for a good 30 mins before going for round 2.
Whereas BoAt Airdopes 181 can easily go 5+ hours if you plan to use the continuously (maybe two movies back to back!). But the carry case has a 300 mAh battery that will charge your buds up to 3 times. While at the same time, BoAt Airdopes 141 can go above 5 times for like 0 to 100 percent!
So if you need a longer battery in a single-use case scenario then BoAt Airdopes 181 is better otherwise you can go with BoAt Airdopes 141 and get longer peace of mind from the charger!
Which is Better in BoAt Airdopes 141 vs 181 Comparison?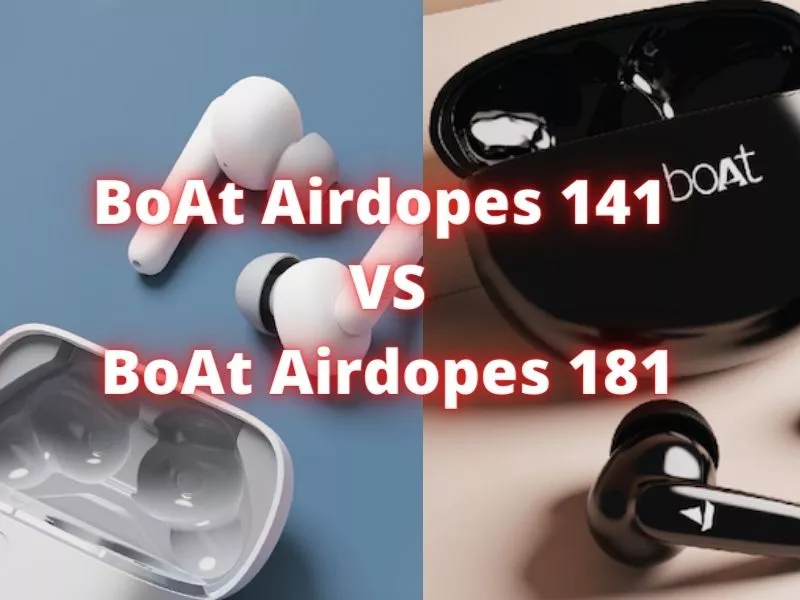 After using both the tws earphones for a month, recommending one out of BoAt Airdopes 141 vs 181 is very easy for us. Many good things are common between the two and hence if you pick any of these, you will not be making a bad choice.
What are the good things? Both earphones are very comfortable for long hours of use while listing to music, watching a movie, or playing games. Mic quality is also good. Battery backup will also not disappoint on these. For charging you have a type-c port which is perfect in 2022!
So both are great tws under 2000 Rs, period.
But which one should you buy? Let me put in a simple verdict below.
BoAt Airdopes 181 is great if you are into gaming and want a great gaming experience. Additionally, in terms of audio quality, you prefer bass above all. Another reason will be longer battery backup (5+ hours) on a single continuous go.
BoAt Airdopes 141 is ideal for you who prefer detailed audio quality with strong vocals, mids, and boomy bass. Secondly, you need not see your charger every second day! And when it comes to battery backup you are fine for around 4.5 hours.
| | | |
| --- | --- | --- |
| | | |
| | | |
| | | |
| | | |
| | | |
| Battery Size mAh (Buds *2 ) | | |
| Battery Backup 100% to 0% (Case) | | |
| Battery Backup 100% to 0% (Earbuds) Full Volume | | |
| | | |
| | | |
| | | |
Wrapping up!
There you have it, folks! This was our detailed BoAt Airdopes 141 vs 181 comparison after 1 month of use. If you have any questions or queries related to any of the Airdopes or any audio gear, then feel free to ping us on any social account below. We love to help our readers.
F.A.Q
BoAt Airdopes 141 vs 181 Which is Better?

Both are great options under 2000 Rs. 80 percent of features are the same however the 20% can be a deal maker or breaker for you. Click now to make a better choice.
BoAt Airdopes 181 vs 141 You Should Buy?

We've used both earphones for a month before making our recommendation. Hence this article is important for you. Click now to invest better!