BoAt Airdopes 121v2 and 441 are the most popular budget TWS earphones. But which one is ideal for you? Well, here at PadhKeDekho we have thoroughly tested and used them extensively before writing this article. So this BoAt Airdopes 121v2 vs 441 comparison is all you need before making your choice!
In this BoAt Airdopes 441 vs 121v2 comparison, we have talked about their built quality, grip & comfort, audio quality, mic test, battery backup, and our verdict!
Let's begin the BoAt Airdopes 121v2 vs 441 comparison with PadhKeDekho Ratings!
BoAt Airdopes 441 Vs 121v2 Differences
With our ratings and differences, you must have got some basic idea of how incredible both deals are. But which is more centric to your needs? That's what we are going to express to you just now!
BoAt Airdopes 121v2 Pros And Cons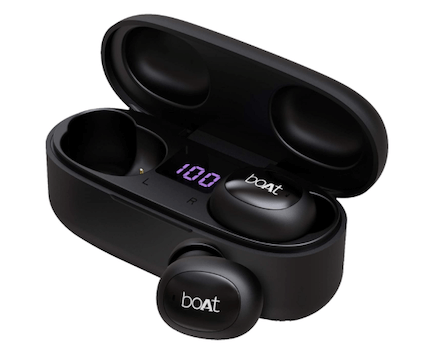 BoAt Airdopes 441 Pros And Cons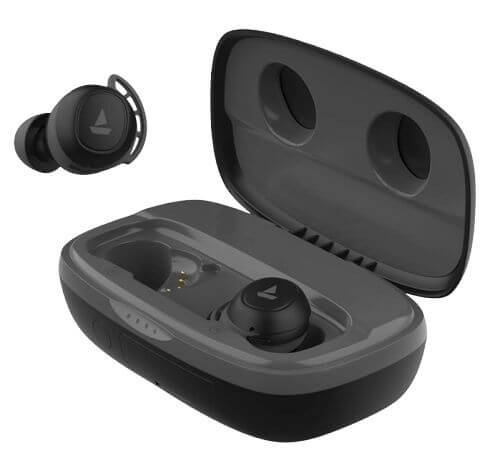 Built Quality
In the built quality department, we will talk about the Airdopes itself and the charging cum carry case.
Let's first talk about the charging cases. The good news is, both the cases are durable and can go for years. We are writing this after using these Airdopes for more than 5 months now.
Even though the carry case of the Airdopes is plastic but BoAt Airdopes 441 case seems and feels more durable.
As far as the build of earbuds is concerned, they are great. No unwanted squeaking or sharp edges. Even in the ears, they will not cause any pain when you'll adjust it for a better fit.
So in BoAt Airdopes 121v2 vs 441 built quality test, both are worthy of the price. But it's Airdopes 441 that leaps ahead in terms of case quality.
Grip And Comfort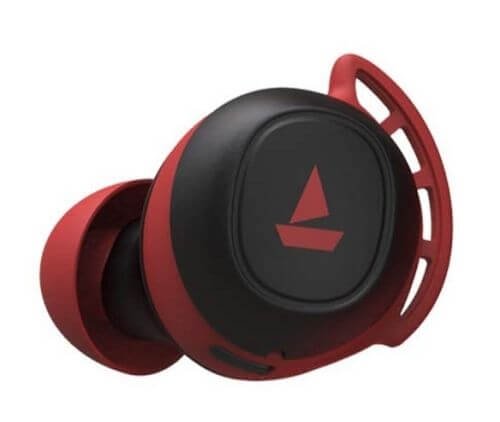 In terms of grip and comfort, boAt has done a great job. Both Airdopes have a good amount of hold but again BoAt Airdopes 441 takes the lead.
Why? Because of the ear hooks on both earbuds. Hence, they form a more snug fit and restricts their movement while running, dancing, or even intense workout.
So if you need good tws earphones for workouts or fitness in general then, Airdopes 441 is the better choice.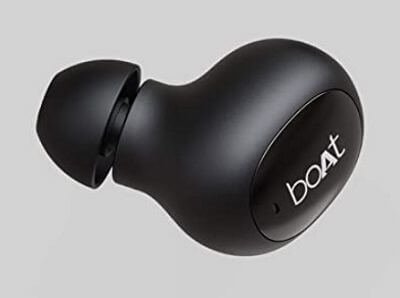 Whereas, Airdopes 121v2 offers soft rubber ear tips that go inside your ear and make a firm grip just like any regular in-ear design.
To me personally, I use BoAt Airdopes 121v2 for my workouts and had no issues either. Yes, they do become loose but fever felt out of ears.
In terms of comfort, both are at par and one can wear them for more than 4+ hours in a stretch without any pain or discomfort. Since Airdopes 441 stay at the same spot for longer hence you don't need to adjust them every other minute for better comfort.
Moreover, BoAt Airdopes 441 takes comfort a notch above, with the touch controls unlike Airdopes 121v2's physical MFB (Multi-Function Button).
Why? because the touch buttons on both earbuds are capacitive and with a tap, they register the command. Whereas, on Airdopes 121v2 some pressure is felt on the ears while changing songs or taking or rejecting calls.
Therefore, in BoAt Airdopes 441 vs 121v2 grip and comfort test, it's again BoAt Airdopes 441.
Read More: BoAt Airdopes 121v2 vs 131 | BoAt Airdopes 121v2 vs 171
Audio Quality
In the BoAt Airdopes 121v2 vs 441, an analysis that took the most of our time was a sound test. But finally, here is what we think of both the Airdopes.
Let me tell you the good offer on them. They are loud, clear, and offer a distortion-free experience. if you go by the technical audio drivers then Airdopes 121v2 takes the bigger pie of the cake.
But in day-to-day use, it is BoAt Airdopes 441 that takes the overall experience to next level by offering better bass. It can be due to the better grip. Nevertheless, it goes in the favour of 441. Other than that, the vocals tend to have more detail with Airdopes 441.
Don't get me wrong, BoAt Airdopes 121v2 sounds great keeping in mind the price. In the similar priced TWS, 121v2 sounds way better than Airdopes 131 and 171. But next to Airdopes 441 that is doubled the cost, then lacks minor details and punchy bass.
So in BoAt Airdopes 441 vs 121v2 sound test, Airdopes 441 is the way to go.
Mic Test
Since last year, most of the people are working from home hence mic quality has become an essential factor while buying new audio gear.
As we have used them extensively for the last few months. Here's a piece of good news for you. Airdopes 121v2 and 441 have good microphones. One can use them for online classes and meetings indoors.
Where Airdopes 441 shines is in the outdoor calling. For some reason, it focuses more on your voice than the background noise. This is another way around for Airdopes 121v2.
If you plan to take calls only indoors then you can go with any of the two. But you must know Airdopes 441 is better in both areas i.e. indoors as well as outdoors.
Battery Backup
If you are worried about battery backup, then throw that thought away as both packs in great batteries.
With Airdopes 121v2 you get a 380 mAh on the carry case, while the earbuds have 40 mAh each. In writing it seems short next to Airdopes 441's 500 mAh charge case and earbuds have 3 mAh more.
But in reality, both do a fantastic job. I daily use them for 3 to 4 hours and the Airdopes 121v2 can go for 5 days. Whereas, Airdopes 441 crosses a week's mark. So no complaints here with any of the two.
In terms of charging, there are significant changes. Since BoAt Airdopes 121v2 has standard USB 2.0 it takes around 3 hours to fully charge irrespective of the charger. Whereas, Airdopes 441 with an even bigger battery thanks to USB-C gets up and running within 2 to 2.5 hours. This is impressive! However do keep in mind, both Airdopes don't support fast charging.
BoAt Airdopes 121v2 vs 441 Which One You Should Buy?
BoAt Airdopes 441 vs 121v2 comparison was not easy to conclude. Both are great TWS earphones for sure. You will have no major issues with them. Be it, built quality, comfort, audio output, mic performance, battery backup, etc.
As far as Bluetooth connectivity and range go, both have Bluetooth 5.0 and a 10-meter range. Again no major audio disturbance here. Only it can be seen when the connected device is 6 to 7 meters away or there are walls without windows in between.
I found both Airdopes to be worthy of their price tag. Since Airdopes 121v2 can be grabbed for around 1200 Rs which is half of Airdopes 441. It makes a great deal if you are a little low on budget.
And if you own Airdopes 121v2 and are willing to upgrade, then BoAt Airdopes 441 is certainly a good option. By paying more money you will get a bigger battery, touch controls, and IPX7 water and dust resistance.
Wrapping up!
There you go, guys! This was our BoAt Airdopes 121v2 vs 441 detailed comparison. I hope this article would have been of any help to you. If it did then do share it with others and help your friend out in decision making!
Got Queries? Comment below or reach us out at PadhKeDekho's official accounts given below. To speed things up, mail us at care@padhkedekho.com.
[convertful id="133489″]
F.A.Q
BoAt Airdopes 121v2 Vs 441 Which is Better?

Both are good TWS earphones for sure. if budget is not an issue and you need a "better" deal then BoAt Airdopes 441 is the choice.
Why BoAt Airdopes Blink Red And Blue?

Whenever BoAt Airdopes are looking for a device then they do continuous red and blue blinking.
BoAt Airdopes 441 Vs 121v2 Which One Offers Better Base?

Both Airdopes have a good base, but it's Airdopes 441 that has a punchy feel.