If you looking to buy new tech products on crazy deals then be ready at 12 AM tonight till the 9th of August for great deals on the great freedom festival sale on Amazon. After researching the deals here are the top 10 tech deals on the Great Freedom Festival sale that you can grab! To make the deals sweeter, you can take advantage of a flat 10% of on an SBI credit card and save more money!
So that being said, let's have a look at the top tech deals on the Great Freedom Festival sale.
Up to 40% Off On Smartphones And Accessories
If you are saving up for the next smartphone or perhaps a premium accessory for your phone, then this is the right time of the year to buy! On top of the 10% SBI credit card discount, you can get more deductions by exchanging your old phone minimum of 650 Rupees.
Discounts will be on every item however as you know some will be the highlighting deals and most of the people will be aiming to grab. Such tech deals on the Great Freedom Festival sale on mobile are as follows.
1. Apple iPhone 11 (Best Deal On iPhone 11)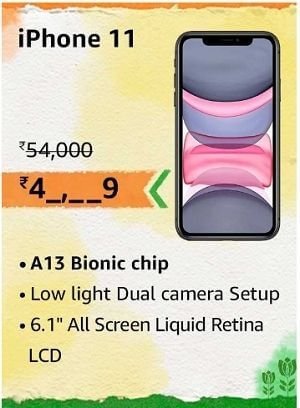 iPhone 11 needs no introduction! It is among the best-selling iPhones even after the 12 series is easily available. This is mostly due to the price difference. Where iPhone 12 starts at 68K, iPhone 11 at around 52k to 55k.
If you are wondering whether you should buy iPhone 11 in 2021 then don't worry you are not making a bad decision. Why you may ask because A13 Bionic is a very sturdy processor. Even in 2021, it manages to outrun Snapdragon 855 and 855 Plus.
Don't go with numbers? then here's an interesting fact. I use iPhone 7 bought in 2017 and so far I have replaced the battery one time and it still manages to take care of daily tasks like Snapchat, Twitter, Google Analytics, Facetime, etc. without any stutter and hangs. So if A10 Fusion is capable then I don't see any harm with A13 Bionic.
Apple iPhones generally have a lesser amount of RAM while the Android counterparts have double some times, triple amount of it. Even then iPhone comes pretty close and in some cases leaps ahead in performance tests. You can check out speed test videos on YouTube.
Why is it so? Because iOS is highly polished and since the software and hardware are made by Apple, they have a great integration. Hence the user experience seems responsive with great animations.
And when it comes to the camera you will not find a triple-digit camera megapixels setup that might not appeal on paper. But in reality, iPhones video quality is proven to be the best. In fact, most big YouTubers believe so.
The price of the iPhone 11 generally falls to 49,999 on e-commerce platforms like Flipkart and Amazon. And the above screenshot, one can easily think of that pricing. The icing on the cake will be the additional 10% SBI credit card discount that will put it at 45k. Plus if you have an old phone for exchange then, exchange discount + old phone's cost! So it's a great deal for sure. Moreover, there are going to be interest-free EMIs options too!
So if this is going to be your first Apple iPhone, Then iPhone 11 is certainly going to give you a good experience.
2. Mi 10i 5G
Even if you don't like Xiaomi phones, this one is very hard to ignore. The 108 MP camera module, 5G connectivity, the beautiful 120Hz refresh rate 6.67-inch FHD display speak for it.
As far as the performance goes, this is as sleek as it looks! The Snapdragon 750G and Adreno 619 paired up with 6 or 8 GB RAM is capable to handle your daily activity, gaming, and multitasking without any effort.
The built quality of the phone is very good especially the Gorilla Glass protection on the front and rear. Usually, at this price, most brands have opted for polycarbonate material. If you are fond of glass, then you should not let this slide!
With Mi 10i 5G you will get a 33-watt fast charger whereas most big brands are omitting chargers in the box! Thankfully Mi is still providing one that too a fast charger.
The regular selling price of Mi 10i 5G is around 22k without discount. You can grab this phone for as low as 21,999 (our expectation) excluding exchange bonus and old cost phone, 10% flat discount! So if you need a fabulous phone user 20000 Rupees then this is the best choice to go for!
3. Redmi Note 10 Pro Max (Scaled Down Mi 10i)
In simple terms, Redmi Note 10 Pro Max is a scaled-down version of Mi 10i 5G but carries a 108 MP camera setup, 120Hz display up to 8 GB RAM. However, misses on 5G. But provides a bigger battery.
So if you need a powerful camera-centric phone that has a fast refresh screen along with a big battery then Redmi Note 10 Pro Max is certainly to be considered.
And the best part; it's sale time! At the moment the current price of the phone is 19,999 and by the looks of it, we are expecting it to be around 18,999 leaving aside the exchange bonus, 10% flat SBI Credit Card Discount, and even more ones the sale is live! We believe it will cost around 16000 to 17000 without the exchange of an old smartphone or feature phone.
So these deals on smartphones are our favorite tech deals on the Great Freedom Festival. Now let's talk about the audio gears!
Grab 60% Off On Smartwatches
Smartwatches have become quite a necessity due to our work from home sitting jobs and lack of physical moment. As a result, most people are gaining weight and looking for ways to get fit again. So to get back in shape, Amazon is bringing wearable tech deals on the Great Freedom Festival sale!
There will be plenty of smartwatches at discount but the one which is the best choice and has got our attention around 3000 Rupees is BoAt Xtend Smartwatch.
4. BoAt Xtend Smartwatch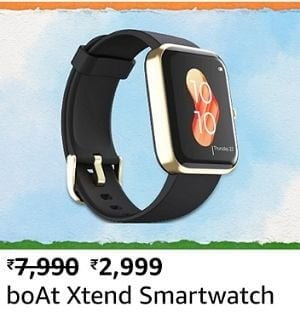 If you are going to buy BoAt storm then stop right here and go for BoAt Xtend instead. You must be thinking "Why? it is few thousand Rupees expensive?" Well, not in the coming sale! You can grab BoAt Xtend for only 2,999 and it is much better than BoAt Storm any day!
This smartwatch packs in so many features and in terms of built quality it is just marvelous. The 42nm LCD display is moderately bright and colorful.
if you are into fitness then this smartphone has 14 sports modes like indoor cycling, indoor walking, outdoor running, outdoor walking, yoga, gym workout, open pool swimming, and much more! What makes this watch more promising, is the 5 ATM water-resistant which means you can go out swimming or jog in rain without worrying about damaging your smartwatch.
All the important stats like your calories burnt, distance covered, pace, and others vitals can be synced with the Google Fit app so that you can access the logs when you need them.
Other than fitness, the smartwatch can actively monitor blood oxygen or sp02, heart rate monitoring, sleep monitor, and guided meditation. And all this important data is saved via the BoAt Wave app on your smartphone.
As far as features go, it has built-in Alexa support that can take care of your instant queries like what's the weather or do I need to carry an umbrella today, etc.
For customizations, the watches can be changed as per your need. You can choose between 50 watch faces. But for that, you need the BoAt Wave app that is free to download on Android as well as iOS.
All these features and battery backup of up to 7 days is the icing on the cake! So all in all and a sale price of 2,999 Rupees is the bang-on deal!
Up To 80% Discount On Audio Gear
Since music is a gateway from all the back-to-back work emails traffic jams and commuting to and from the office. Audio gear is something for which we are most excited for tech deals on the Great Freedom Festival Sale. So is the hype about some deals worth it? Yes, why not! Here are some of our favorite bargains for which we are waiting!
5. BoAt Rockerz 255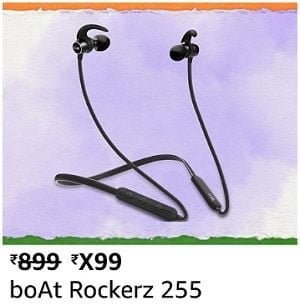 We have used BoAt Rockerz 255 for more than 2 years and it is a good neckband earphone. The 10mm audio drivers, IPX4 water resistance, around 8 hours of battery backup and great audio quality, and a thumping base are on point here.
In terms of built quality, it can't get better at this price. After 2 years it is still going very strong only one side of the earbud has stopped working. You can check out our 2+ years of experience with BoAt Rockerz 255 here.
We bought it for 1200 Rupees at that time, and now it stays around 800 to 1000 INR. But on the Great Freedom Festival sale, we are expecting it to be for 599 or 699 excluding other offers. At this price, it's a remarkable deal and you must grab it if you prefer a neckband design.
6. BoAt Airdopes 501
If you like TWS earphones then you must have heard or even used BoAt Airdopes. If you are not family Airdopes 501 then you must know it is TWS earbuds that go inside your ears and have a completely wireless setup. They are super lightweight and hold a good grip on your ears.
As far as the audio quality goes, it packs in 6mm powerful drivers that can keep pumping adrenaline during your workouts or casual listing. What's keep it apart from other TWS is the IPX5 sweat and water resistance that will let you connected without a phone and forget about sweat or some splashes.
The tiny earbuds have 50 mAh of batty that can last for 4 hours on a single stretch. The carry cum charge case can provide you juice for 20 hours which is great!
As far as the audio quality goes, it is great with good bass and you will have a good time listing to all kinds of music.
Due to high demand, it usually stays sold on major e-commerce websites. But on this Amazon Great Freedom Festival sale, we are expecting it to be at 2,999 or even lower. This puts it next to One Plus Buds Z that you can also check out too. We have used both of these and are great!
Our other recommendation will be BoAt Airdopes 441 Pro.
7. Sony WH-1000X M3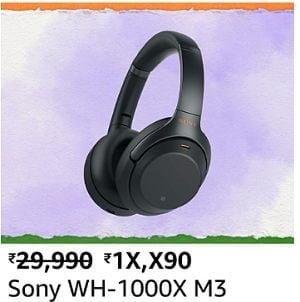 Sony WH-1000X M3 is the choice of many top people like MKBHD, GeekyRanjit and so many more. Why you ask because of the active noise cancellation, NFC, amazing audio quality, and support to various audio codecs, around 30 hours of battery backup with active noise cancellation makes it a good deal at 25000 Rupees.
There are sony many others things to talk about. First of all, this over-ear headphone comes with ambient noise support. This actually helps to let in the outside noise while you are listing to music without removing the headphone. This is very convenient. All you need is to put a hand over any left or fight head cup. This will shoot up the ambient noise so that you can hear what someone is talking to you or metro or train announcements.
Let say you didn't like the predefined audio profile of the headphone? then you can change it as per your need because the headphone has app support that is present on Android as well as iOS devices.
How about you will control the volume or play/pause the media? For that, Sony has not provided buttons on the headphone. Instead, they went with touch and swipe gestures on the right earcup. So certainly the headphones feel from the future!
if you have waited for the best deal on Sony WH-1000X M3 then this is the right time! You can grab these amazing headphones for 19,990 excluding some other discounts and offers at hand! To be honest, for an audiophile, this is among the best ones in the market.
The above choices don't excite you enough? then it's okay don't worry there are tons of other audio tech deals on the Great Freedom Festival. Click now to check those out!
Up To 60% Off On Computer Accessories
The best part of this sale is that Amazon has left no stone untamed and everyone will find the deals they are looking for.
As most of the companies are extending work from home facility employees might need to upgrade or buy new peripherals after one year of use. To take care of this, Amazon stood up, and here are up to 60% off top tech deals on the great freedom festival are going strong!
Our favorite tech deals on the Great Freedom Festival sale are as follows!
8. Logitech G402 Mouse
if you were planning to buy a gaming mouse then this Amazon Great Freedom Festival sale has kept you covered. You can get up to a 50% discount on all gaming accessories.
Logitech G402 is a gaming mouse that offers 4000 DPI and 8 programmable buttons that will help you take your gaming combat or racing skills to the next level. Not just that, the mouse is fully compatible with Mac and Windows computers.
Do you wish to use this mouse as your work-centric device? then Logitech has kept you covered! All you need is to change the DPI between 4 ranges of options between 250 to 4000. The transition happens within seconds and you will not witness any notice apart from mouse pointing speed.
The overall design and built quality of the mouse are on point and suit every hand size. Logitech G402 offers the best grip and you can go all long as you want to play. Due to its lightweight nature, you can play games as you like without any discomfort.
If you are interested in the size, it is a full-size mouse and can be used for precise movements in Photo editing as well as video editing software. So all in all, it is a great gaming mouse that can be used for other purposes as well.
Now for the sweet part, this one usually sells at around 2200 on Amazon without any discount. But you can grab it just for 1995. Psst… excluding the SBI card and other schemes!
So if you were waiting for the right time to buy gaming accessories, then set your calendar for 5th till 9th of August to grab the finest deals!
Check out all the deals and save money here! 
9. WD 1.5 TB Elements External Hard Disk
At the office, no one realizes how much data of storage we used to collect on the machine provided to us. But after setting things at home, oh boi how instantly do you fill up the hard disk of your laptop? For me who do a lot of photos and video editing my MacBook Air that has 128 GB storage fills up every month. And I hope the same for you!
Therefore keeping an external hard disk can save up your time while moving and deleting the files. At the office, we have been using several external hard drives and one of our favorites is available will be available at a high discount!
Before telling you the price, let us rift you about the specs it has to offer.
The best part of this external hard disk is the compatibility with most products like old computers, laptops, gaming consoles like PS3, PS4, XBOX. So this gives you accessibility with multiple devices unlike some that are bound to specific devices.
if your computer or laptop is a Windows-powered device, then you are ready out of the box. Just plug and play and use the 1.5 TB of storage. However, for other operating systems you might have to format the drive which is very easy and how-to is present.
WD 1.5TB Elements is future-proof with the latest USB 3.0 ports for faster transfer speeds. Even if you have devices that have 2.0 ports don't worry backward compatibility works great.
So rather than moving data through a 16GB Pendrive and be under stress grab WD 1.5TB Elements external hard disk and sort files in your free time! Usually, this external hard drive is available around 4300 Rupees.
On the Great Freedom Festival Sale, we are expecting it for 3,999. This seems logical through the screenshot above. And in the end, it is a WD product that stands for quality and long life.
Up To 30000 Off On Laptops
If you were saving for a good laptop then this sale from Amazon has so many deals to choose from. Here is one of our various favorite tech deals on the Great Freedom Fesitval sale!
10. HP 15 10th Gen Core i3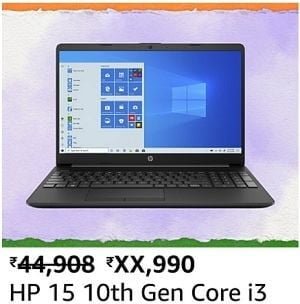 This HP laptop is going to checkmark most of your requirements and there are plenty of reasons for that.
To begin with, this is a full-size 15.6-inch laptop with a 1080P HD panel that is bright and sharp. Due to the form factor, you get a full-size keyboard and a dedicated num pad on the side. Which helps in doing faster calculations and is most suitable for telly works.
As far as portability goes, the laptop weighs only 1.78 grams that puts it among the light-weight laptops in the market. So on the go, you will not face a burden on your back.
By reducing the weight, thankfully, HP has offered good quality built. Though it is polycarbonate it doesn't feel like it. Secondly, the carbon fiber design adds more to the design and looks. So if you plan to keep a laptop for a few years, this is to go with.
The strong point of this HP 15 model number 15s-du1064TU is its performance. The i3 chip inside is the latest 10th gen processor that clocks 2.1 GHz base speed and can be turbo boosted by 4.1 GHz. Paired up with 8 GB RAM (expandable up to 16 GB 8×2 setup) This combination helps to maintain performance as well as battery optimizations.
With time generally i3 or i5 laptops get slow and people blame Windows 10 for that. But the thing is, it's the hard drive that is making things slow. Most budget laptops have only HDD that operate at 5400 RPM that tends to get slow once you start filling the hard disc and operating system files.
However, this laptop along with a 1000 GB hard drive comes with a 256 GB of Solid State Drive or SSD that runs on 7200 RPM which makes the overall working faster. if you have never witnessed SSD inaction then trust me, this laptop is going to your partner for a very long time.
The above specifications are great for some casual gaming too however don't expect it to run GTA5 on max settings! For everyday use and smooth operations, one should buy this laptop.
Now for the best part, the average selling cost of this laptop is 44000 but on the Great Freedom Festival sale, it will be up for grabs at 39,990 excluding all the discounts and interest-free EMIs.
So if you were saving for a laptop for the best deal, then here it is and should not let this slide in this price range!
Amazon Coupons For Tech deals On The Great Freedom Festival Sale

To make the Tech deals on the Great Freedom Festival sale Amazon is offering Coupons that will offer additional discounts after all the discounts! The Amazon coupons are different for different products but one thing is sure you will save tons of money!
You can check out all the coupons here and grab all the discounts and make full use of the sale!
Wrapping Up
There you go, guys! These were our favorite top 10 tech deals on the Great Freedom Festival sale by Amazon. If you found these of any help, then do share it with others before time so that they should go for such deals that are great!
Do you have doubts about other products on offer whether consumes you should buy or not? then drop a comment below or reach us out on the social accounts below. We would love to help you out!
Just like the above article, we share our 2 cents in the form of reviews, tips & tricks, comparisons and opinions so do check out those articles. And if you liked the content do share it with your friends and family! Thanks, we will see you at the next one!
[convertful id="133489″]