We have owned and reviewed Infinity Glide 500/501 by JBL a while ago. And just recently, we got our hands on Infinity Glide 510. After using both the headphones extensively here are the differences between the two. So this Infinity Glide 500 vs 510 comparison is quite important!
By the looks, both are entirely the same but after spending some time (around a year) with them here are all the major differences between infinity glide 500 and 510. Since there is very little information about the two we went ahead and did Infinity Glide 500 vs 510 all possible comparisons!
In this Infinity Glide 500 vs 510, you will get to know about their built quality, comfort, audio quality, mic test, battery backup, and our verdict. So I hope this article will be quite helpful for you!
Here at PadhKeDekho, we have compared and reviewed plenty of headphones and earphones so that you choose something that is good for you! That being said, welcome and let's get started with PadhKeDekho Ratings!
Infinity Glide 500 Vs 510 Comparison
Infinity Glide 500 Vs 510 Key Features
| | | |
| --- | --- | --- |
| | | |
| | | |
| | | |
| | | |
| | | |
| | | |
| | | |
| | | |
| Removeable Ear Cups Fabric | | |
| | | |
Built Quality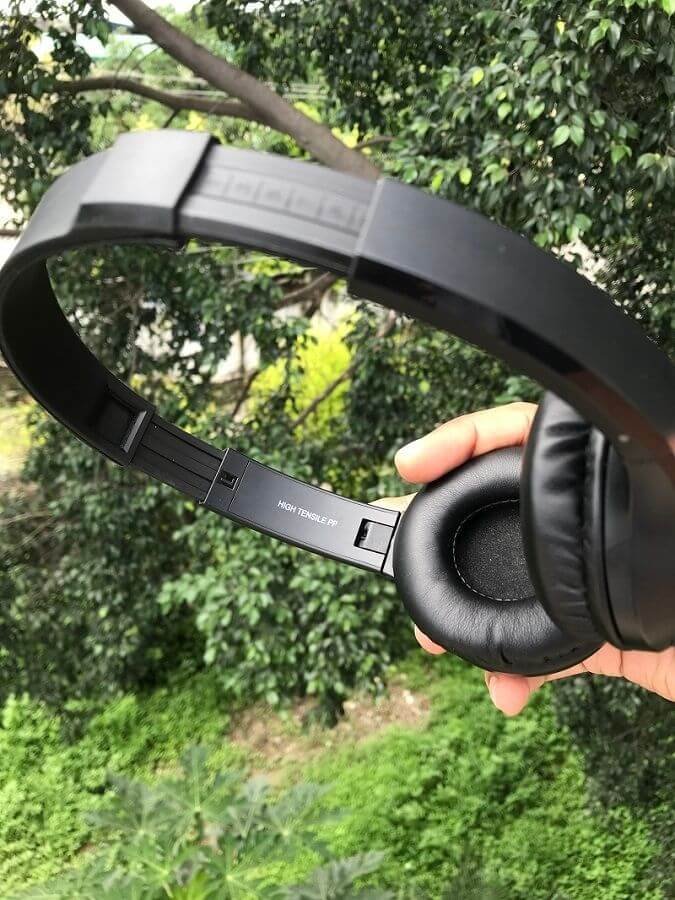 Under 2000 Rupees we have tried many headphones and mostly offered inferior built quality. Fortunately, Infinity has used High Tensile PP material on both headphones.
High Tensile PP is plastic but it is known for its toughness and rigid body frame. It is so great that there is no squeaking or panel pressing present on any of the headphones.
Since we have been using these for a few years now they are still as great as they were from the beginning.
Just as the headphones built quality, the same can be said for the headband adjusters. On both headphones, you will find 6 stages of adjustments that will help you find a comfortable spot.
For some people the plastic headband adjusters might be off-putting but, the High Tensile PP material is the best we have seen in this price range.
So if you are concerned about built quality, then going with any of the two will be the right choice.
Comfort
Out of the box, both the headphones will be tight on the ears and some pressure will be felt around the headband. This is normal because most of the headphones that are meant to be worn during jogging or working out require some claiming force. Because how good is a headphone if it falls during a workout?
To overcome this, you should always give headphones time to adjust as per your head size. Since we test so many headphones on daily basis we stretch them out a little and in 2 to 3 days we get used to it.
Both headphones offer a similar level of comfort. Be it the tiltable earcups, adjustable headband, and soft cushioning on the ear cups. Since they are on-ear headphones, they press the ears rather than covering them entirely. Due to this, you need a good fabric next to your ears. Fortunately, both have good quality fabric and cushioning which is comfortable for 3 to 4 hours of continuous use.
You can easily wear them for 4+ hours but due to the on-ear design, these will not be very comfortable for someone who has large ears and head size.
So to answer the question "how good is the comfort?" Well, it's good as any on-ear headphones can be. But is it great? No, you can go with Over-ear headphones for better comfort Like BoAt Rockerz 550.
Therefore, Infinity Glide 500 vs 510 in terms of comfort, get 3.5 out of 5.
Hygiene
After using headphones for a while, the ear cups accumulate sweat and dust which feels dirty and smells bad. Infinity has tough about user's hygiene and here's what you can do about it.
On both headphones, you can easily remove the fabric around the earcups and clean them up gently with a damp cloth (Most probably hot water).
This is something that we experienced in top-end headphones. But it's good that brands like Infinity are taking steps about user's hygiene in the budget headphone market. And the best part is that you can do this on both headphones.
Infinity Glide 500 Vs 510 Audio Quality
So far both the headphones, seem "quite similar" but here things change; to some extent! The biggest difference comes in terms of audio loudness. Where Infinity Glide 500/501 is moderately loud, things are taken even further with Infinity Glide 510.
In this price range, some headphones have bigger audio drivers on paper but don't sound good. Some offer a heavy base while lack detail. But Infinity has not gone behind numbers but has worked on giving the best audio drivers so the end-user could enjoy any type of music.
As far as audio driver size goes, Infinity Glide 510 has 36mm drivers. While Infinity Glide 500 has 32mm drivers.
Infinity by JBL has not skimmed the dual equalizer mode on the headphones. If you don't know both the headphones have two audio profiles; normal and deep base mode. This can be interchanged within seconds, just by pressing the plus and minus volume buttons together for 2-3 seconds.
These are not just gimmicks, they work really well!
In normal mode, bass and treble are toned down and emphasis on vocals is given. This is great for people who like to enjoy podcasts or classical music.
But as soon as the deep bass mode is activated, both headphones seem not only different but much more powerful headphones!
In deep bass mode, you can witness a heavy bass, good vocals, and treble with tons of details. As far as the bass goes, it's a thumping one and you can literally feel it on your ears!
Be it Infinity Glide 500 vs 510, you will not be disappointed. Even if you are a casual listener or an audiophile, you are going to have a good time for sure.
Battery Backup
In terms of battery size and battery backup, both headphones are very different. But ultimately, both are great!
Infinity Glide 510 has a 610 mAh of battery that can prove juice for 70+ hours. Additionally, it supports quick charge too! So 10 mins of charging can give you 2 hours of listening abilities. As far as charging time is concerned, it can be charged completely in 3 hours. This kind of battery backup and charging time is among the best in this price range.
Whereas, Infinity Glide 500/501 has a 200 mAh of battery that is capable of providing juice for 20 hours which is more than acceptable. Just like 510, you can also charge it for 10 minutes and enjoy up to 2 hours of bliss! Due to the smaller battery, it gets charged under 2 hours which is great considering around 20 hours of battery backup.
So if you need a good pair of wireless headphones that don't require daily charging, then grab any of the two!
Connection Type
As far as connection goes, Both Infinity Glide headphones are running on the latest Bluetooth 5.0. So you should not have any issues under the 10-meter range from the connected device.
While testing these out, we had no issues even we crossed multiple concrete walls without any windows. So I don't think in terms of Bluetooth range you will face any problem.
Unfortunately, you don't get aux support on both headphones. This can be a deal-breaker for many. So you cannot go old school with these, you only have Bluetooth connectivity.
Infinity Glide 500 Vs 510 Which Has Better Mic?
Since many of us are working from home, a microphone has also become the need of the hour. You will be pleased to know that both are the best wireless headphones under 2000 one can own for calling.
Usually, headphones at this price have an inferior mic and tend to transfer robotic voice. We were fairly impressed with Infinity Glide 500 as well as 510 while testing out calling indoors as well as outdoors.
The best part about both of these is that you will not get any active noise cancellation still they were able to restrict outside noise to some extent. We have received no complaints of audio breaking or disturbance while talking zoom meetings either.
So we can confidently recommend Infinity Glide 500 or 510 Headphones for calling.
Infinity Glide 500 vs 510 Which One Should You Buy?
One should always know that Infinity is a product of Harman that owns JBL, AKG, and many others. So they know what they are doing when it comes to producing audio equipment.
Why I am saying this? because we get so many comments of people going for different brands of headphones due to technical specs and making assumptions that these are bad. Later turned out to be the wrong move!
Since we have had them for more than a year now, we are more confident about recommending any of the two.
But which is better than the other? When it comes to "better" going with infinity Glide 510 makes more sense due to the bigger battery and slightly louder audio experience. But going with Infinity Glide 500 will be a more economical choice due to some special deals that keep on coming for it.
Rest, if you buy any of the two, you are not making a bad choice. All you need is to give it some time to adjust to your head size.
There, You Have it, Folkes!
This was our Infinity Glide 500 vs 510 comparisons. In which we compared them on the basis of built quality, comfort, hygiene, audio quality, battery backup, mic test, and finally our verdict.
We hope by this comparison, we were able to answer your questions. If you still have some doubts or questions, then comment below or ping us on any of the social accounts (Twitter– most active) below. We would love to help you out!
Thank you for taking out time and reading our Infinity Glide 500 vs 510 comparison at PadhKeDekho. Do share it with others if you found this helpful!