A brief history about me- I was in the Apple ecosystem from iPhone 4 to iPhone 7. Just recently for trial, I bought Moto G51. Which is a stock Android 11 phone that's 5G capable and has a 120HZ display. So how was my iOS to Android switch experience? is Android really good? here's a brief experience in 6 points.
Disclaimer- Both the smartphones are owned by me so everything you will read and see is true from the heart and original. Defaming one brand or os is not my thing, every product has its own pros and cons and I will talk about that just in a sec.
#1 Expand Your Hands!
Since I've been using a 4.7-inch display iPhone 7 and the moment I got Moto G51 in my hand. Oh my god, the display was never-ending! It's not only wider than iPhone 7 but also very big. This is both good and bad at the same time.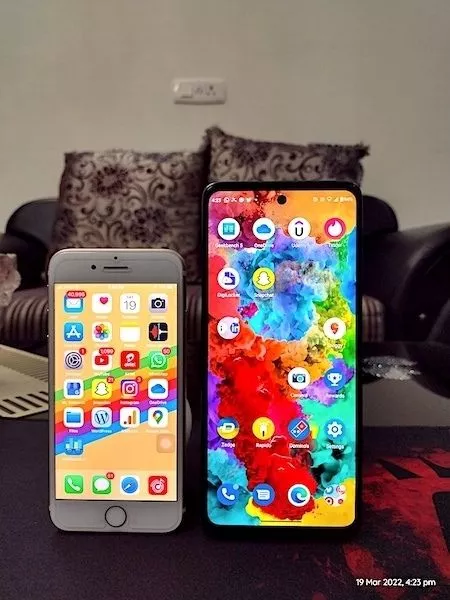 Why good? Because watching videos or your favorite shows on Netflix makes the display pop. You can experience a great content consumption experience.
But at the same time, the big display makes it practically not usable with one hand. Even though I have slightly bigger hands, I cannot use this phone comfortably without worrying about it taking a fall.
Whereas on iPhone 7, the display is small but it's very convenient to be used with a single hand.
So having a small or large screen depends on your needs. But for the most part, the big display has more advantages. For e.g. while gaming, writing content, or even watching movies.
So yes Moto G51 (Android) is really good in terms of screen dynamics.
#2 Engaging Google Play Store
Google has a unique way of promoting paid apps and services on the Google Play store. There's an app called Google Opinion Rewards that gives you free credits upon answering surveys. These credits can be used to download paid games for free from Google Play Store in 2022.
Not just that, you can try other paid apps, Google Books, Movies, or any other Google services. This is a great tactic to increase sales of paid apps.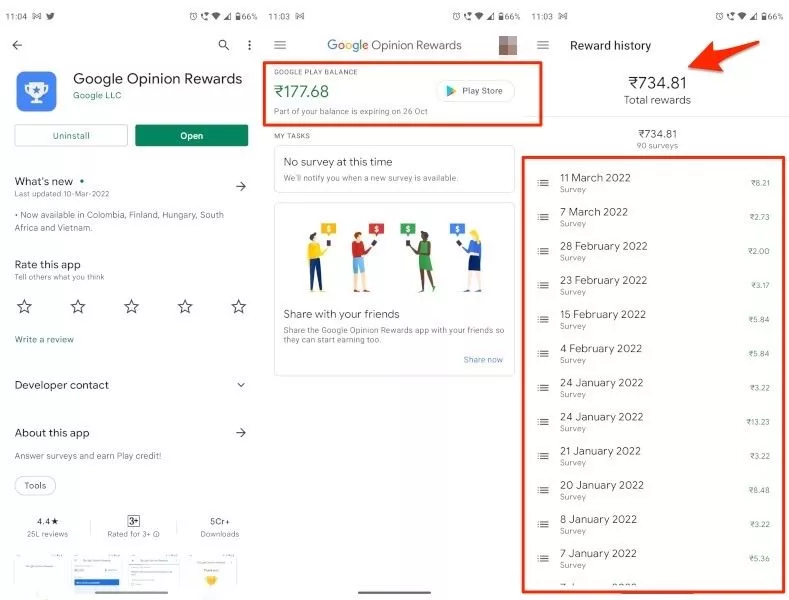 Once you get habitual of spending you will keep on trying new paid apps. Moreover, Google gives more coupons that can be used for renting out movies at a discount.
This is something that Apple doesn't do. You have to buy paid apps either by spending actual money or utilizing gift cards. So if you have an Android phone you will be spending more time trying new things.
So in a way Android is good when engaging with Google Play services.
#3 Android Kills The Battery Anxiety
The last iPhone I've owned was iPhone 7 whose battery was replaced by Apple in 2020. The phone is at 83 percent battery health again. And the screen on time I am getting with it is below 3 hours. Yes, that's right only 3 hours. I can see around 5 to 10 percent battery gone while posting an Instagram Reel! So the battery is certainly not a strong point of older iPhones.
Majorly, this was the primary reason for upgrading to Android. The phone I use now is Moto G51 which has a 5000 mAh battery and comes with a 120hz display. Here are my latest battery backup numbers.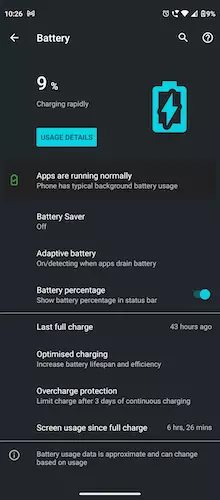 The phone comes with 3 refresh rates; Auto, 60HZ, and 120. Since I always use it at 120hz I get a screen on time of about 6 to 7 hours! It's practically double that of the iPhone 7 with the same apps. Moving to 60HZ increases the screen on time by another 2 hours and about 8 hours in total.
So with Android, you don't have to worry about the battery backup.
#4 Quality of Apps
Now, this is something that only a person who owns or has used both operating system's can relate to. I am directly talking about the UI look and feel of apps like YouTube, Facebook, Instagram & Snapchat that we use on daily basis.
Here I am not comparing the top-of-the-line Android with an iPhone. But the latest budget Android phone is around 15k with a 4-year-old iPhone 7!
Let's first talk about YouTube. On iPhone 7 the moment you turn your iPhone from landscape to portrait the UI changes so smoothly even on a 60hz display. Whereas on Moto G51, that's on a 120hz display takes about 3 to 4 seconds to finally make a switch.
This seriously means that the YouTube app on iOS is more streamlined than on Android!
Now, it's time for Snapchat. While using Snapchat on iPhone you can take full advantage of the camera. Whereas on Android you get a screenshot of the display rather than the true detail of the camera. As a result, the photo taken from the camera app has more detail and photo size than from Snapchat. Here's a sample.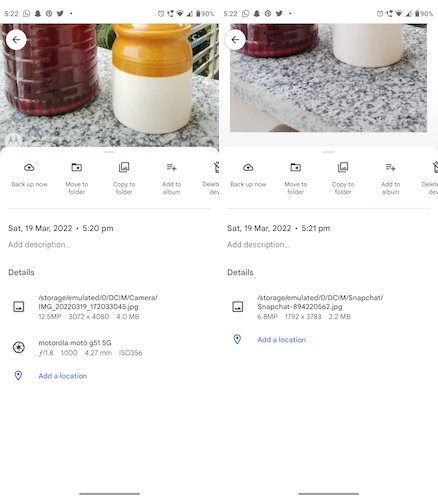 on the left you have a picture taken from the default camera app. As you can see it has a higher resolution and megapixel count along with the size. Whereas on the right is the Snapchat sample, which offers a lesser resolution and lower megapixel count. Ultimately, lower photo size.
if you use the Facebook app to "react" on posts then the iPhone experience is great. The slider to choose your reaction is very smooth and the animation is great. But on Android, it's sometimes very jittery.
So iPhone clearly wins in the app quality test.
#5 App Store vs Google Play Store
Since I am a long-time iOS user I was blown away with the Google Play Store. Simply because of the highly descriptive details and tons of options to choose from. You get Games, Apps, Offers, Movies, or Books by simply navigating from the bottom bar.
Then after choosing your category you get more options to choose from like For You, Top charts, Children, Events, Premium and so much more! Then again with the choice, you made you have more selections like Top Free, Categories, etc.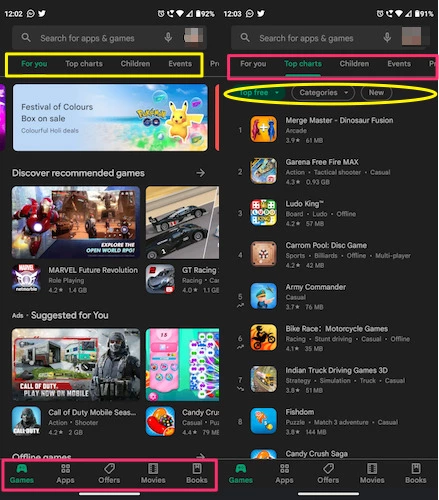 On App Store, things are very simple. I mean it's for someone who has already decided what he/she has to do! Hey! it's not bad, but it kills the "try new things" vibes off the cliff! Don't be mad at me, this is what I felt after switching.
So Google Play Store is just incredible to try or search for new apps or games. With the inclusion of Google Opinion Rewards, you can "own" paid apps with the surveys and both are happy (You and Google).
There, in this department too Google Play Store is best!
#6 Customiziblity
This point is a debatable one. One can say you should Jailbreak your iPhone and fine-tune the os as you need or flash a custom ROM on your Android for unique features. So let me stop you just there!
I don't have any plans to Jailbreak or flash my devices and neither I recommend it if you don't have prior experience of doing so.
So let's talk about customizability options you get from the big guns!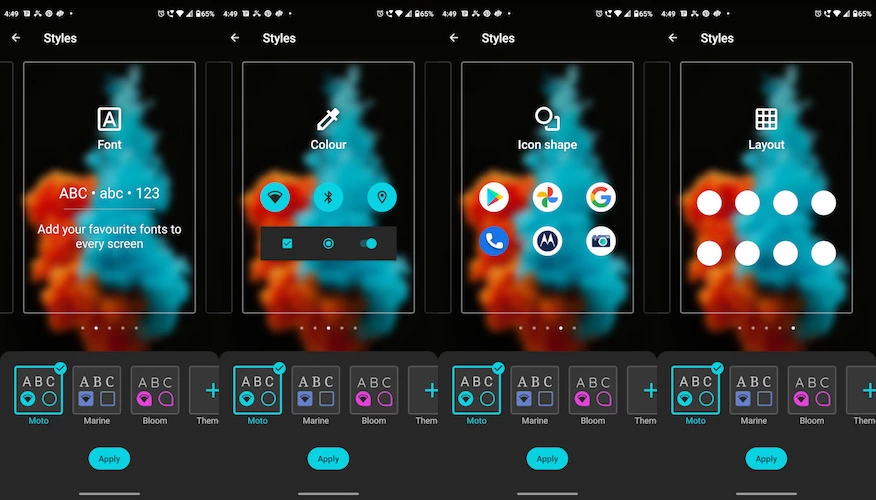 Since I own a Moto phone, it offers more visual customizations next to iPhone for sure. Other than changing wallpapers and widgets, you can change the font, color, icon shape, and layout of the applications on the home menu and launcher.
Whereas on iPhone, there is not much to talk about. You can customize the wallpaper and widgets. You can buy fonts from the App store that can visually change the look but it's not free. Hence many people will not be doing that!
So in terms of customizability, Android offers much more, period!
is Android Really Better Than iOS?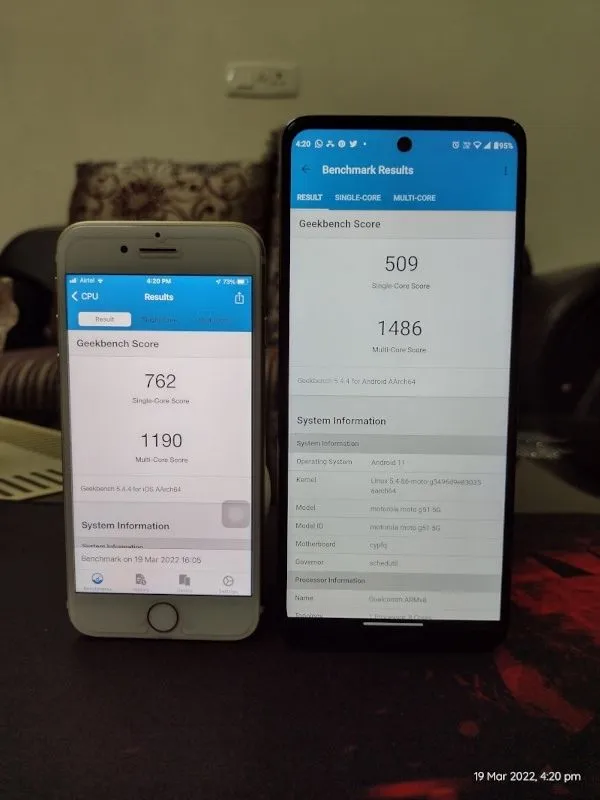 Well, yes and no!
if you are considering a mid-range Android device like Moto G51 then Android is no match for iPhone in terms of performance and software support. Secondly, under 20,000 having a good camera with an overall great package is a risky affair as many Android phones fail to impress.
So to cut short, iOS is great for optimization, user experience, ecosystem (if you own other Apple products), camera quality, simplicity, software updates, and last but not the least, great built quality.
Whereas, Android will give you a more pleasing battery backup, great display for multimedia needs, 120HZ refresh rate, and even 5G under 20000 Rs.
To answer the question; is Android Really Good? then Yes, it will be at par or even better than the current flagship iPhone if you are going for a premium Android phone. But on the budget side, it's not because you will have to bare many compromises such as plastic built, weak camera setup, and above all optimization.
Wrapping up
I hope this article is of any help. if you did, then please share it with others so that they should know how it feels like switching between them before investing real money. if you have some doubts about which to choose then feel free to reach us out on the below social accounts! We love to help as much as possible.
Padhkedekho Signing off!