In the past, we've always referred BoAt Bassheads 900 when someone is looking for a good budget headphone (under 1000 Rs). Because it's not only comfortable for continuous hours of use but it sounds great too! Just recently, a new model has been launched and we've been using it for a while. So will the old model stack up to the latest gen BoAt Bassheads 950v2? Let's found out together in this BoAt Bassheads 900 vs 950v2 Comparison!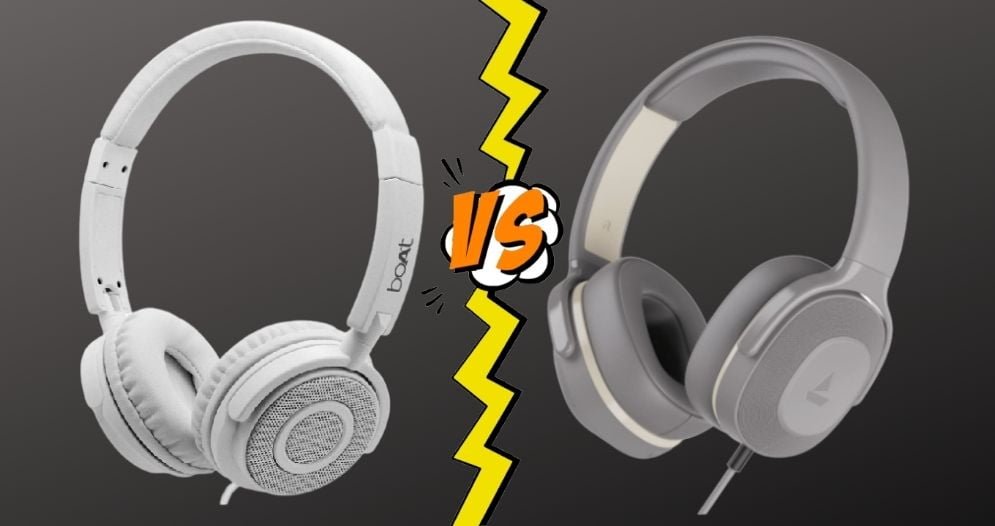 This BoAt Bassheads 950v2 vs 900 comparison is written after using both headphones for a month so that you make a better choice. 
Padhkedekho.com is supported by readers like you. Buying any headphones using the Amazon affiliated links below will help us earn a small commission at no additional cost to you. This encourages us to bring more honest and consumer-centric reviews and comparisons.
BoAt Bassheads 900 vs 950v2 Comparison Table
Built Quality
Both the headphones are made up of plastic. But BoAt has offered stainless steel headband adjusters on BoAt Bassheads 900. On the other hand, 950v2 is entire of plastic including the headband adjusters. But the headband is thicker on 950v2. As a result, it is also quite durable.
The good thing about 950v2 is that there is no plastic squeaking on it. Whereas on Bassheads 900 you can hear a few squeaking. So in terms of built quality, BoAt Bassheads 950v2 is better.
Look & Feel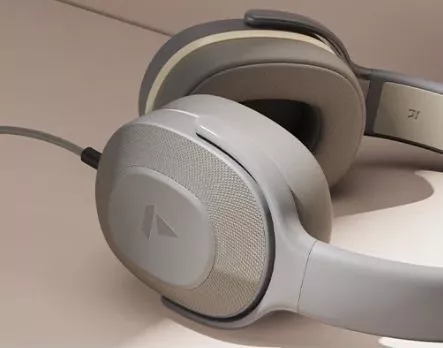 As far as looks go, it's a personal choice but for me, it's BoAt Bassheads 950v2 that looks fresher. Whereas, Bassheads 900 has an old-school design with a plastic mesh grill on both sides. But the black and grey combination looks decent. If you like the old-school design then Bassheads 900 is good.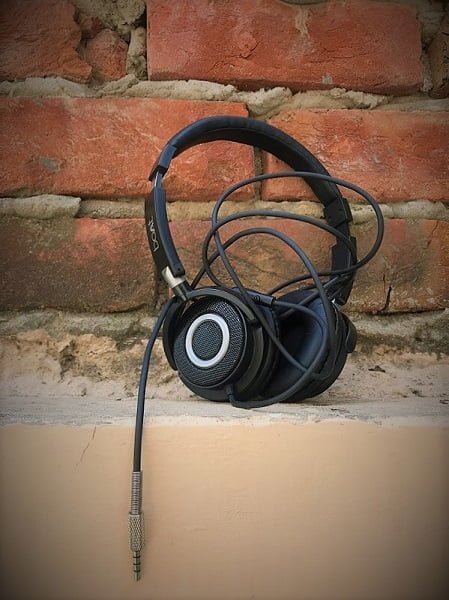 BoAt Bassheads 900 comes in two colors schemes; black and white. To be frank, the white one looks incredible!
BoAt Bassheads 950v2 is entirely different. It also has a fake grill texture but the color contrast makes it look quite expensive, especially in warm grey color. So, in terms of looks, Both are very different in a good way.
But when we talk about comfort, then both are different in a bad way.
BoAt Bassheads 900 vs 950v2 – Comfort Test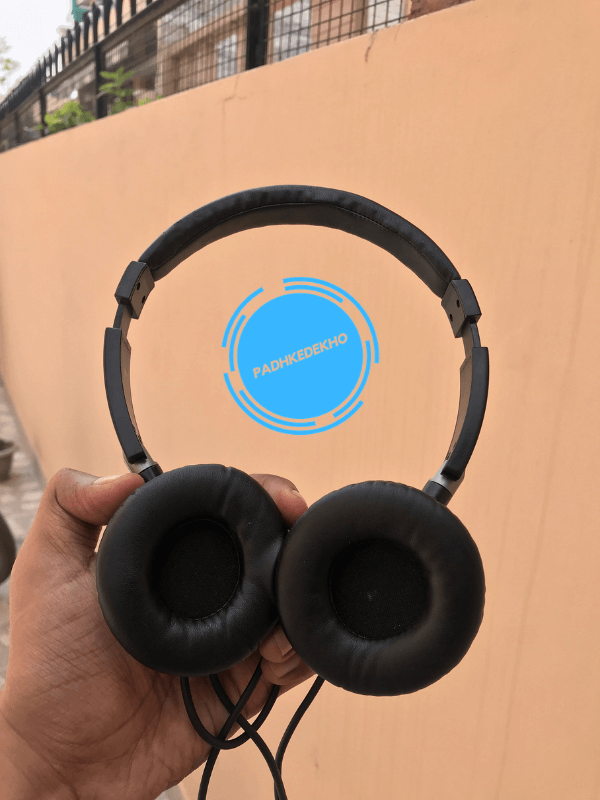 In many cases, comfort is dependent on the clamping force. if the clamping force is high, then you will have a snug fit which is great for workouts or activities. However, the comfort will not be the best for long hours. And if the claiming force is less then it will be loose on your head meaning ultimate comfort but a big no for workouts while wearing it!
With that said, BoAt Bassheads 900 has a low clamping force. This means you can wear it for very long extended hours. But it's not at all ideal for workouts or even walking. whereas BoAt Bassheads 950v2 has a slightly stiffer clamping force hence you can wear it for workouts or even running. But wearing it for long hours will be a challenge.
So to cut short, if you need a headphone that you can wear for long hours (5+) then BoAt Bassheads 900 is a better choice. Sure, it's not sturdy for workouts. Whereas, BoAt Bassheads 950v2 is great for workouts and is comfortable too. You can easily wear it for 3 to 4 hours on a stretch.
Both the headphones have tiltable earcups which means both of these can find a comfortable spot easily. One point to highlight here is that BoAt Bassheads 900 is tiltable as well as foldable. Whereas, BoAt Bassheads 950v2 is only tiltable.
So, both the headphones are good & comfortable for long hours.
BoAt Bassheads 900 vs 950v2 – Which One Sound Better?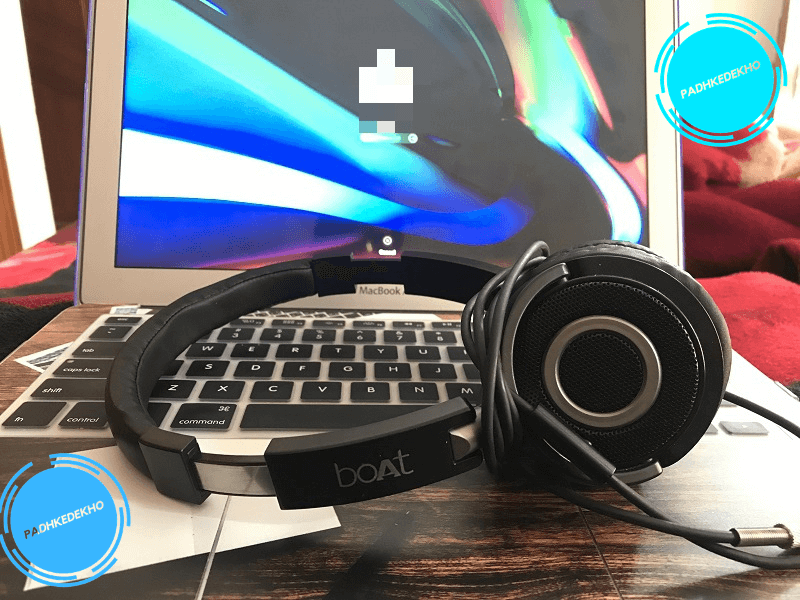 As per specs, both headphones have 40mm audio drivers. However, these are not the same when it comes to audio. After spending around 1 year with Bassheads 900 and around one month with BoAt Bassheads 950v2, here's what I experienced.
To be honest with you guys, BoAt Bassheads 900 is an incredible sounding on-ear headphone under 1000. For many people, it is going to be the bass. Yes, it's a bass-heavy headphone. You can literary experience the thumping! Not just that, it has crystal clear vocals and instruments too! It will surely impress the majority "types" of listeners as it can get pretty loud too.
While BoAt Bassheads 950v2 is good for mids and highs. Just like 900, this one doesn't do any audio distortion even at max volume. But bass is not the strong point and even at full volume, it doesn't feel very loud.
So if you love bass and want to experience a louder distortion-free experience, then BoAt Bassheads 900. Whereas, Bassheads 950v2 is for people who need a lesser bass overall.
BoAt Bassheads 950v2 vs 900 – Which One Has a Better Mic?
Here's some good news for you! Even if you buy any of these, you will have a good calling experience. It's even suitable for YouTube video voiceovers! BoAt has given good quality in-line microphone on both headphones.
The final audio output will be static-free & without any hissing sound. We've tested many headphones under 2000 Rs and there are only a few ones that are good for calling. Fortunately, both of these are on the list!
So for calling needs, you can go with any of these.
BoAt Bassheads 900 vs 950 Which is Better?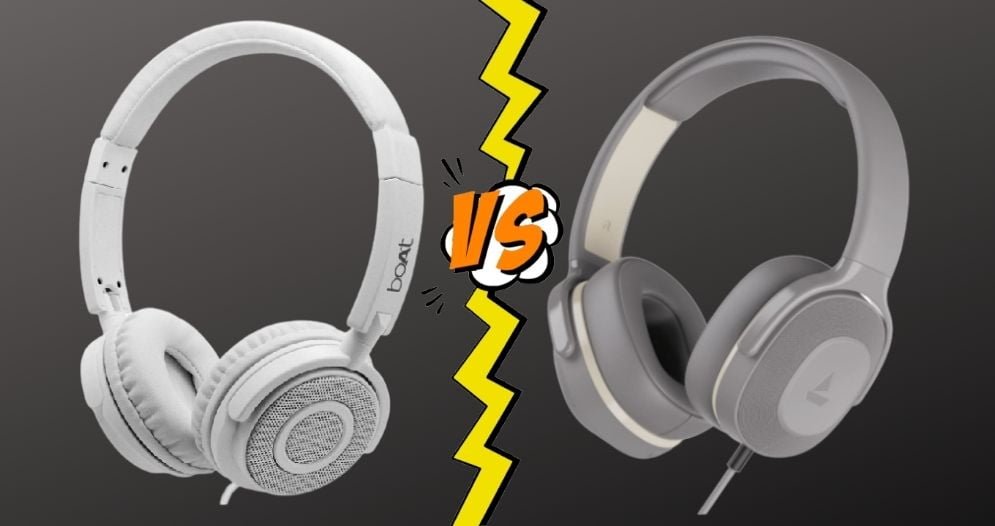 So for the final question; is the BoAt Bassheads 950v2 better? Well yes, and no!
Yes, for good looks, color schemes, soft and a little bigger ear cups, thicker headband for grip, decent audio quality with strong vocals and instruments, good call quality, and decent quality cable.
No, for not being a loud headphone, the bass being borderline, the cable is half the size as BoAt Bassheads 900, and most importantly it's not a foldable headphone. So while traveling you can only lilt the earcups. Hence, be careful while putting it in the bag.
Even as of 2022, I would strongly recommend going with BoAt Bassheads 900. Why? because it has got a bigger wire to begin with. It gives a little more flexibility. The audio quality is by far the best under 1000 Rs, period. The headphone is foldable and portable which comes hand while traveling.
For me though, it's still BoAt Bassheads 900. But if the above cons of Bassheads 950v2 don't matter much to you then it's good for the price. Another headphone to consider under 1000 Rs will be the Boult Audio ProBass Thunder and Leaf Bass.
Wrapping up!
This was our BoAt Bassheads 900 vs 950v2 comparison after extensive use. if you found this comparison of any help then do share it with others who might be planning to buy any of these. Got last-minute confusion or doubts regarding any of the headphones? Then feel free to reach us out on the below social accounts we love to help our readers!
Liked the content and want to support Padhkedekho without paying a dime? Then please make your purchase using the below Amazon button. It will help us earn a small commission at no additional cost to you. With this, we ensure you honest and customer-centric reviews of products and services.
F.A.Q
is BoAt Bassheads 900 Worth Buying?

Most certainly! Because it not only offers good built quality but also the audio drivers are incredible. On top of the in-line mic is of good quality. We've been using it for a year now and simply loved it.
is BoAt Bassheads 900 Tight?

Not at all! The clamping force of BoAt Bassheads 900 is very loose. You can't wear it for workouts but it's very comfortable for extended hours of use.
BoAt Bassheads 950v2 Base Centric?

No, BoAt Bassheads 950v2 is not base centric. For bass, you can try BoAt Bassheads 900.
BoAt Bassheads 950v2 Mic Quality?

The in-line mic is great for calling even for voice-overs or online classes.