Under 2200 Rs, BoAt Rockerz 550 (review) and Zebronics Zeb Duke (review) are the two excellent choices of headphones. Because they are Over-ear which means comfortable, they support aux-in and Bluetooth connection. So which one is good for you? We have been using both of these for a very long now. So in this BoAt Rockerz 550 vs Zeb Duke comparison we will talk about all the essentials.
We bought BoAt Rockerz 550 about 6 months ago and recently purchased Zeb Duke again after 2 years of use. So we are using these for a very long now and that's why this comparison is going to help you in your decision-making. We are sure, our detailed comparison is all you need!
Don't forget to share it with others who might be confused between the two.
Here in this BoAt Rockerz 550 vs Zebronics Zeb Duke comparison, you will read about the Pros & Cons, Built Quality, Looks, Comfort, Grip & Workouts, Features, Audio Quality, Mic Test, Battery Backup, and finally our Verdict & other recommendations. Clicking on the prior links will take you to the desired section.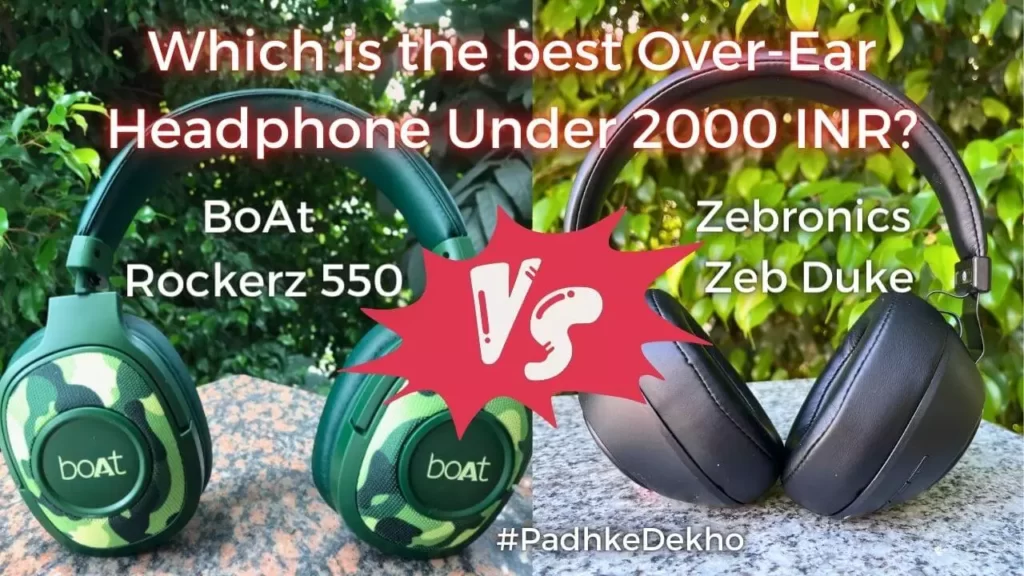 Rockerz 550 Pros & Cons
Zeb Duke Pros & Cons
Built Quality
Many budget headphones are purely average. We know this because we've owned about 10 headphones close to 2000 Rupees and only a handful are good. Here's our detailed article on the best over-ear headphones under 2000 Rs in which you might be interested.
In terms of built quality, both are made of good quality plastic with metal headband adjusters. We've been using BoAt Rockerz 550 for more than 6 months now and it's the second time we bought Zeb Duke in 3 years so in terms of the build we have no complaints with any.
But to choose one, we will go with Zebronics Zeb Duke because there is not a single panel squeaking while stretching or wearing, or removing the headphone. On Rockerz 550 you can feel some squeaking. But do not take it as a weak headphone either. It's just Zebroncis built it better.
So BoAt Rockerz 550 gets 8/10 while Zebronics Zeb Duke gets a 9/10.
Looks
If you are looking for trendy and stylish headphones then both are quite good and different from others. Zebronics Zeb Duke offers RGB lights in the earcups that can excite a gamer who is fond of RGB lighting setups. We bought Zeb Duke in black and the RGB makes it look like a gaming headphone.
BoAt Rockerz 550 has a unique and distinctive identity with amazing graffiti and color options. we have it in Military green and it is certainly a looker.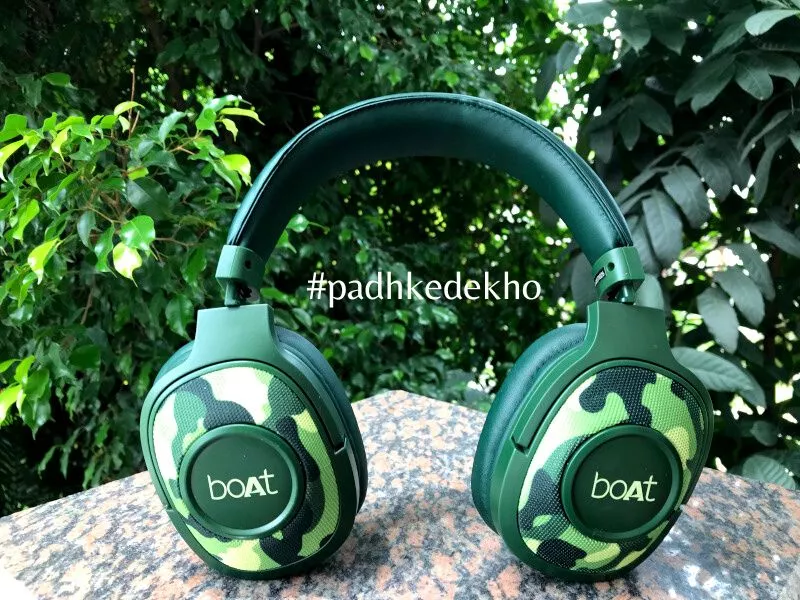 So for looks, both are good and you can pick one as per your liking. If you ask us, we prefer the looks of BoAt Rockerz 550 a little more.
Hence we will give 9/10 to both Zebronics Zeb Duke & BoAt Rockerz 550.
Comfort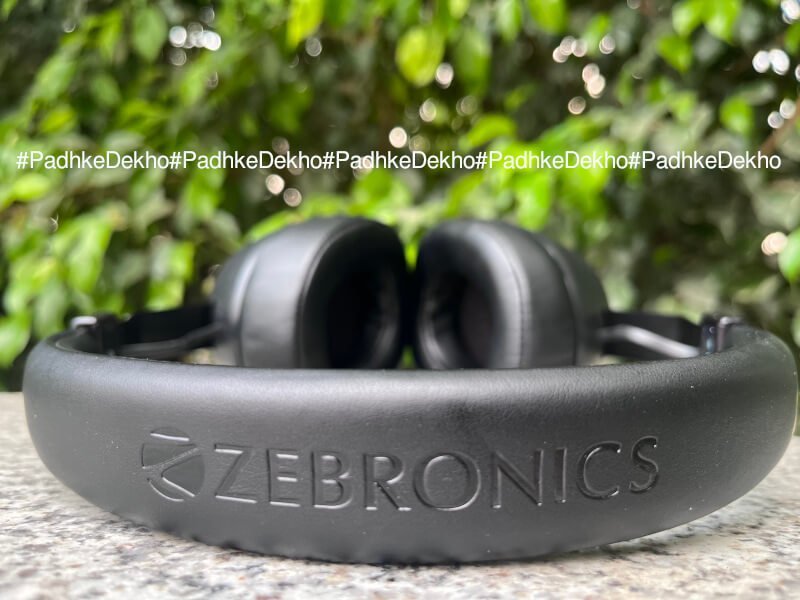 Here we bring more good news to you! Both over-ear headphones are very comfortable and can be used for many many hours on a stretch. So how long you can wear these? You can easily wear these for 3 to 4 hours other than sweat issue which is normal in any headphones.
If you are new to over-ear headphones then you must know that these are heavier than on-ear headphones which means you will need to spend some time with these to find the perfectly comfortable spot.
The earcups of Zeb Duke are circular while the Rockerz 550 has a square-ish design. Though both cover ears quite well. Finding a comfortable spot is easy on Rockerz 550.
But here are 2 things to talk about.
Ear cup comfort and clamping force. Let's talk about ear cup comfort.
The padding on Rockerz 550 is a little softer than Zeb Duke. You can feel that by pressing the foam. But in real-time use, you will not face any discomfort. The fabric used on the earcups is fake leather on both so do keep them clean and avoid contact with dust and certainly clean if you encounter sweat.
Hence both are quite comfortable and you can buy any of these.
Grip & Workout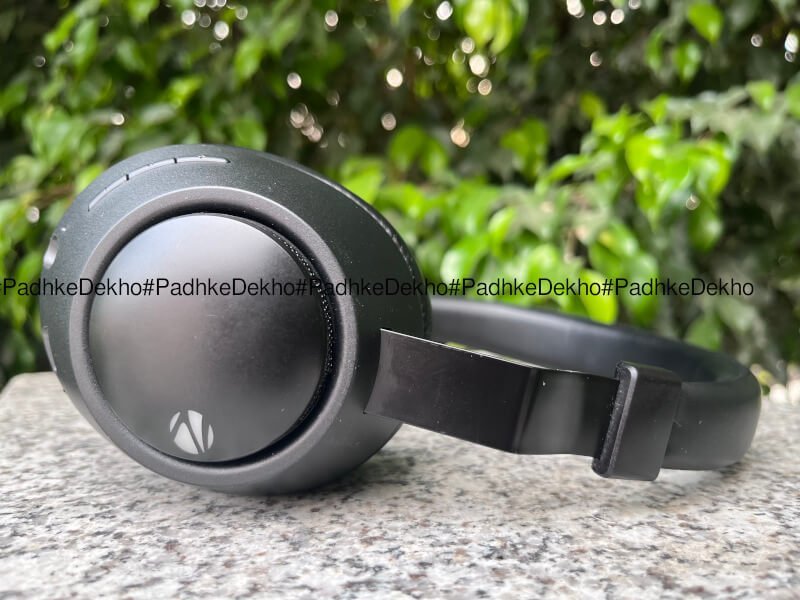 Do you wish to work out little wearing headphones? If yes, then one of these is good.
Note: Only BoAt Rockerz 550 offers water resistance but we do not encourage using these near water or during rain. Because water can do n number of damages like tearing the ear cup fabric which you will not like with your new audio gear. On the other hand, sweat does not cause any issues that we observed in our experiment for 2 months of use.
With that said, you should prefer Zebronics Zeb Duke if you like to walk and enjoy music. Why? That's because of the high claiming force. The headphone grips your head perfectly and little or quick movement will not dislocate them. It's not as workout centric as Infinity Glide 510 (review).
On the other hand, BoAt Rockerz 550 clamping force is loose and solves its purpose of an entertainment headphone. It loses grip with a little movement. It is also possible because of the swivel mechanism of the ear cups. No doubt, you can wear it for longer than the Zeb Duke.
Does high clamping force mean less comfort? This statement is not true for over-ear headphones. You can wear both of these for long overs without any discomfort.
So if you are workout-friendly, then Zeb Duke gets more marks at 4.5/5. While BoAt Rockerz 550 is at 3/5.
Features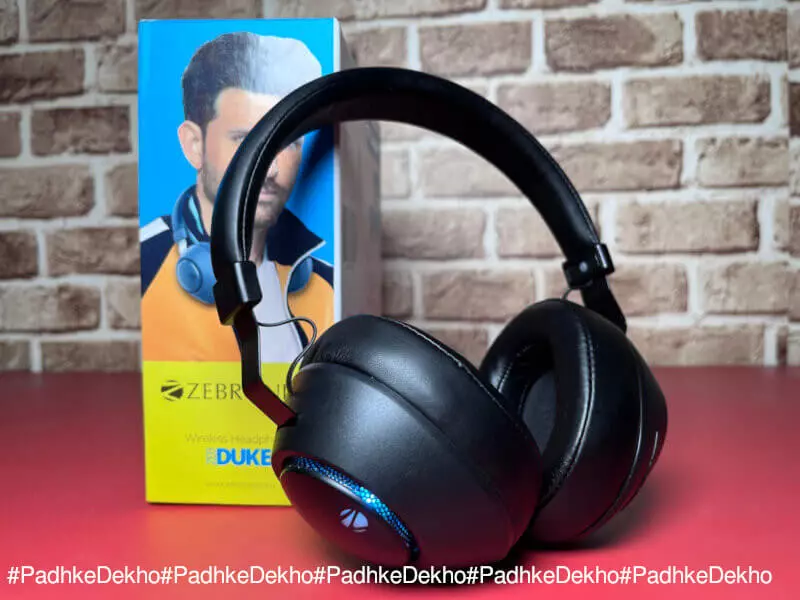 In terms of features, Both Zebronics and BoAt are always ahead of the competition. That's what makes Zebronics and BoAt desirable brands on a budget. What special do these headphones offer?
Let's talk about Zeb Duke first. The biggest feature of Zeb duke for others is the RGB design on the other ear cups. It makes it visually look much more expensive than it is! But for us, the best feature of Zeb Duke is the dual Bluetooth connection! Yup, you read it just fine!
You can connect to two Bluetooth devices simultaneously on Zebronics Zeb Duke and switch between the two when you feel like it. The switch is surprisingly instant and reminds us of Realme Buds 3S! This feature is not mentioned in the product description as well on the website. All they say is "dual connect" which means aux and Bluetooth support!
Rest you have all the general features like a 3.5mm audio jack, media controls, voice assistant, and power on/off switch.
What about BoAt Rockerz 550?
BoAt Rockerz 550 or 558 pack in 50mm audio drivers which are the biggest drivers you can have under 2000 Rs. Sure, it makes it shine in many areas that we will talk about in the audio comparison below. Secondly, the headphone is designed to offer passive noise cancellation (not to be confused with Active Noise Cancellation).
Since this type of noise cancellation is not achieved by software tuning, it's passively done using good sound-isolating materials. As a result, the audio leak of Rockerz 550 is lower than Zeb Duke at 80 percent volume.
Another point to consider is the IPX5 Water and dust resistance, which means sweat will not be a problem. Just wipe it with a clean cloth after use as it might damage the earcup cushioning/fabric.
So for features, we will give Zebronics Zeb Duke a solid 9/10 and BoAt Rockerz 550 an 8/10.
Audio Quality
BoAt Rockerz 550 comes with 50mm audio drivers while Zeb Duke offers only 40mm drivers. So which is better? Both headphones produce different levels of sound signature. Let's talk about the biggest differences.
Zebronics Zeb Duke's sound profile is bass heavy and if you'll be listing to music via aux-in then it's a bass monster. While Rockerz 550 is flat be it wireless or aux mode i.e. You will not witness any low or very low frequencies.
The second biggest difference is loudness; Rockerz 550 is around 30% louder than Zeb Duke. This means you will be having a pleasant experience at a lower volume. While for Zebronics, you will need to stay around the top.
Now let's talk about similarities.
Both headphones offer clean vocals and instrument separations across genres. We were not expecting that in this budget segment Over-ear headphones. Be it any volume you will not feel a single audio distortion.
And one more, if you like to experience 8d music on YouTube then these two will give you the best experience. The surround sound experience is very good.
So Which Headphone is Better For Whom?
Both are good for most of the users out there. But if you like more bass, then Zebronics Zeb Duke is better. And if you like more loudness, then Rockerz 550 is ahead with its big drivers. Other than these two points, you can go with any of these, you will not be disappointed.
| Audio Breakup | BoAt Rockerz 550 | Zeb Duke |
| --- | --- | --- |
| Bass | 6/10 | 8.5/10 |
| Vocals | 9/10 | 9/10 |
| Trebel | 8/10 | 7/10 |
| Loudness | 9/10 | 7/10 |
| Best Deal Price on | Amazon | Amazon |
Call Quality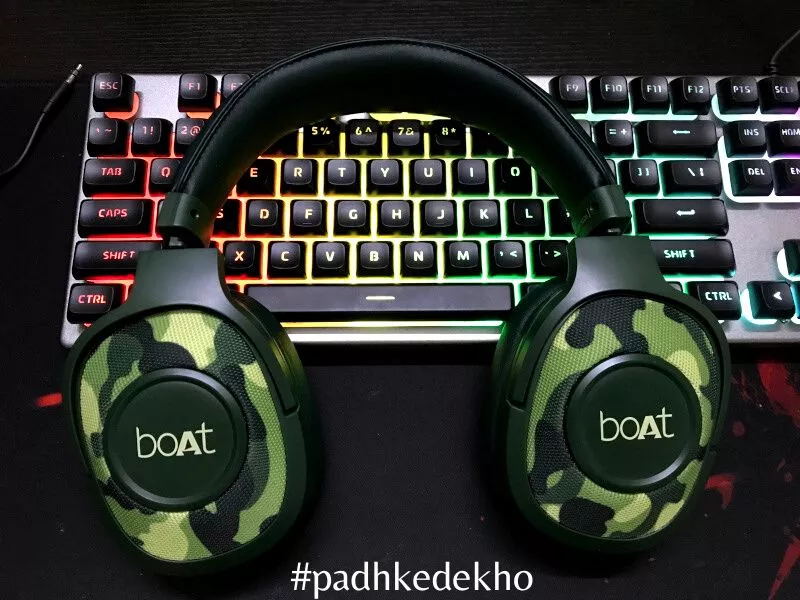 Do you have calling needs to attend? Do you work from home and need a good-quality mic to make you sound like a professional? Then we have an answer for you.
Unfortunately, Zeb Duke is not good for calling. The mic transmits weak audio like you are far off from the mic and the person on the ca will complain about it all the time. Whereas, BoAt Rockerz 550 is a step up and the voice transmitted is clean. Which means no complaints at all. So for your regular calls, it's better.
Note: if you have professional calls to attend then we would recommend checking out Infinity Glide 510 (review). It's good that we used it in some of our videos for our clients.
Things bring us to our next comparison and that's battery backup and charging.
Battery Backup & Charging
One more good thing about these over-ear headphones is the battery backup. Since they pack in bigger batteries, battery backup is never a problem. On top of that, you get aux support so you can plug in your phone/laptop/pc/tablet and enjoy media even without consuming battery.
Let's first talk about the claimed figures. Zebronics Zeb Duke is claimed to offer up to 30 hours of power while BoAt Rockerz 550 claims about 20 hours. These are under certain lab conditions. So what about real-time values? That's what we have for you!
if you like to enjoy music or media at full volume then both of these can go beyond 15 hours. To be precise, Zebronics Zeb Duke can last for 24 hours with the RGB on and go further with the lights off. Whereas, Rockerz 550 can be used for 12-14 hours at full volume.
On the other hand, if you stay at around 80 percent volume you can remain close to 18 hours on Rockerz 550, and on Zeb Duke, you can touch 28 hours.
So in terms of battery backup Zebronics Zeb Duke gets 8.5/10 while BoAt Rockerz 550 gets 8/10.
What about charging time?
Both of these headphones come with a Micro USB socket hence they do not support fast charging. As a result, you are advised to use a 5-watt 1 amp charger. This means the headphones will take a longer time to charge.
To be precise, Zebronics Zeb Duke takes anywhere about 2 hours to charge completely. While BoAt Rockerz 550 takes a little close to 3 hours. We tried Apple and Motorola's 5 Watt chargers.
BoAt Rockerz 550 vs Zeb Duke Which One to Buy?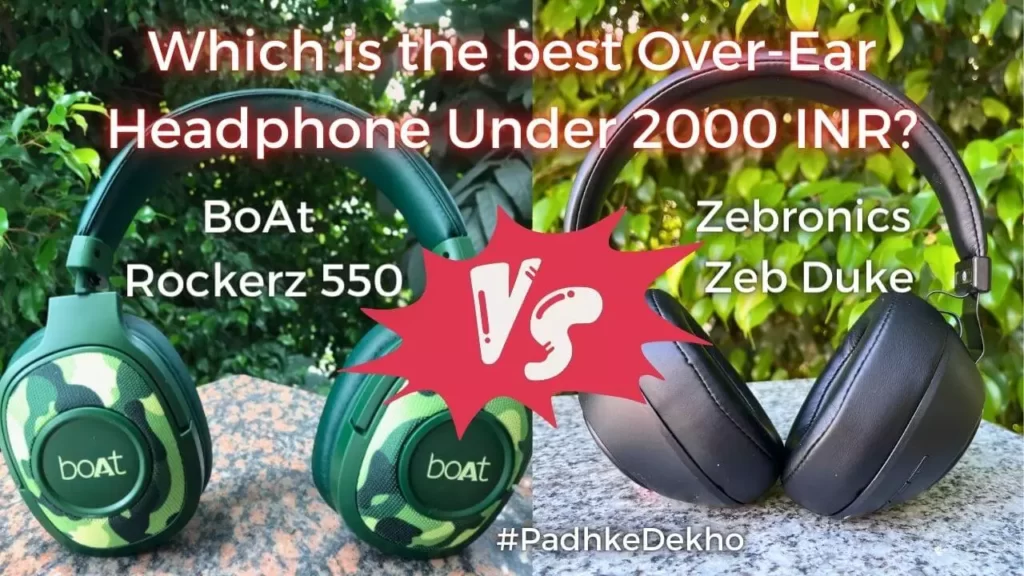 In this BoAt Rockerz 550 Vs Zeb Duke comparison, we had the most fun and kept these switching between team members so that we can reach a conclusion and finally we have it for you.
Before going there let's first bring out the similarities as it will help in your decision-making.
Both headphones are comfortable and can be worn for long hours. The build is durable with the use of metal and good quality plastic. Overall audio quality, distortion-free, and no audio breaking at full volume. Support for aux in case of low battery.
These offer unique features that make them a great buy under 2000 Rs. This means going with any of these is a good call and there's no denying it.
Let's talk about the differences starting from Zebronics Zeb Duke
Zebronics Zeb Duke is for those who are looking for a dual Bluetooth connection under 2000 Rs. In terms of looks, they are willing to buy an for whom the RGB is a deal breaker. As far as audio quality goes, the sound profile is bass-centric (and enhances with aux in).
Zebronics Zeb Duke is not for you if call quality is your almost requirement. Secondly, these are not good while traveling because of no tilt/foldability.
What about BoAt Rockerz 550?
BoAt Rockerz 550 is for someone who needs an overall good-sounding headphone (not necessarily bass-heavy) and loudness that does not require staying at 100 percent volume. Those who prefer eye catchy and premium design will like Rockerz 550 more. In the context of comfort, Rockerz 550 moves ahead with the earcups that offer a swivel design that makes it comfortable to rest on the neck when you are not listing to music. Another thing that you will like about Rockerz 550 is the call quality. It's clean and distortion-free.
BoAt Rockerz 550 is not for you if you need a headphone that supports dual Bluetooth pairing. Though Rockerz 550 offers tiltable you will be missing the foldability if you use headphones while traveling.
Other recommendations?
if the cons of both headphones matter most to you then we have options for you! One is an On-Ear headphone. While the other is an Over-ear headphone.
#1 Infinity Glide 510 (On-Ear Headphone)
#2 Noise 2 (Over-Ear Headphone)
#3 HP 500 (Over-Ear Headphone)
Wrapping up!
There you have it guys! Here's our BoAt Rockerz 550 vs Zebronics Zeb Duke comparison after long-term use. If you have questions about any product then feel free to ping us on below given social account.
How did you find our hard work and dedication for this comparison? Does it motivate you to help us? Then please buy any headphones using the links below, we might earn some commission on qualifying purchases. Thanks for the support!
Zeb Duke vs Rockerz 550 FAQ
Which is better Zebronics Zeb Duke or BoAt Rockerz 550?

Both have pros and cons and since we've used them for a few months now, we have the answer for you. Click now to make a better-informed decision.
BoAt Rockerz 550 vs Zeb Duke Which one Sounds Better?

BoAt Rockerz 550 is vocals and instruments-centric. While Zeb Duke is good for a bass-heavy sound signature. We've used these for a few months so do give this comparison a read before placing your order.