How frustrating is this when you search for a contact on your Android smartphone and you get multiple ones with the same name? To rectify duplicate contacts on an Android phone you switched to a new phone and guess what, the same contact is shown multiple times again!
Don't worry this happens with most people and there is a way around getting rid of duplicate contacts on Android 10 or newer! This method will also work on an older Android version so keep on reading and take care of the duplicate matches!
Managing duplicate contacts on a stock Android 10 device is possible without using any app to remove Google contacts duplicates however most people don't know how to do that!
So, in this article, we are sharing with you how to merge duplicate contacts on an Android phone, what causes this problem, and how to prevent this from happening in the future!
Hey there! Welcome to PadhKeDekho, and let's get started!
How To Delete Duplicate Contacts On Android
You can rectify the Android duplicate contacts problem as easily as 123! The below steps will stay the same even if your phone is running on the older version of Android. We also did testing on Android 7.1.1! All you need is to download the Contacts app from Google Play Store and follow the steps.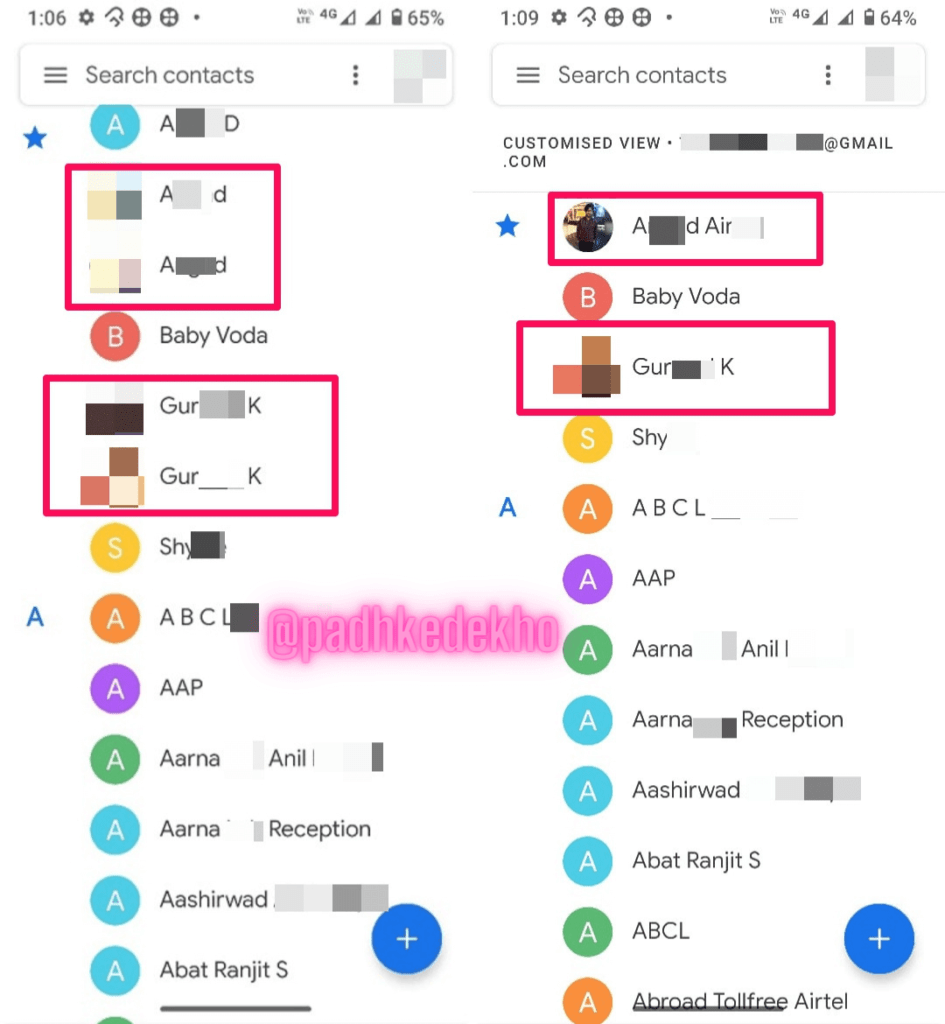 Open Google's Contacts app on your phone. If your phone is using companies native contacts app then download Google's Contacts app from Play Store. The app is from Google so it is safe to use.
2. Here you see your multiple copies of contacts. Fear not they will go away very soon! Click on the Hamburger icon or 3 horizontal lines.
3. Tap on Merge & fix.
4. Now here you will see why you have duplicate contacts in the first place. It's because you have saved different mobile numbers with the same name. As a result, you have duplicate contacts on your Android phone.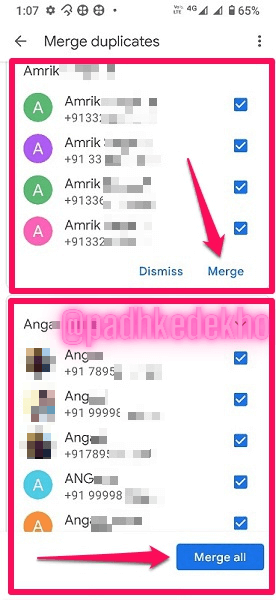 You can merge each contact yourself by pressing the Merge button. If you press Merge all, all the duplicate contacts with the same name will be merged into one name. I.E. One name for multiple contact numbers of the same person.
5. After tapping the Merge all button, your phone will perform a complete search and let you know the exact no of duplicates you have on your Google Contacts. In our case, the count is 455! Tap on OK.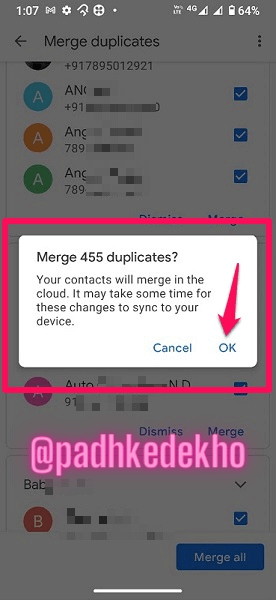 6. This process will take time depending upon your duplicate contacts as well as the internet speed of your smartphone. So be patient. In our testing on Motorola Fusion Plus, the process took around 5 mins.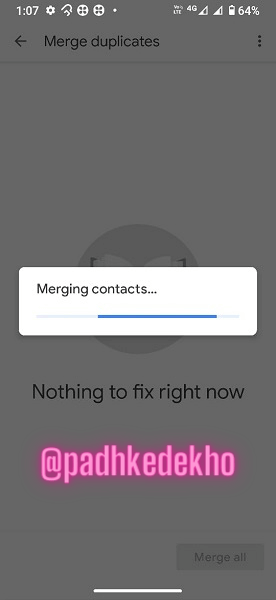 And once the merging contacts process is done, congratulations your smartphone is now free from duplicate contacts! And here's the result next to the earlier stage!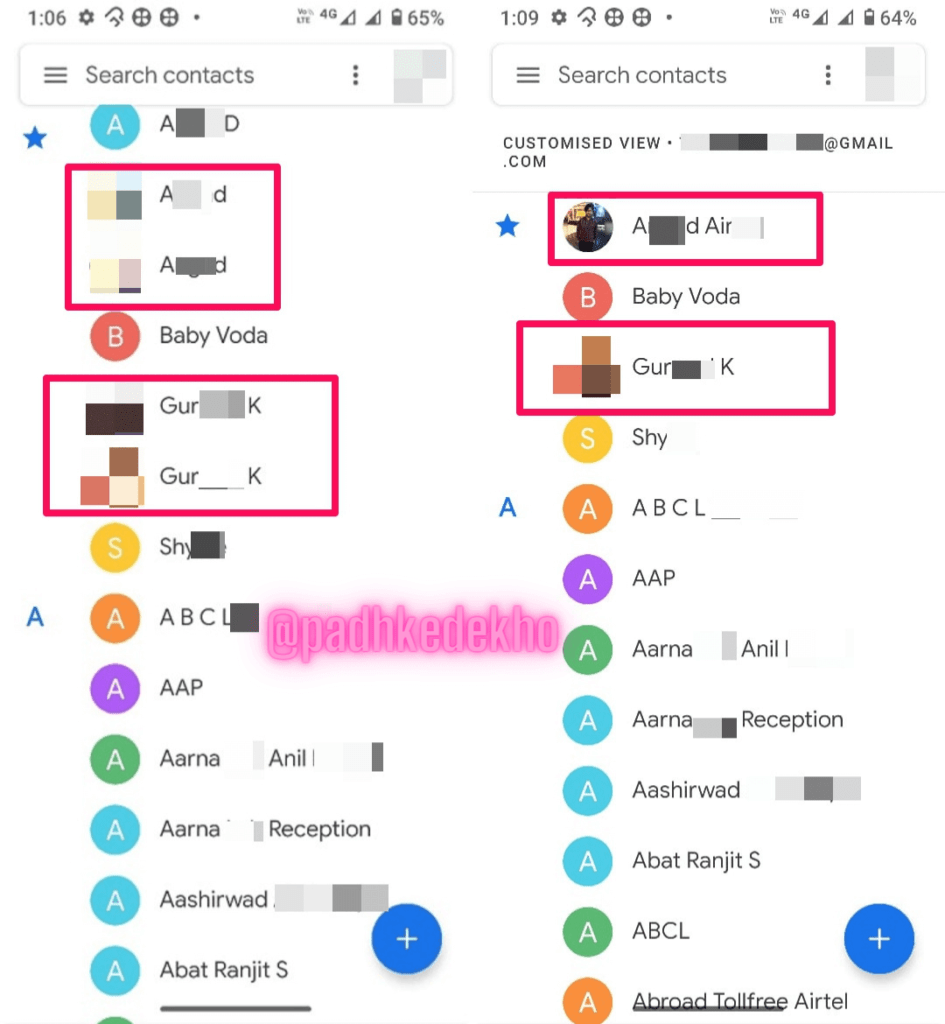 What Causes Duplicate Contacts Problem On Android?
This is not a new issue. Back in the day, with the older Android phones, the company-specific default contacts app was present on smartphones. They used to offer multiple options for saving a contact.
You could have saved contacts in your Gmail contacts or Google account, physically on the phone as well as on the Sim card.
And once you upgrade to a newer Android phone all the contacts be it in Google Account, old backups, and sim cards used get synced on the Google Id or Google contacts or Google account.
Therefore, the contacts get duplicated. So to resolve this error, stock Android phones come with the Contacts app from Google Predefined. With which you can merge duplicate contacts on an Android phone.
The latest Android phones that are running on company-specific ROMS like One UI from Samsung, MIUI by Xiaomi, and others still use native contacts apps. We have tested this on a Samsung Galaxy M01. So how to prevent duplicate contacts on non-Stock Android phones? Read Below!
How To Prevent Duplicate Contacts On Android Phones?
You can resolve duplicate contacts in your Android phone by simply installing the Google Contacts app and merging the contacts. If your phone doesn't have one then go ahead and download the Google Contacts app. Other than that, you could use some of the 3rd party apps to do the work.
For a seamless experience, we would recommend the native Google Contacts app as it doesn't offer any ads.
If you don't want to rely on any app, then you can always keep a track of contacts by yourself and make sure you are saving contacts on your Gmail id rather than a Sim card! And if something is not right you should edit it at the earliest.
In the end, this duplicate contacts issue is a mistake and certainly, you didn't do it!
That's It, For Now, Folks!
With this article, we hope we have explained the concept of managing duplicate contacts on an Android phone easily! If you found it helpful do share it with your friend!
Thanks for reading guys! If you have any queries or feedback do comment below or reach us out on PadhKeDekho's Twitter, Instagram, or Facebook! We would love to help!
Just like the above article, we share our 2 cents in the form of reviews, tips & tricks, comparisons and opinions so do check out those articles. And if you liked the content do share it with your friends and family! Thanks, we will see you at the next one!