If you are following our website for a while, we have reviewed and compared various headphones and earphones so far. But recently, we got our hands on two earphones on which we were keeping eyes for a very long! And hereafter using them for a while, this is our Samsung Buds Plus vs Sony WF XB700 comparison.
In this Samsung Buds Plus vs Sony WF XB700 comparison, we will talk about all the essential elements that can be the deal maker or breaker for you. Like built quality, features, design the sound quality, how does the mic performance, battery backup, etc!
So without anything else, Welcome to PadhKeDekho, and let's get started with PadhKeDekho Ratings!
Major Differences Between The Two
Pros And Cons
1. Samsung Buds Plus Pros And Cons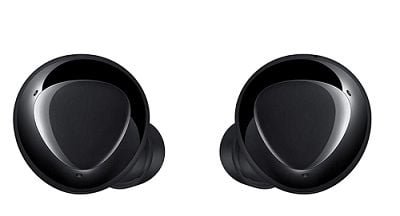 2. Sony WF XB700 Earbuds Pros And Cons
Built Quality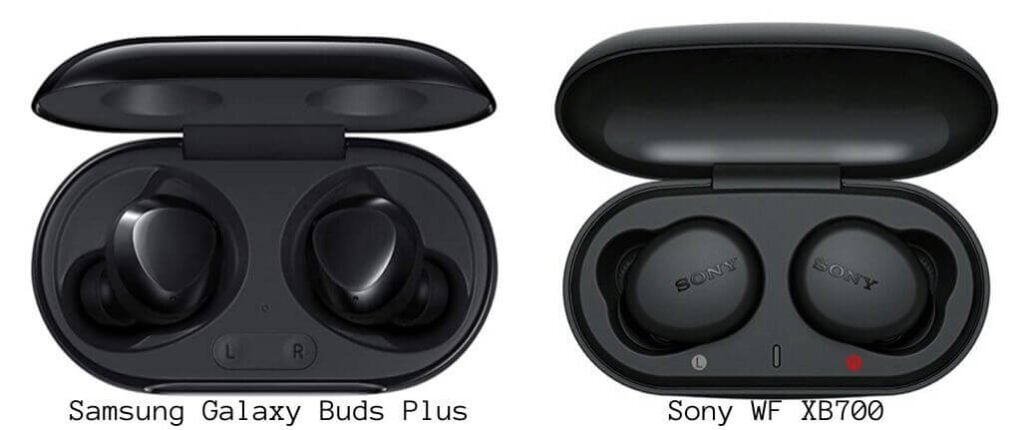 For most of the people out there built quality is the essential feature hence we have kept it at the top in our Samsung Buds Plus vs Sony WF XB700 comparison. We are happy to report, that both the earbuds are great and definitely justifies the price.
However, the charging/carry cases are very different. While on Samsung you get a glossy design element. Sony has a translucent matte design going on.
So with Sony, you will get to know the current status of the earbuds i.e. are they fully charged, or are getting charged. But for Samsung, you need to open up the case or the Samsung Buds app will let you know.
If the built quality of the case is concerned then Samsung is the one that will impress you. It feels very sturdy even if you open or close the lid harshly. While Sony WF XB700 seems durable but not as good as Samsung.
Thus, after a built quality test between Samsung Buds Plus vs Sony WF XB700, we would recommend Samsung Galaxy Buds Plus since it can keep up few years to come!
Features And Funtionality
In terms of features, Samsung has kept you covered. And if you already have a Samsung smartphone then the overall experience will be more polished than any other Android phone.
The best feature of Samsung Buds Plus is wireless charging. And if your Samsung phone has reverse charging then you can even charge by keeping it on the back of the phone.
With the Galaxy Buds app, you can even customize the touch controls on both the earbuds as per your liking which gives more marks for customizations. Unfortunately, since WF xb700 has no app support hence there is pretty much nothing you can change about it. Other than, the equalizer settings via your phone or laptop.
About functionality, there is one more thing you should know before pressing the buy now button!
Do you put/plan to use one earbud sometimes? If yes, then go with Samsung as it lets you use any earbud as per your preference. Unlike, Sony where you can only use the left one if you plan to use it in mono mode.
Are you familiar with the controls on the earbuds? then it's definitely Sony that will get your head spinning. Because Sony has implemented their way of control media.
For instance, in the right earbud, you got to play/pause, seek the next track, previous track, voice assistant buttons. On the left, single press to increase volume and long-pressing it to reduce the volume. So you will need time to adapt and learn all of these.
So for easy access and ready-to-use controls out of the box, then Samsung Buds Plus is the way to go! Therefore in this Samsung Buds Plus Vs Sony WF XB700 comparison based on features and functionality, we would go with Samsung Buds Plus.
Design

If we talk about design, then Samsung seems to have followed a tried and tested earbuds design. While Sony has taken the design to the next level. And is certainly, distinctive! However, this design element might not appeal to all.
At the first glance, Sony WF XB700 earbuds look very heavy and thick. However, it is not heavy at all.
Due to this design language, the earbuds grips the ears very well. And you can wear them for a very long period. But, yes it is certainly thick and one can think they will fall off easily. But they do not, I have tested them while doing extensive workouts and they did a good job. However, this is the same for Samsung Galaxy Buds Plus.
if you need tiny earbuds that don't protrude outwards then Samsung Buds Plus is a better choice. However, if the size is not an issue then Sony WF XB700 is also great.
So in terms of design, we would go with Samsung Buds Plus vs Sony WF XB700.
Audio Quality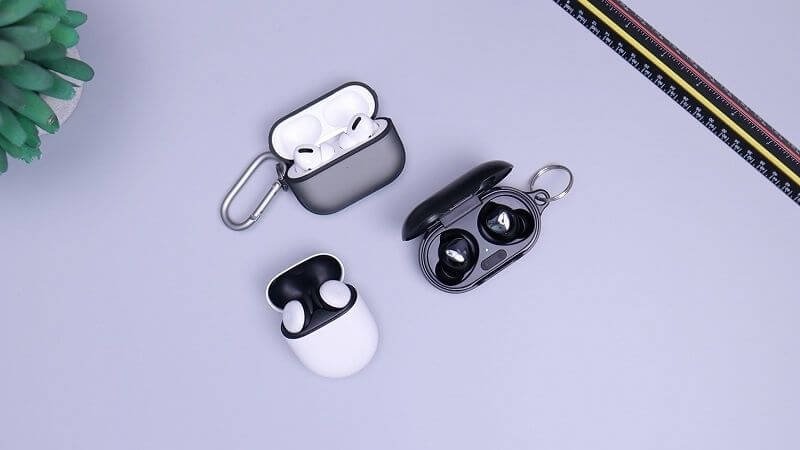 After extensively testing them, here is what we have to say. If you are basehead then Sony is ahead for sure. You will experience thumping bass and a wide variety of bass. How does such a "tiny earphone" in context to a headphone produce such bass! It's a sweet spot for you if bass moves you.
Other than the bass, it offers good vocals, instruments, and clarity without compromising on anything. If you have owned any XB series headphones or earphones from Sony, then you know what we are talking about.
The overall listing experience is crip and clear and full of loudness. Even at full volume, you will not experience any distortion. Long story short, Sony is the best when it comes to audio equipment.
But Samsung is not far behind. Sure, it lacks that punchy or deep bass, but for most people, it is going to be great. If you enjoy balanced output i.e. vocals, instruments, treble then Samsung has you covered. However, it is comparatively less loud than Sony.
This loudness and others things can be adjusted as your need using the Galaxy Buds app on your Android or iPhone. So just tune in and design one for yourself!
Unfortunately, with Sony, you don't get any app support. So you can modify the e.q. settings from the smartphone's or laptop's setting. Nevertheless, Sony's by default audio profile is superb!
It's clear with the audio test, that between Samsung Buds Plus vs Sony WF XB700, Sony wins with flying colors and Samsung is not far behind!
Mic Test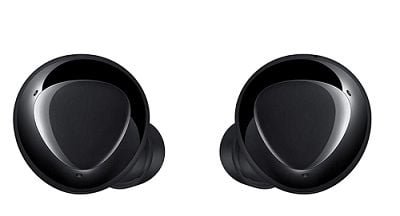 If you are choosing one of these for the purpose of calling then Samsung Buds Plus is better. After using them for a few office meetings I would rank Samsung at 90 while Sony at 70. It is all possible, due to the 3 microphones on each Samsung Galaxy Buds Plus.
Be it indoors or outdoors, Samsung Buds Plus will let you take good quality calls and no one will complain about your voice being robotic. Which happens with most of the earbuds.
In the same way, you will not get complaints about Sony WF XB700 either. The mic output of Sony is also great indoors but outdoors the mic tends to capture more surroundings noise. So if you need go-to calling earbuds then between Samsung Buds Plus vs Sony WF XB700, go with Samsung!
Battery Backup
In terms of battery backup, we had no issues with any of them. They both support fast charging and that is just not a marketing gibberish! Samsung Buds plus claims battery backup of 11 hours for entertainment and around 8 hours of calling. While Sony claims 9 hours of entertainment and 5 hours of calling.
After testing them out, it is safe to say both can go beyond 4+ hours in entertainment and calling. Which is great keeping in mind the tiny batteries that provide the juice. Additionally, as soon as you put them back in the case, they begin to charge and after 10 mins they can be used for an hour!
Both Sony and Samsung's earbuds charging case gets charged In around 2 to 3 hours depending upon the charger and once charged it can refill earbuds 2 to 3 times. Therefore, as far as battery backup goes, both are great and you will not be disappointed.
So Should You Buy Sony WF XB700 or Samsung Galaxy Buds Plus?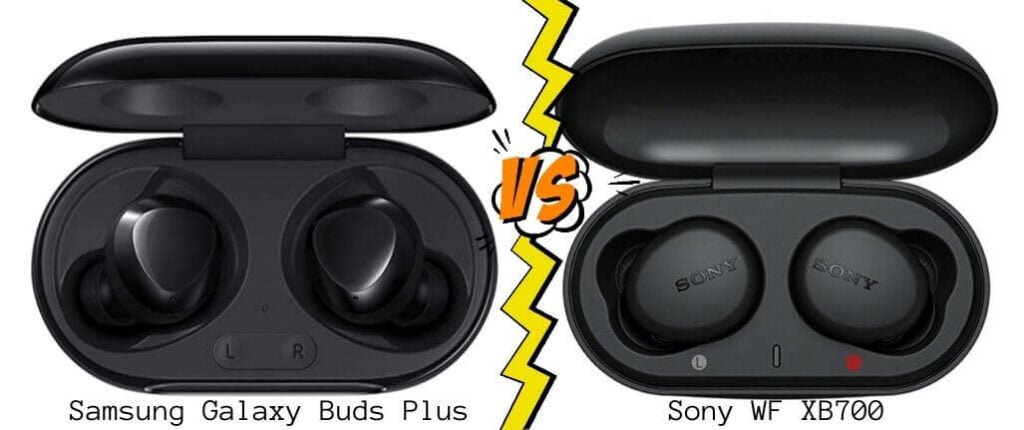 First of all, both are great TWS earphones but are for totally different sets of people. One is full of customizations and user-friendliness and one is great for baseheads and music lowers. However, for most people out their Samsung Buds Plus would do the trick.
Because they are tiny, to begin with. Secondly, it supports wireless charging, which is the need of the hour in 2021. You can customize the controls or even equalizer settings as per your need via Samsung Galaxy Buds app that is available for free on both Android (Android 4.3 or above) and iOS (iOS 10 or above).
Another great reason to go with Samsung Galaxy Buds Plus is the ease of accessing the media controls. Moreover, you can customize the controls using the Samsung Galaxy Buds + app.
And when it comes to calling quality, then also Samsung Buds Plus is leaps ahead. One can easily use and recommend it for work from home.
If the above things don't excite you enough then audio quality would have been your priority. Then it is safe to say, that you would have a great time listing to every kind of music. Be it vocal-centric or heavy music on Buds plus however the bass is good but not great.
All the above points make Samsung Buds Plus the best earbuds under 6000 Rupees for sure and we can easily recommend you buying one for yourself or to gift someone.
But if you need heavy bass and a better overall audio experience out of the box, then Sony has kept you covered with this XB series earphone. It offers an extraordinary base that you can feel everything without compromising on instruments, vocals, and loudness.
The thing that puts Sony on the weak side is the lack of app support. Due to this, there is a shortage of features and customizations that make it easy to recommend Samsung over Sony to regular users. And someone who already owns Samsung smartphone, then it makes more sense.
If you don't care for such fancy features and own a smartphone that is not from Samsung then going with Sony is the best choice. Since it will work the same on every smartphone. You will just need to give it some time to get used to it and once you are done, you will appreciate Sony for such amazing premium earbuds.
Since design and looks are subjective, the Sony xb700 is certainly an out-of-the-box design and catchy design. Whereas, Samsung has gone with a more regular/blend-in kind of design.
In terms of comfort and due to different designs, Sony takes an edge and manages to be super comfortable for prolonged use. Don't get us wrong, you can easily wear Buds plus 5+ hours but during workouts, it loses some strength.
As far as battery backup goes, you will have no complaints in that department either. Both the earbuds support fast charging and can easily go more than 5+ hours in a single stretch. Putting them back in the case starts charging them hence after few minutes they will be up and running!
So all in all, it depends on what you need from your next pair of TWS earbuds. That's for sure, both are great and worthy of every penny you will be spending.
Wrapping Up!
There you go guys, this is our Samsung Buds Plus vs Sony WF XB700 comparison. Was this comparison was of any help? then do share it with your friends who might be confused between the two!
And if you have doubts regarding Samsung Buds Plus vs Sony WF XB700 then comment below or reach us out on the social media accounts. We will love to help you out!
Just like the above comparison, we keep on bringing reviews, best products, and tips and tricks and opinions articles flowing every week! So do subscribe to our mailing list below and be among the tiny family we have! :)
[convertful id="133489″]
F.A.Q
Samsung Buds Plus ip rating?

Samsung Buds Plus offers IPX2 water resistance. Which can handle sweat and water splashes.
What is Samsung Buds Plus driver size?

Samsung Buds Plus has 5.8mm audio drivers.
Samsung buds plus charging time?

Samsung Buds Plus has a 270 mAh battery case that gets charged within 2 to 3 hours depending upon the charger.
Samsung buds plus warrantee?

Samsung Galaxy Buds Plus comes with a one-year manufacturer warranty.
How to customize control buttons and commands of Sony WF xb700 earphones?

Hi! Unfortunately, there is no app support so you cannot customize the controls.