BoAt Rockerz 550 is undoubtedly a great pair of wireless Bluetooth headphones under 2000 Rupees. Just recently BoAt, introduced a new Rockerz to the BoAt family that is BoAt Rockerz 660. It is slightly more expensive than the Rockerz 550. After spending a good time of about 1 month here's my BoAt Rockerz 550 vs 660 comparison.
In this detailed comparison, I'll be talking about the elements that will make or break your experience. To begin with here are the pros & cons, built quality, comfort, travel & portability, audio quality, battery backup, gaming performance, call quality and so much more!
So without anything else, Welcome to PadhKeDekho, and let's compare BoAt Rockerz 550 vs 660.
PadhKeDekho.com is supported by the readers. Buying anything using the affiliate links on this page helps us earn a small commission from the brand at no additional cost to you.  
BoAt Rockerz 660 Pros & Cons
BoAt Rockerz 550 Pros & Cons
BoAt Rockerz 550 vs 660 Offers Built Quality?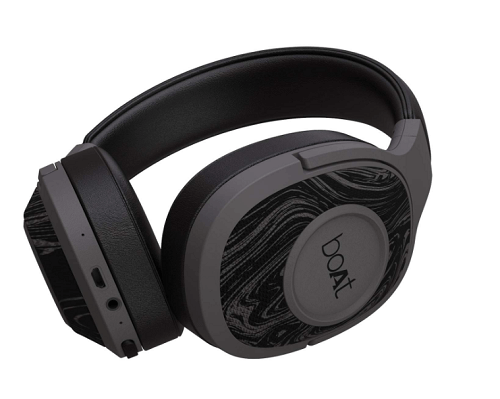 Expensive is better, right? Not in this case! BoAt Rockerz 550 feels vastly better in the hands than Rockerz 660. Though both are made up of plastic it's the Rockerz 550 that scores more points due to the metal headband adjusters. Whereas, Rockerz 660 uses plastic that is not that great.
Due to metal, the headband is more flexible and you can adjust it on most of the head sizes. However, Rockerz 660 is flimsy and needs some love while handling.
So in terms of built quality, BoAt Rockerz 550 is more durable.
Comfort
As far as comfort goes, both are at par. Because they use similar kinds of padding and fabric on the ear cups.
While we reviewed the Rockerz 550 we mentioned that it's not very fluffy but the padding/fabric is very soft. As a result, you can wear it for 3 to 4 hours or even more without any pain. The good news is Rockerz 660 is like that only!
But it's Rockerz 550 which feels slightly better because of the under headband padding. Which is very thin on Rockerz 660. The fabric on the earcups is great on both and you will not experience any pain or discomfort even while wearing spectacles.
Travel & Portablity
if this is going to be your first Over-Ear headphone then you should know that these do come at a weight. For instance, BoAt Rockerz 550 is about 245 grams. It is the ideal weight for Over-Ear headphones.
This weight is mostly due to better built i.e. metal elements and a bigger audio driver. So if you need a lightweight Over-Ear headphones then Rockerz 660 is a better deal. Because it ways around 160 grams.
While on the go, other than the weight, the things that are equally important are the possibility of tilt and foldability. The good news is, BoAt Rockerz 660 has both of these. Hence while traveling you can tilt the earcups and rest them on your neck or perhaps fold the headphone and put them in a backpack.
Whereas on BoAT Rockerz 550 offers tilt functionality but misses on the fold. So if you plan to use the wireless headphone on the go, then BoAt Rockerz 660 gets our recommendation.
BoAt Rockerz 550 vs 660 Which Sounds Better?
When it comes to audio quality, both are entirely different. Usually, the newer model is better than the old one. But this doesn't hold true in this comparison.
BoAt Rockerz 550 has 50mm audio drivers. While Rockerz 660 has only 40mm drivers. The difference seems minimal on paper but in reality, they are miles away.
The good things about both are similar. None of them is for bass lovers. But the overall audio quality is clean and distortion-free. The vocals and treble are the strong points. While the low end is missing.
Since Rockerz 660 had a Dual EQ mode we had expectations of deep bass but it's not that punchy as you would have thought like Infinity Glide 500 or Blaupunkt BH11.
So why pay more, just to get a little extra bass? In the end, it's BoAt Rockerz 550 which is louder, or in other words, you will enjoy music better with Rockerz 550.
Call Quality
if you consider making/accepting calls, then I would suggest checking out Rockerz 510 or Infinity Glide series since they have better microphones. On BoAt Rockerz 550 and Rockerz 660 the call quality is average at best.
Don't get me wrong, you can do calling and there will be no issues. Trust me, the moment you will say hello to the person on the call they will know you are using headphones for calls.
I personally use Infinity Glide 500 & 510 (On-ear headphones) or OnePlus Buds Z (TWS earphones) for a professional-level calling experience.   
Bluetooth Range
In terms of Bluetooth range, these two have no issues under 10 meters. Usually, some headphones do drop a little frequency but have not experienced those on any of these. So if Bluetooth range is our priority then Bluetooth 5.0 on both of these is good.
Gaming & Latency
If you are considering playing games with these then they do have some latency. Like most of the budget wireless headphones have. To overcome the latency you can always use the aux cable that comes in the box.
Battery Backup
BoAt Rockerz 550 has a 500 mAh brick. While Rockerz 660 has double the size at 1000 mAh but can provide juice for 60 hours. Well, these are the brand estimates!
After using both of these, I can confirm that BoAt Rockerz 550 can provide juice for about 16 to 17 hours. While BoAt Rockerz 660 can keep the party going for 54 hours! Without a doubt, these are great battery backup figures.
Another excellent feature of both headphones is the support of aux mode. This means you can use the headphones via cable without consuming a single drop of battery. This will come in handy when you have less juice to keep the music flowing! Its great BoAt is still continuing the Aux cable trend.
BoAt Rockerz 550 vs 660 Which One Should You Buy?
After using these for a month, both headphones have their pros and cons but are truly worthy of the price at which they are available. If you have budget constraints then BoAT Rockerz 550 is a better deal.
But by paying around 800 Rs more you'll get the ear-detection feature along with dual EQ mode (regular as well as bass boosted), a bigger battery, a design that looks premium, and most importantly you'll get the folding capability. If these points are important to you then BoAt Rockerz 660 needs your attention.
To be honest, we were expecting a lot more from BoAt Rockerz 660 since it comes at a price where far better headphones are available. I would personally advise going with BoAt Rockerz 550 over 660, but if the above pros of 660 are essential to you then you can consider it.
Wrapping up
There you go, guys! This was our comparison of BoAt Rockerz 550 vs 660. if you have any last-minute doubts, then do reach us at the below social accounts. We love to help our readers!
if you've made up your mind then please use the below Amazon button for completing your order as it will help us earn a small commission from Amazon at no additional cost to you. In this way, you support genuine content creators and ad-free reading experiences. Thanks for being a contributor!
F.A.Q
BoAt Rockerz 550 vs 660 Which is Better?

By better, you mean portability and more battery backup than Rockerz 660. Otherwise, Rockerz 550 is the better deal. Rest we have compared both of these in detail. Click now to learn more.
Which Sounds Better Rockerz 660 or Rockerz 550?

It's Rockerz 550 which offers more detailed audio quality. While Rockerz 660 produces better bass. We've compared both after one month of use. Click now to learn more.
Is BoAt Rockerz 550 Waterproof?

Unfortunately, BoAt Rockerz 550 misses on any sort of water protection. Some light rains or water splashes do no harm. Using the headphone for 6 months now.